"The bravest choices you can make are to be true to who you are and remain true to whom you love."
Scroll to Explore
T
O
G
E
T
H
E
R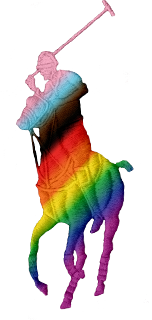 Our business and our brand are built on diversity and inclusion. Cultivating an environment where all voices matter and where our differences are celebrated is part of who we are. As part of this mission, Ralph Lauren and the Ralph Lauren Corporate Foundation have proudly supported the LGBTQIA+ community for more than 30 years.
Through volunteer activations, corporate initiatives, and financial grants, we have partnered with organizations such as Stonewall Community Foundation, the Hetrick-Martin Institute, amfAR, AIDS Walk New York, God's Love We Deliver, and the Elton John AIDS Foundation.
Within our own company, we are proud to offer transgender-inclusive health care benefits, which include coverage for transition-related care, and to support our employee community group #RLPride. This global, employee-led group now has more than 500 members in the United States alone and helps drive LGBTQIA+ education and awareness.
The Pride Collection
For the past two years, the Ralph Lauren Corporate Foundation has partnered with Stonewall Community Foundation. When you shop our unisex Pride capsule collection for adults and kids, a percentage of each item's purchase price will be donated to Stonewall Community Foundation, benefiting an international network of LGBTQIA+ organizations.
Details
When you shop the Pride capsule collection, 100% of the purchase price of the unisex Polo shirt and 25% of the purchase price of each other item in the Pride capsule collection will be donated to
Stonewall Community Foundation
, benefiting an international network of LGBTQIA+ organizations. To learn more about Stonewall Community Foundation, go to
StonewallFoundation.org
. Stonewall Community Foundation is a 501(c)3 nonprofit organization, Federal Tax ID Number: 13-3550688.
Shop the Collection
Design the Change
Live the change. Be the change.
Explore Now