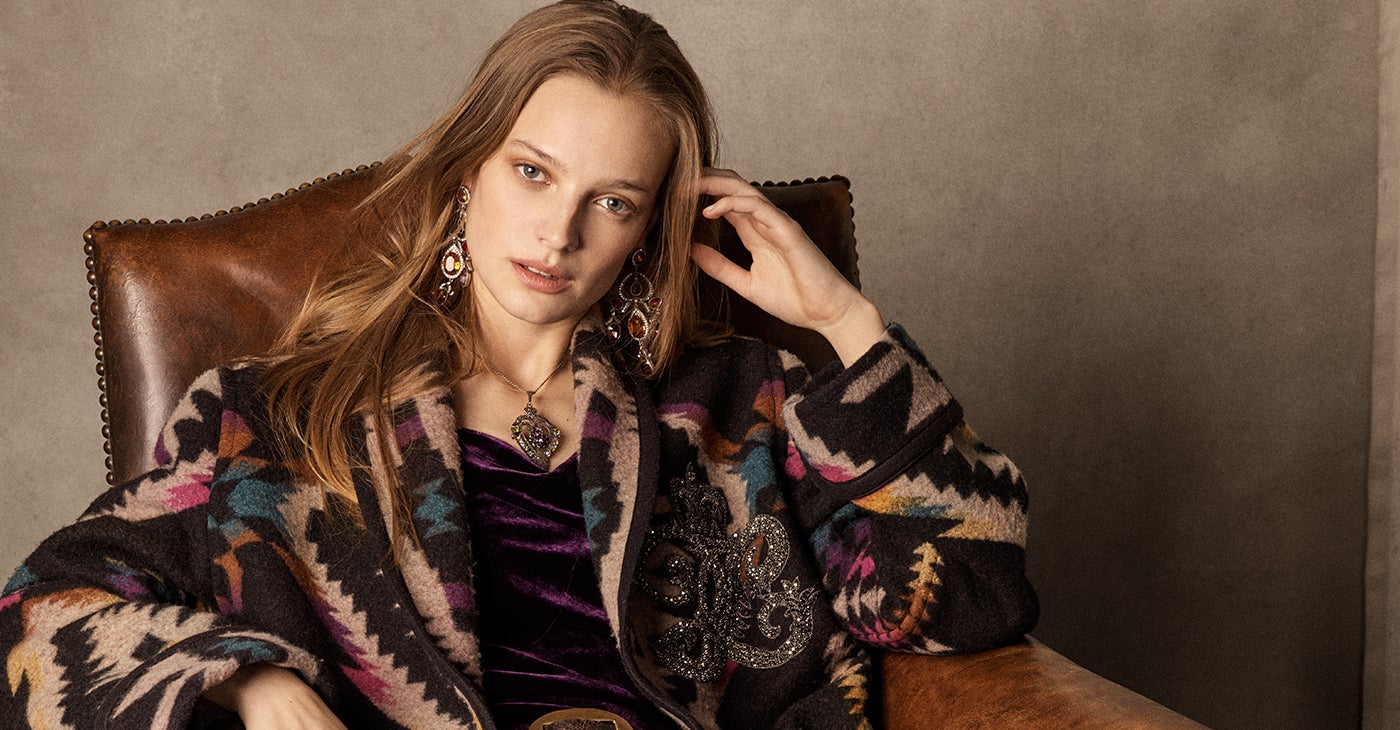 Style
The Artisan's Touch
The craftsmanship of the 50th Anniversary Collection embodies luxury at its most intimate
No matter the style or source of inspiration, unwavering attention to detail and craftsmanship is a sure sign of a Ralph Lauren creation. Each one-of-a-kind button, embroidery, and fabric is thoughtfully designed, drafted, and produced by countless artisans across the world. This season, the 50th Anniversary Collection marks a milestone birthday by bringing to light that unmatched dedication to detail and artisanship. "I'm inspired by the timeless heroine who thrives on originality, creating her own personal style through an eclectic combination of influences," Ralph Lauren has said. Here, discover some of those influences, and the unique pieces they inspired.
Hand-treated velvets, which range from emerald and plum to English rose, bring a bohemian romance to the Collection. To create this vintage feel, single panels of fabric were put through a laborious artisanal process in Italy: manually washed down and then hand-painted and -dyed. The well-worn results cannot be recreated in any two pieces, for an effect that is truly one of a kind. Most noticeably in the Annetta and Rachelle dresses, the variations in color and texture catch light in unique ways, allowing the eye to dance across the garment.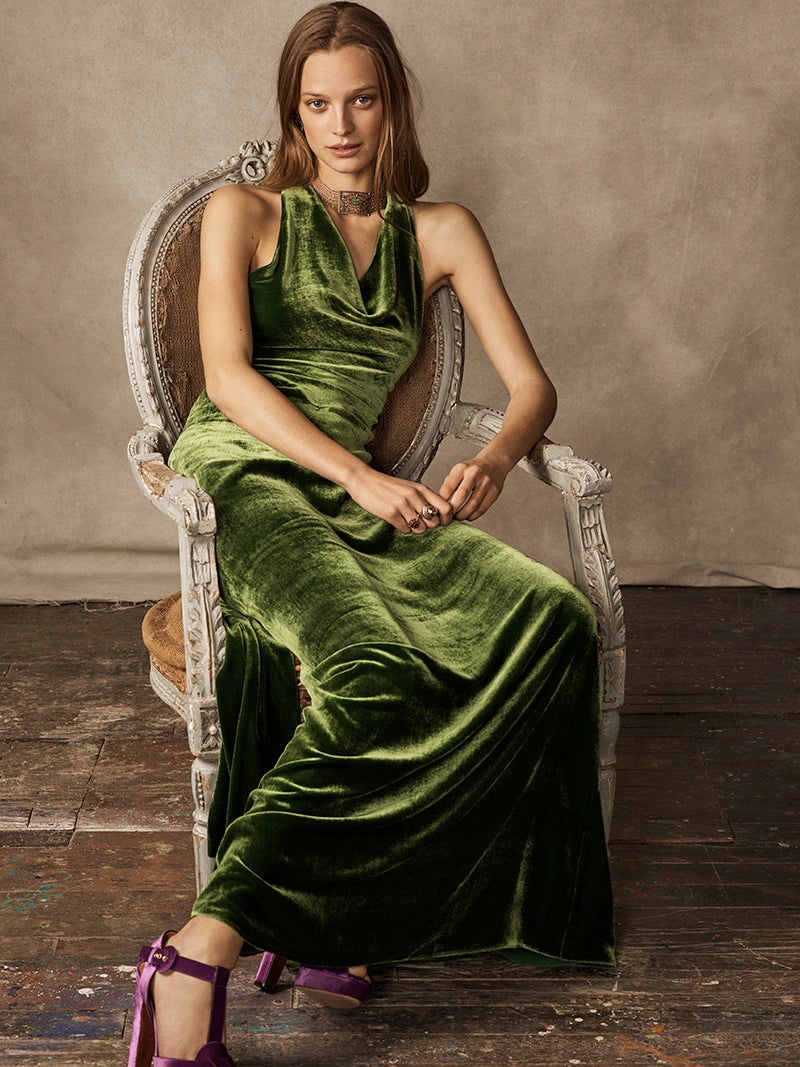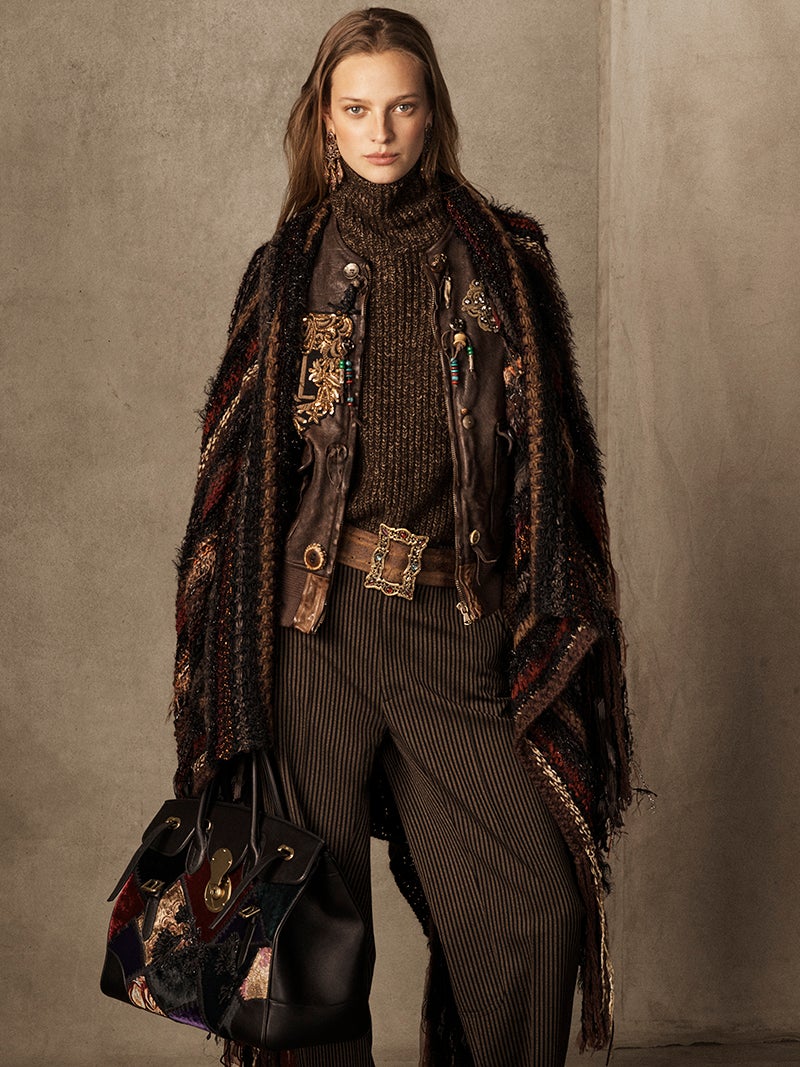 Another medium for capturing timeworn textures, leather plays a central role this season with options that demonstrate decades of wear, as if they had always been the favorites in a woman's closet. The Hamlin vest begins with an artisanal aging process to soften and fade the buffalo leather to a naturally weathered finish before it is hand-embellished with a variety of ornaments, including bullion-embroidered patches, crystal brooches, silver charms, and burnished leather buttons. The manipulation process for the Hadley motorcycle jacket is even more specific: The lambskin is hand-distressed for 72 hours at an Italian facility specializing in vintage-inspired skins, which pays meticulous attention to softening and whiskering the inside elbows where creases would naturally occur with time.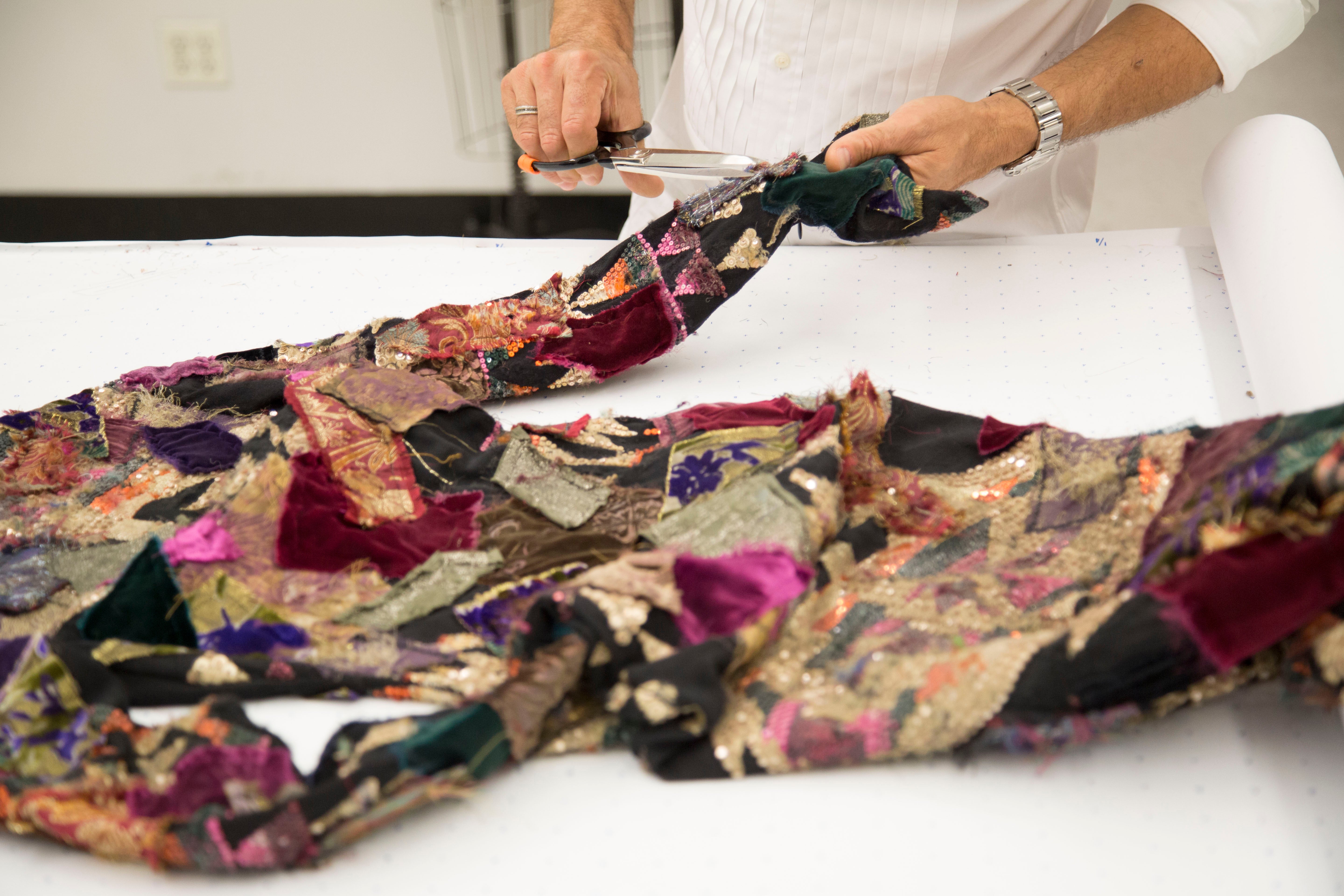 Designed by hand, every patchwork pattern—from the gowns to the handbags—is different. An intricate mix of rich fabrics, including velvet and print jacquard, the patch placement is highly considered. For the Hamlin dress, which is head-to-toe patchwork, the pattern starts with smaller patches at the top, increasing in size as they gradually move down the body for the most flattering fit. The patches are joined by hand with decorative stitches and embroideries. To create the "floating" selvedge edges found on the Willa dress, each fabric panel is strategically hand-cut. It takes three artisans four hours to cut one panel of fabric, which is a patterned jacquard made exclusively for Ralph Lauren at a mill in Italy.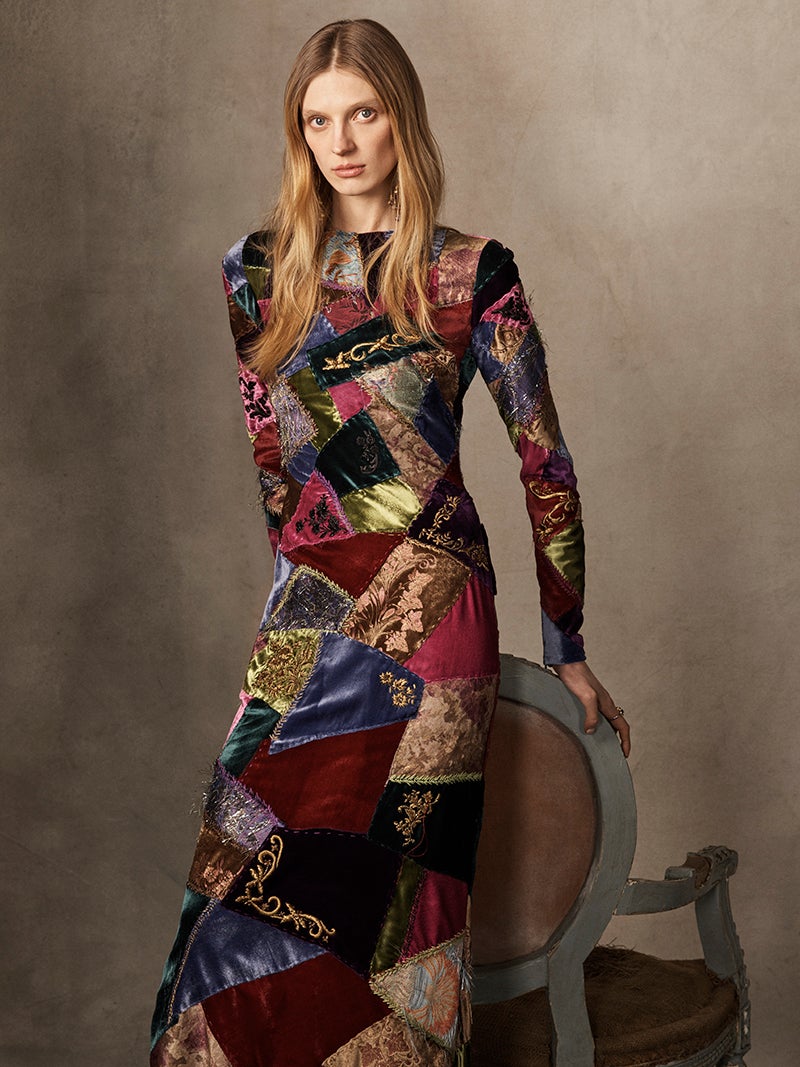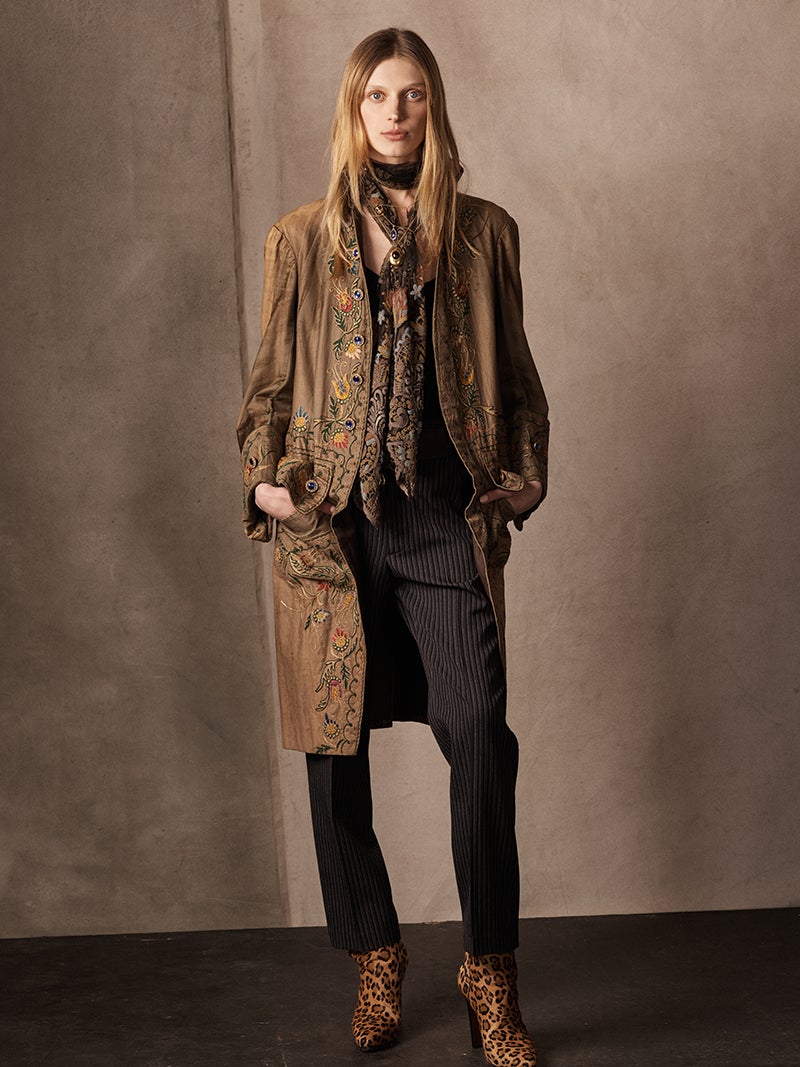 The decorative embroidery in the 50th Anniversary Collection—which took specialized artisans in India and Italy a total of 1,509 hours—brings together patchwork pieces into unique patterns. It ranges from handmade patchworks embroidered with glass beads, metallic thread, overlapping sequins, and metal studs to hand-embroidered floral motifs as seen on the Austine coat (162 hours) and gold bouillon embroidery on the Georgian coat's cuff and collar (13 hours).
The bohemian glamour of the 50th Anniversary Collection also takes shape through complex hand-beading techniques. Layers of metallic sequins, polished stones, faceted jet and bugle beads, and crystals in topaz, hematite, and smoky hues adorn everything from gowns and skirts to sweaters and accessories. Fifteen artisans spent a total of 200 hours creating the Greeley skirt by hand-applying sequins and rocaille seed beads into abstract floral motifs over a soft tulle base, offset with delicate metal chains and beaded fringe. One of Mr. Lauren's favorite pieces from the Collection, the Barrick jacket requires 170 hours to contour the silhouette's gold bullion and soutache embroidery with an array of antiqued crystals, beads, blue cabochons, and emerald-like stones. The effect—inspired by a vintage photograph of a rock star—is strikingly regal.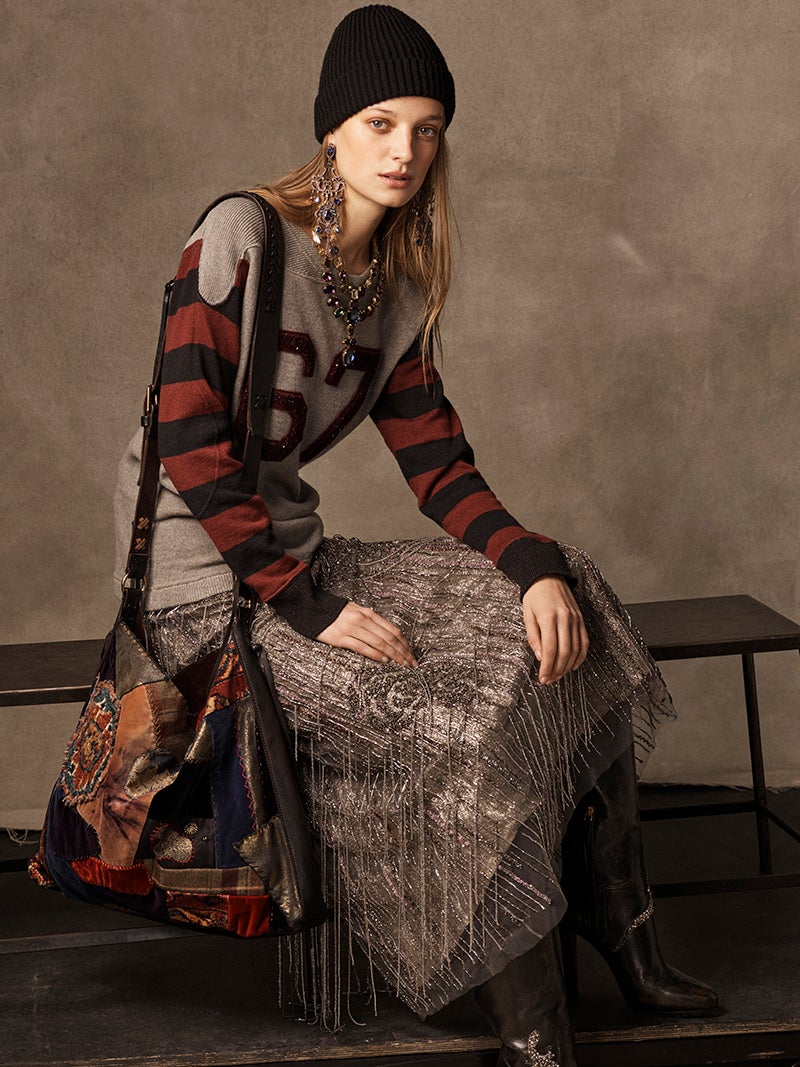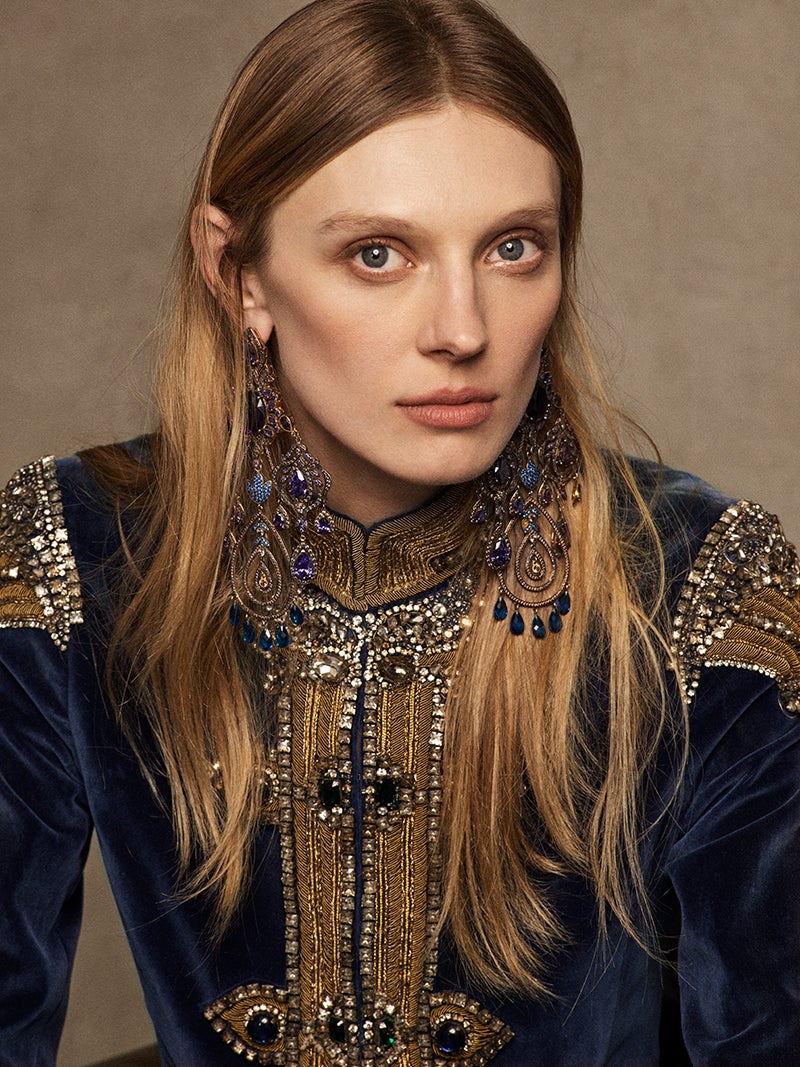 Accessories may be among the final touches of a look, but they are certainly not the last to be noticed this season. A mix of styles, proportions, and materials makes for a series of dramatic statements that tell the story of a world traveler collecting new pieces along the way. The design influences range from antique Victoriana and Southwestern motifs to charms of stars and moons, horseshoes, flowers, and crowns—each crafted with cut-steal techniques, hand-set stonework, hand-engraving, or delicate enamelwork. One pair of oversize chandelier earrings in particular, made by a jeweler in New York City, marries many of the colors and styles of the Collection. Hand-cut semiprecious stones and crystals in shades of royal navy and purple are hand-set in scrolling Art Nouveau motifs, which are then hand-painted to achieve an heirloom quality—underscoring the heritage and beauty of the 50th Anniversary Collection.
Phillip Crook is the fashion editorial director for Ralph Lauren. Maggie Dolan is the women's senior concept editor for Ralph Lauren.
Photographs courtesy of Ralph Lauren Corporation.