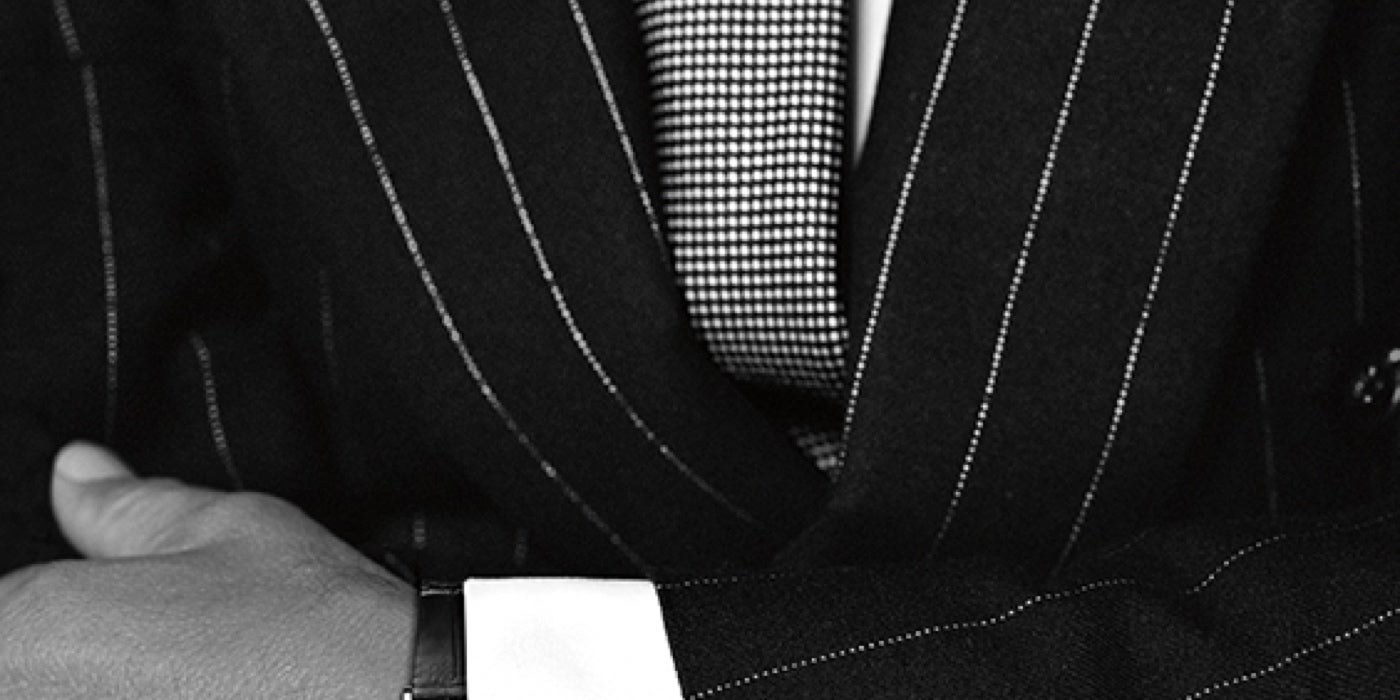 Style
Many Happy
Returns
In celebration of its 25th birthday, Purple Label reimagined five of the most iconic suits and separates from the inaugural 1995 collection
If Ralph Lauren's bold vision for Polo began with a necktie, then his ambitions for Purple Label began with a suit.
As Polo Ralph Lauren became synonymous with iconic American style, Ralph himself often looked to the luxurious style and craftsmanship of Savile Row when it came to tailoring. Seeking to bring the exquisite qualities of his personal suiting into the World of Ralph Lauren, Purple Label was born—an expression of Mr. Lauren's love of fine tailoring, luxury craftsmanship, and, as the inaugural advertisement read: "The power of a perfect suit."
In the quarter century since its launch, Purple Label has grown to include a wide range of sportswear and accessories, but the brand's true constant has never wavered from its tailoring: handmade in Italy by some of the most skilled craftsmen in the world. Unparalleled comfort, meticulously crafted fabrics that are custom-woven exclusively for Ralph Lauren in England and Italy, and razor-sharp silhouettes quickly became the hallmarks of the brand's unmistakable sensibility, all defined by a blend of Saville Row precision and American ease.
This season, in celebration of the 25th anniversary of Ralph Lauren Purple Label, the brand looked to its most iconic references and collections, reimagining a curated capsule of suits and separates that harkens back to—and celebrates—its earliest days.
Below, a breakdown of the history and craftsmanship of five of the brand's most iconic pieces—then and now.
The Houndstooth Single-Breasted Suit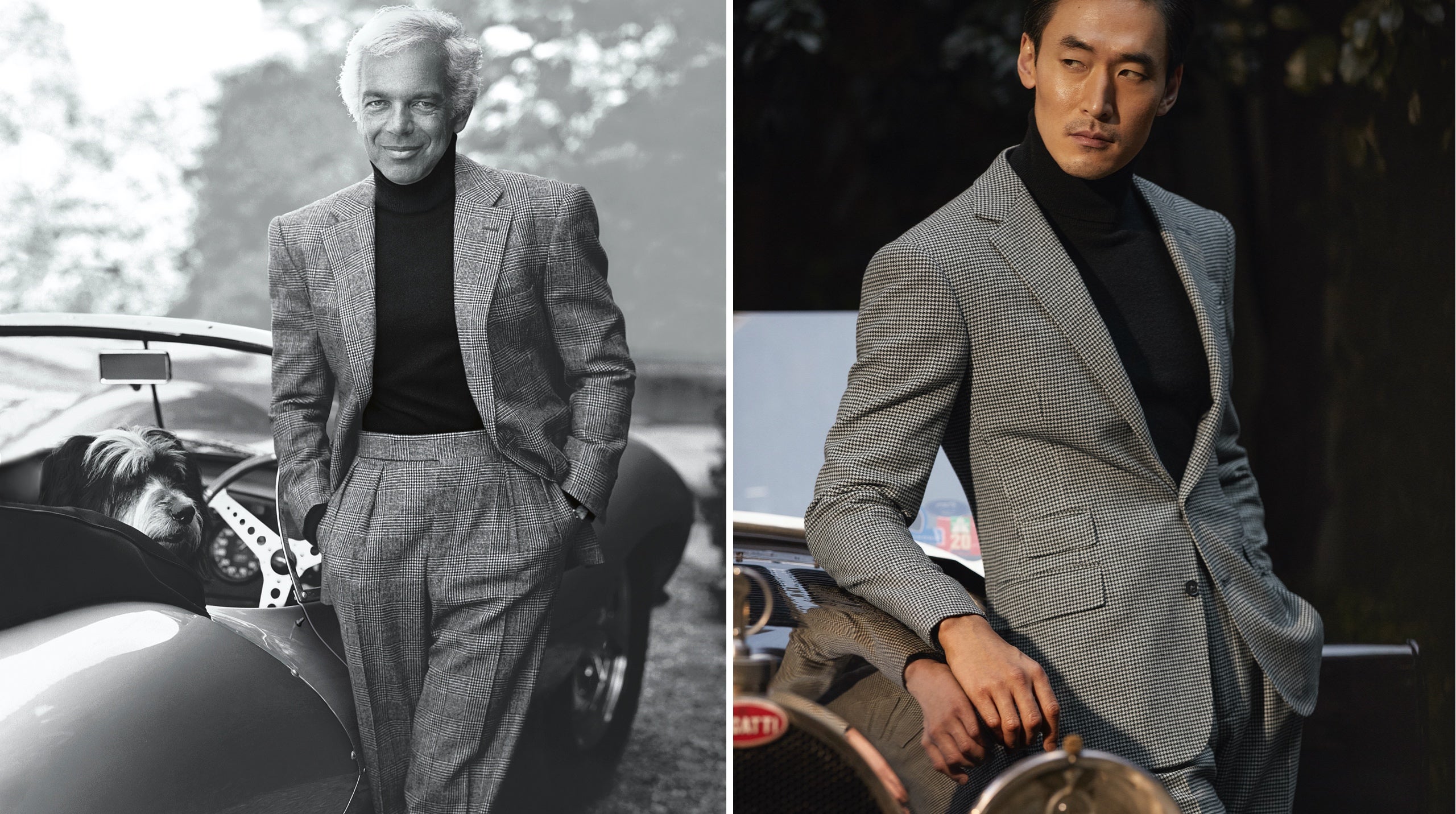 Demonstrating what would become a signature of Purple Label styling—a fine, flat-knit turtleneck sweater layered underneath a suit in lieu of a formal shirt and neckwear—Ralph Lauren introduced a soft elegance to the label's earliest expressions of powerful tailoring. His iconic outfit, worn here while posing next to one of his many vintage racing cars, was the inspiration for a new suit for the 25th anniversary.
Drawing from the same palette and sensibility, the updated version uses a black-and-cream wool houndstooth, which has been re-created and custom-woven in heritage herringbone fabrics from the Purple Label archive. True to Mr. Lauren's original suit, it is hand-tailored in a single-breasted version of the Ralph cut, and complemented by high-waisted, double-reverse–pleated, tab-closure trousers. For the presentation of the 25th anniversary collection at the Palazzo Ralph Lauren in Milan, it was, naturally, styled with a simple black turtleneck.
The Glenn Plaid Double-Breasted Suit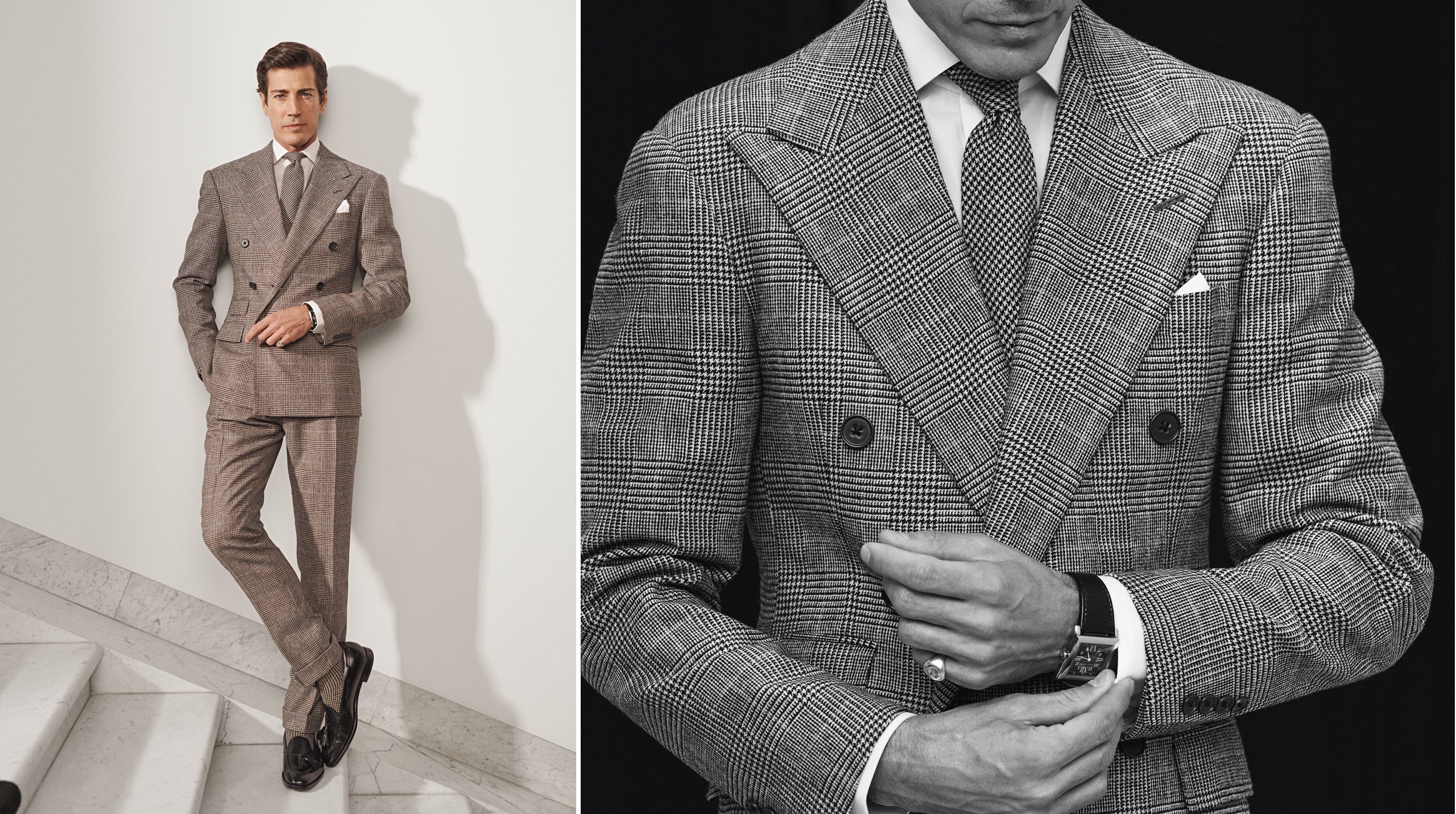 One of the very first advertisements for Purple Label showcased Ralph in a Glen plaid double-breasted suit, expertly styled with a black-and-white houndstooth tie and complementary houndstooth dress socks inside a pair of black, benchmade tassel loafers. Striking, elegant, and statement-making, the look served as a key source of inspiration for Purple Label's approach to tailoring for the next 25 years. This season's reintroduction is tailored from the same custom cream-and-black Glen plaid with a subtle pastel blue overcheck, which has been faithfully rewoven to the original specifications. Tailored in Purple Label's Ralph cut, the silhouette is broad-shouldered with a suppressed waist, a shorter body, and a low button stance designed, in the case of the double-breasted version, to be fastened at the lower button of its 6x2 pattern (a signature of Mr. Lauren's personal style).
"I've always believed in the art of fine tailoring. Before I started my own company, I had my suits custom-made. I wanted the fit and construction to have the integrity of old-world craftsmanship yet remain soft and supple, natural and comfortable. Purple Label to me is more than just beautiful clothing; it reflects the personal style of the wearer and a way of living inspired by timeless quality."
—Ralph Lauren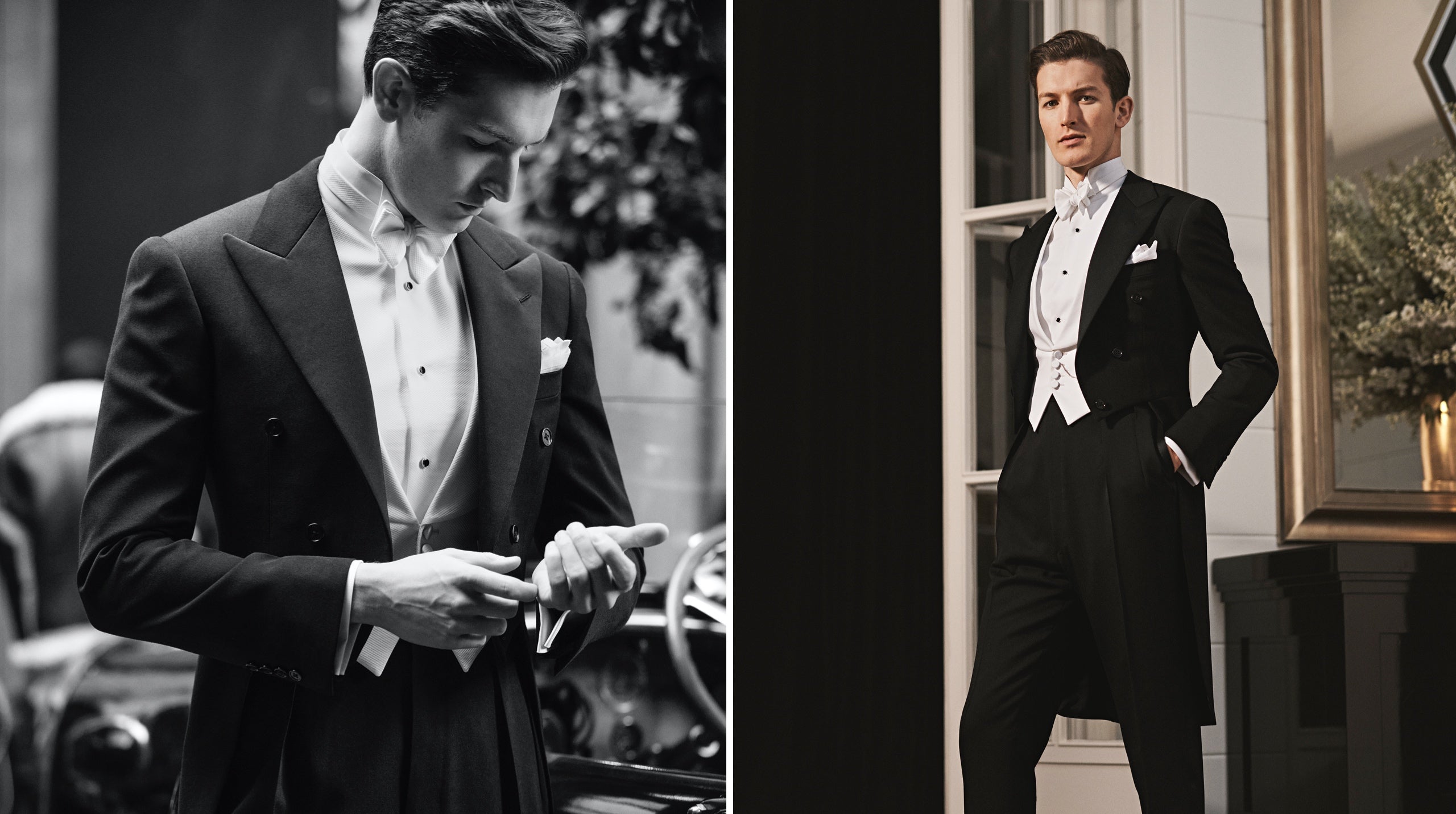 Eveningwear has long served as a foundation of Purple Label tailoring, and the 25th anniversary collection reintroduces an array of formal silhouettes from the archive. Among the group (which includes a uniform-inspired velvet jacket with regimental frogging), perhaps the most striking and visually enduring remains the white-tie tailcoat.
As a longtime fan of Old Hollywood, Ralph Lauren was sure to include the style—a rarefied garment reserved for the most formal affairs—among his tailored offerings in the debut of Purple Label, and it has since become a signature of the brand. So much so, in fact, that Mr. Lauren's phone was ringing off the hook when the Met Gala announced a white-tie dress code in 2014. Naturally, Mr. Lauren has also been known to wear a Purple Label tailcoat himself to his most formal engagements.
For the 25th anniversary, the Purple Label tailcoat has been completely updated to recalibrate the proportions, detailing, and fit, all inspired by archival versions from the '20s and '30s. The result: a marvel of modern tailoring. Its narrow, high-waisted formal trouser elongates the line of the leg. The coat is powerfully structured and deftly balanced in a strong, Savile Row–inspired cut, with a sharp hourglass shape constructed to hug the body, despite the lack of a button fastening. Unsurprisingly, it is entirely handmade—the mark of true luxury suiting.
The Pinstripe Double-Breasted Suit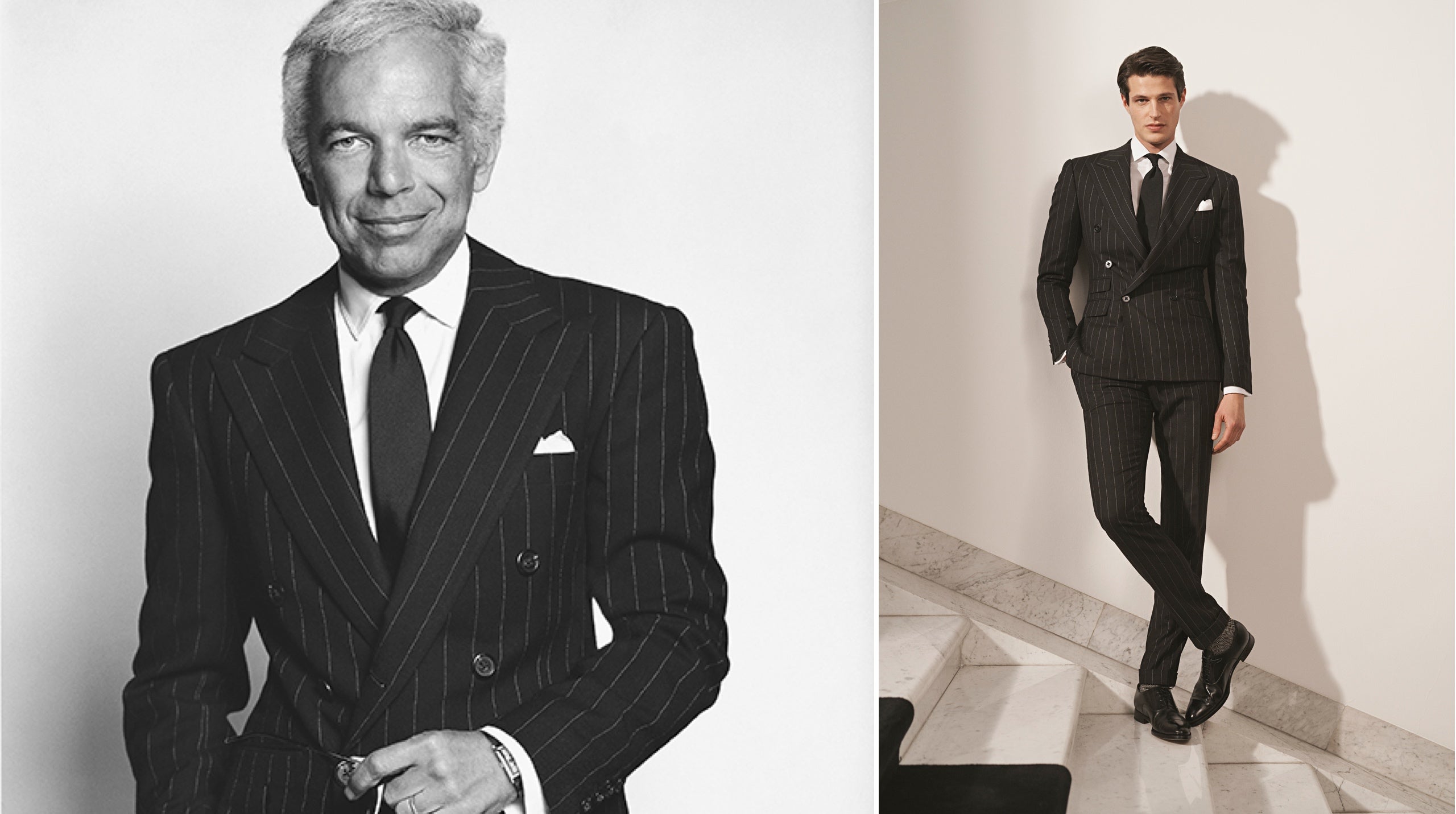 If there exists an ultimate ideal of a "power suit," the black pinstripe, double-breasted two-piece that Ralph Lauren wore in Purple Label's iconic advertising debut is certainly it. The original take on traditional English tailoring through Mr. Lauren's singular sense of personal style was as simple as it was flawless—a powerful shoulder, the perfect trim-but-timeless fit, and elegantly simple furnishings. Dark pinstripe suiting has since become a core aspect of Purple Label's businesswear. Its 25th anniversary reintroduction has been tailored from the very same custom-made black-and-cream wide pinstripe worsted wool, woven in a limited run to the suit's original fabric specifications and tailored in the double-breasted Ralph model, true to the very beginnings of the brand.
The Flannel Double-Breasted Suit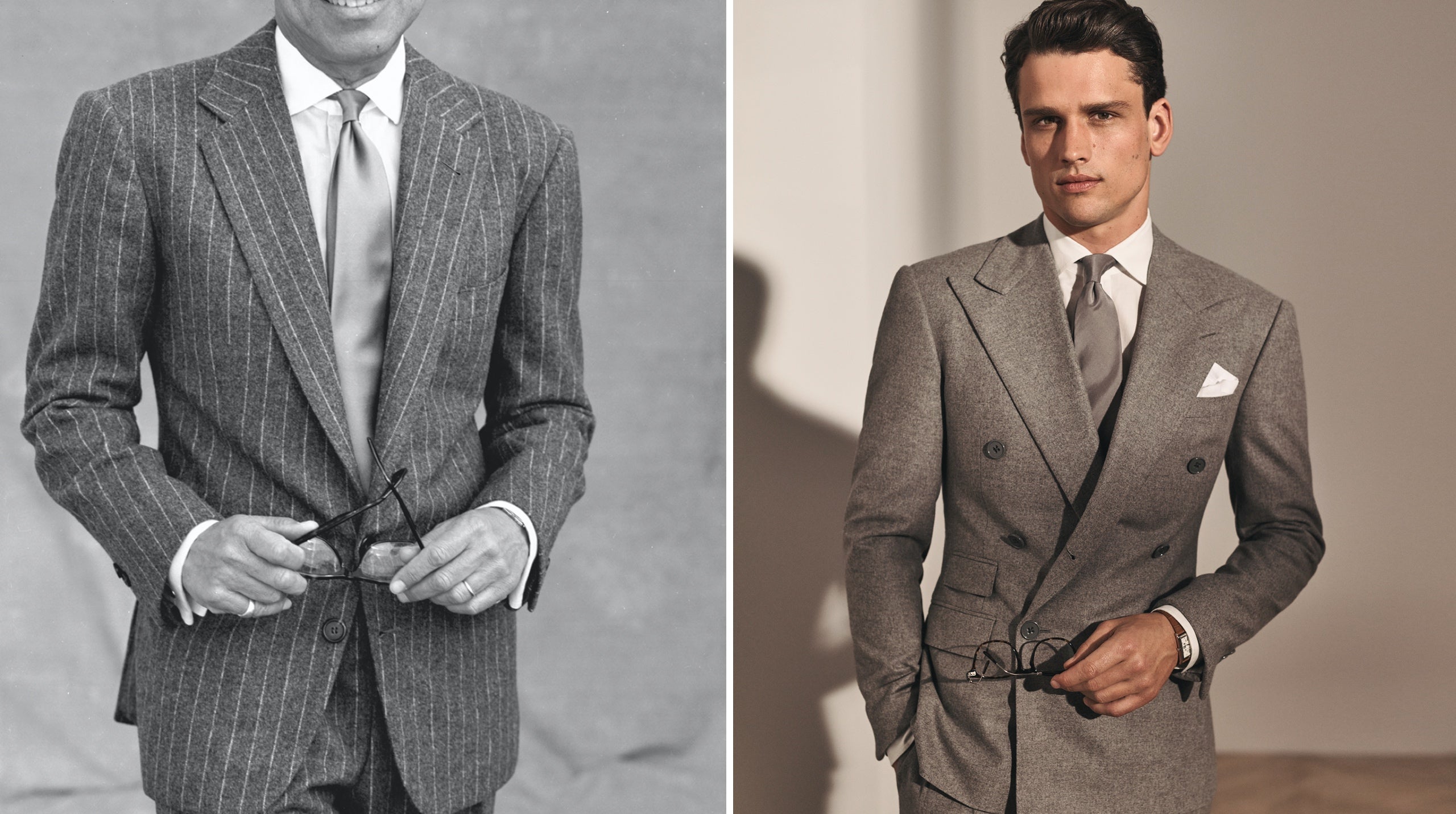 One of the subtle intricacies of Ralph Lauren's approach to tailoring has long been the deft blend of fabrics within tonal looks, a styling signature seen often throughout Purple Label collections. One of the earliest examples is Mr. Lauren's chalk-stripe double-breasted suit in dove grey flannel, paired with a striking necktie in silver satin—another foundational Purple Label advertisement image from 1995. For the 25th anniversary version, the look is re-created in a solid grey suit, tailored from ultrasoft custom-woven wool flannel, and finished with the same silver necktie, along with a fine pinpoint shirt and linen pocket square in crisp white.
is the men's concept editor for Ralph Lauren.
© Ralph Lauren Corporation