As Susan Lacy's HBO documentary Very Ralph made evident, you simply know when something has that singular Ralph Lauren magic. A shade of navy, the cut of a jacket, the amalgamation of seemingly disparate influences into one particular vision of style—it's a quality that has empowered designs to endure across decades of ever-quickening social and aesthetic shifts. Nine illustrations of that vision are compiled here, each from his new women's Icons collection and each with its own distinct place in the pantheon of Mr. Lauren's timeless taste.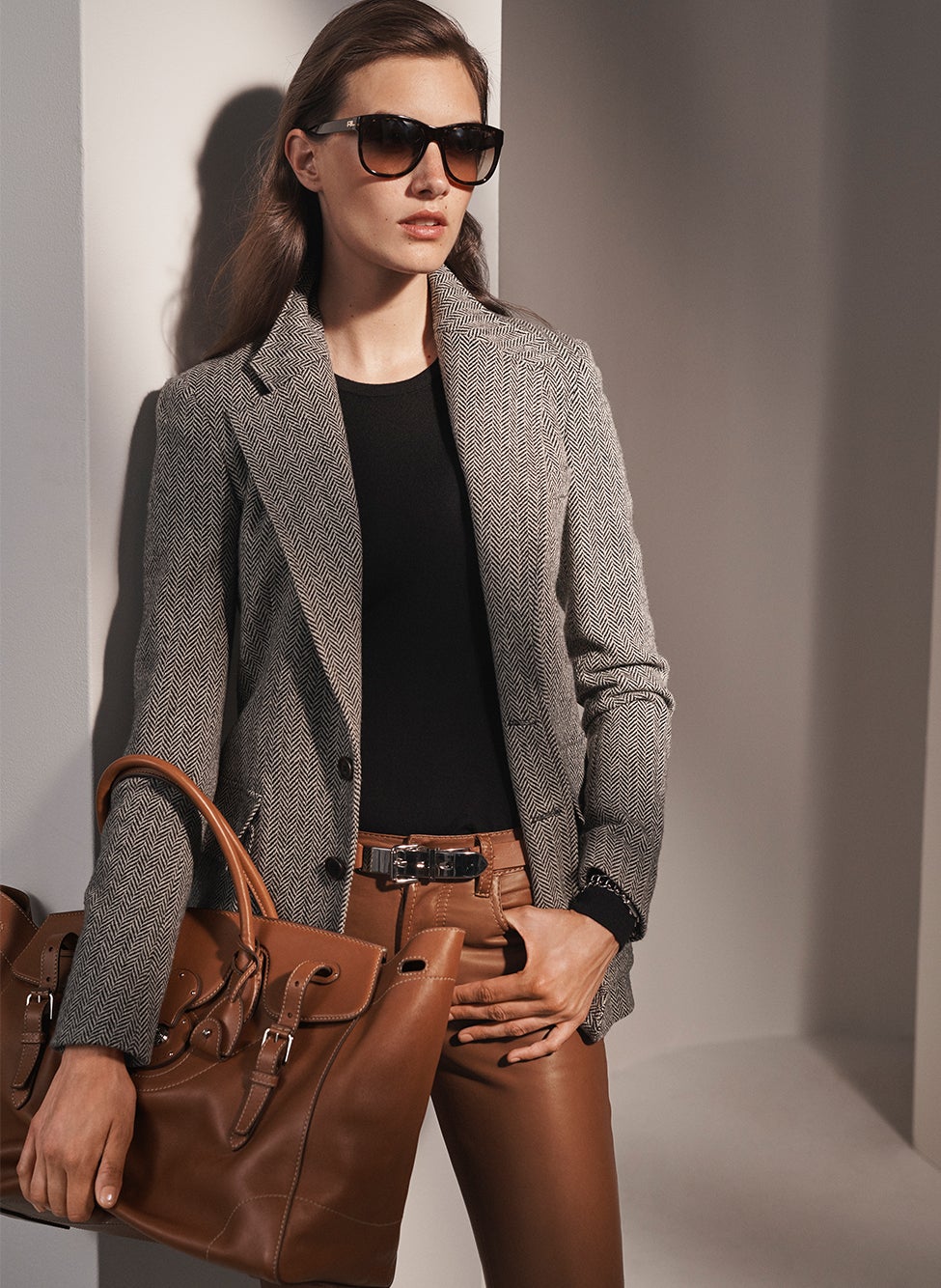 Evoking one of Mr. Lauren's own favorite jackets, which he wore in a 1979 Polo fragrance ad, and as recently as on the Fall 2016 Collection runway, this herringbone tweed jacket epitomizes Ralph Lauren style. Over the years, Mr. Lauren's greatest source of inspiration has been his wife, Ricky—and it was only after purchasing a boys' hacking jacket for her in the early '70s that he decided to expand into womenswear, offering women the same elevated product, with the same quality of tailoring, as his menswear clientele. His first collection of jackets for women in Fall 1972 offered an array of silhouettes in Harris tweed, from equestrian hacking styles to versions with bellows pockets in the mode of an English country estate. This updated interpretation maintains the authentic look of those early tweeds but with a softer, far more luxurious feel thanks to a wool-blend herringbone fabric from an Italian mill revered for its union of tradition and innovation, giving the jacket a Ralph Lauren refresh in a way that has become a hallmark of the brand.
The double-breasted blazer is synonymous with one of Mr. Lauren's favorite eras: the '30s, a decade when the Duke of Windsor and Hollywood stars donned the blazer in a myriad of outré fabrics and styling combinations. A blazer is distinct from a sport coat or a suit jacket because of its buttons in silver or brass, originally officers' regimental brass buttons. (The Duke of Windsor was a particularly passionate collector of antique regimental buttons, which granted him entry to his Palm Beach social circle's "Button Club.") Seen here in modern stretch wool, the blazer's overlapping silhouette, derived from 18th-century military tunics, allowed a right-handed swordsman to easily withdraw his blade from the left hip. Mr. Lauren prefers this elegant cut, however, because of its pronounced "V" shape—which is broader at the shoulders, with upward-sweeping peak lapels, and narrower at the waist—intended to emphasize a woman's shape.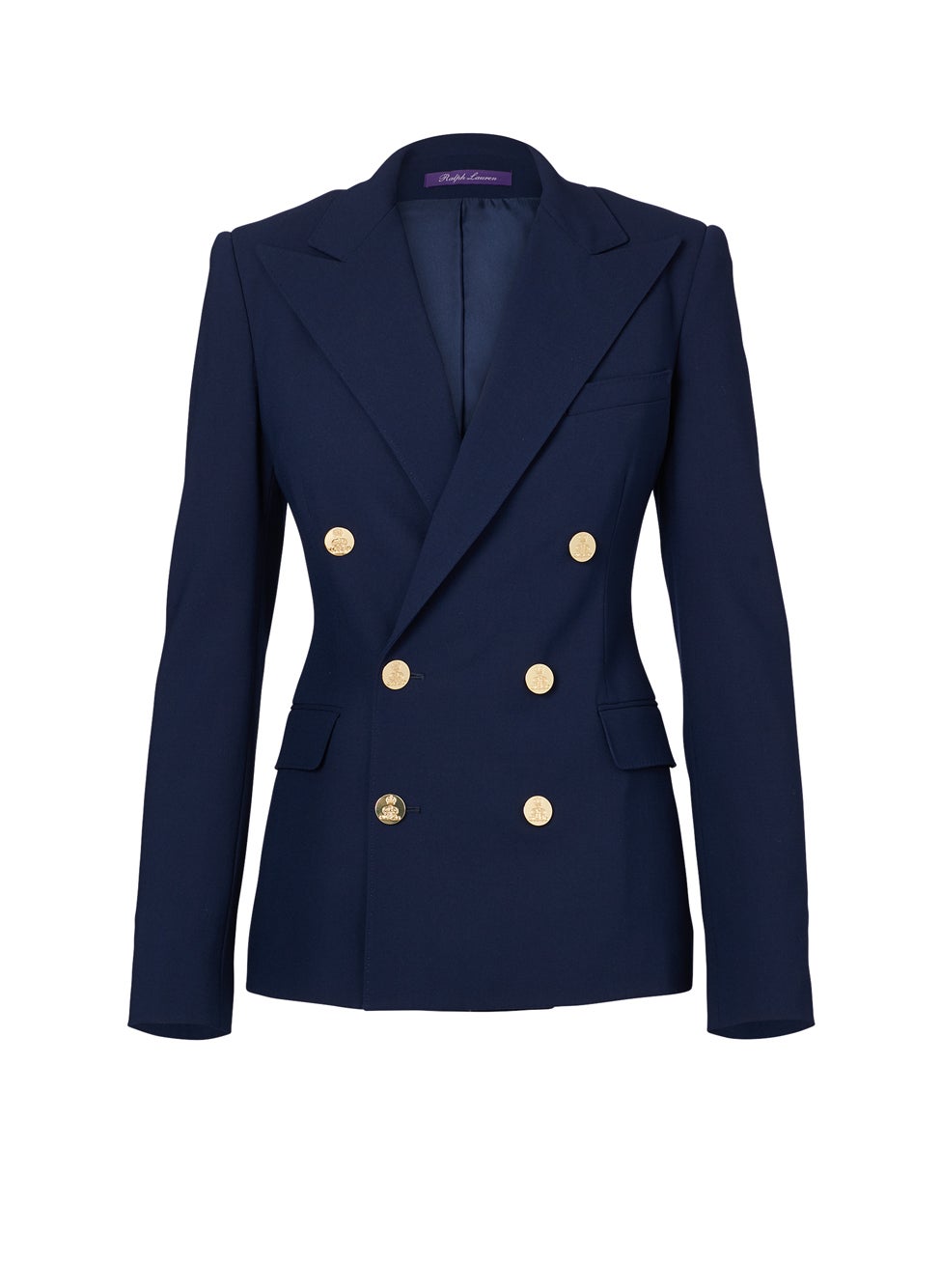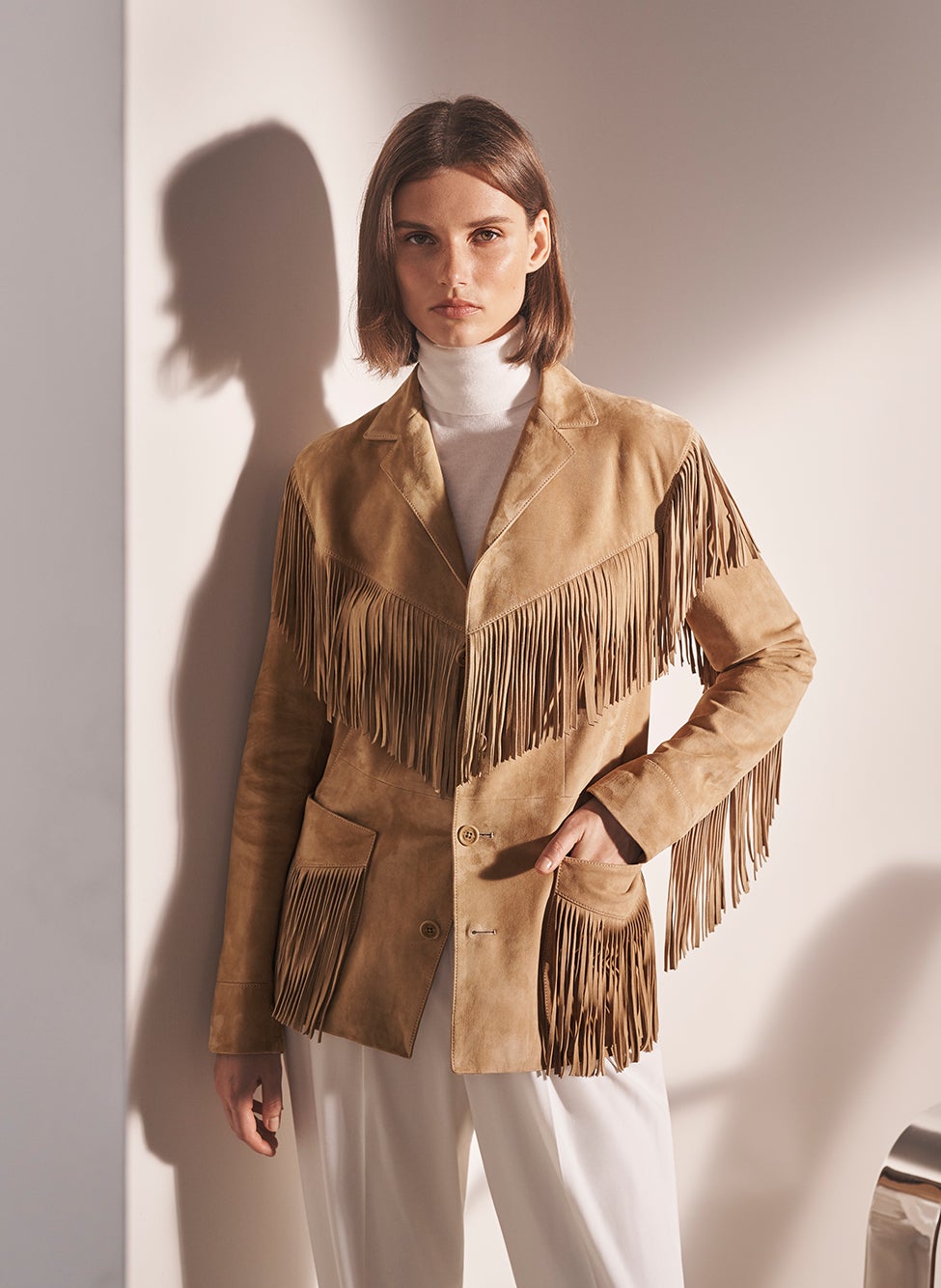 America's mythic West has long captured Mr. Lauren's imagination, from watching his heroes John Wayne and Gary Cooper in classic cowboy movies to days spent with his family on their ranch in the mountains of Colorado. The suede jacket—distinguished by extra-long fringe detailing—embodies that lifelong love in a silhouette Mr. Lauren has designed again and again for more than 50 years. Whether in a rich patina brown suede for the launch of Polo Western in 1978, sleek white leather for a women's Summer 2019 capsule collection, or here, perhaps in its most ideal form, in supple tan lamb suede sourced from a tannery known for producing some of the world's highest-quality skins.
Constructed using traditional men's tailoring techniques, the Ralph Lauren tuxedo is inspired by the personal style of Mr. Lauren's wife and muse, Ricky, the glamour of '30s Hollywood, and stars like Marlene Dietrich. Contrary to its status as a pillar of today's formal attire, the tuxedo first appeared in the late 19th century for informal dinners at home or the privacy of a member's club. An American couple visiting London from Tuxedo Park, New York, popularized the "dinner jacket," as the tuxedo is still known outside the United States, after dining with the Prince of Wales, who preferred its comfort relative to a traditional tailcoat and white-tie accoutrement required for formal public gatherings. Our Icons tuxedo builds on this heritage by merging a lightweight, relaxed feel with a sleek and structured look tailored for a woman. The jacket is cut from stretch wool crepe sourced from a fourth-generation Italian mill—one that has specialized in producing fine wool qualities since the very era when the tuxedo came into fashion.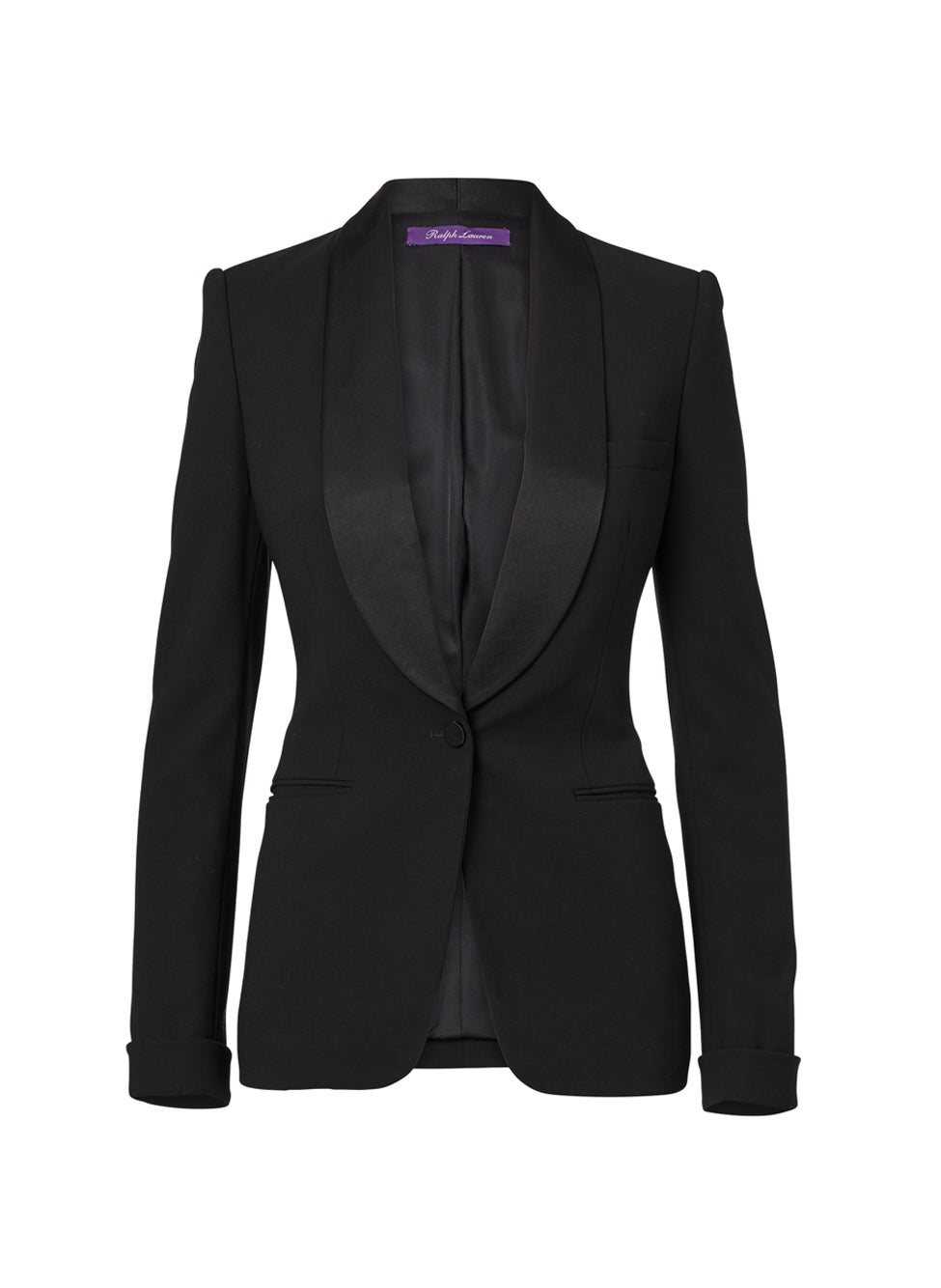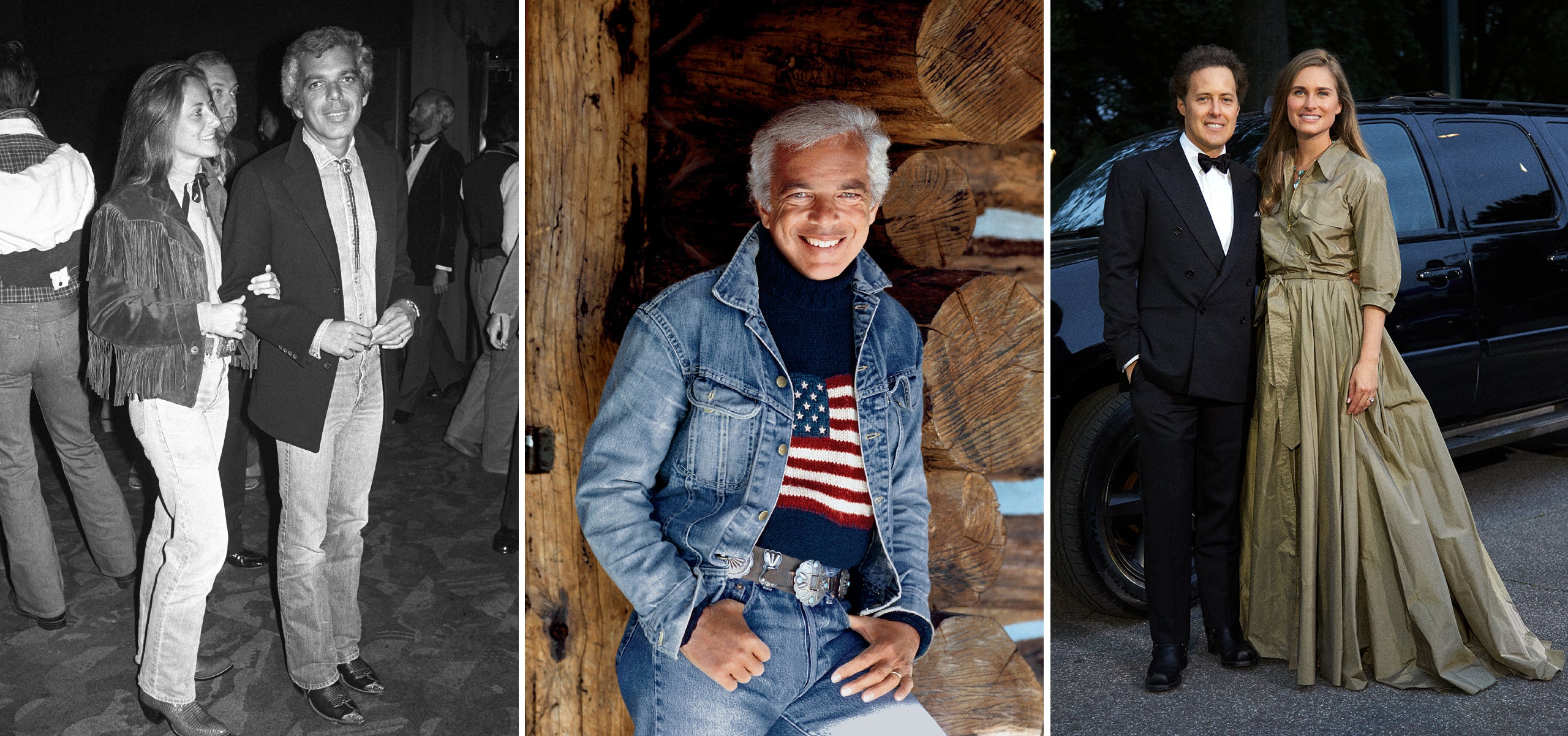 Across the street from Ralph Lauren's childhood home in the Bronx, New York, an American flag proudly waved from atop a schoolyard flagpole. It was a symbol that would stay with him—evoking the now-iconic flag sweater that debuted on his Fall 1989 runway and, just nine years later, inspiring his personal donation toward the restoration of one of America's most cherished treasures: the Star-Spangled Banner, the battle-torn flag referenced in Francis Scott Key's national anthem and now preserved at the Smithsonian's National Museum of American History in Washington, D.C. Symbolizing the ultimate in American style, this flag sweater is intarsia-knit from five-ply cashmere spun from "carded" yarn (a process that renders the fibers extra-soft ), then embroidered with 13 stars, and finished by hand with whipstitched detailing.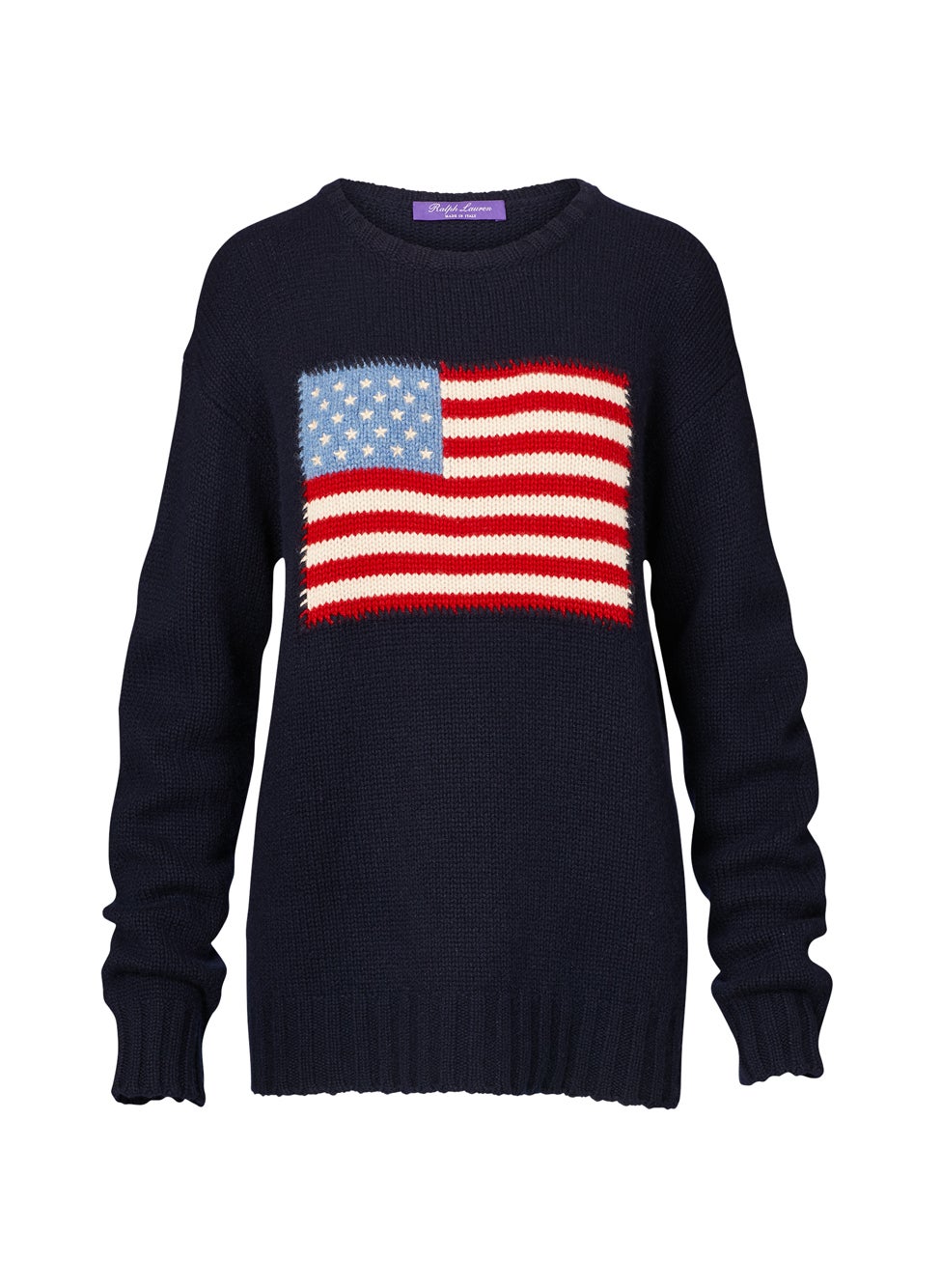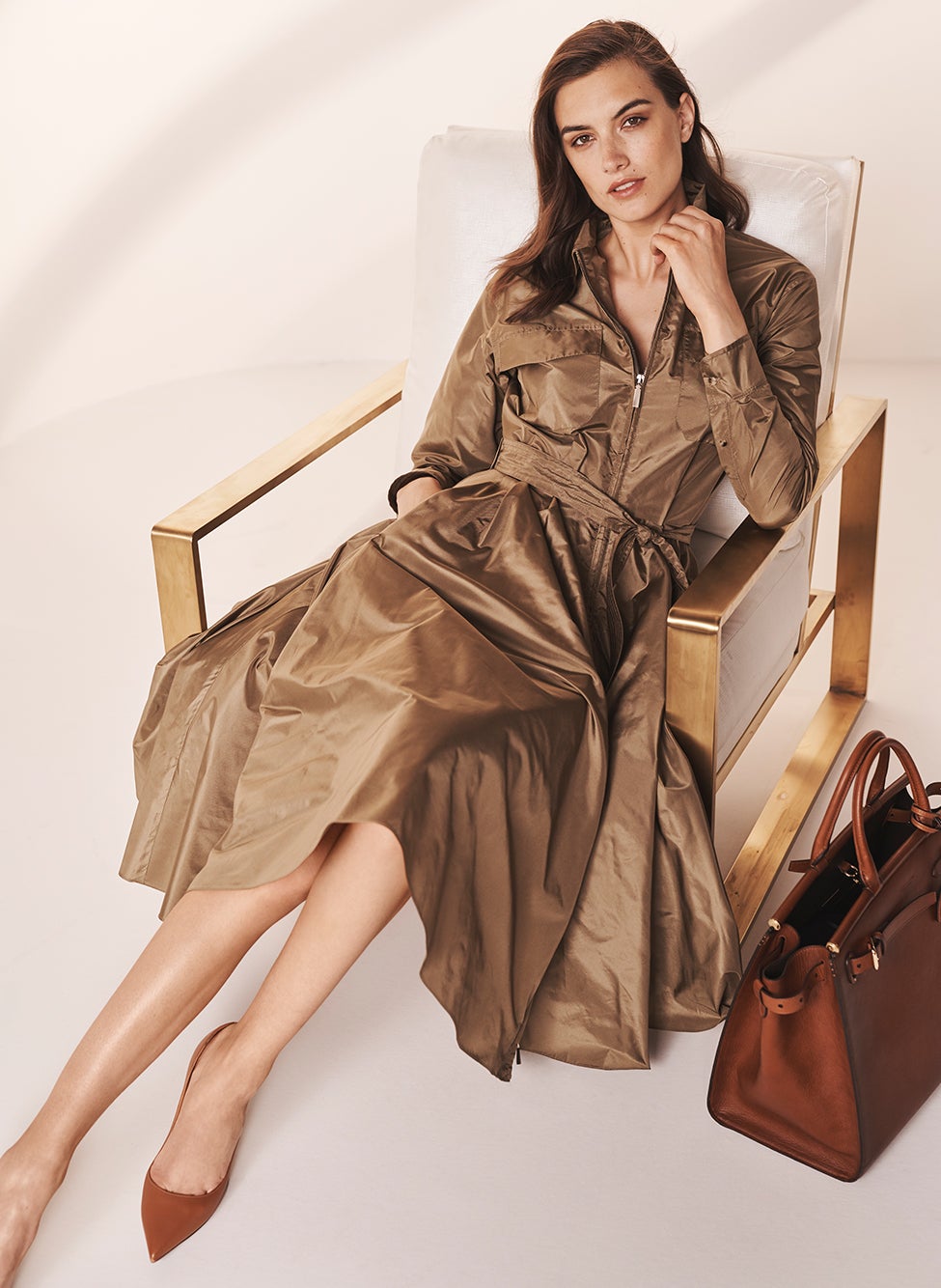 Always a lover of adventure and the outdoors, Mr. Lauren designed his first cotton chino safari jacket for women in the early '70s, later debuting his inaugural safari-inspired collection for men, women, and children in his Spring 1984 show. Through the years, Mr. Lauren's dream of a safari has become signature to his aesthetic—drawing on everything from the romantic allure of a '30s expedition to author Karen Blixen's Out of Africa and the 1985 film adaptation starring Meryl Streep. This dress's luxurious take on safari style began as the showstopping finale gown for Ralph Lauren's Spring 2015 Runway Show, an archive piece that Mr. Lauren's daughter-in-law Lauren Bush Lauren wore for the company's 50th anniversary celebration in 2018. Now in a knee-grazing length, this shirtdress is crafted from Italian silk taffeta and designed with a bevy of utility pockets, a shirred back waist, and a trapunto-stitched belt.
Ralph Lauren pioneered the art of turning purpose-built garments—clothes designed to serve a specific workwear or military function—into elegant, modern sportswear. The peacoat became a standard element of the United States Navy uniform in 1881 and evolved from a double-breasted coat worn by reefers in the British Royal Navy. A reefer was a midshipman responsible for climbing rigging and unfurling sails—a difficult job requiring protection from wind, rain, and the friction of ropes. The short cut of the heavy wool coats allowed for better mobility in the rigging (and they were almost always blue to match the blue sailor suits worn in winter). This definitive luxury peacoat stays true to the enduring legacy of the style while amping up the luxury element—from the slightly wedge-shaped silhouette to its signature buttons engraved with an "RL" anchor to the double-faced wool-and-cashmere fabric sourced from one of the world's premier cashmere suppliers.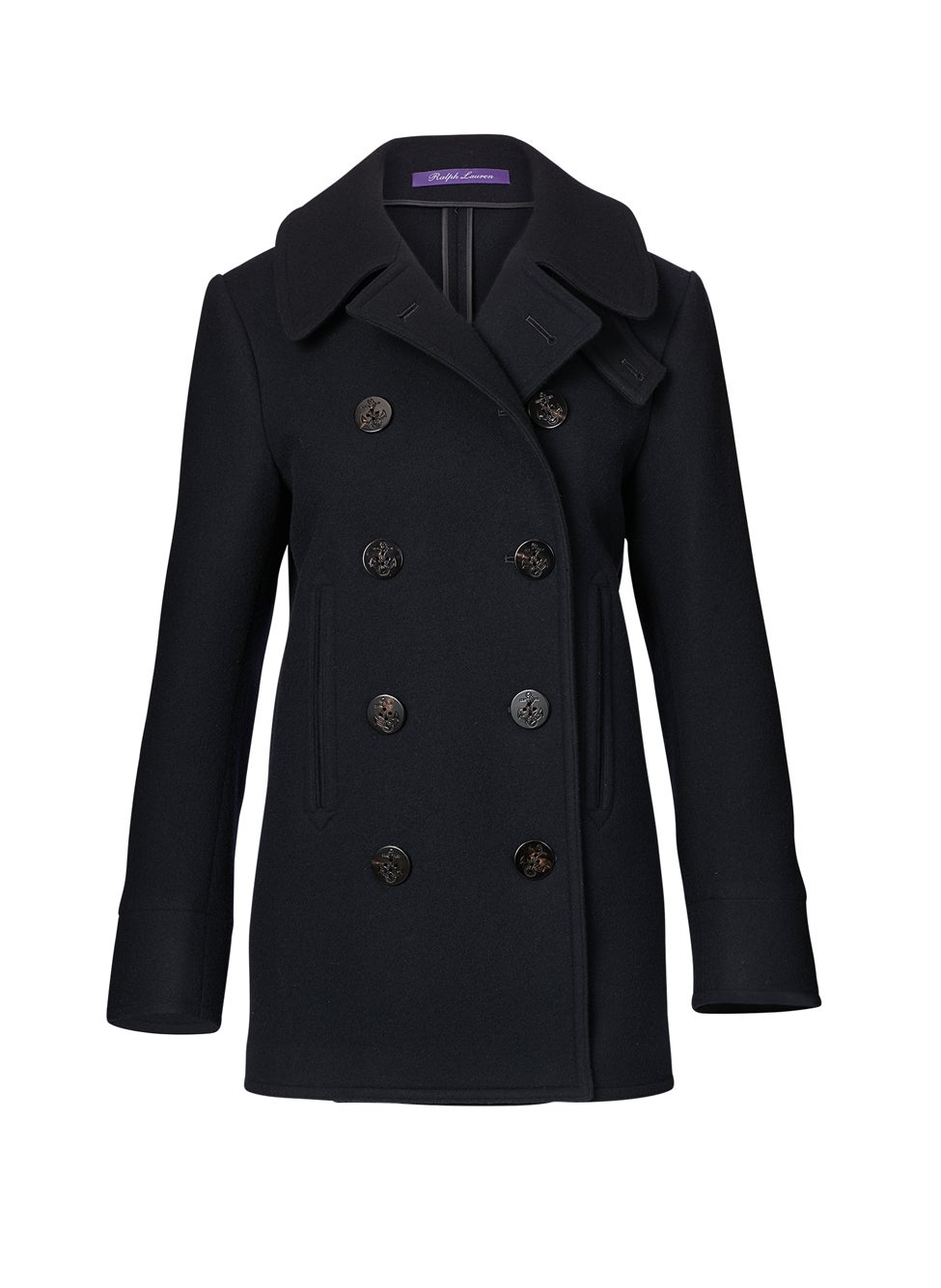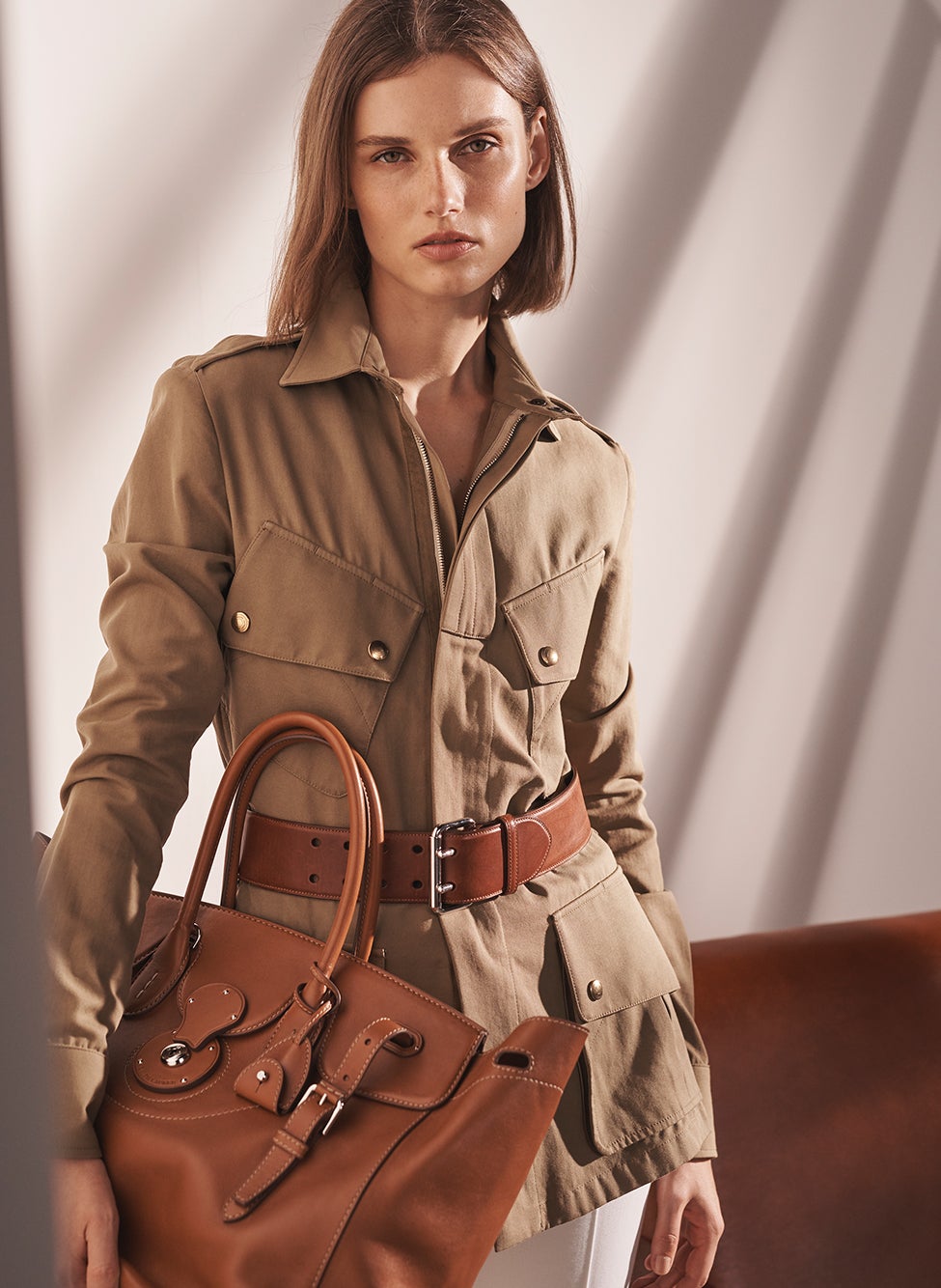 Inspired by the weathered look of wartime combat jackets, this silhouette demonstrates the beauty Mr. Lauren finds in unexpected places, including the Army/Navy surplus stores he frequented as a young man. During WWII, the M-1943 field jacket was designed in heavyweight twill to outfit American soldiers for campaigns anywhere in the world, from snowy Northern Europe to the rainy South Pacific. After the war, its versatility and everyman-appeal resonated with the countercultural movement of the late '60s, when field jackets entered popular fashion—and that revolutionary spirit holds strong today. Our version offers a novel juxtaposition of authentic utilitarian style and chic, modern ease, cut from durable Italian basket-weave cotton canvas with exceptional softness and a luxurious drape. Antiqued snaps engraved with an "RL" logo complete the dispatch pockets at the chest, a vintage detail from motorcycle messenger jackets with pockets intentionally placed at an angle to hold maps and other documents.
Opposite on the spectrum of military uniforms from a field jacket is the formal and highly decorated officer's jacket, whose ceremonial insignia is as equally attractive to Mr. Lauren as weathered twill. This sensibility was the central showcase of his Spring 1990 Collection, immortalized in the accompanying advertising campaign by supermodel Linda Evangelista wearing high-collared military pieces. Our new, feminine take on an officer's dress uniform dates back to a time when the higher-ranking classes of the British military, almost exclusively drawn from the aristocracy, donned tailored garments intended to convey authority and grandeur rather than serve a specific need in the field. This slim, sculpted shape in double-faced stretch wool is detailed with gold-hued trim recalling bullion embroidery and signature shank dome buttons with an exclusive "RL" crown motif cast in antiqued brass.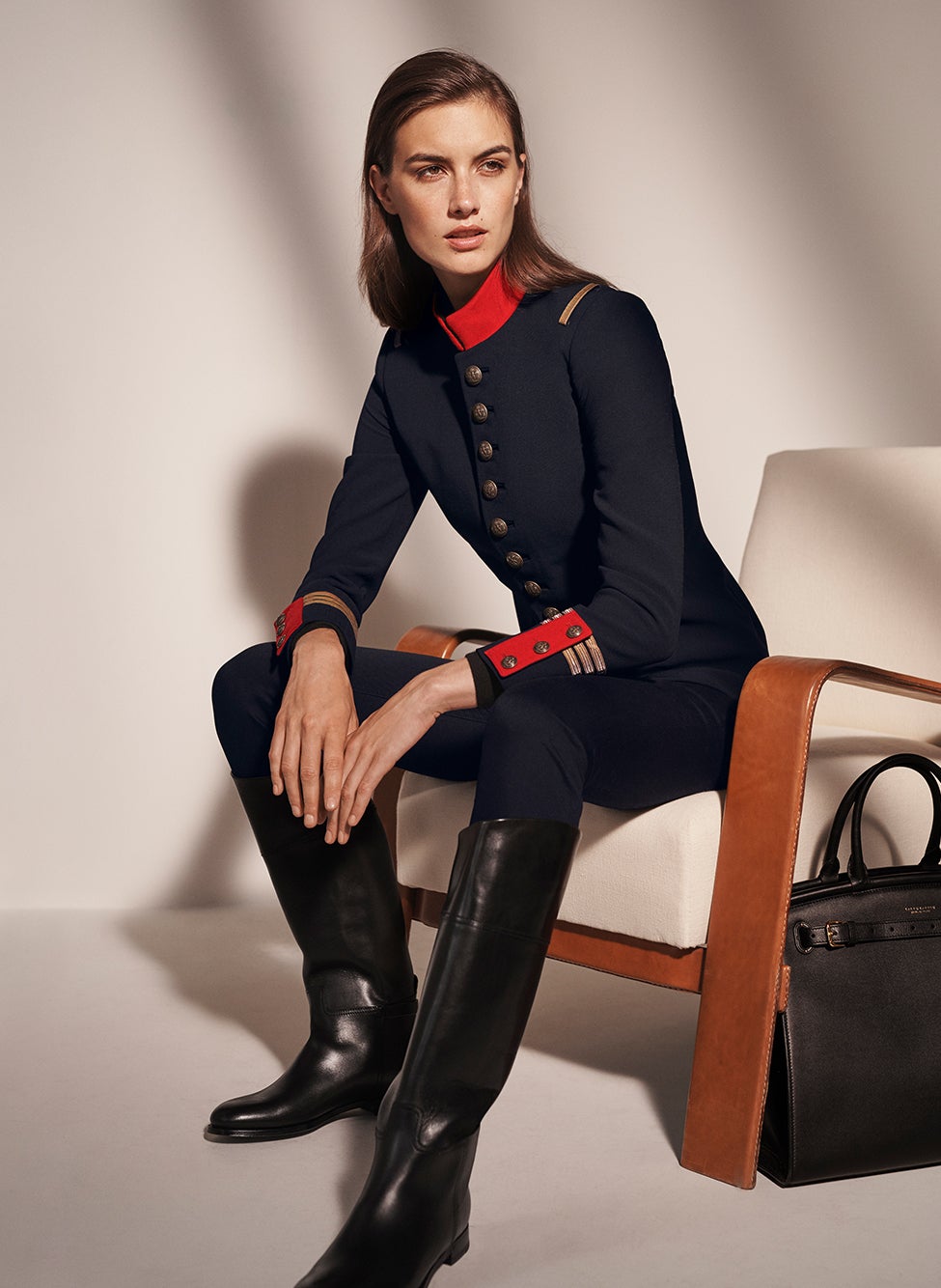 is the fashion editorial director for Ralph Lauren.
© Ralph Lauren Corporation