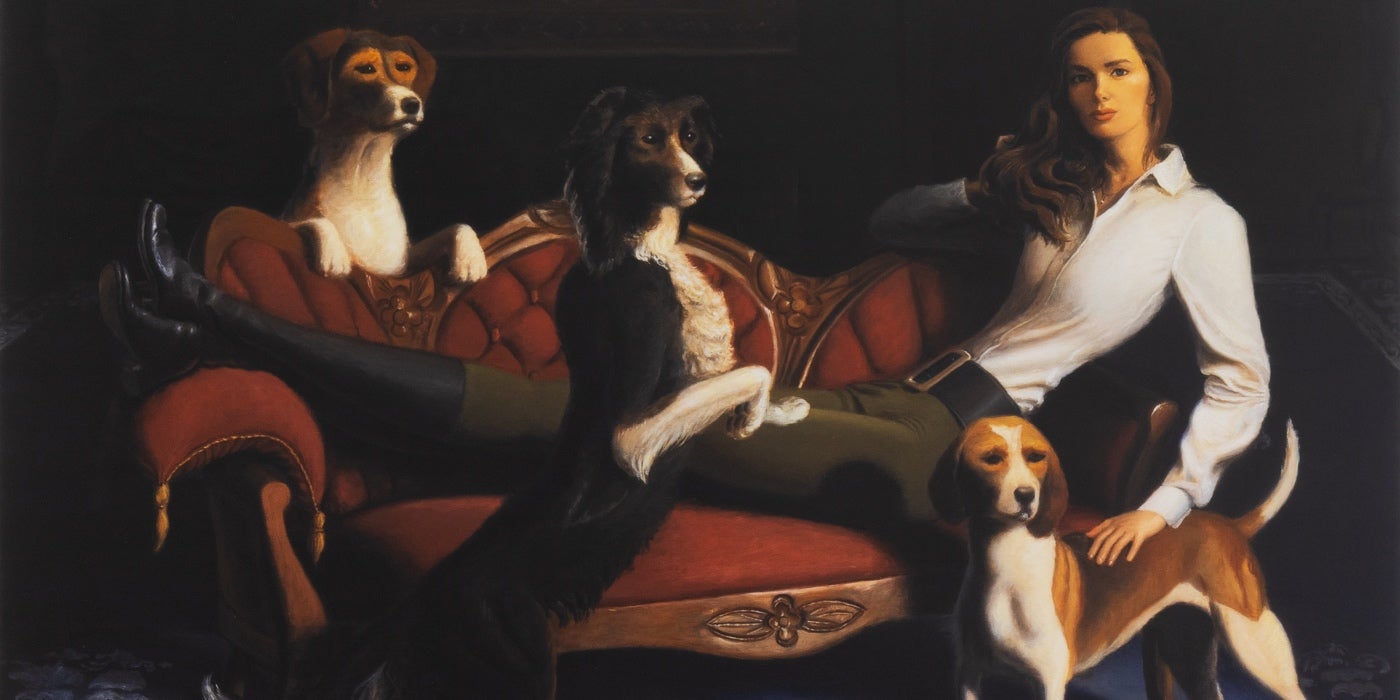 Culture
A Fine Art
Inspired by old-world masters, painter Jansson Stegner creates mysterious, magical portraits in a subversive style all his own
You wouldn't mistake a Jansson Stegner painting for those of 20th-century artists Balthus or Alice Neel, or Spanish Renaissance pioneer El Greco for that matter. Stegner's lush portraits of powerful women and delicate men have too many contemporary signals, surreal forms, gender role reversals, and modern clothes. But you can imagine that these are the works those aforementioned artists would be painting were they alive today: master-quality portraits that bring their subjects to crackling life, infinitely memorable and somewhat disquieting.
"The artists that I've always loved the most have typically been ones who died before I was born," says Stegner, on a phone call from his garage studio in Santa Barbara, where he moved about a year ago from New York. He further invokes Otto Dix and Egon Schiele as influences, and if you put those painters side by side with Stegner, you can certainly see the lineage.
"When I was younger, I felt pressure from professors or other students to discard the past and focus on something more radical," Stegner says. "But at the end of the day, I love a certain kind of painting that is often associated with the past. I just want to engage in that tradition but also make it relevant for today, in a way that reflects my life and my interests."
Which explains why the subjects in Stegner's portraits—mysterious and engaging to their core—look the way they do: long-limbed dandies reclining in suits or beautiful young women with bulging muscles bursting from collegial outfits. In one, a woman in a tartan skirt aims a bow and arrow at a target off painting (Archer, 2020). In another, a raven-haired woman rests cross-legged on the floor, staring straight at the viewer while wearing a University of Michigan Spartans T-shirt (Spartan, 2020). Both women have limbs that reveal a surreal musculature—burly, Thor-like biceps and legs. Both women's faces are unreadable and furtive.
Los Angeles–based art writer and novelist Arty Nelson has been closely following Stegner's work ever since gallerist Nino Mier put together an exhibition of his works in 2018. "He traffics in that Mona Lisa smile in a way where I think there's always this cryptic, obscured quality—you don't quite exactly know what's going on with the subjects in his pieces," says Nelson, who will be writing the introduction to the catalog that will accompany Stegner's late-2021 show at Nino Mier Gallery.
The unnerving quality of the subjects' expressions in question is intentional for Stegner, who endeavors to ensnare the viewer in an emotional entanglement with the painting. "I don't want the figures to feel like empty mannequins," he says.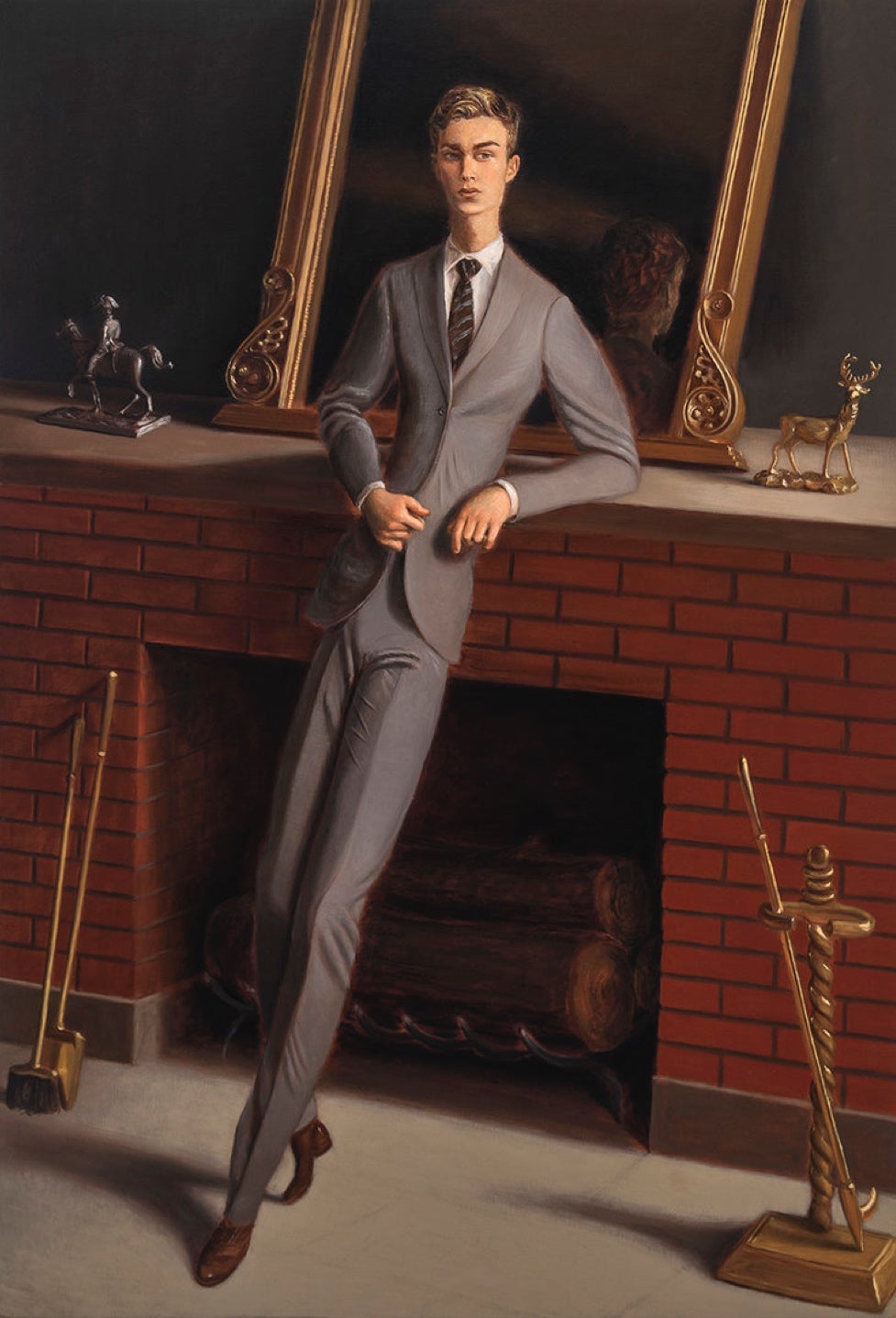 For Stegner, just as important is how the subjects subvert expectations within the paintings. During the 2008 Olympics, Stegner found himself entranced by a women's volleyball match. Here were these women, many of them taller than 6 feet and powerful and striking. "They're spiking the ball with this fierce athleticism and competitiveness," he recalls. "And then they did close-ups of the athletes' faces, and they looked like the girl next door, with very typical feminine faces. I knew that it was something that I wanted to explore on canvas."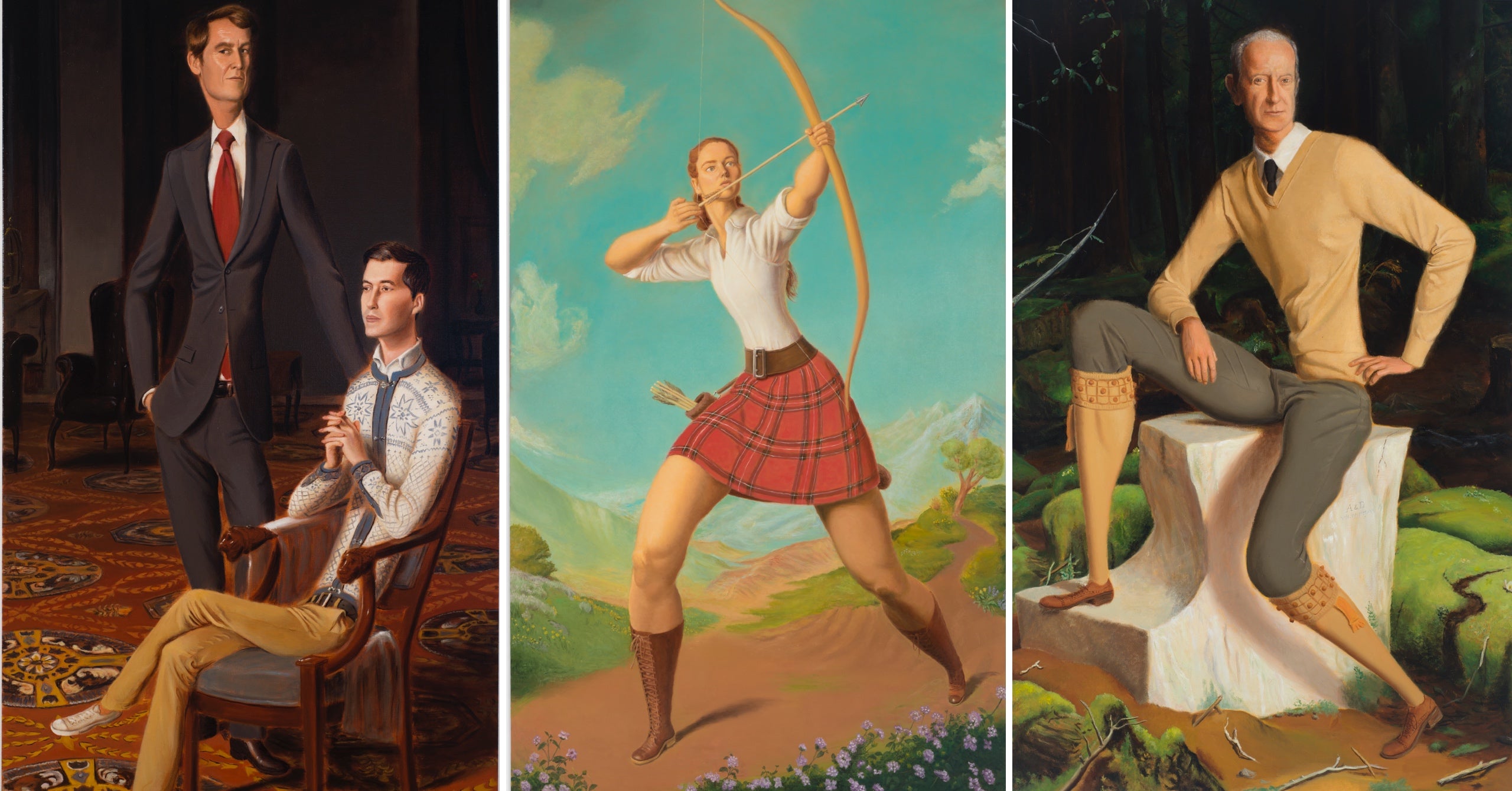 The men in Stegner's paintings challenge gender roles and power in the reverse direction. In the early 2010s, Stegner found himself doing a series of commissions of well-to-do European men, and he began portraying them in ways that were less traditionally masculine—po-faced with waifish bodies and waspy waists, reclining in swank settings and dapper ensembles even as they appear with rifles ready for a hunt. "I've always been fascinated by the male and female idealized type," Stegner explains. "It seemed like an interesting idea to try and blend those two ideals and see what would happen."
Stegner grew up in Minneapolis devouring sci-fi and fantasy comics like 2000 AD and Conan the Barbarian—the latter whose hero's body bears resemblance to the buff-armed athletes in his work. "Comic books are full of weird and strange distortions of the human form, different kinds of bodies, and all kinds of crazy science fiction things, so I'm interested in that kind of weirdness, too," Stegner says.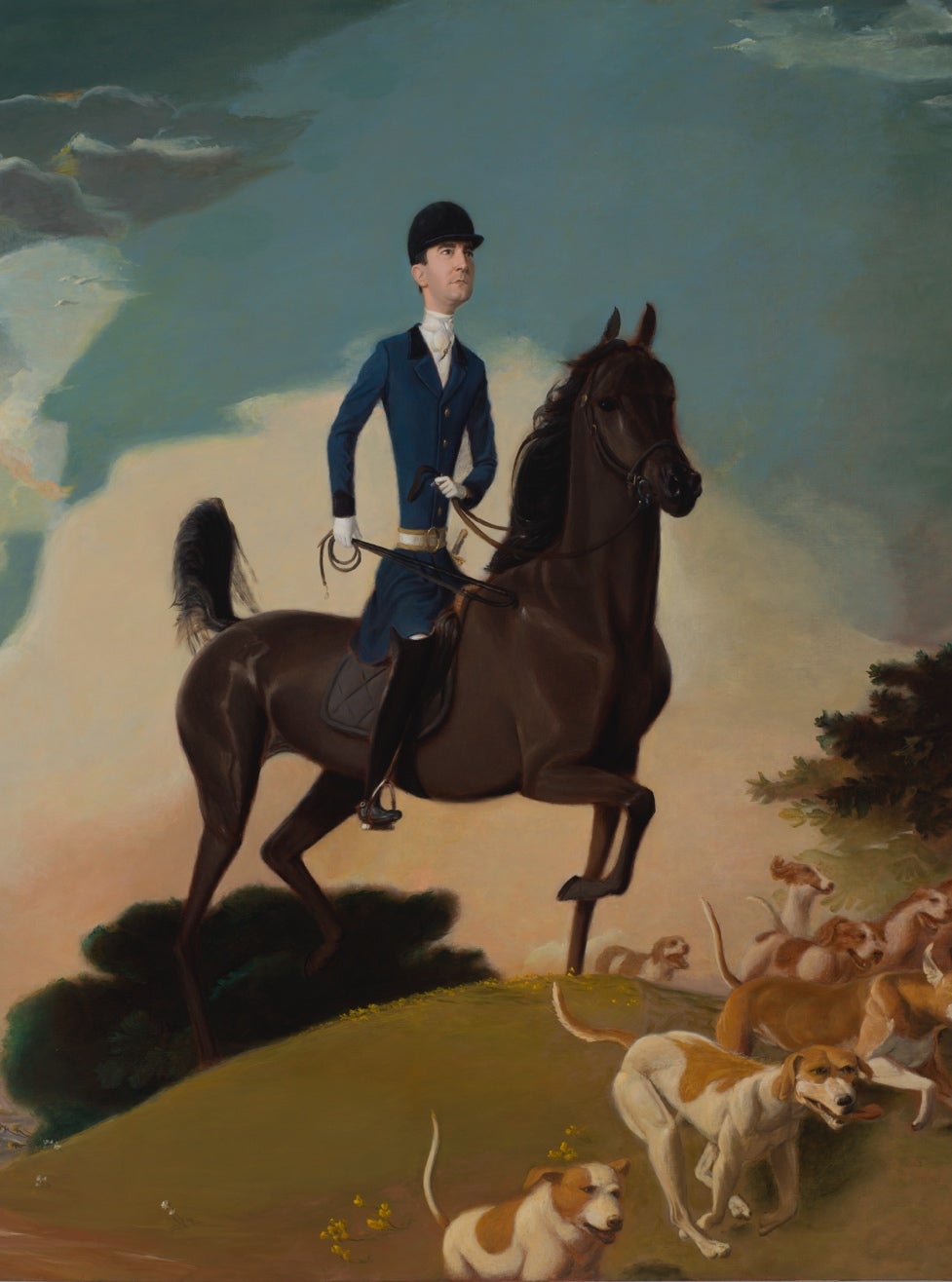 And so Stegner drew all throughout his youth, leading him to study art at the University of Wisconsin. After graduating, he tried to make it as a painter in the Midwest in the late-'90s but soon realized he needed to be in New York. He devised a plan to enter an MFA program at the University of Albany as a stepping-stone to moving to the city in the early 2000s. In New York, his career had some ups and downs—collector Charles Saatchi took note and purchased several works in 2013, and he had a handful of solo shows at various galleries, including several at the Brussels-based gallery Sorry We're Closed—but it wasn't until Nino Mier in Los Angeles (and a subsequent show at Almine Rech in New York) took him on as an artist did he gain today's level of recognition.
This all coincided with Stegner's move to Santa Barbara with his wife and two children. And the new environs have started to seep into the backgrounds of his paintings. "Being in California now, and being so close to the beautiful natural environment—that visual element is entering my work, I can already see," he says, describing the process of setting up a work that involves taking photos of a model—often found on Craigslist—until they settle on a pose that evokes emotion from Stegner.
"It's so rare to see somebody that paints like artists used to," says Mier. "[Stegner] really takes his time with a painting. He may as well have been born 300 years ago. It's just the quality of the surface, the choice of colors, the use of the varnish on top. It feels like you're living with a masterpiece."
A masterpiece with a healthy dose of preternatural oddness that makes it hard to look away. "I definitely want there to be some kind of strangeness that you can't quite put your finger on," Stegner explains. "I just feel like life is a mixture of normalcy and weirdness, and I like to make paintings that remind you about that a little bit. I like to knock people out of what their normal expectations are."
is a writer and perfumer based in Los Angeles. His writing has appeared in L'Officiel, Vogue, and Condé Nast Traveler, among other publications.
Images courtesy of Nino Mier Gallery