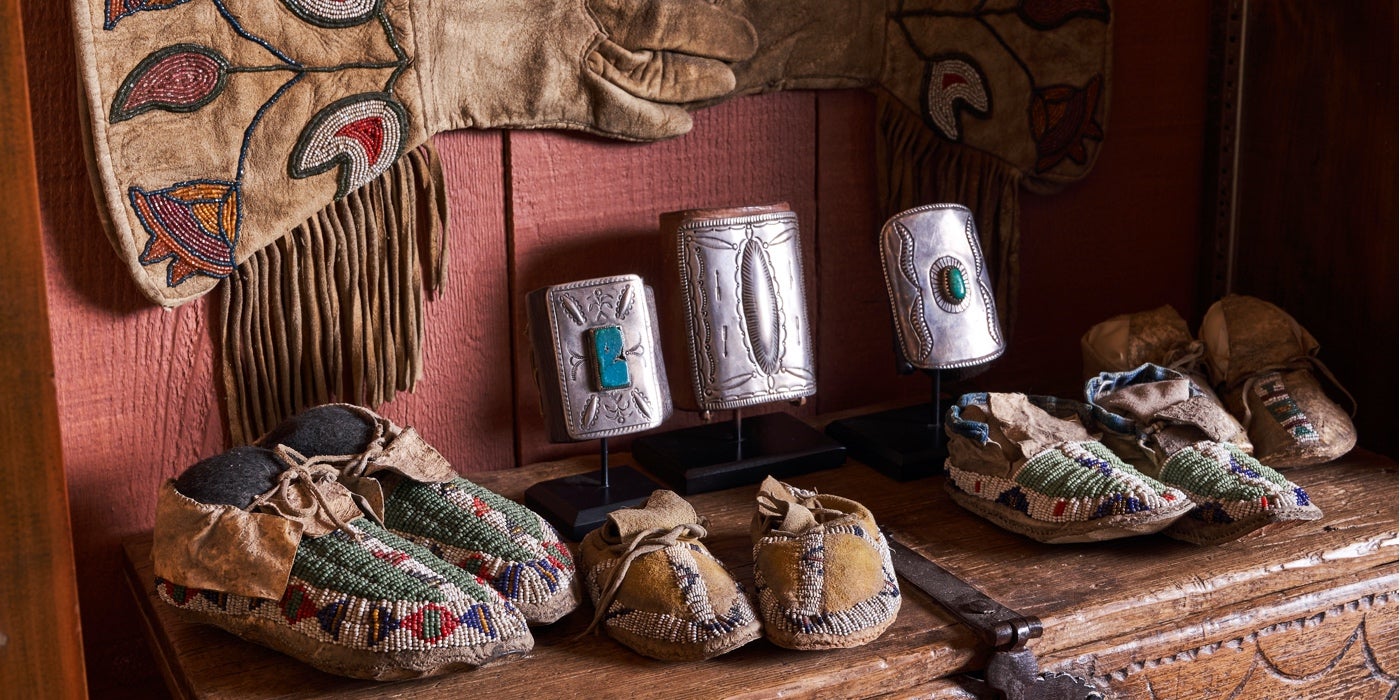 Culture
Home
on the Ranch
In a small Texas town, the home of an award-winning restaurateur and his wife pays homage to the American West with a one-of-a-kind collection that spans the centuries
At 640 acres, the Perini Ranch in Buffalo Gap is a modest plot by Texas standards, where ranches can often spread to more than 200,000 acres, but for Tom Perini, it's been home since 1952. Surrounded by a 300-foot basin, there is, indeed, a gap through which millions of buffalo once traversed to reach the high plains in the summer months.
Located about 15 miles from the city of Abilene, Texas, the town's local population is just under 500 residents, with Tom and his wife, Lisa Perini, among the most treasured. Together, they look after their ranchland and award-winning eatery, the Perini Ranch Steakhouse, in a true study of Southern hospitality. It's a favorite hideaway for locals and visitors alike, Oprah Winfrey included.
Just a stone's throw away is their home, an inviting residence shaded by towering oak and pecan trees where you're greeted by a small herd of longhorn cattle with names like Thunder, Gatekeeper, and Mocha. There's a duo of basset hounds, too: Jett Perini, named after James Dean's character in the 1956 Western drama Giant, and August "Gus" Perini, an homage to Robert Duvall's character in the 1989 Texas-based miniseries Lonesome Dove. "Gus and Robert [Duvall] have met each other several times, and neither one is very excited about the other," Lisa explains with a laugh.
The home's interior is instantly inviting, thanks to its stone fireplace and wood beams, but what's most striking is the trove of assorted artifacts, sourced from every imaginable corner of the world, which add an unexpectedly eclectic element to the home.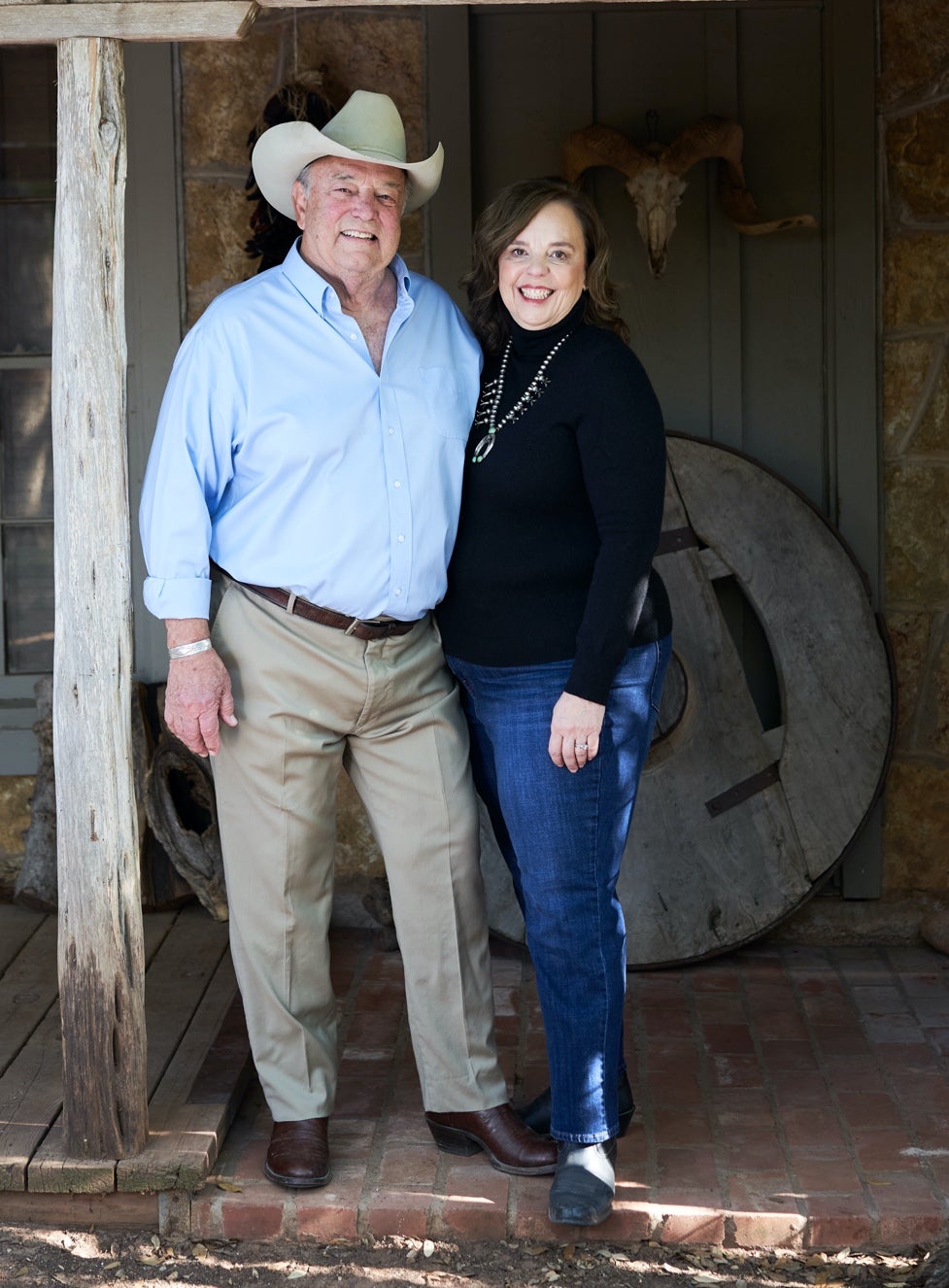 Spanning centuries, it's a collection of rarities that got its start when Tom Perini was just 7 years old and purchased a decorative Moroccan pistol at the La Fonda hotel in Santa Fe, New Mexico, with his allowance. "I just kind of bought things that I liked; it didn't have anything to do with quality or anything," he says. "If it was something I liked, I bought it, but later on in life, I found out that if you're really a collector, you hone in on your collection with a particular style or category or era."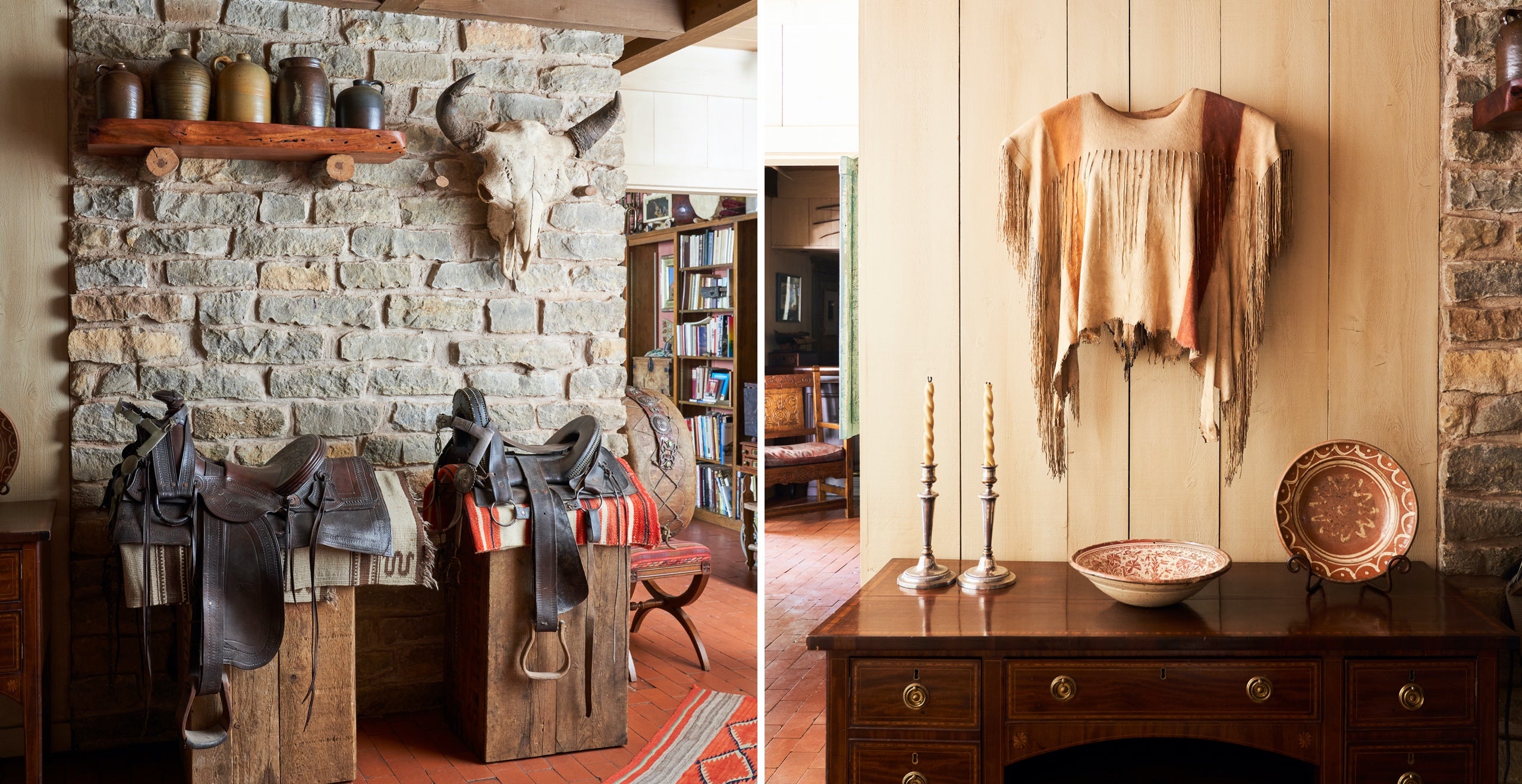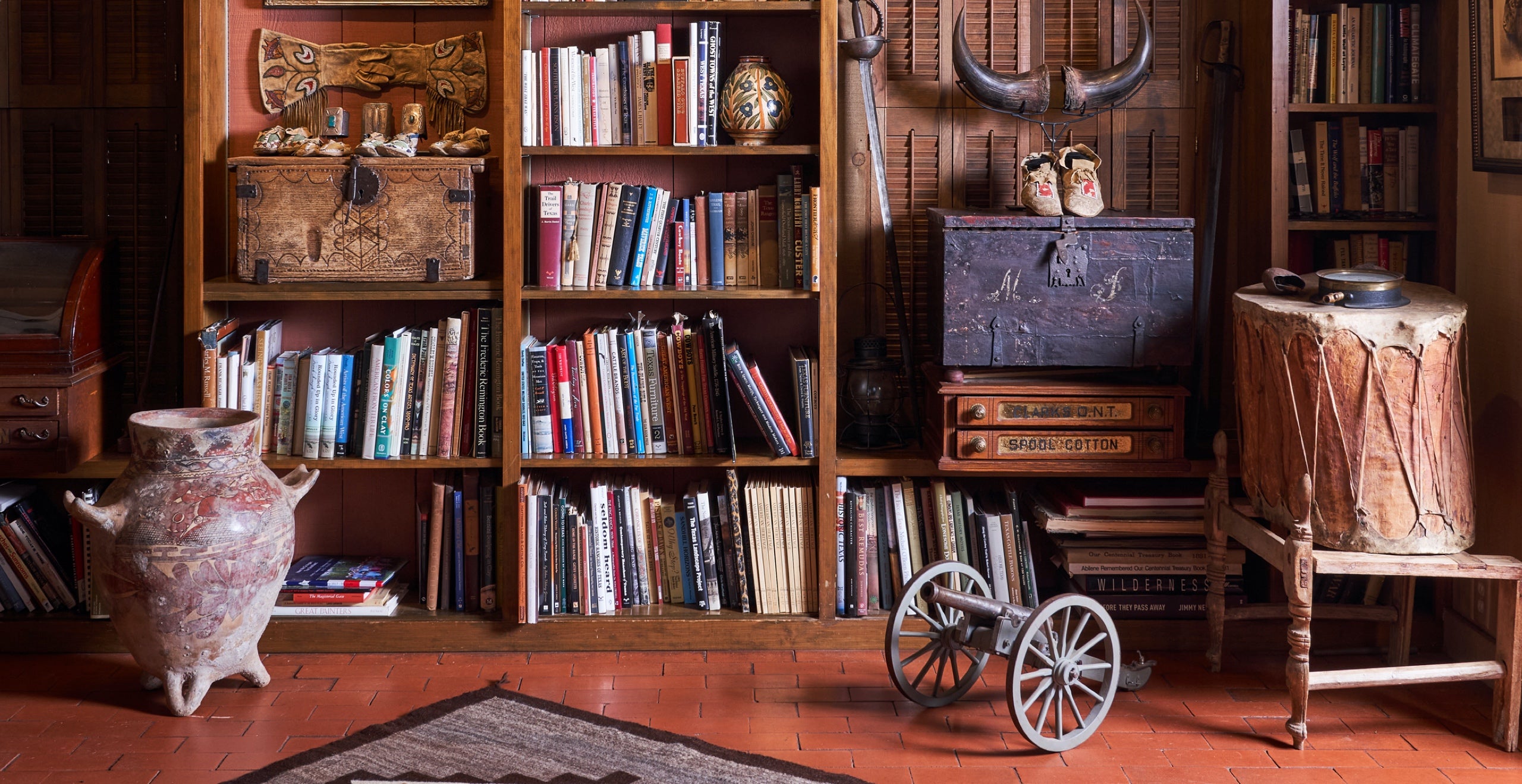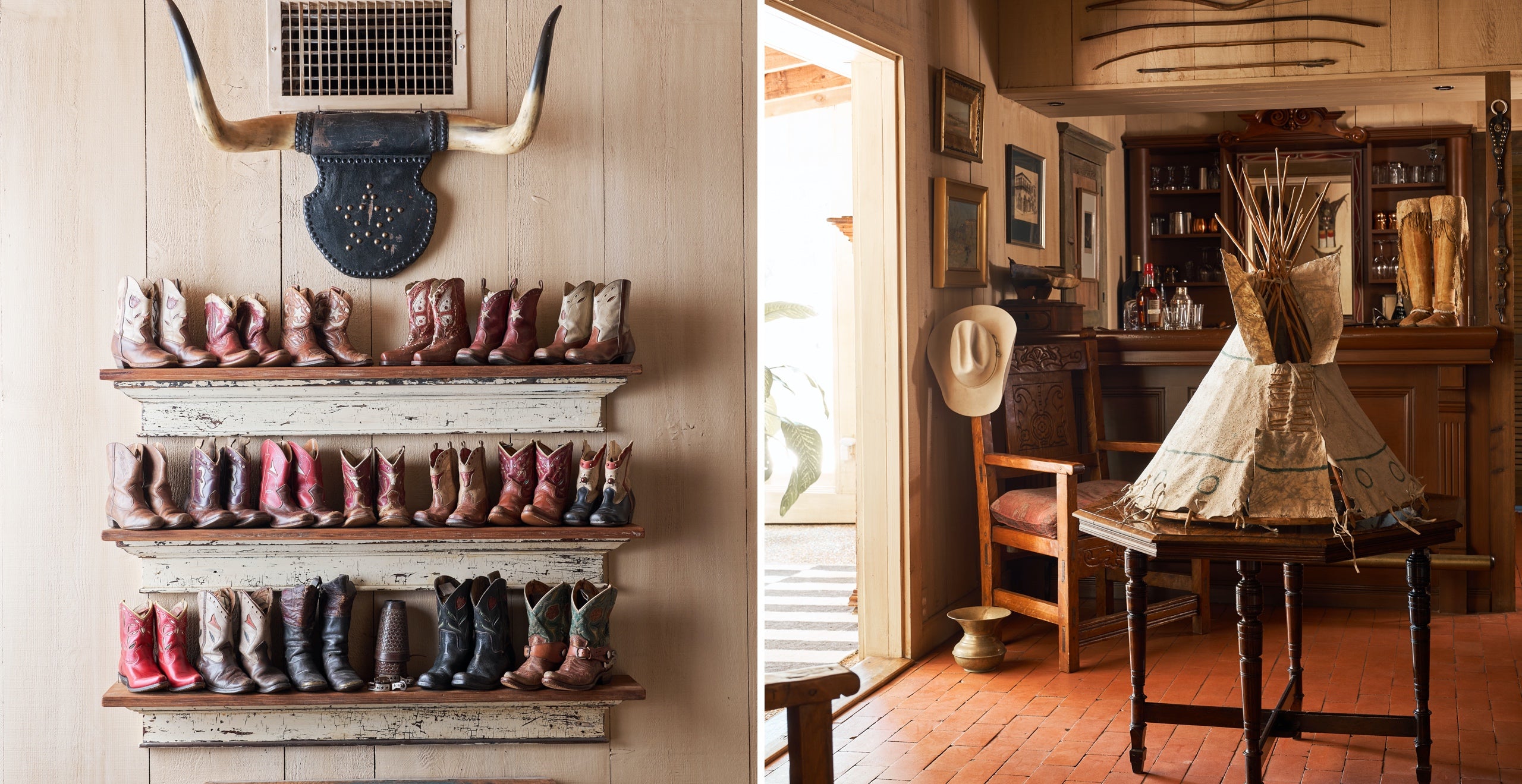 This flow of attraction is made clear in the groupings of items thoughtfully displayed throughout the home. A penchant for armor is noticeable, from the Spanish conquistador helmet to a Turkish chain-mail skirt, circa 1500. On a shelf, arranged in neat rows, sits a set of charmingly compact cowboy boots in varying hues, all with an evident patina. "They're 1930s and '40s children's cowboy boots," Lisa explains. "I love them because you can see where the kids had spurs on the back, and where they're worn on the heel. You can tell how many little brothers these were passed down to."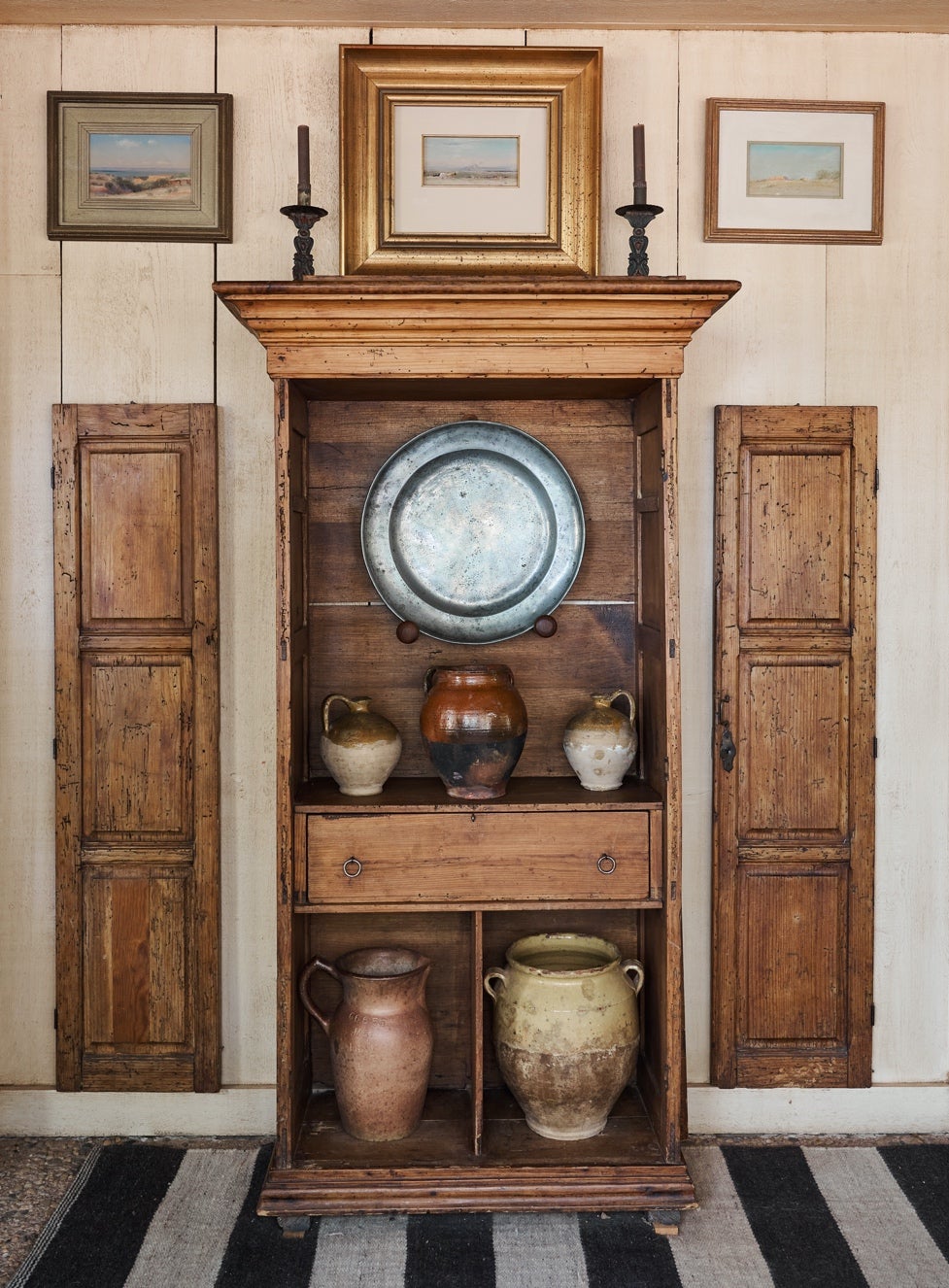 Woven within these curiosities are artifacts of local history, too. Above an English mahogany sideboard sits a women's deerskin ceremonial cape from the Kiowa and Comanche tribes, dating back the 1830s. It serves as the showpiece for an extensive archive of Native American history, which also includes various saddles, textiles, and turquoise accessories collected over the years by the couple.
But what comes as no surprise to anyone who visits the family's home is their seemingly endless arsenal of cookware. Cast-iron pans and crocks, wooden serveware, and an array of knives all set the stage for the Perini's moveable feast of favorite dishes like Zucchini Perini (sliced zucchini rounds baked in an Italian meat sauce and Parmesan cheese), green chile hominy, and of course, a hearty portion of beef, all arranged atop a chuck wagon, of which the family keeps a small fleet stored in a nearby barn.
"A chuck wagon really is one of the first food trucks," jokes Tom. "It was actually a vehicle that traveled with the cattle herds that were going up to Abilene, Kansas, designed to feed about 15 cowboys two meals a day for two months plus, but it was a meeting point, too, and a sort of hub for the journey. Everything happened at the wagon."
Altogether, the items that comprise the Perini collection are not just simple vestiges of history. Instead, they create a sort of intangible comfort for the family and their guests in their scale and multitude, carefully amassed over generations. "Our home is not a fancy home," Lisa says. "It's not that somebody came here and brought in a bunch of stuff and said, 'Put it on the wall.' Everything in this home has a story."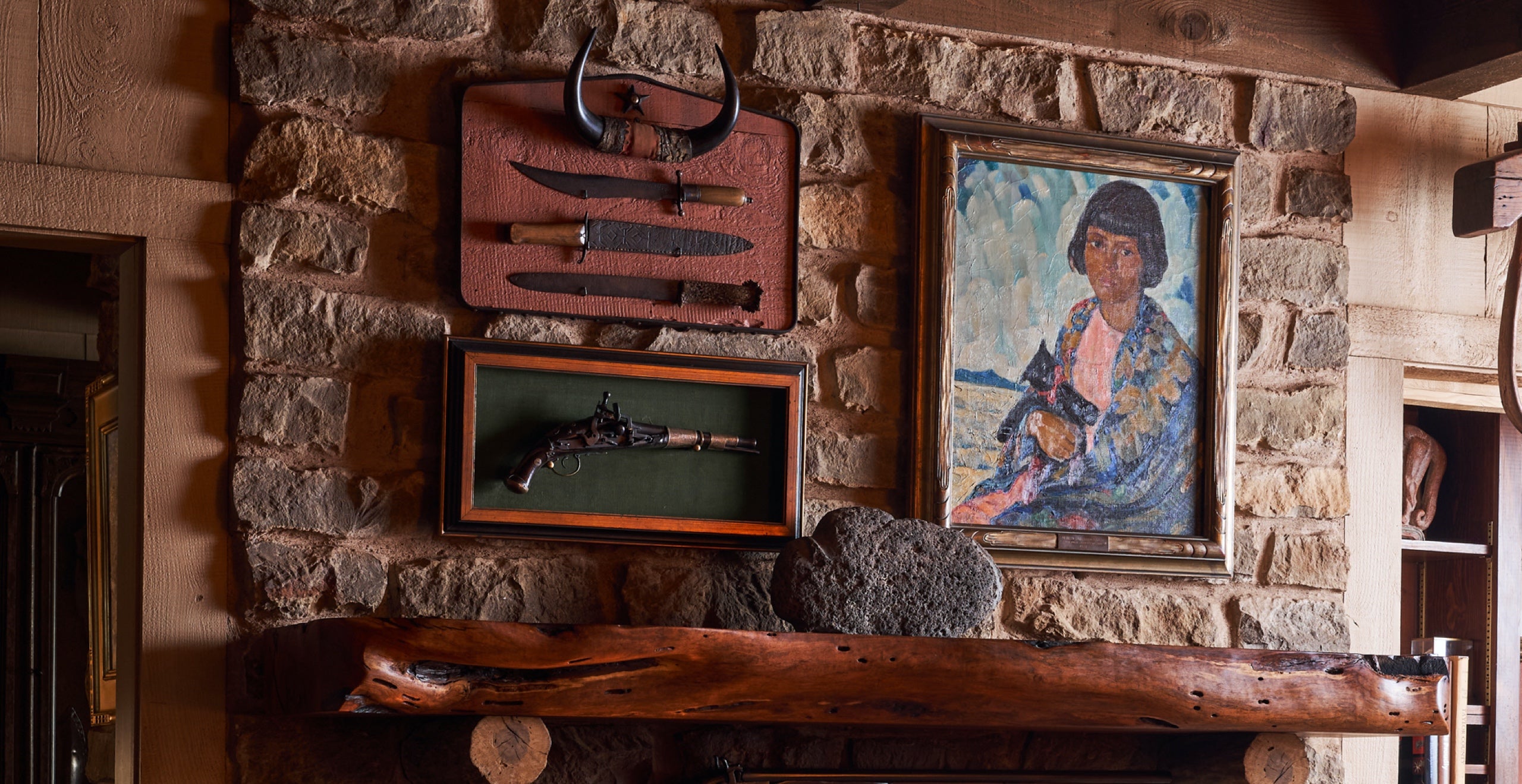 is a writer living in New York City. His work has appeared on the websites of Vogue, British GQ, Architectural Digest, and Travel + Leisure.
Photographs by Stephen Karlisch