"Because it's there," was George Mallory's famous answer to a reporter asking why he wanted to climb Mount Everest. Mike Plant likely would've said the same thing about the oceans that cover two-thirds of the earth's surface, which he circumnavigated—alone—three times before his untimely death in 1992. Coyote: The Mike Plant Story, an excellent new documentary directed by Plant's nephew Thomas Simmons, tells the story of a complicated subject who, following a troubled childhood in Minnesota, finds his true home on the open water, ultimately becoming one of the best single-handed ocean racers ever. Through extensive interviews with Plant's family and friends, plus previously unseen footage of Plant scraping together funds to get his first boat designed and built, Simmons weaves a gripping narrative of a man consistently rising to meet every obstacle—natural and man-made—head on. From winning his first race to a key moment when he chooses honor over glory, Plant remains something of an elusive figure, though that's to be expected, given his proclivity for the solitude of a solo voyage. In the end, Plant may be best understood by another Mallory quote: "Why do we travel to remote locations? To prove our adventurous spirit or to tell stories about incredible things? We do it to be alone…and to find ourselves in a land without man." Here, Simmons talks about Plant's magnetism, his tunnel vision, and his legacy in the world of sailing.
Aside from the fact that he was your uncle, what pushed you to want to make the film?
I found myself going down a very straight-arrow path. I went to college and studied economics and started my career, and I sort of ran into a wall. I began questioning myself. Why am I doing this? I really wanted to do something creative, and I really wanted to take a risk. If you look at Mike's story, we were really about the same age. I was 32, and Mike was 34 when he decided to build a boat and sail around the world. I was 32 when I had a steady job at an investment bank and I decided that I was going to take a sharp left turn and really do something that I believed in. I had no experience making films before this. I mean no experience at all.
It seems like you learned a lot from his story…
Not that Mike was always a good example to follow—he went to some dark corners—but when I decided to jump off the cliff of having a stable job, I carried Mike's example in my pocket. Take a risk on something that really makes your heart jump.
Were you close with him?
He was a very guarded person. He wasn't paying much attention to anything but his mission. I'm not trying to paint him as a bad person. He just had tunnel vision on the mission in front of him.
In a way it makes sense that a personality like that would end up sailing around the world by himself.
He fed off that. He didn't have to rely on anyone. If he succeeded, it was because he succeeded, and if he failed, it was because he failed. I think that's something he always fed off of. He was always kind of a lone wolf. From the time he was a young boy, all the way through.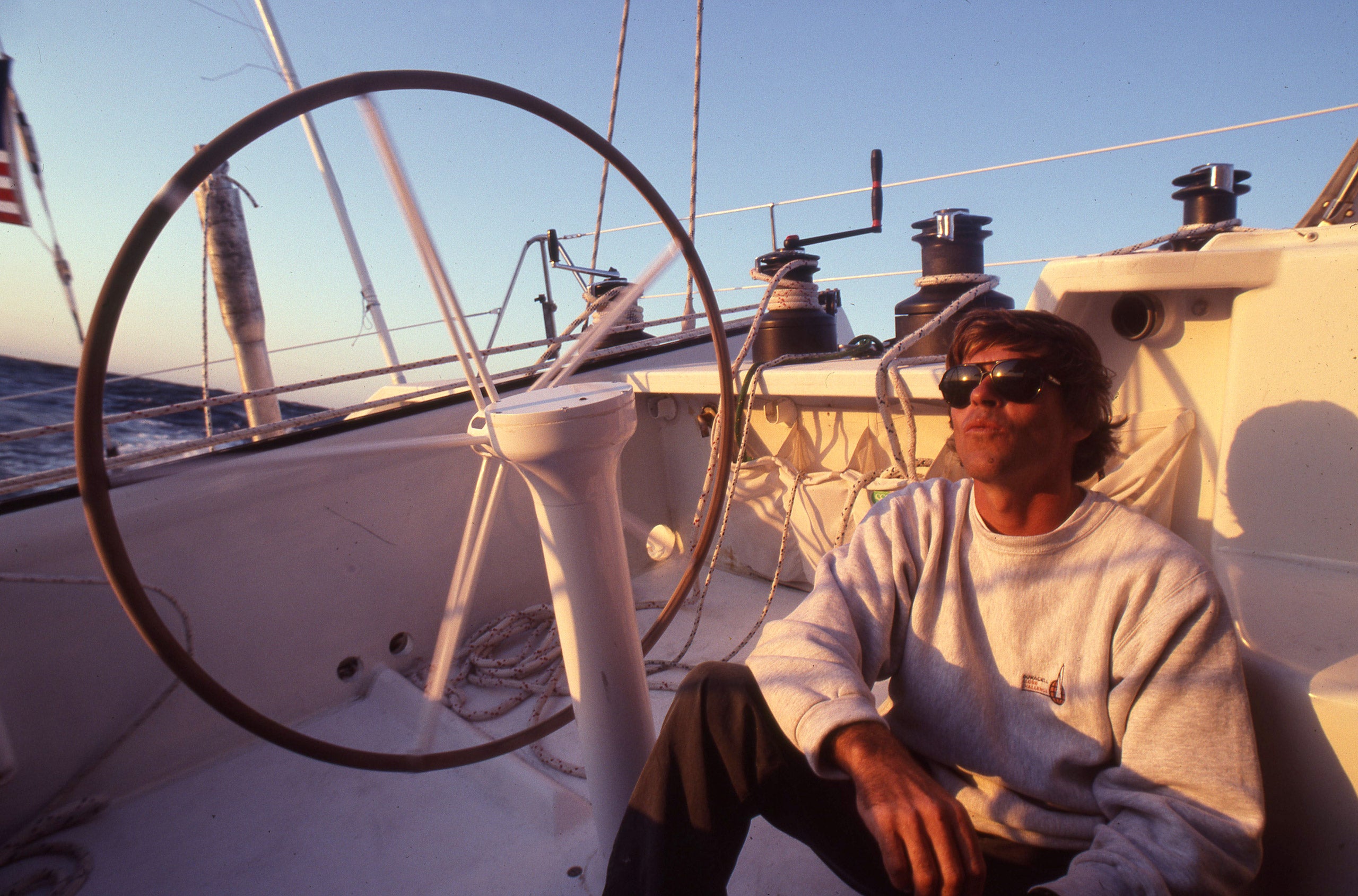 And yet he seemed to have something magnetic about him, something that drew people in.
People definitely gravitated toward him because of the energy he had and the great big things he was setting out to do.
What do you think drew Mike to the open water?
At the end of the film when you see Mike just behind the wheel by himself, you recognize that's the most calm you ever see him. Mike's life in general was the coyote's life. He was all about going solo. This was a sport that required that, but it also enabled that. He could get on that boat and nobody else could touch him. He could do it all alone. It also encompassed incredible danger, and I think Mike naturally gravitated toward that. There are people whether they are mountain climbers or extreme skiers or whatever that have a chip in their brain that really only receives satisfaction when they are pushing the envelope.
But pushing that envelope got him into some trouble…
When Mike was smuggling drugs from South America into the United States, as one of his friends says in the film, I don't think he ever wanted to be a drug dealer; he liked the thrill of potentially getting caught. Many things he did in his life unknowingly prepared him for this sport. Whether it was hiking the length of South America by himself or navigating the dangers of going through the Athens airport with a fake passport. I think you can transfer that to why he'd want to engage in a sport, where you're encountering pretty grave danger on a regular basis
The thing that was most impressive to me about his story was not just the physical demands of sailing solo around the world, but the mental endurance that would be required for literally months at a time. What impressed you most about his accomplishments?
That he walked into a sport that he had no real experience in, no single-handed ocean racing experience, but not only that, he built his boat with his own hands, then won his class in the first race he ever sailed. What Mike would say was the hardest part for him was not sailing around the world; the hardest part was raising the money.
If he were still alive, do you think he'd still be racing?
My opinion is that people who are wired like Mike Plant—the risk takers—don't grow out of that. I think you just keep taking it further.
What do you think Mike's legacy is to sailing?
I think his legacy was that he was an American pioneer. At the time of his death he was one of only five skippers that had completed three single-handed circumnavigations of the globe. And the only one who was an American.
Coyote: The Mike Plant Story will receive worldwide digital distribution in October 2018.
is a writer and musician based in New York City.
Photographs by Billy Black