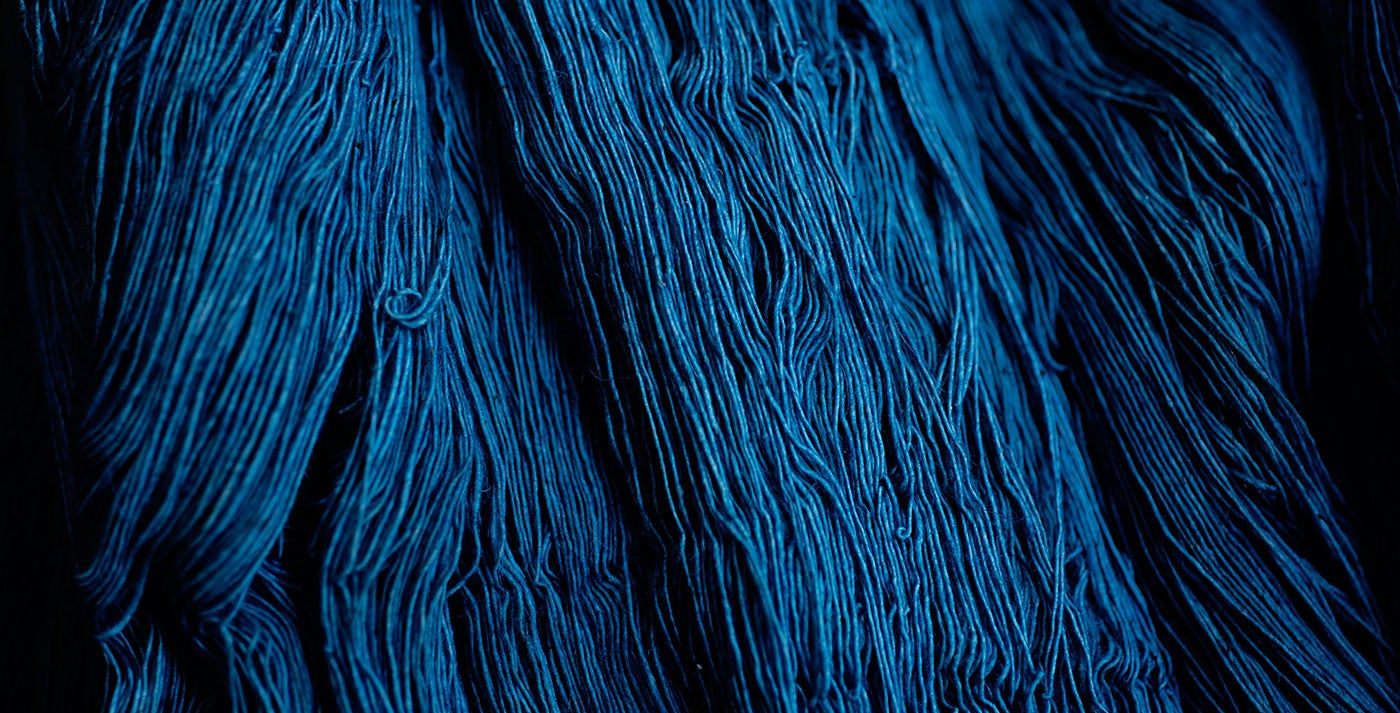 Style
East Meets West
Across the globe and back again: how one pair of RRL jeans makes it from a cotton field to your closet
When Ralph Lauren founded Double RL in 1993, he was inspired by the heritage of the American West and the train-hopping, steer-wrangling, gold-panning men who helped to settle it. "It's not fashion, it's real stuff," Ralph has been known to say about the line in the years since. Nothing better embodies that uniquely American quality than a pair of blue jeans (made in the first place for the hard-wearing needs of miners and cowboys). American made jeans have always been a staple in the Double RL wardrobe, but the jeans made with the "East-West" denim, which crosses the globe in pursuit of perfection, just may be the gold standard. Here's how a single pair comes together.
All denim is made from cotton, but not all cotton is created equal: the material can vary vastly in quality depending on where it's sourced. RRL's East-West denim is fabricated using premium grade cotton harvested in the state of Tennessee. The crop that grows there is renowned for its extra long, uneven fibers. When eventually spun and woven, that will translate into denim that's supremely resilient, with a unique texture that sets it apart from the pack.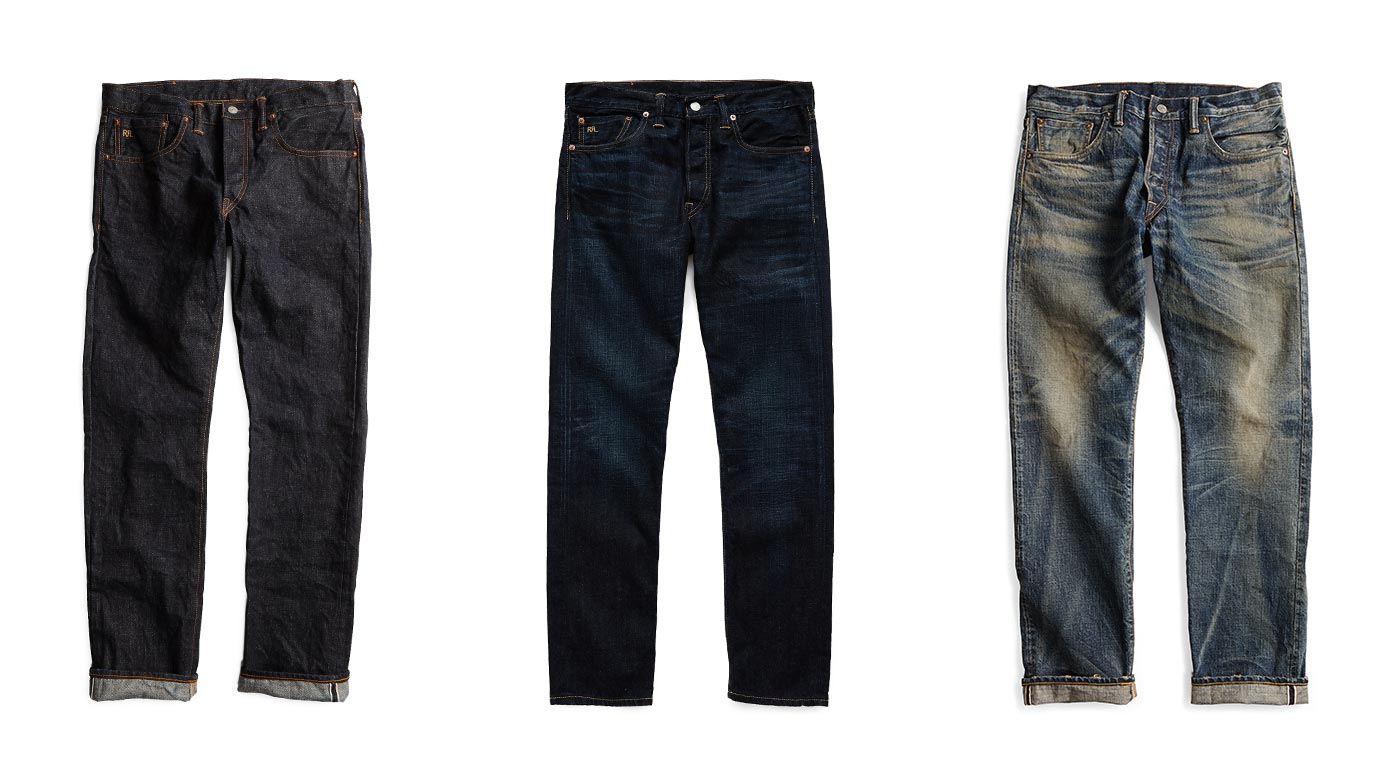 From Tennessee, the cotton is flown across the ocean to Japan. To Okayama, specifically, a city that is to denim what Memphis is to the blues. Today, some of the world's best American denim is made in Japan, where a centuries-old tradition for indigo-dying and fabric weaving is combined with a dedication to maintaining and using vintage narrow shuttle looms which were largely dispensed with half a century ago. In the 1900s, all denim was made on these narrow shuttle looms: slow, noisy, and costly to maintain these looms created a narrow fabric with low-tension, resulting in strong and dynamic denim, rich in texture and finished on either end with a closed selvedge edge. By the 1950s, the fabric had grown so popular that most factories switched to more efficient air-jet looms, creating more product, faster, cheaper and at a lower quality.
To create our East-West denim, we partnered with a small Okayama denim mill that is a standard-bearer in a nearly lost art. The long-staple cotton is deftly ring-spun into a soft, lofty yarn, and rope dyed a red-blue shade of indigo inspired by jeans from the 1930s. Spun and dyed, the yarn is finally woven into bolts of fabric on wooden hanger-style shuttle looms, finished with an iconic red-line of yarn through the selvedge fabric edges. Off the loom, the fabric is then Sanforized, to reduce shrinkage, and finished with a proprietary process that retains the natural "loomstate" characteristics of the denim, creating a true "hand of quality".

From one denim mecca to the next, the finished bolts are shipped over to California — the state where jeans got their start. Here the product really takes shape: the denim is cut and sewn into finished jeans manually using methods that were common from the 1940s-1960s, but have become rare today: chain-stitching, washer burrs, hidden rivets, and handset pockets and waistbands.
American-made thread and rivets hold it all together, while an open "busted" outseam on the outside of each pant leg leaves the selvedge edge visible as a hallmark of quality. For a finishing touch, the signature RRL leather patch is applied by hand.
Once assembled, the jeans are given a final once-over for detailing and distressing. A team of artisans in Los Angeles fits each individual pair onto a special form and rough them up just a bit. Hand-sanding is one of the best ways to give a patina of age, but that's just one piece of the tool-kit: a finished pair of pants can undergo up to 50 steps before they head out the door, and that's without even considering the variety of vintage-inspired washes that change with every season.
With this last step, East-West Denim goes from uniform fabric to a wear-ready pair of RRL jeans.
From field to factory to weekly rotation, East-West Denim comes to life when the jeans take on the life of the wearer, weathered by the elements and the inevitable abrasions that come from daily use. Eventually, whiskers above the legs and "honeycombs" behind the knees appear. The tell-tale "track" on the outer inseam manifests. A phantom outline appears on the pocket where you always put your wallet. And then they're not just "real stuff." They're really yours.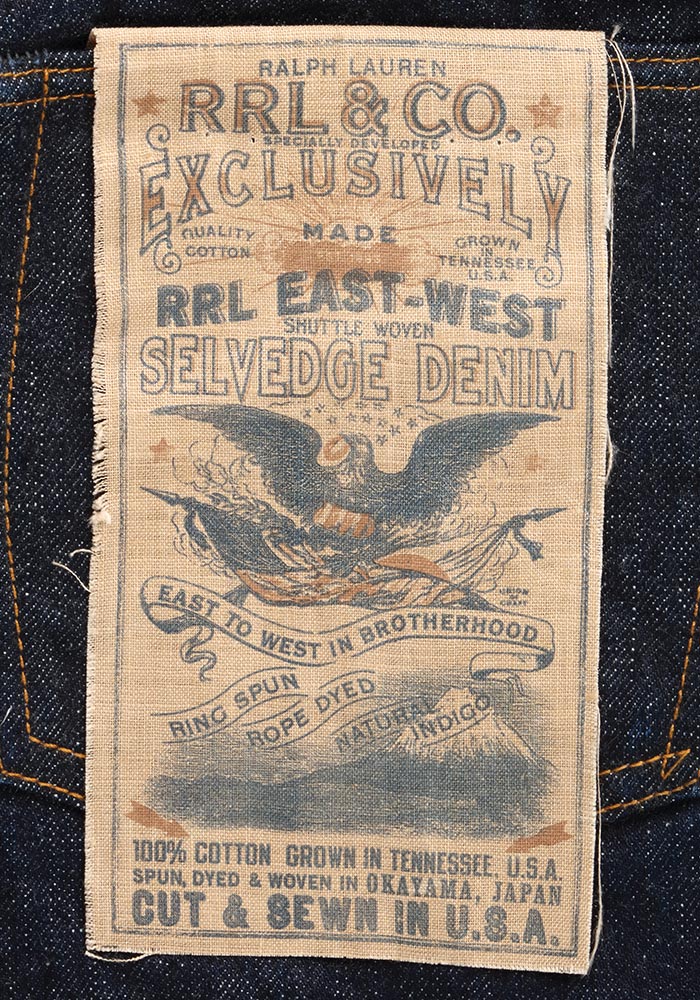 is the former executive editor of Ralph Lauren Digital. He lives in Austin, Texas, with his wife and daughter.
Courtesy of Ralph Lauren Corporation