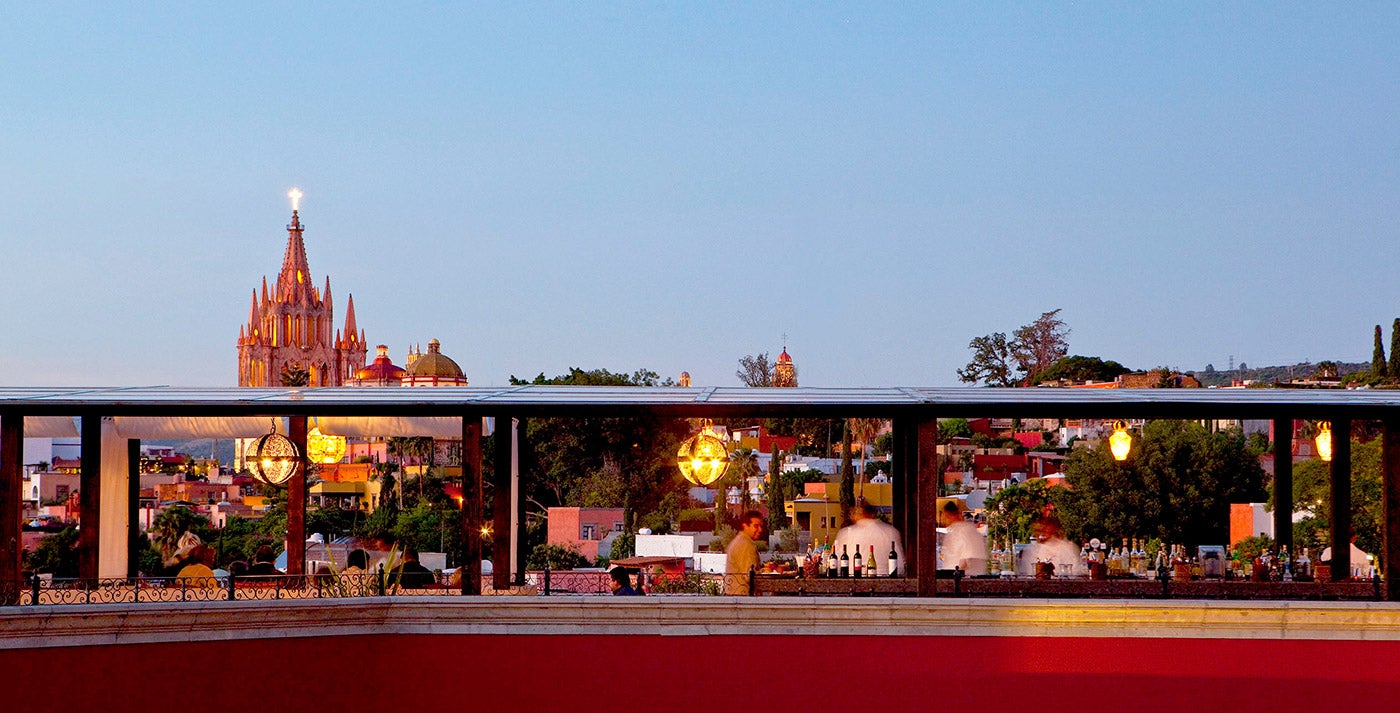 Travel
Friends in High Places
From Sydney to San Miguel de Allende, nine rooftop escapes that raise the bar
On a warm spring or summer night, the allure of a rooftop bar is impossible to deny—the panoramic vistas, the fresh air, the distant hum of the city below. Unfortunately, your average open-air venue tends to be stronger on scenery than scene. There are exceptions, though. We scoured the globe to find nine spots where the food, drink, and vibe are as attractive as the views.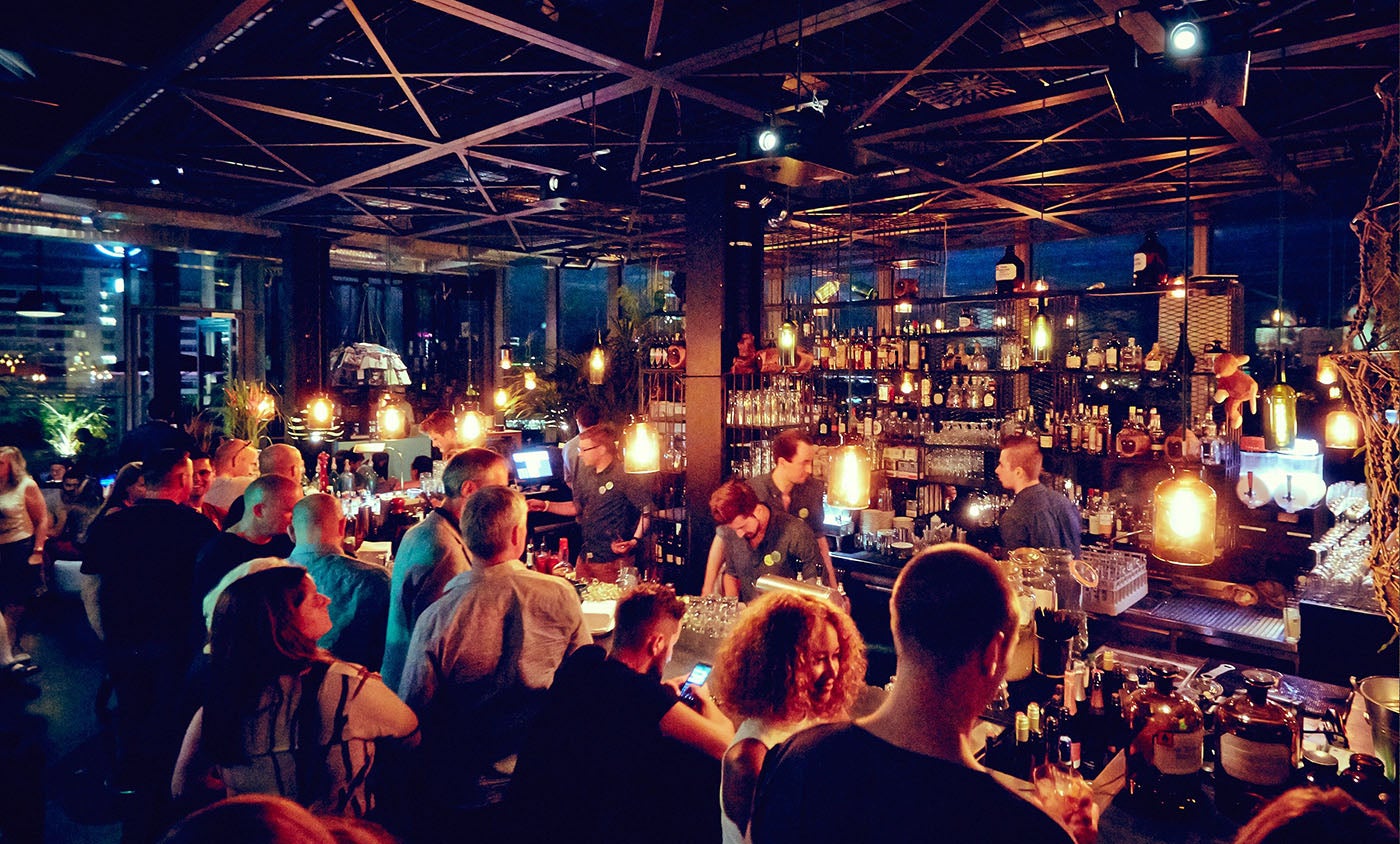 Called the Monkey Bar because of its location adjacent to the monkey sanctuary at the city zoo, this bar and lounge on the top floor of the 25hours Hotel Bikini Berlin adds youthful allure to the newly resurgent Kurfürstendamm. Multi-level seating, Bauhaus-inspired furniture, and a dark-wood bar make the perfect setting for Berlin's media types, who catch up while trying to make sense of mixologists Christian Jorde and Marvin Plattner's King Kong, a rum-based riff on an old fashioned. (They take their monkey business seriously here.)
Monkey Bar, 25hours Hotel Bikini Berlin, Budapester Strasse 40, Berlin, +49 30 120221210
Luna Rooftop Tapas Bar, San Miguel de Allende
Smart guests visit this bar early and snag seats near the perimeter for perfect sunset views of San Miguel de Allende. The pink neo-Gothic towers of La Parroquia de San Miguel Arcángel, the city's iconic parish church, are the main attraction, but the play of light across narrow streets and adobe buildings gives the whole city a rose-colored glow. Per the bar's name, the menu here orbits around international tapas like spiced up patatas bravas paired with octopus, and tacos stuffed with slow-cooked suckling pig. Pair them with margaritas, beer from one of the local microbreweries, or a jug of sangria, and watch as the city lights below begin flickering on.
Luna Rooftop Tapas Bar, Rosewood San Miguel de Allende, Calle Nemesio Diez #11, Zona Centro 37700 San Miguel de Allende, Gto. Mexico, +52 415 152 9700
Gallow Green, New York City

New Yorkers haven't tired of the surreal attractions at the McKittrick Hotel (home of the hit production Sleep No More) in West Chelsea, but Gallow Green, the outdoor space perched atop the building, offers a more laid-back atmosphere than the interactive theater going on below. Punch ladled out of copper bowls and a selection of comfort food (grilled corn, charred hot dogs with "fancy ketchup") add to the venue's rustic feel, and the combination of verdant plants, wooden railroad ties underfoot, and twinkling lights makes for an otherworldly escape from the city below. It's no wonder Ralph Lauren chose to present his Spring 2016 women's Polo collection here. With the likes of Selena Gomez and Ciara mingling with models beneath vine-covered trellises, the event had the feel of the ultimate urban garden party.
Gallow Green, the McKittrick Hotel, 542 W. 27th St., New York, 212-564-1662

Coogee Pavilion Rooftop, Sydney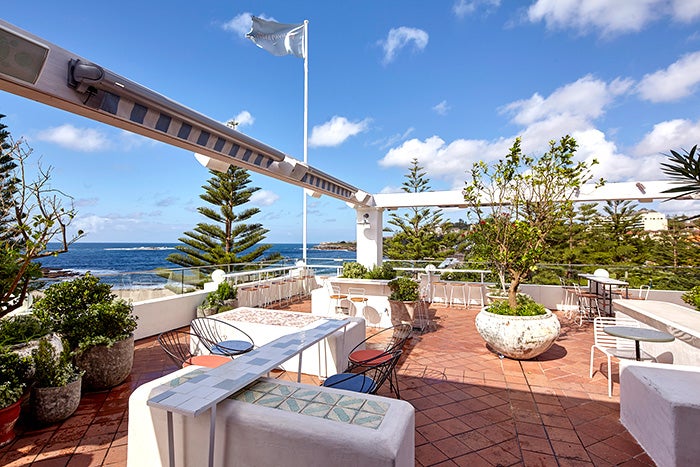 This multi-purpose destination at Coogee Beach, in Sydney, became even more popular when it opened its rooftop in December of 2014—bringing the salt- and sun-soaked appeal of the seaside three floors up. The quirky interior (the designers tried to emulate the home of "an eccentric botanist") features abundant plant life, Audubon-inspired upholstery, and display cases that serve as tables. With greenhouse-inspired glass walls and a spacious wraparound balcony, it's hard to ignore the ocean views, and the grilled shared plates on offer reinforce the outdoor vibe. Eastern Mediterranean–inspired dishes like blistered sweet peppers, charred octopus, and spiced yogurt chicken all taste even better seaside.
Coogee Pavilion Rooftop, 169 Dolphin St., Coogee, NSW, Sydney, +61 2 9240 3000
Once an off-the-map warehouse district, Shoreditch has become one of London's hottest neighborhoods, and the Terence Conran–designed Boundary hotel fits in seamlessly. The rooftop is outfitted with wicker couches, clementine and mimosa trees, a canopy of grapevines, and a central fireplace, evoking the feel of a hidden garden in the heart of the city. The kitchen offers Mediterranean must-haves (including gorgeously charred chicken skewers with tzatziki), a special menu of French Alpine fare during the winter (unsurprisingly, the raclette is a crowd-pleaser), and 360-degree views of London's East End all year round.
Boundary Rooftop, 2-4 Boundary St., Shoreditch, London, +44 20 7729 1051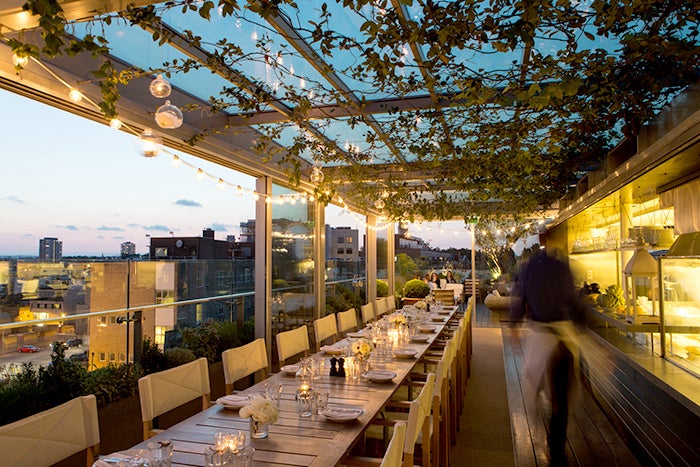 The Chicago Athletic Association served as an elite men's sporting club for more than a century, but after two years of renovation and conversion into a hotel, it's attracting a younger, hipper crowd. Cindy's, on the top floor, has quickly gained a reputation as a see-and-be-seen destination, as much for its peerless views of the Windy City as for Executive Chef Christian Ragano's generously portioned seasonal menu. It also doesn't hurt that the space is stunning—a grand steel-and-glass roof melds Gilded Age aesthetics with an airiness that's modern and sophisticated. As the weather warms up, the restaurant's outdoor lounge will be buzzing with well-heeled locals and travelers sipping on potent tipples like the Grey Garden, a jasmine tea–based cocktail spiked with locally made vodka and Dolin blanc. Best of all, you don't need a membership to try one.
Cindy's, Chicago Athletic Association Hotel, 12 S. Michigan Ave., Chicago, 312-792-3502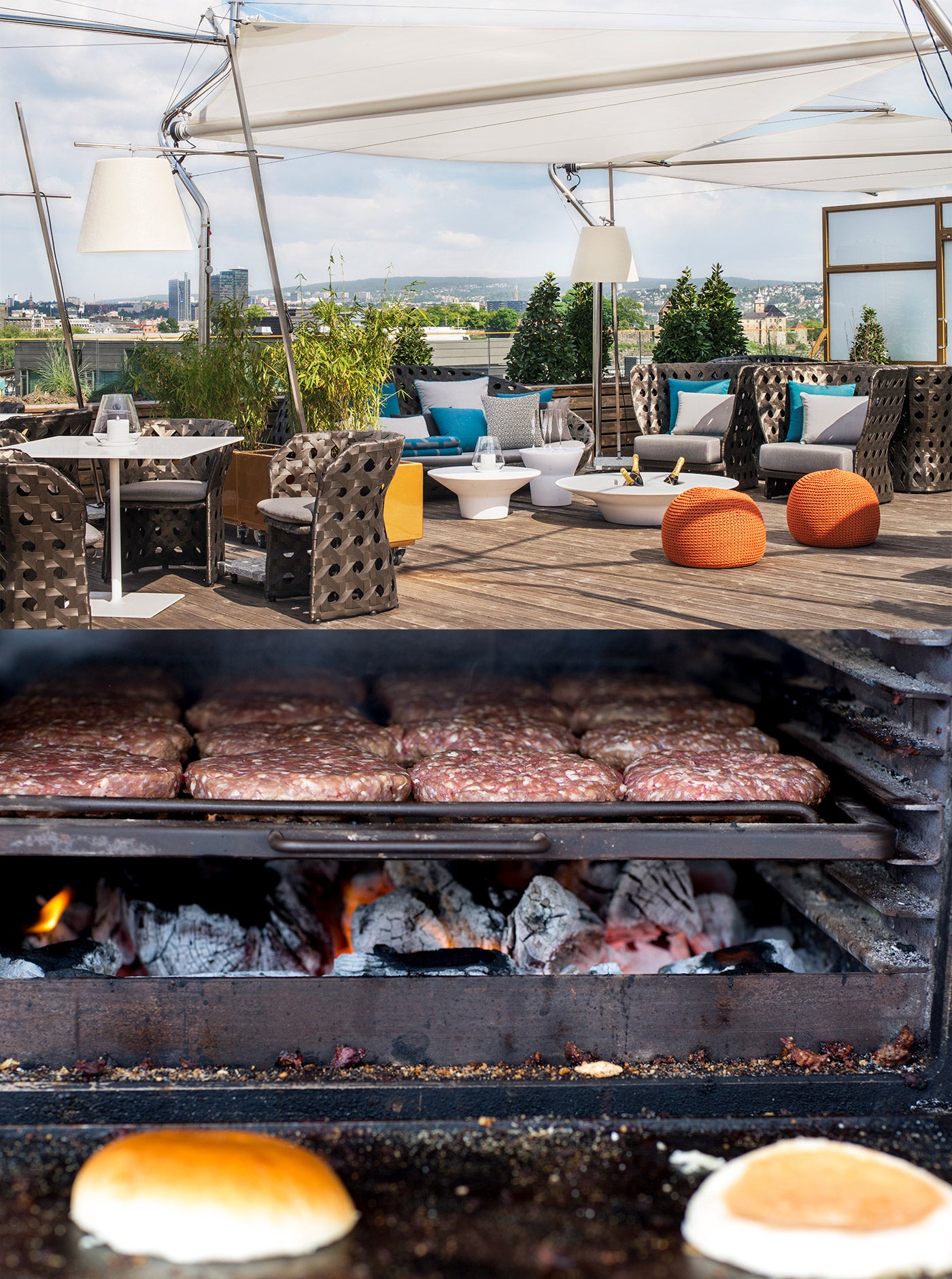 Located on Tjuvholmen, or Thief Island, a former prison islet that's become a hub for great art and design, the Thief hotel has a reputation for showstopping décor, and its rooftop is the crowning achievement. Patricia Urquiola's woven Canasta chairs pepper the space, sleek canvas awnings recall sailboats in the fjord below, and every table is lit by updated hurricane lamps from up-and-coming local designers Vibeke Skar and Ida Noemi Vidal—all the better to see head barman Chris Grøtvedt's creative menu, on which you'll discover near-forgotten cocktails and ingredients (like Czech Becherovka herbal bitters) in the Lost & Found section, but resist the temptation to over-imbibe. One drink too many and you may be tempted to abscond with a souvenir or two.
Thief Roof, the Thief Hotel, Landgangen 1, Oslo, Norway, +47 24 00 40 00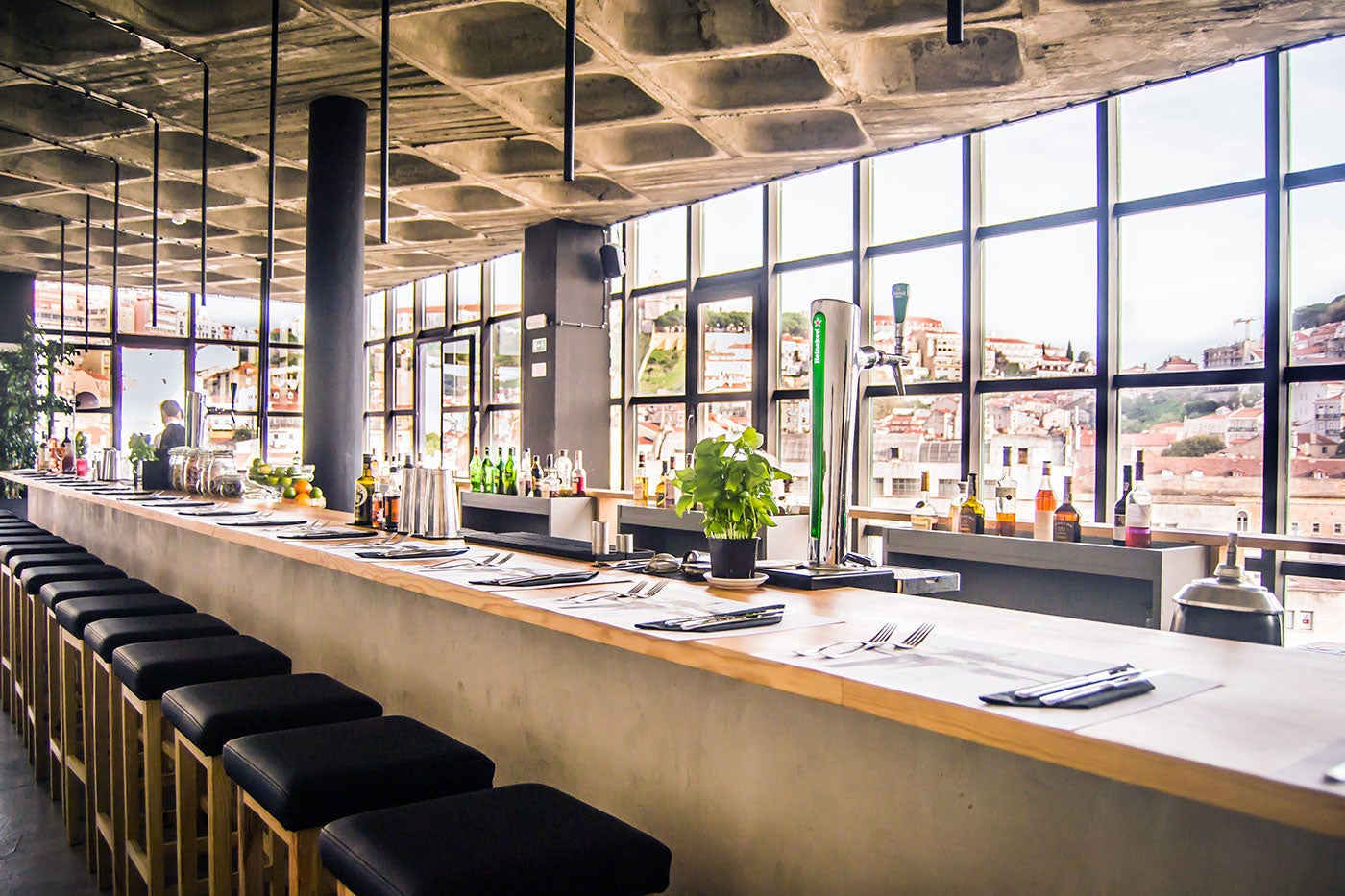 When owners José Rebelo Pinto and Mafalda Malafaya opened this hotspot, they created a bar that exudes a stylishly casual vibe to complement the resurgent Martim Moniz area. So snacks—from the Portuguese prego (a traditional beef sandwich) to peanut sauce–drenched chicken satay—are enjoyed fork-less, and every cocktail feels like a conversation piece (their basil-inflected twist on the gin gimlet is a standout). Indoor and outdoor spaces encourage plenty of circulation and mingling between groups, and what better place to make new friends than six stories high, with São Jorge castle off in the distance?
TOPO, Sixth Floor, Commercial Center Martim Moniz, Praça Martim Moniz, Lisbon, Portugal, +351 21 588 1322
It's hard to beat a rooftop bar for sunset cocktails, but at Iris (an offshoot of the Beirut original), Friday brunch might be the biggest draw, where a sprawl of numerous made-to-order stations, from pasta and sushi to BBQ, stocked with sliders, steak, and chicken skewers, makes for an unbeatable dining experience, especially when enjoyed 27 stories high in the Oberoi, Dubai hotel. Later on, guests can gather around high-top tables and sip from a daily selection of fresh-fruit punches while taking in a dynamic skyline of scrapers, including the tallest building on Earth, the Burj Khalifa.
Iris; the Oberoi, Dubai; The Oberoi Centre; Business Bay; Dubai; United Arab Emirates; +971 4 444 1 407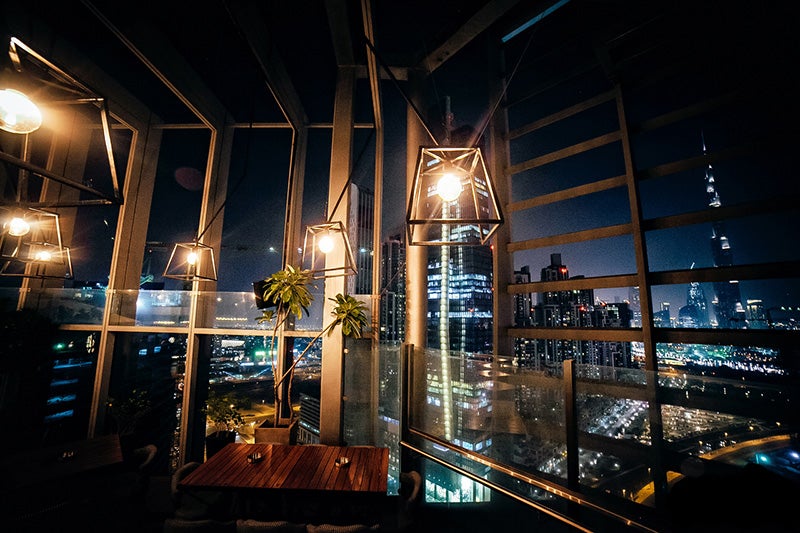 's work has been published in
DuJour
,
Hemispheres,
and
Wallpaper
*. He recently launched 
EIGHTY
, a quarterly magazine about Jersey City, New Jersey, where he lives.
Helen Cathcart
Hasselblad H4D
courtesy of Luna Rooftop Tapas Bar
courtesy of Monkey Bar Berlin
courtesy of Gallow Green
courtesy of Coogee Pavilion
courtesy of the Boundary Hotel
courtesy of the Chicago Athletic Association
courtesy of the Thief Hotel
courtesy of TOPO
courtesy of Iris