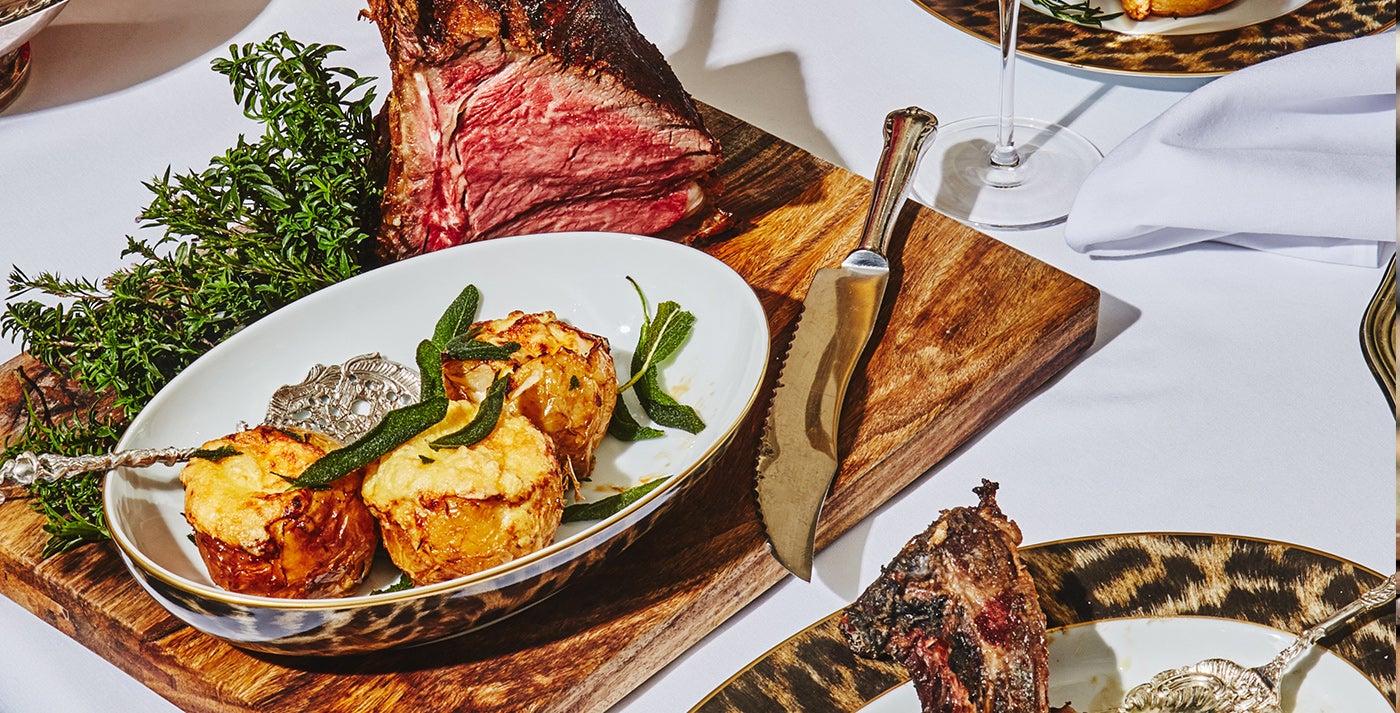 Style
A Woman About Town
In search of entertaining inspiration, Jane Larkworthy drops in on two of New York's hottest restaurants
To master the art of entertaining, it pays to learn from the best. And right now, in New York, no one is better at setting the stage for a great evening out than Angie Mar, chef-owner of the newly reenergized Beatrice Inn, and Clare de Boer, Jess Shadbolt, and Annie Shi, who have turned Soho's King into one of New York's most buzzed about and best reviewed restaurants of 2017. To find out how they do it—and to help you infuse your own holiday gatherings with a bit of their signature magic—we asked writer, editor, and fashionable woman about town Jane Larkworthy to pay each venue a visit. Two unforgettable afternoons (and multiple servings of whiskey-aged steak) later, here's what she learned.
Angie Mar is standing in the kitchen of New York's Beatrice Inn, inspecting a side of beef rib. With its marbleized mosaic, buds of faded lavender nestled into its edges, it is quite a vision of beauty. She gives her okay, and sous chef Nicole Averkiou carries it to the grill.
One of the first things I notice about Mar is her style. Despite not being the tallest person in the room, she is a dominant figure. With a mane of jet-black hair, piercing eyes whose lids are colored in black shadow, she is wearing a vintage leopard coat over a black leather shirt. She makes bold pronunciations, and yet is quick with a laugh.
Her confidence in the kitchen translates to the way she designed the Beatrice's two dining rooms: one is dark and wood-paneled—very men's club—while the other is light and airy with a retro safari vibe. Against the dark green leather banquettes and white tablecloths, the Ralph Lauren Home leopard-print dinnerware reflects Mar's penchant for bold style.
"I want people to come to the Beatrice and feel its storied history," explains Mar. "For a restaurant that has such a rich past, I feel honored being part of the next chapter."
It's been just over a year since Mar took ownership of the Beatrice Inn, having purchased it from Graydon Carter and partners Emil Varda and Brett Rasinski (she had been chef there since 2013). She promptly dropped the dress code and turned its fledgling menu into a carnivore's delight, a decision heavily influenced by famed French butcher Yves-Marie Le Bourdonnec, whose steak Mar dined on during a meal in Paris prompted her to learn the art of aging beef from the master himself. "I don't speak French and he doesn't speak English, but we communicated through the food's taste, smell, and how it looked," she recalls.
Mar returned home and began working on creating her own version of aged beef, playing around with the number of days in which to age the Beatrice's whiskey-soaked, cloth-wrapped beef. She found the sweet spot at 160, and word soon began to spread about this American anomaly.
"I'm still not sure exactly how the science of my technique works, or why I get 20 percent more yield on my whiskey beef than if it wasn't aged in whiskey," she laughs. "But I don't really need to know why, because I know it works. The wait list is usually about a month long, but I always make sure we have enough for our regular customers."
Hospitality is in Mar's blood. Her aunt was Ruby Chow, of the eponymous Seattle restaurant, but it was shuttered before Mar was born. "She always carried on with the hospitality and entertaining aspect of it," remembers Mar. "The importance of that was something I learned from a very young age."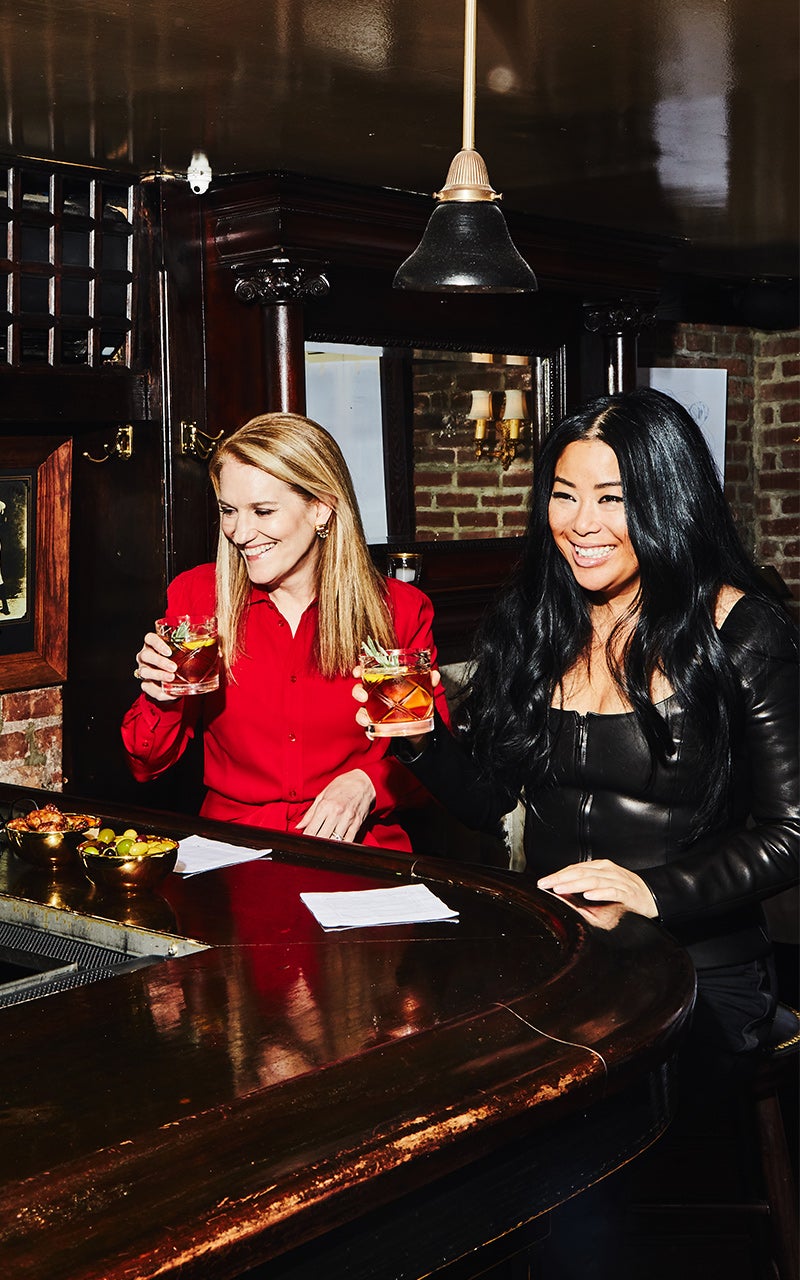 Perhaps that's why, despite a successful prior career in real estate, the professional kitchen called to her. "I've never felt at home in my own skin as I do now that I'm a chef. We all want to be passionate about what we do, and I'm so grateful that I've found that passion."
Mar's passion for what's on the plate carries over to the table itself. "On the bottom of my menu is a quote from Hyman G. Rickover that reads, 'The devil is in the details. So is salvation.' I think that's a quote to live by. We carry that philosophy in our drinks, we implement it in our food, and on our table. At a restaurant, everything starts at the table."
'The devil is in the details. So is salvation.' I think that's a quote to live by.
Mar and I are seated at a corner banquette in the back dining room. As the first slice of beef explodes on my tongue, I close my eyes and take inventory of my taste buds. Mar picks up the bone of her famous tomahawk rib eye, then, as she begins making her way along its marvelous bits, gestures for me to do the same. Vegetarians would be aghast. I do not hesitate.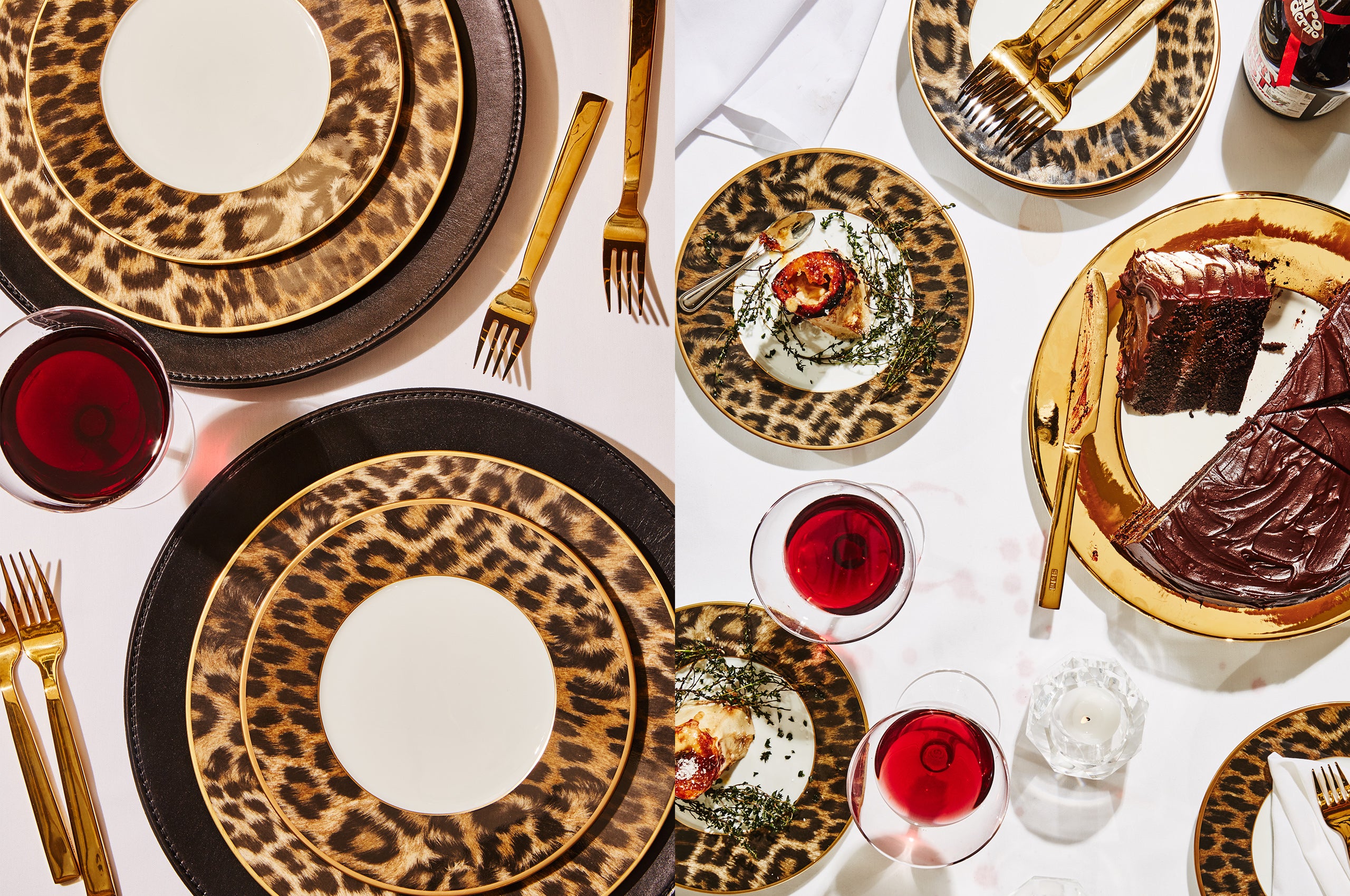 "We're a very specific restaurant and we have a very specific point of view here," she says. "I never want to have to apologize for that, ever." Soon, she hopes to be unapologetic across the pond as well. Plans to open a Beatrice Inn in London are in nascent stages. "London has the right climate for our menu, so our food translates perfectly," she affirms. "My mom grew up there, it's like going home."
This year, she heads to her real childhood home, in Seattle, where Thanksgiving dinner includes close to 25. "My father is one of 10 kids, so I have a really extended family, and we go all-out with the food. There's a turkey, but there's also corned beef, prime rib. And we always make my dad's stuffing, which is this beautiful mix of east and west. He makes it with brioche breadcrumbs, Chinese sausage lap cheong, bacon, shiitake mushrooms and oysters, and all the herbs. It's the most insane stuffing ever."
Spending the better part of night and day with the Beatrice staff, she has formed a tight bunch who do their own pre-holiday celebration, where everyone contributes a dish and even former employees come back.
She dreams of merging her Beatrice and Seattle families someday, but has somewhat loftier goals when asked who'd turn up to her fantasy holiday feast.
"Julia Child would carve the turkey, our wine director Nathan Wooden would serve the wine, and Antanas, our bartender, would make the Christmas absinthe punch. My father would drink the whole bottle of Madeira 27, but maybe he'd share some with Auguste Escoffier. Marco Pierre White would be there, too, standing behind me, criticizing my food. God, I would love that."
When New York Times food critic Pete Wells wrote his review of King restaurant last June, he began with how a friend, a regular, described the experience: "food on a plate in a room."
The review was a glowing one, but placing his friend's succinct summation right up front was Wells' way of reminding us what matters most about the dining experience. Personally, I'd hasten to add the words "most thoughtful" before "food," and "understatedly chic" before "plate." Oh, and after "room" I'd add, "that you wish your home looked like, but you know you'll never get it right like they did."
"They" are the three women behind King: chefs Clare de Boer and Jess Shadbolt, and partner Annie Shi, who mans (or wo-mans) the front of house. They were thrilled that Wells got their message loud and clear.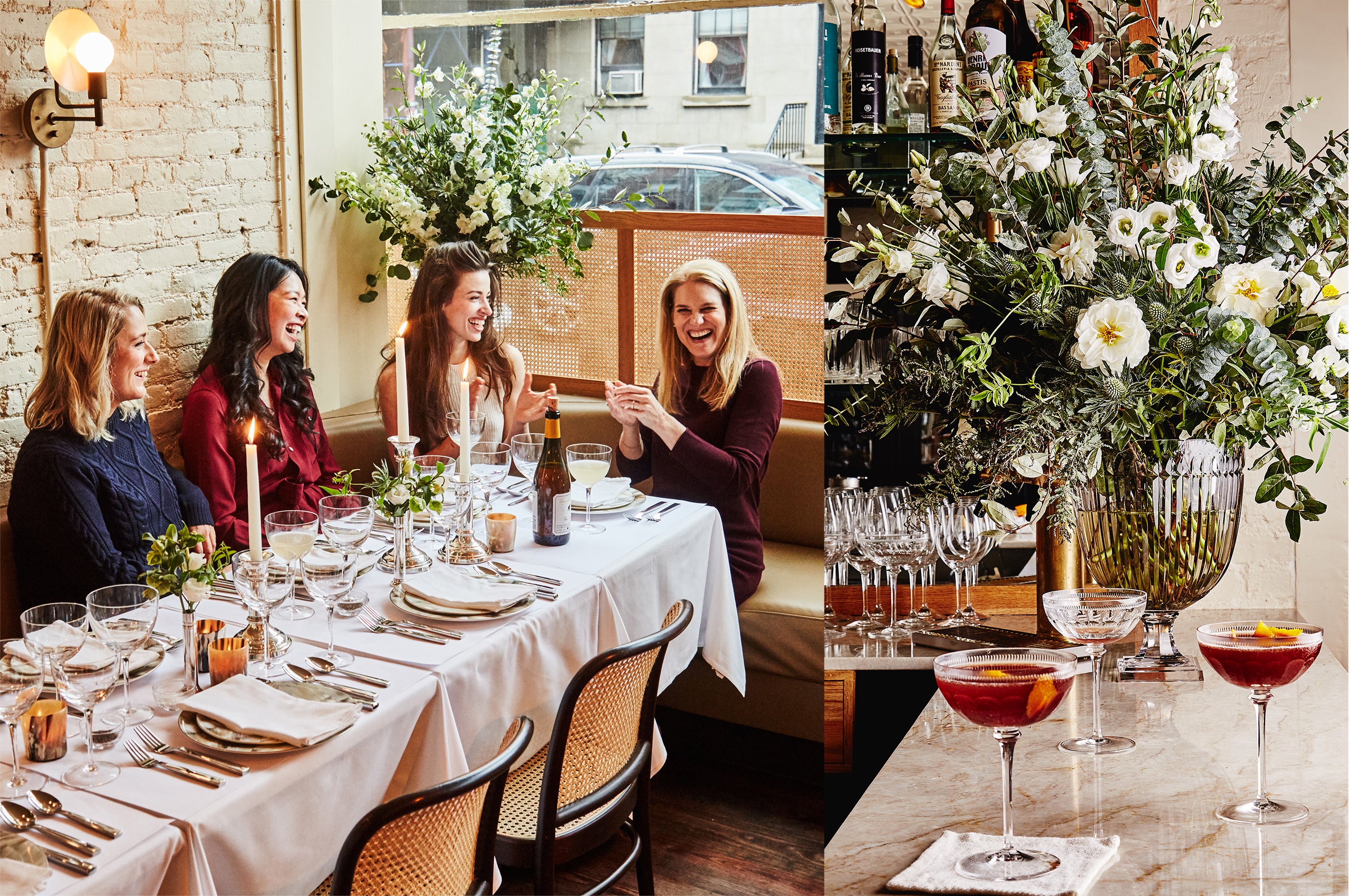 "Dining here should be about the food, first and foremost," says de Boer. "And good conversation. We don't want anything to interfere with that. That being said, it doesn't really feel like you're entertaining until you set the table."
The tables inside King's cozy dining room are receiving some added embellishments for an early Friendsgiving dinner. Bud vases holding white flowers dot the long table next to candles of varying heights, complemented by Ralph Lauren Home plates with horn-inspired patterned trim in neutral tones. The French-meets-Northern-Italian menu itself changes every day. Mapped out the night before, what is offered depends on a few determining factors—the season, the bounty, and the day.
"Different people come in on different days of the week," explains de Boer. "Our core customers dine with us on Mondays, and they're quite adventurous, so that's likely when we'd serve ox tongue. The menu is very much based on what we know about who's coming in, and what we fancy."
What they're fancying during this friendly feast is spiced pumpkin marsala soup, slow-cooked pork shoulder with coco beans and braised spinach, sautéed tardivo, and a dandelion green and radicchio salad, which we are encouraged to eat with our fingers.
"We had lots of discussions about whether to set the table with the flatware or not," recalls Shi. "Ultimately, we decided not to, because when people start with the Panisse [fried chickpea flour finger sticks], we want them to use their hands. This kind of casual interaction carries over to the paper over the tablecloths. We love to see guests doodle on the paper."
Today's meal does have a casual air to it, despite the addition of the blooms and—gasp!—pre-set cutlery. De Boer compares the extra touches to hearing a band perform live, while Shadbolt appreciates the spirit of the holiday gathering as she watches her friends bring the food to the table.
"I think there's a ritualistic part of laying a table for a holiday," comments Shadbolt, as Shi refills her glass from the bottle Cornaline by Domaine Hauvette. "It's a real part of the meal, as much as standing around in the kitchen and washing the dishes afterwards is too."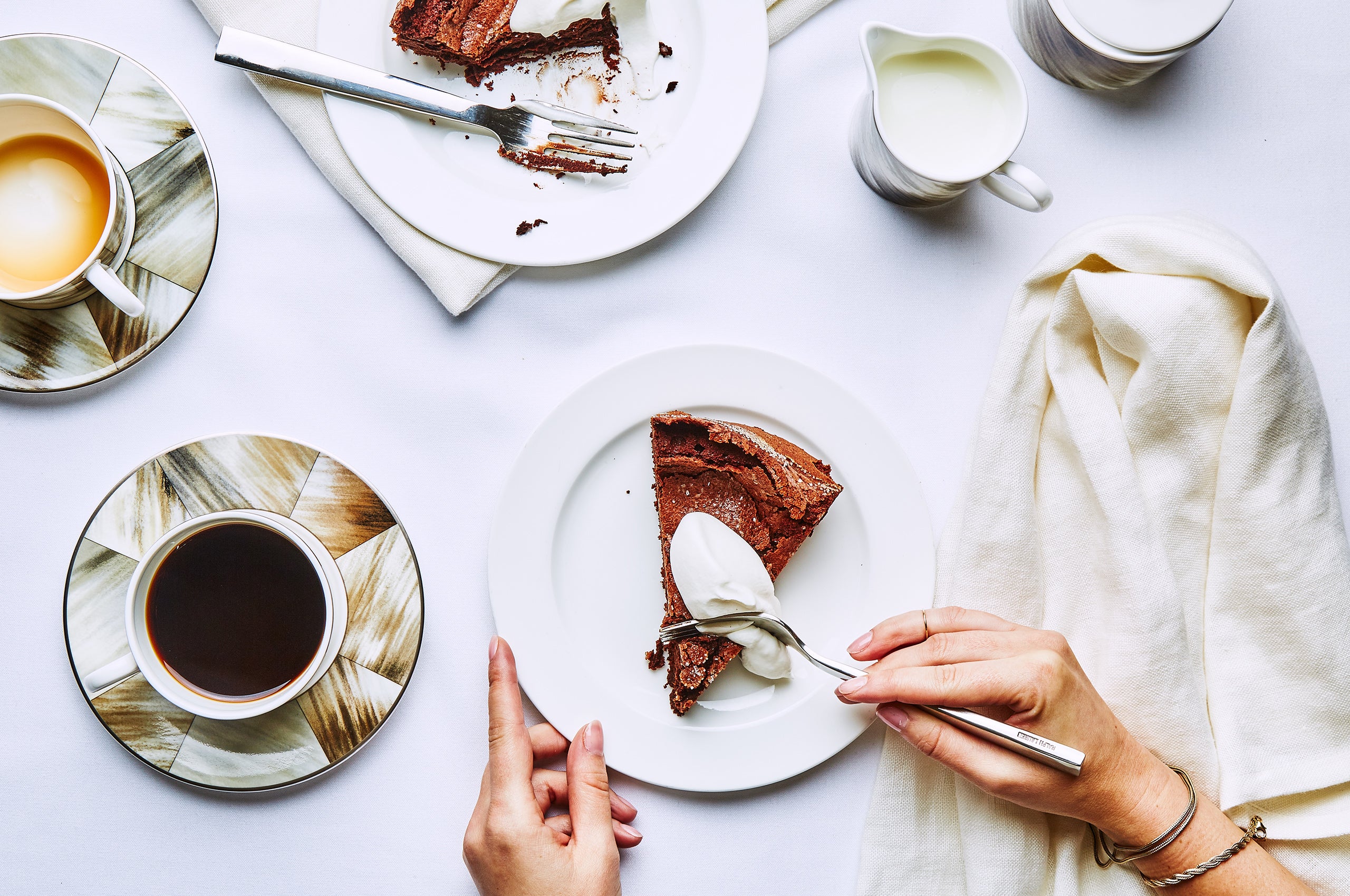 The dinner conversation flows easily, loaded with laughter and toasts, eventually landing on who's bringing what to their respective Thanksgiving feasts. The two Brits admit to happily letting their respective hosts take the reins for the day, while the New Yorker describes her Chinese-American family's twists on the meal.
"My mom always cooks this really simple bok choy that she sautées with ginger and a little garlic," explains Shi. "It's so refreshing and easy, and it's not going to detract from the turkey or any other traditional dishes. On the other hand, my father does always expect that Ocean Spray cranberry jelly that comes in the can."
This is met with blank stares from the Brits. After a moment, Shadbolt ventures a guess. "Is that a dessert?" As the Americans at the table burst out laughing, it's probably a safe bet that jelly from a can won't be appearing on the menu.
Not even on Mondays.
JANE LARKWORTHY
has been a magazine writer for nearly 30 years, most recently at
W
magazine where she was beauty director. She is a contributing editor at
Elle Decor
and
InStyle
and her "Jane Says" column can be found on fashion website the Coveteur. Her food blog,
The Fraudulent Chef
, shares her hits and misses in the kitchen.
PHOTOGRAPHS BY AlEX LAU; courtesy of Ralph Lauren corporation