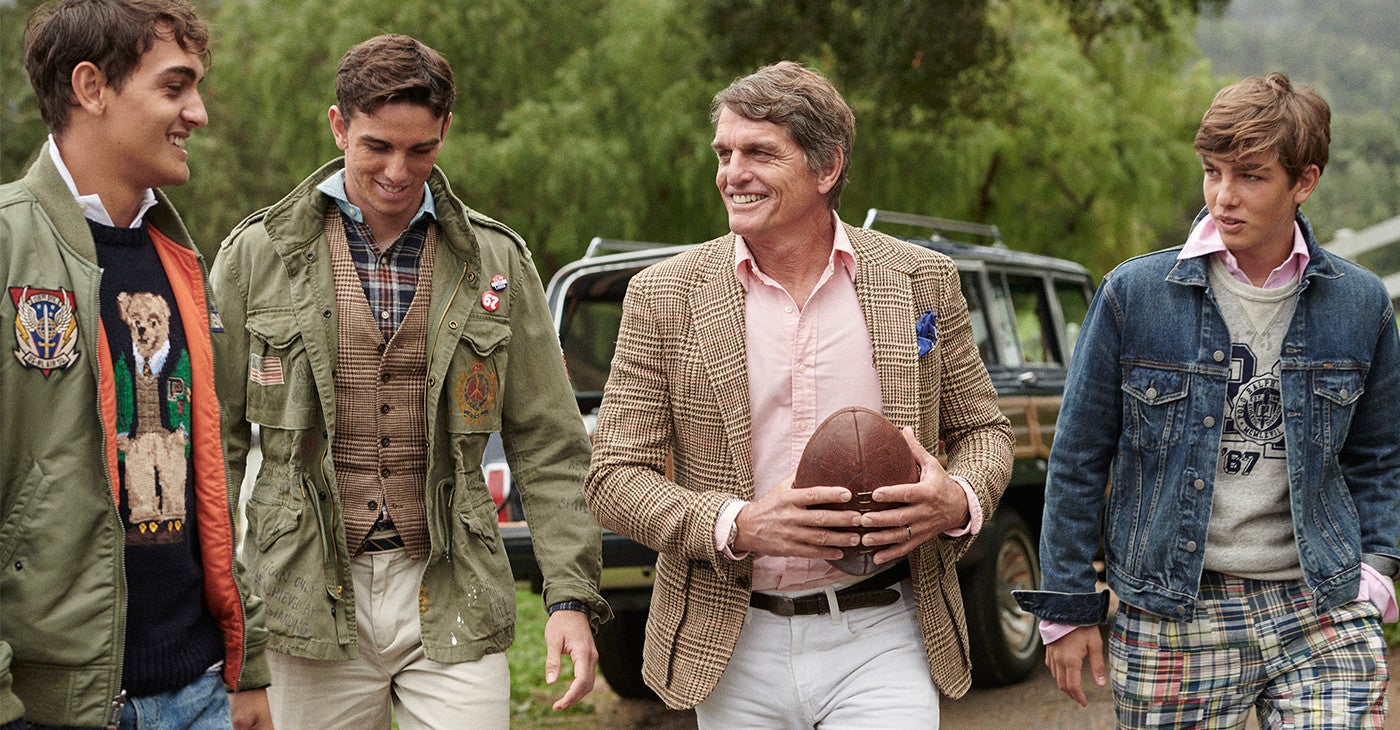 Style
The Ride of a Lifetime
Pioneering surfer and iconic Polo model Buzzy Kerbox reflects on a life on the water—and in front of the camera
At 62 years old, Buzzy Kerbox retains the same youthful exuberance—not to mention the sun-kissed head of hair—that made him a mainstay of Polo ad campaigns throughout the '80s. Credit the days he spends surfing with his three sons—Kody (24), Kasey (22), and Kyler (17)—near his home on the North Shore of Oahu. Or chalk it up to a lifetime of riding the waves as one of the world's best and most innovative pro surfers. (He regularly finished in the top 10 worldwide during the late '70s, and later invented tow-in surfing—in which surfers are "towed in" by someone piloting a Jet Ski, which allows the surfer to mount waves as tall as 50 feet—with his buddy Laird Hamilton.)
Whatever the case, Kerbox clearly still has the chops—he recently completed the Molokai Channel race, which entailed stand-up paddleboarding for 32 miles straight, a grueling experience that would pose a serious challenge to men half his age. He also revisited his modeling days with a new campaign for Polo, costarring his sons, and has been working on a memoir, tentatively titled Making Waves. We spoke to him recently about the joy of being on set with his boys, his book, and the time he modeled with a lion.
What was it like being on set with your family?
Just the idea of taking my family on the shoot was super exciting from the beginning. It was really fun getting to work with my kids. They haven't modeled much except in front of my camera because I take a lot of pictures. So I think that experience helped.
Did they ask you for any pointers?
No. But I gave 'em pointers anyway. [Laughs.] When you're in front of the camera, a lot of models just kind of stand there expressionless. I've always had some expression. I told them, "Just be real." The camera sees real, and it exposes fake. A fake smile, you can see it a mile away. To interact with the family and make it real, it was easy because we were all there reacting off each other.
One of the most iconic shots of you is the safari-inspired one in which you're holding a lion. You look so at ease with that cub around your shoulders. How did you manage that?
Working with the lion cubs was just amazing. I love lions. The trainer was right there, off camera. We had three different cubs, and the thing was on my head, clawing me, and biting, but it was all gentle, and I was never afraid. One of the cubs was getting a little too feisty, and we traded it out for another one. And then we kept going.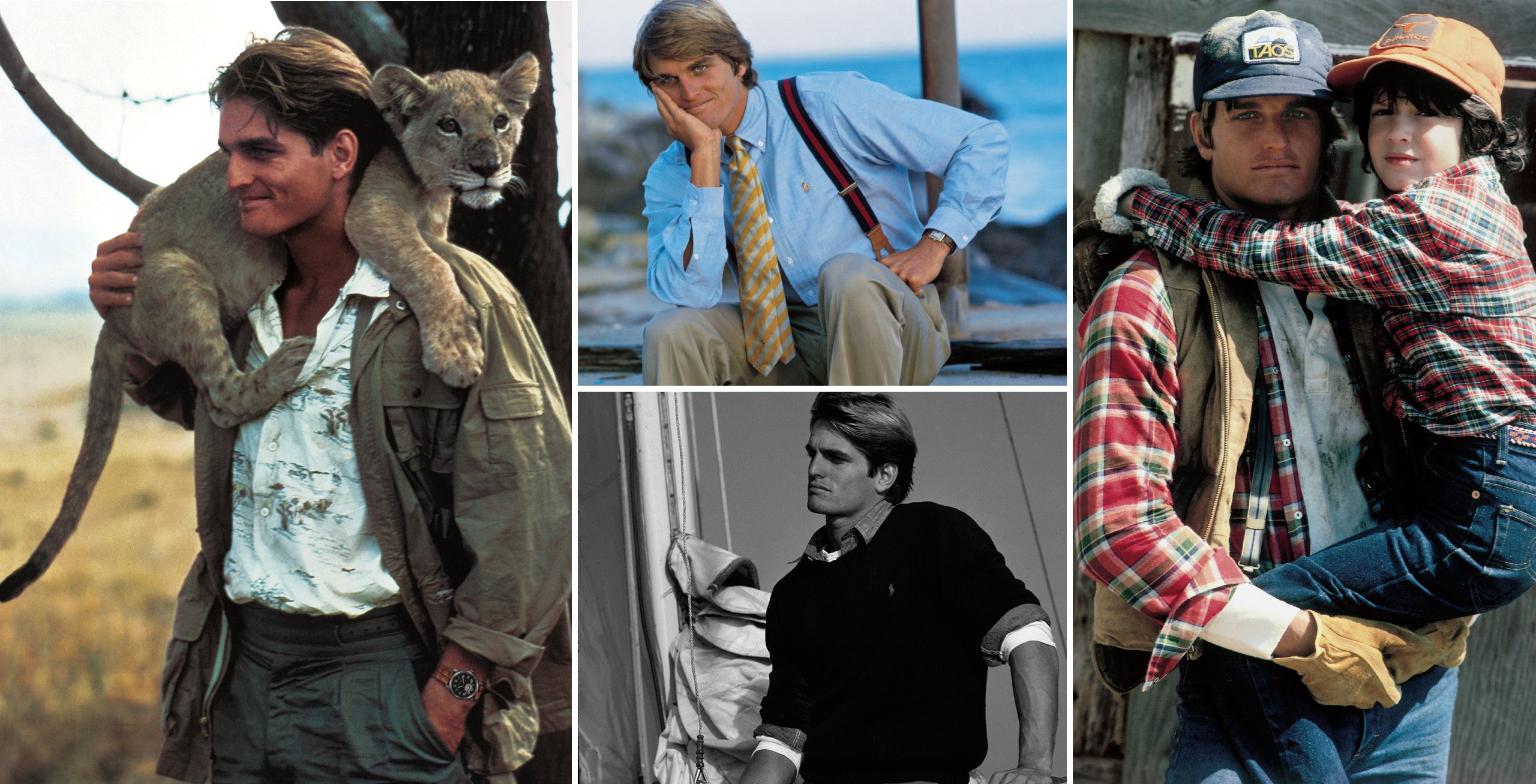 Did you have a sense then that it would become an iconic photo?
You know, we shoot so many different things, and most of it never gets used, so you never know. But I remember, I went back to Hawaii and, after three or four months, I picked up a Vogue magazine and started thumbing through it. And there was the safari layout, 10 pages or something, and I got six pages in and there was nothing of me. I'm like, "Oh my god, they didn't use anything of me." But then I turned to the next page and saw the one with the lion and I thought, "All right." It's exciting when you get a full page—that's a pretty big deal.
What did you learn about style from modeling for Polo?
You know, it's really funny, but from Hawaii to wherever I go, I've never really cared about clothes. I just put on jeans and a shirt, whatever shirt was on top of my pile. I never had a sense of fashion, or really worried about it.
Sometimes the most stylish people are the people who don't care too much.
Yeah. I mean, I would show up on a Polo shoot in just my T-shirt and jeans and slippers, and then get into the wardrobe. To me, it's like being on a movie set and getting into character when I put on those clothes. I'd feel different. And when you feel different, you act different. And for that time on camera, I'd become, you know, The Model. And then when I'm done and I take off those clothes, I just go back to being me.
What did your friends in the surfing community make of your second career as a model?
I mean, they didn't read Vogue magazine, or really know what I was up to, and I didn't go around bragging about it. Years later, Surfer magazine got onto it, so my friends found out about it. Everybody was fine with it.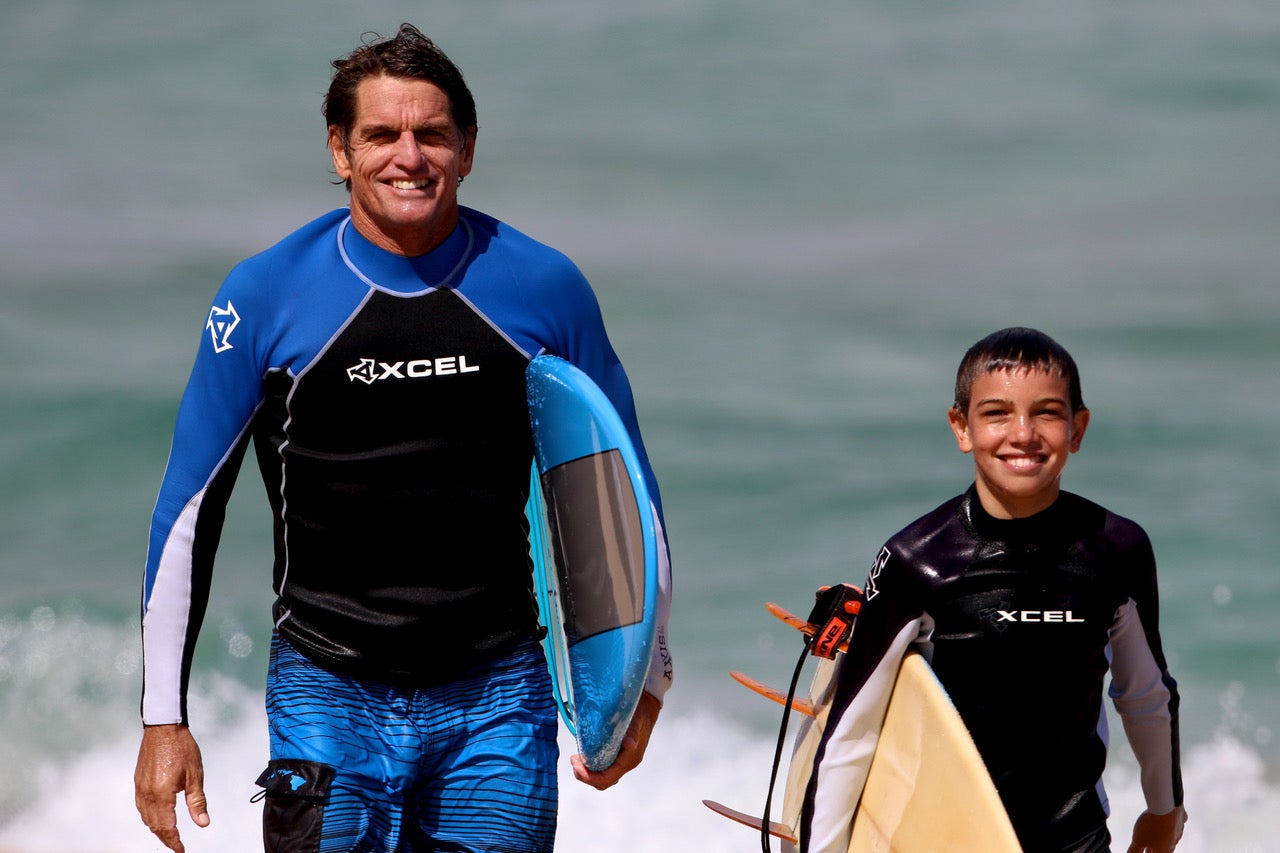 Do people recognize you more from modeling or more from surfing?
Some from surfing, some from modeling, some from both. I worked with Tyson Beckford for Polo Sport in the early '90s. We were at Lake Tahoe. And after the shoot, we went into the supermarket to get beer. And I gave her a 20, and the lady goes, "Here's your change, Buzzy." Tyson looks at her and goes—because he was a male supermodel at the time, everybody knows Tyson—he looks at her and goes, "How did you know who he is?" And she goes. "I surf."
Tell me a little bit more about the book.
I've been working on it for three years now; it's something that I've always wanted to do. I've always felt like I had some good stories to tell. Throughout my pro-surfing career and modeling, I always had a camera and took pictures behind the scenes of everything. Long before everybody was taking pictures, I'd be the only guy shooting behind-the-scenes stuff. I [also] kept a journal while I was on the pro tour.
That sounds great.
It's probably 95 percent done; I'm just working on some finishing touches. I really like the way it's coming out. It expresses my feelings and my story in a visual way. I can't wait to get it out there.
is a former editor at Ralph Lauren. He is based in Austin, Texas, where he lives with his wife and two children.