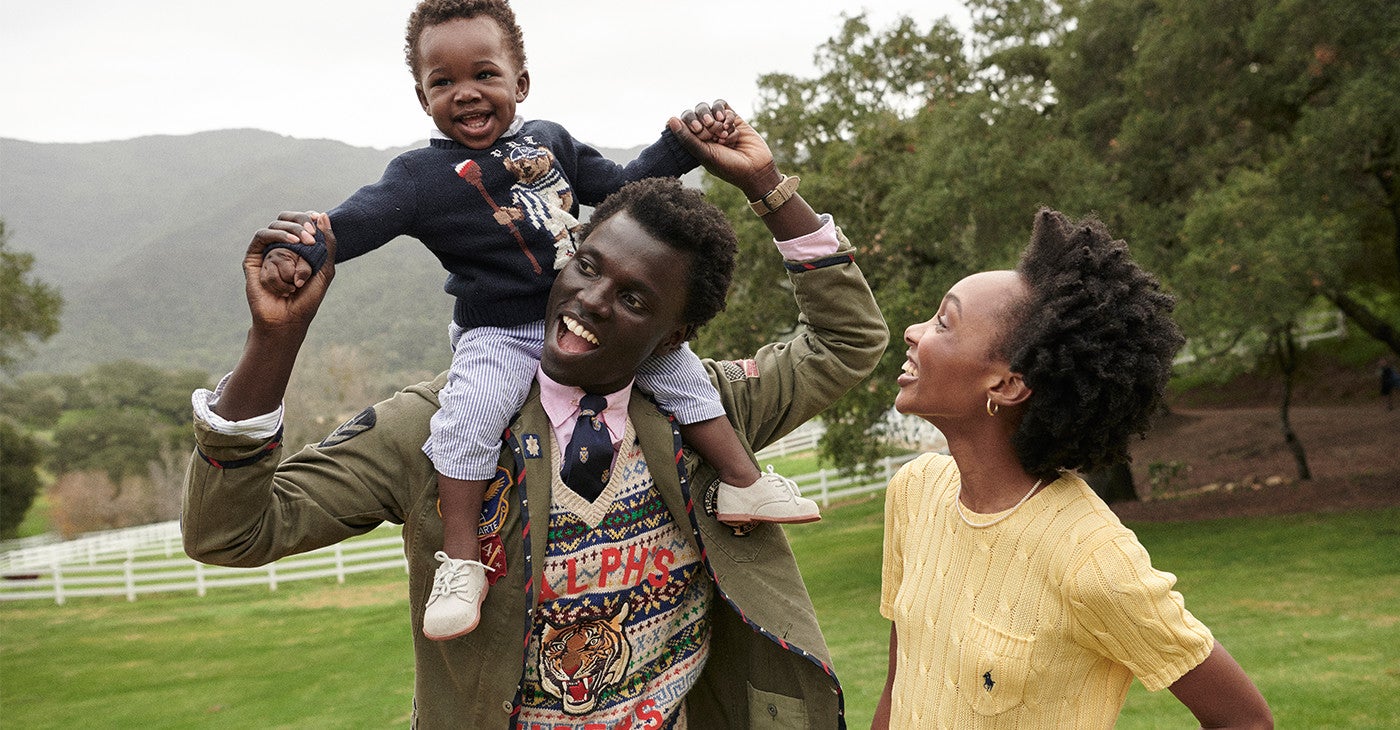 Culture
IT TAKES
TWO
An intimate conversation with the real-life model pair (and parents to adorable model-in-training son, Zola) George Okeny and Yanii Gough on how they met, the joy of family dance parties, and their unlikely path to the Ralph Lauren runway
Last September, the model couple George Okeny and Yanii Gough—with their not-yet-1-year-old son, Zola—walked in the Ralph Lauren 50th Anniversary Show. (Well, technically, Zola was carried.) The duo and their blissfully napping son quickly stole the runway, not to mention the hearts of the audience. Fittingly, this season, they feature prominently as one of seven real-life groupings in a spring campaign all about the meaning of family.
But to become the all-American family, Okeny and Gough first had to separately pursue the American dream. At 7 years old, Okeny and his family fled Sudan, settling in Cairo, and eventually Baltimore. Gough's family relocated from Haiti, and she spent her teenage years in the Bronx and Brooklyn, at one point living in a shelter. Three years ago, when Okeny reached out to Gough (who is also a photographer and scout) for professional advice, they felt an immediate connection stronger than a mutual interest in the fashion industry. "She's so kind that it kind of scared me," Okeny says of his girlfriend. "I thought there was no way someone could be that kind, but she proved me wrong every single time."
Unsurprisingly, Zola, now 17-months-old, is the highlight of every campaign he books (the New York Post called him fashion week's breakout star), and his parents appreciate every opportunity for quality family time, however unconventional. Here, Okeny and Gough discuss sharing a runway, raising a supermodel-in-training, and playing it cool—or not—when meeting Mr. Lauren.
Tell me a bit about how you got into modeling.
Yanii Gough: I grew up in the Bronx and lived with my grandparents until my grandmother passed away and my mom came back into the picture. She moved us to Brooklyn, which is where I started learning more about the fashion industry. Then three or four years ago, I went into an open call at Major [Model Management], and they gave me a callback. I went back the next day and they handed me a contract.
George Okeny: I left Sudan at the age of 7. My family basically had to get out due to the civil war that has been going on for over a decade. We went to Cairo and were there for close to three years; then we applied as refugees and the United States accepted us. I didn't get into modeling until a few years after high school. It wasn't something I was interested in; I thought it was too pretty for me. [Laughs.] At church, random ladies would come up to my mom and say, "Hey, your son should model!" But I always thought that sounded awful. But my mom and aunt did a lot of fundraising, throwing events to raise money to build schools in Sudan or Uganda. They'd ask me to model for them, and they knew that was my kryptonite: If you ask me to do something to help people, you'll get a yes about 90 percent of the time. So I started doing that, then test shoots to help out photographers, and eventually I told my parents, "I know this is random, but I'm just going to take a huge gamble and move to New York. What's the worst that can happen?"
How did you end up meeting each other?
YG: George would probably tell you that I contacted him on Instagram…
GO: No, when I came to New York, I actually got in touch with Yanii.
YG: OK, good. [Laughs.] We joke around about it. After he reached out, I scrolled through his Instagram, thinking, Wow, this guy is beautiful. Is he signed? Is he a model? He looks like he can be a model. I told him, "There's no way you're not represented with a face like that!"
GO: My friend was teaching me the basics of networking, telling me I should meet up with other models and ask them about the industry. I reached out to Yanii, and we went out for coffee…or tea.
YG: Tea! He invited me to have tea! That was new to me. No one invites me to have tea. So I met him at a place not too far from 34th Street. We sat down, he recommended a flavor, and we picked each other's brains. The conversation just kept going.
GO: We talked for hours.
And the rest is, as they say, history?
YG: I felt like we became best friends immediately. I felt protective of him. This industry can be negative or positive, depending on how you use it, so I wanted to make sure he was in a safe place, regardless of if we remained friends or not.
GO: She has a soul like nobody else I've ever been around, honestly. She believed in me when I didn't always believe in myself. That was the moment I thought, With somebody like this, I can take over the world tomorrow.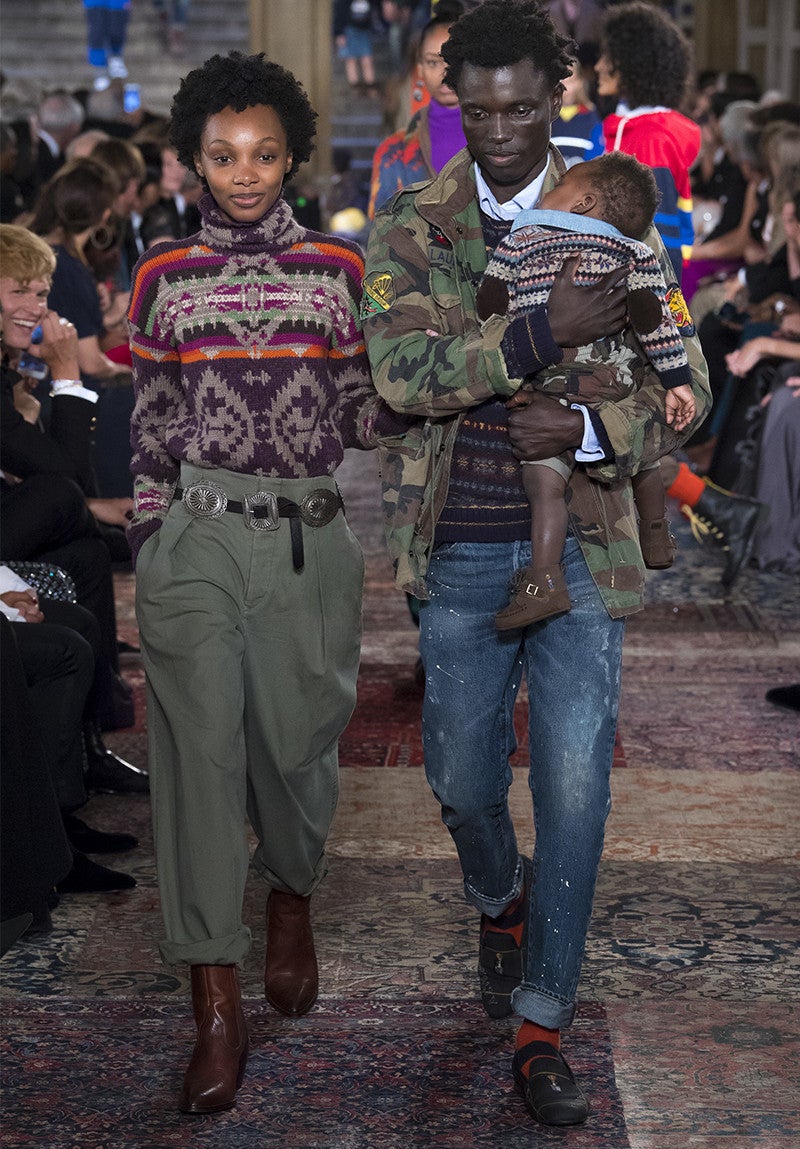 Your walk down the runway with Zola was such a memorable, tender moment from the Ralph Lauren 50th Anniversary Show. How did you end up working with the brand?
YG: I was taking a break from work after our son, Zola, was born, and I saw a post on Facebook seeking "beautiful families."
GO: My friends always told me, "When you do the Ralph shows, you know you've made it." [Laughs.]
YG: Even to be seen at that casting, it was like, "No way." When we got there, they said, "Be sure to say hello to Ralph." I was like, "Shut. Up."
GO: I thought back to school in Baltimore, battling my friends to see who had the most Polo shirts. And now I'm meeting the man, the myth, the legend?! That was pretty cool. From Sudan to shaking hands with Ralph Lauren—never in a million years did I think that could happen.
YG: For me, it was growing up in the Bronx and begging my grandfather for money to go buy a Polo rugby shirt. I bought the kids' sizes because they were cheaper. In the room, I couldn't make eye contact because Ralph was sitting right there and I wanted to focus. [Laughs.]
Zola seemed to have not minded the pressure one bit!
GO: He's just a charmer.
YG: He actually threw up right after our casting photo was taken. I was like, "No, he did not just throw up on these people's carpets! Not now!" But they loved him, of course. He's always smiling and giving handshakes and high fives.
GO: I was just recently asking my mom what I was doing at 17 months old? [Laughs.] Walking the 50th Anniversary Show together paved the way for this campaign—it made it obvious that we're a real-deal family.
What does the opportunity to work with your family mean to you?
YG: Family in general is a big deal to me, so to work with them on a Ralph Lauren campaign is a "times-two." It's mind-blowing. I love it. It's a life-changer for all of us.
GO: It's so precious. Growing up, I would have loved to spend more time with my mom, to do more things with my dad. The fact that we can work with our beautiful son is amazing. When we did the 50th Anniversary Show, people came up to me afterward and said, "Who was that beautiful girl next to you? Whose child is that?" I said, "Guys! That's my son, Zola! That's my girlfriend, Yanii! We're an actual family!" [Laughs.]
What do you enjoy doing together when you're not working?
YG: We dance. We'll listen to Afrobeat or Sudanese music, and Zola just dances, dances, dances. I can't dance to save my life, but I try. George is teaching Zola new moves, and he'll mimic the moves in his crib.
GO: And we're travel bugs. When we have downtime, we go to Maryland and Virginia to visit family. I don't mind driving, so we take a lot of road trips. And I'm a huge soccer fan, so Zola and I like to kick the ball around. He's good, but he's not patient! It's a good lesson. I'm like, "Kid, you can't always get what you want!"
If Zola comes to you in a few years and says, "Mom, Dad, I want to be a model," what will you say?
YG: "Zola, it's too late—you're already doing it!"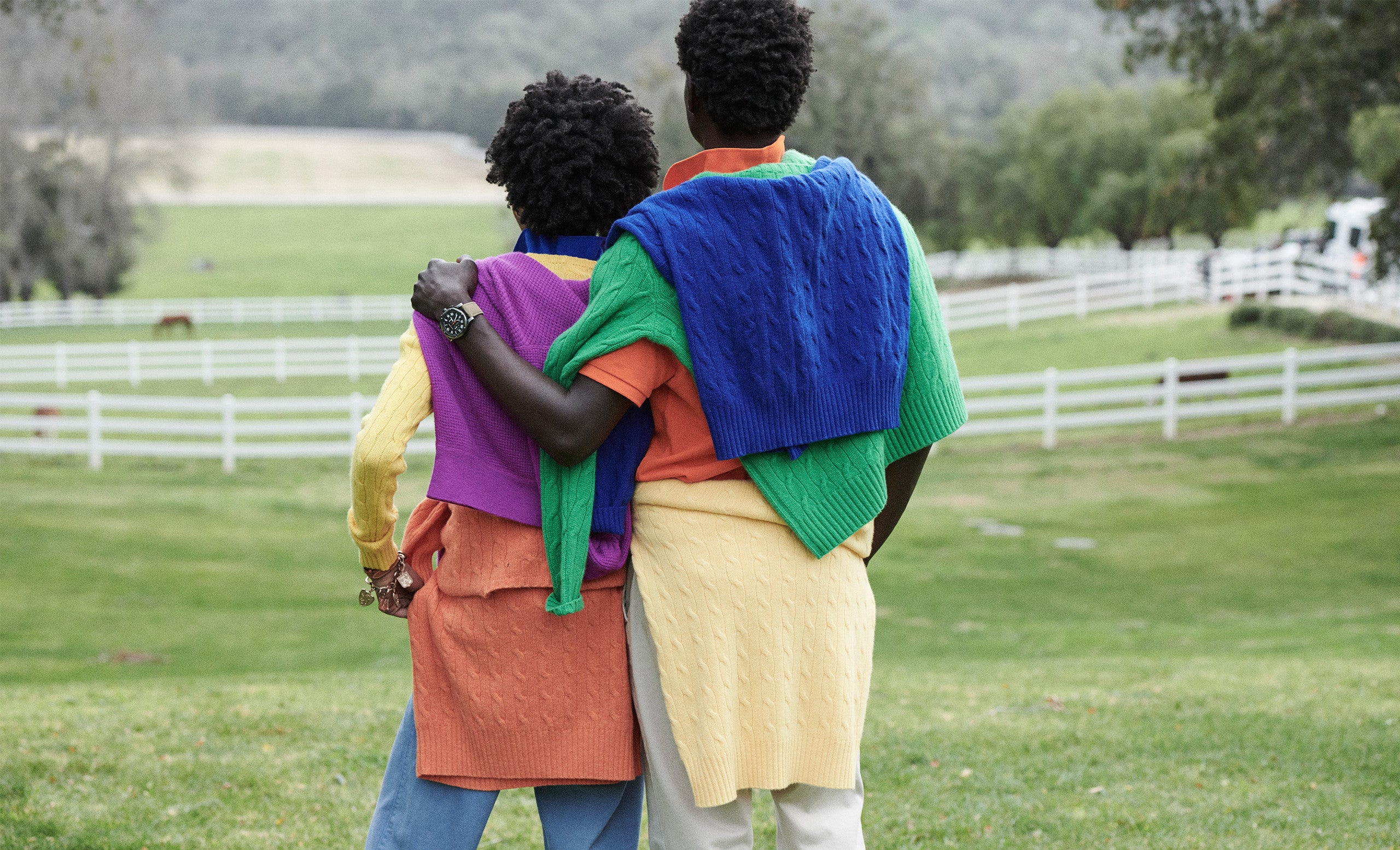 is a New York–based writer and editor. His work has appeared in Details, GQ, Esquire, New York Magazine, and other publications.
© Ralph Lauren Corporation
Courtesy of Yanii Gough
© Ralph Lauren Corporation
© Ralph Lauren Corporation