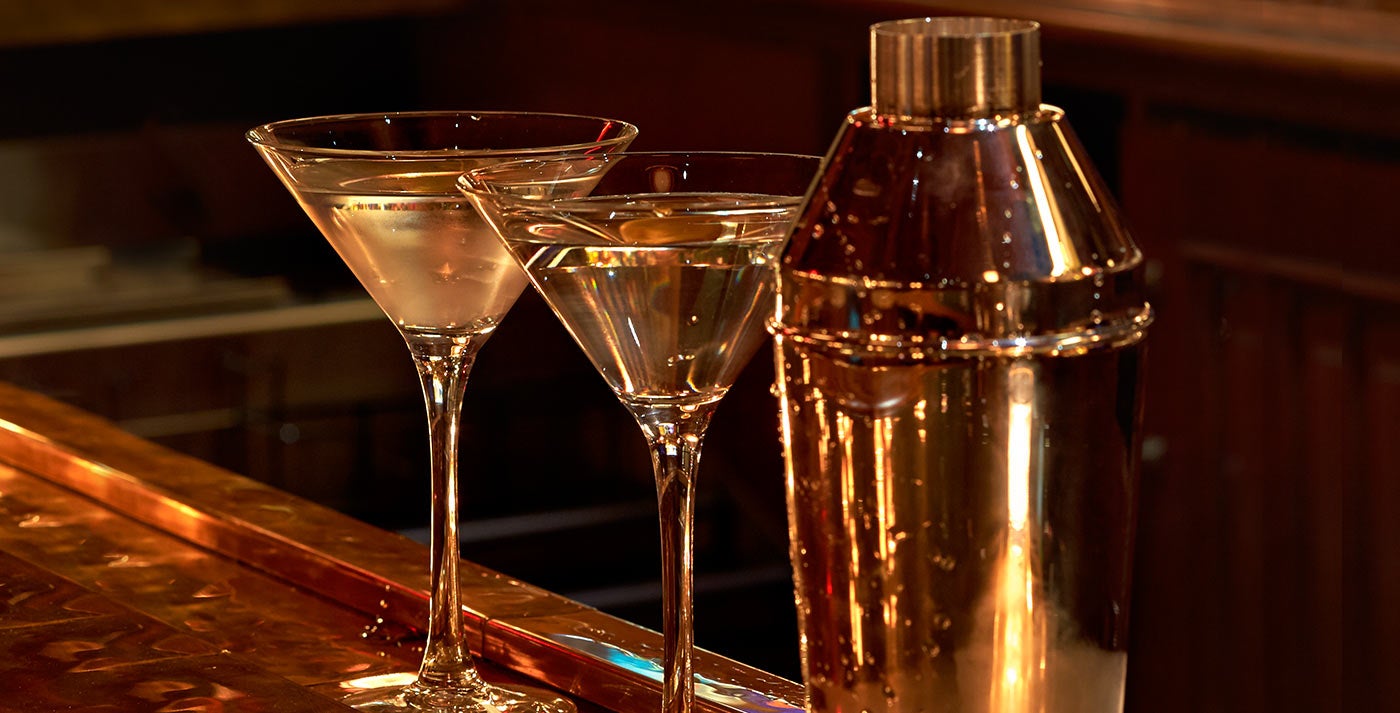 Travel
A Toast to the Season
The Polo Bar's cocktail guru shares the secrets of his latest creations
Ralph Lauren has always said that when it comes to designing a collection, he's inspired by tradition, but not bound by it. The same could be said for the drinks menu at The Polo Bar, which is updated several times a year with new twists on the cocktail classics. At Ralph Lauren's celebrated restaurant in midtown Manhattan (not to mention Ralph's, in Paris, or RL Restaurant, in Chicago), you can always find a perfectly rendered martini or the ultimate Old Fashioned, alongside a seasonal menu of new concoctions. The man behind the menu is beverage director Darnell Dodson, who uses a handpicked selection of some of the world's most unique spirits to update—and improve upon—the standards. Here, he shares the secrets of his favorites from winter 2016, both classic and new.
The bar was originally using 12-year-old Bowmore scotch to make this elegant cocktail but upgraded the drink when it found itself with an unexpected surplus of the 18-year-old variety (one of those "good problems" to have). "It's from Islay [Scotland], where you get the really smoky, peaty flavors," says Dodson, "but the other ingredients—the Applejack, Bénédictine, and sweet vermouth—really smooth the edges."
The result is the mixology equivalent of a cashmere sweater: soft, comforting, and perfect for a chilly day. "You picture yourself sitting by that fireplace over there," he says, gesturing to the bar's roaring hearth. "It's perfect." As is the name—a nod to Mr. Lauren's roots in the necktie business.
INGREDIENTS
1 oz. Bowmore 18 Year Single Malt
1 oz. Applejack
¾ oz. sweet vermouth
¼ oz. Bénédictine
2 dashes Angostura bitters
2 dashes Peychaud's bitters
Combine scotch, Applejack, sweet vermouth, Bénédictine, and bitters in a cocktail shaker. Add ice. Stir for 40 rotations. Pour over ice and serve in the Brogan Crystal Glass.
Certain bars cry out for certain drinks, and the clubby, convivial vibe of The Polo Bar is perfectly suited to this classic cocktail. "We sell a lot of Old Fashioneds here," Dodson says with a hint of understatement. "People just love it."
While The Polo Bar's version is "nothing crazy," its strength lies in the quality of its ingredients and a recipe that's as precise as a well-tailored suit. Jefferson's Very Old, Very Small Batch Bourbon (definitely not a misnomer) provides the luxurious base to which a rich, house-made Demerara syrup and three kinds of bitters are added—as opposed to the usual one. The result is a perfectly rounded concoction worthy of Don Draper—and Dodson himself. "We make it exactly the way I would want to drink it," he says. Which, as it happens, is the way customers want to drink it, too.
INGREDIENTS
1 dash Wormwood bitters
2 dashes Peychaud's bitters
3 dashes Angostura bitters
2 tsp. Demerara Syrup
2.5 oz. Jefferson's Reserve Very Old, Very Small Batch Bourbon
Lemon and orange twist
Add bitters and syrup to glass. Add ice. Add bourbon and stir for 30 rotations. Garnish with lemon and orange twist. Serve in the Garrett Double Old-Fashioned Glass.
"Almost like breakfast in a glass," is how Dodson describes the Top Hat. "It has a kind of brightness and lightness to it. Kind of an aperitif-style cocktail, but absolutely delicious."
It's hard to disagree after taking a sip of this drink that combines cognac with chamomile liqueur, lemon juice, and egg white before being topped with champagne and bitters and served in a coupe.
"I think it would be perfect for a holiday party cocktail," Dodson says. "It looks great, and that frothy top almost resembles snow. It gives you that feeling of festivity."
INGREDIENTS
1 egg white
1½ oz. Rémy Martin 1738 Cognac
¾ oz. chamomile liqueur
¾ oz. lemon juice
Fine brut champagne
Angostura bitters
Add egg white, cognac, chamomile liqueur, and lemon juice to a cocktail shaker and shake vigorously to fluff the egg white. Add ice and shake to chill. Top with champagne. Finish with a swirl of Angostura bitters. Serve in the Norwood Champagne Saucer.
The Polo Bar Autumn Punch
A seasonally appropriate punch has become a Polo Bar signature, and the fall 2016 edition—which is grounded in cachaça that's been aged in amburana wood—is not to be missed. The aging darkens the color of the traditionally clear Brazilian liquor and the native wood "adds these nutty, nutmeg, savory notes—like aromatic baking spices," Dodson says.
Royal Combier (a spiced orange liqueur from just outside the Cognac region) and a drizzle of house-made cinnamon syrup punctuate the cocktail's autumnal flavors, which are brightened by the citrus in the drink.
"It has a very juicy quality to it," Dodson says, and like any good punch, "you can hardly taste the booze." Translation: Sip responsibly!
INGREDIENTS
2 oz. aged cachaça
½ oz. Royal Combier
1 oz. lemon juice
¼ oz. cinnamon syrup
Combine the ingredients, with ice, in a cocktail shaker. Shake until well chilled. Pour over ice. Garnish with an orange twist and serve in the Brenna Double-Old-Fashioned Glass.
To mark the 15th anniversary of Ralph Lauren's signature global philanthropic initiative, Dodson gave the recipe for the original Pink Pony cocktail, which was built on tequila, cranberry juice, and apple juice, a serious upgrade. "We found a way to elevate the original," Dodson says, with muddled fresh apple and a small helping of vintage Armagnac, which "adds a bit of richness" and balances the drink's bright apple and citrus flavors. Another layer: freshly grated cinnamon. "Because we are in fall, we had to warm it up a bit."
The result is worthy of a champagne saucer and is available at The Polo Bar (as well as RL Restaurant in Chicago and Ralph's in Paris) only in October, but don't let that stop you from enjoying one at home all year round.
INGREDIENTS
½ apple
1 ½ oz. Maestro Dobel Diamante Tequila
½ oz. Château de Pellehaut 1989 Armagnac
¾ oz. cranberry juice
½ oz. lemon juice
½ oz. honey
3 dashes apple bitters
Cube half an apple and muddle. Combine the ingredients, with ice, in a cocktail shaker. Shake until well chilled. Top with freshly grated cinnamon and serve in the Dagny Champagne Saucer.
"An amazing drink, and one of my favorites," Dodson says of James Bond's cocktail of choice, first described by Ian Fleming in Casino Royale. A few liberties were taken for the Polo Bar edition, including a ratio of two parts vodka to one part gin—the inverse of Bond's original specification.
"We switched proportions a little bit because that's what works with the ingredients that we use," he says. Despite the lower quantity, the Monkey 47 gin is "really the star of the drink," Dodson says. "It's a very small-production gin with 47 different herbs and botanicals that are literally hand-foraged in the Black Forest. The perfume on it is unlike any other gin."
Dodson is quick to point out that, modifications aside, the Polo Bar Vesper is true to the 007 original in one important way: "It's shaken, not stirred."
INGREDIENTS
2 oz. Elit Vodka
1 oz. Monkey 47 Gin
¼ oz. Lillet Blanc
1 dash Angostura bitters
Combine the ingredients, with ice, in a cocktail shaker. Shake until well chilled. Garnish with fresh lemon zest and serve in the Broughton Martini Glass.
is a New York–based writer and musician.
All photographs courtesy of Ralph Lauren Corporation