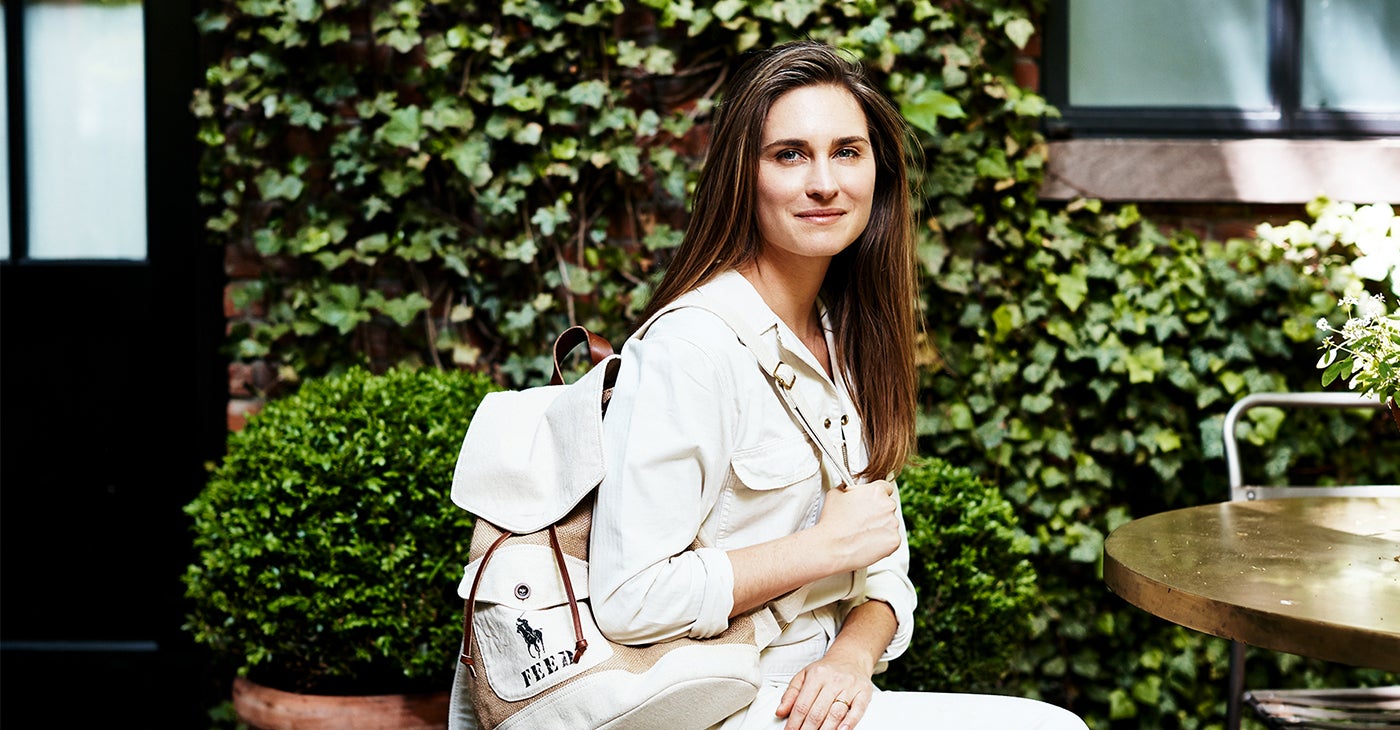 Style
FAMILY TIES
On the eve of a new collaboration with Polo, FEED founder Lauren Bush Lauren talks working with her father-in-law and what she's learned after 12 years as CEO
As an undergraduate at Princeton, Lauren Bush Lauren spent school holidays and summers traveling with the UN World Food Programme to some of the world's most impoverished countries. She was especially moved by the plight of childhood hunger, and those firsthand experiences cemented her desire to give back. Still, "for years I felt a frustration in not knowing what that call to action should be," Bush Lauren recalls. "My peers would say, 'What can I do?' and I'd say, 'Well, make a donation or sign a petition.' But that felt very passive."
That all changed her junior year, when she got the idea to design a reusable bag with a measurable, transparent donation that would go toward a school meal. Twelve years later, her company, FEED, has donated over 107 million meals and most recently opened a store and café in Brooklyn's Dumbo neighborhood. "Every step as an entrepreneur is scary and exciting," Bush Lauren says from her cheerful downtown Manhattan office, which she shares with her team of 12 women. "We're small but mighty," she adds. For her latest endeavor, Bush Lauren collaborated with Polo on a capsule of four pieces—a tote, a backpack, a pouch, and a hat—that harkens back to FEED's earliest designs. On the eve of the launch, we sat down with her to talk about the new collaboration, the cause it supports, and the lessons she's learned after more than a decade at the helm.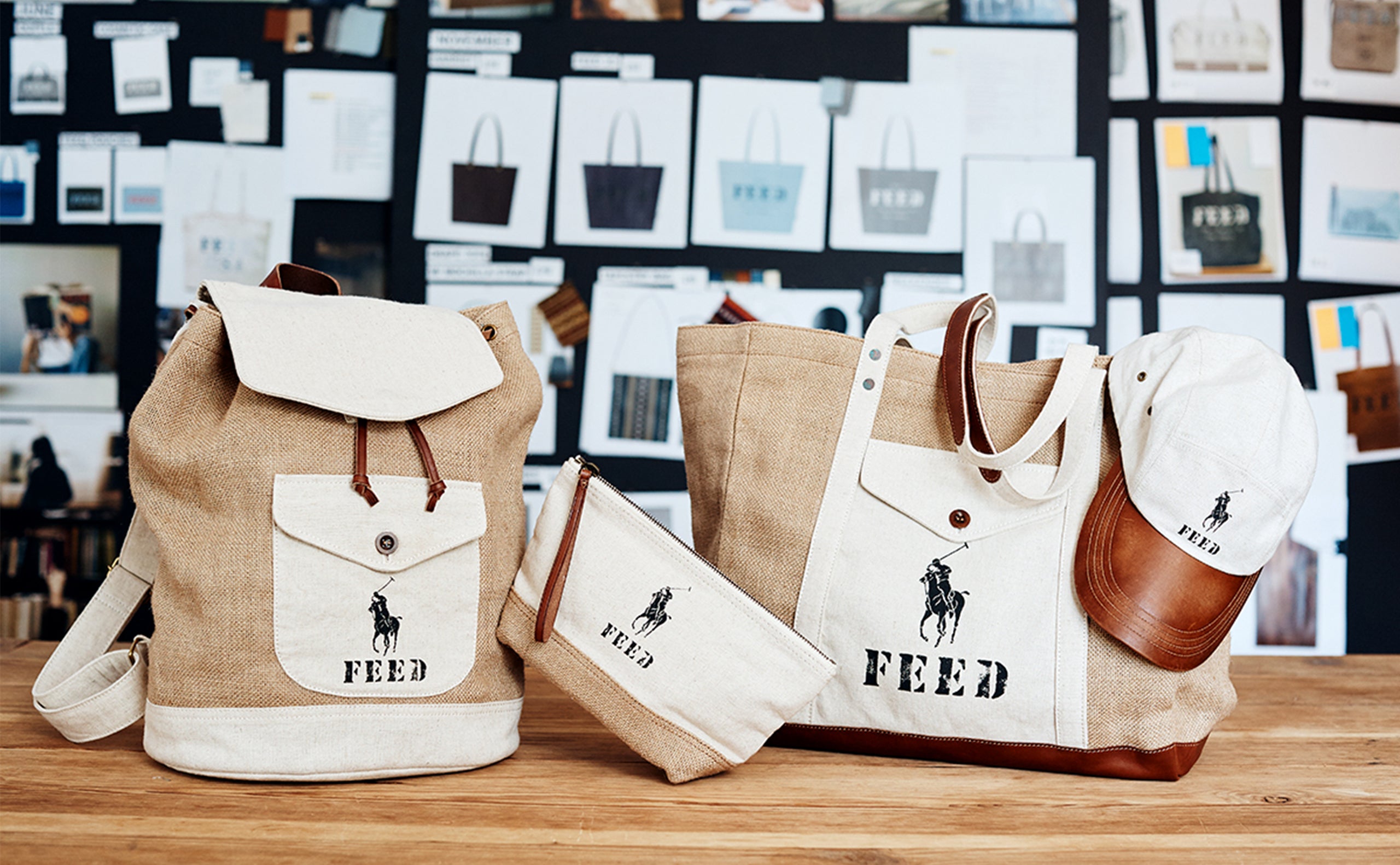 Let's start with how this collection came about. Tell me a bit about collaborating with Ralph Lauren.
We started discussing this collaboration over a year ago. Given that Polo is such an iconic family brand, it made sense to do something that specifically helps kids. And launching it in the summer felt right given the nature of the materials—the natural burlap and linen. We wanted it to be very heritage FEED, which means we started with a burlap bag and elements like copper rivets, wooden buttons, and veg-tan leather.
The initial design for FEED came from bags of food rations I saw being distributed around the world that had been stamped with the country of origin. We wanted to get back to that stamp-y kind of font, as well as the idea of calling out exactly the impact you're making with each purchase. The tote came first, conceived as a spacious and functional bag you could take to the farmers market. We were going to do multiple colorways, but when we met with Ralph he suggested we add a backpack and a hat for variety, while staying true to the origins of FEED. The other aspect that Ralph weighed in on was the statement about the amount of meals each bag provides. It was originally on the inside in a pocket. But he said, "Why is it on the inside? It should be on the outside," which I thought was super cool. So, the message is big, bold, and easy to understand for the Polo customer who may not have heard of FEED or our mission.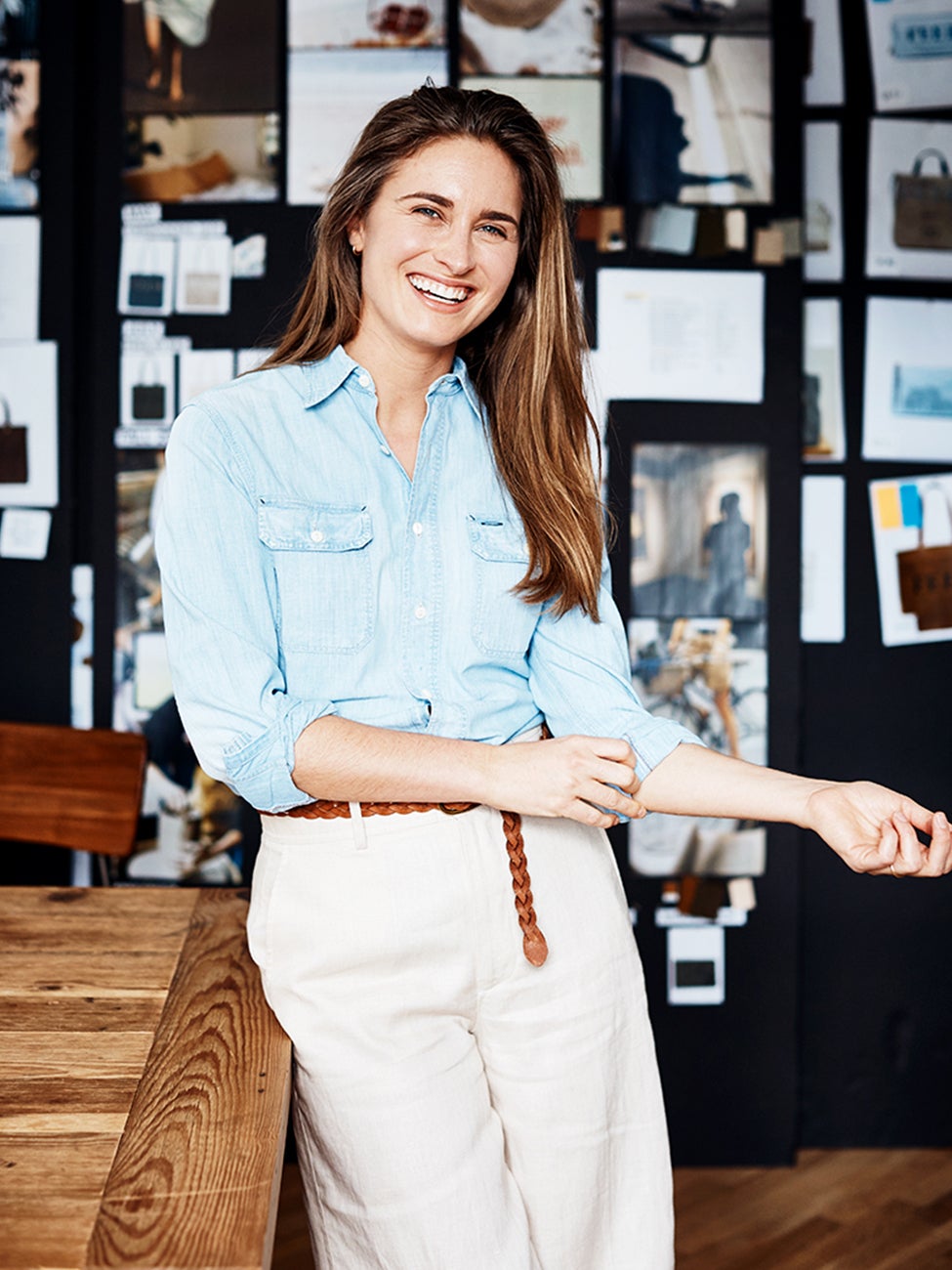 It must feel great to tap into the brand's heritage and really go back to FEED's roots for this one.
The FEED 1 bag is one of our best sellers—it's still very much alive and being printed—but to go back to that and do it with the iconic Polo player is just so cool. Even before meeting David or being part of the family, I grew up with the iconic Polo player. To see it next to FEED is pretty great.
Tell me about how you first came up with the idea to launch the company.
It started with the UN World Food Programme when I traveled with them as a student. Among other countries, I went to Guatemala, Cambodia, Tanzania, Chad, Sri Lanka, and Kenya and really got to see their work firsthand. I was especially moved by school meal programs where kids get a free lunch, sometimes breakfast also, and that's largely the reason they are going to and staying in school. And, at the same time, I also really loved design. Then, when I was studying abroad in Australia—where they're decades ahead in terms of reusable bags—my junior year of college I had the "aha" moment.
When you launched in 2007, your efforts were focused on international locations. Now you do so much work in the US. What was behind that transition?
Even though FEED started with giving abroad, it quickly became very apparent that, unfortunately, there is a huge need here as well. Something like 48 million Americans are food insecure, and 12 million kids are living in food-insecure households. No Kid Hungry, our giving partner, is an organization we've known for a very long time. They're not only focused on school lunches but also on school breakfast meals and summer meal programs for kids. We're lucky in the US to have more of a safety net, but there's still such a need. And what it comes down to in America is that people are making financial trade-offs. It's "OK, either I can buy groceries, or I pay my student loans, or I pay my medical bills."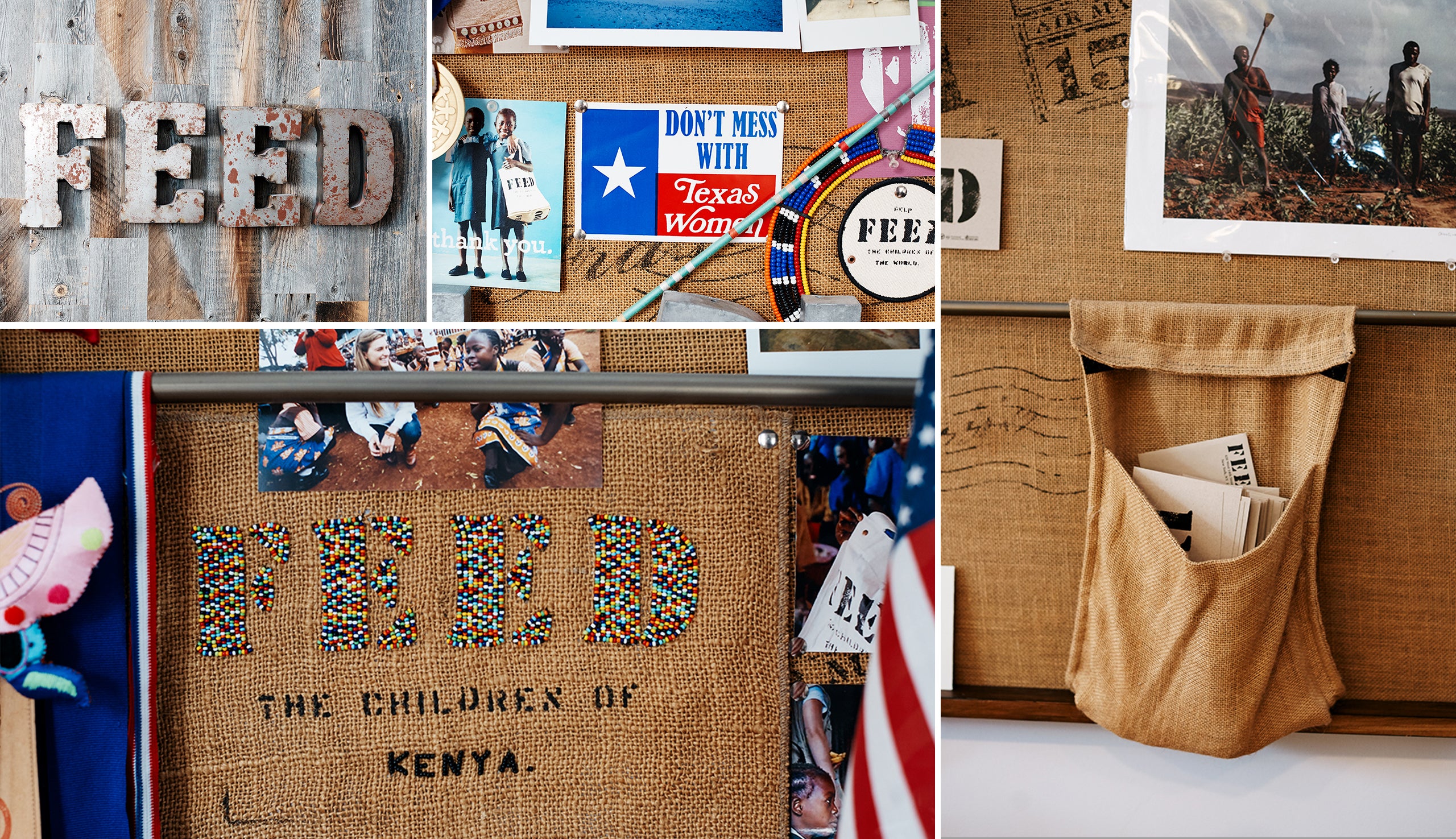 What would you say has been the biggest thing you've learned about yourself throughout the process of launching and building FEED?
I'm still learning every day! It can be a very humbling but amazing experience to be a founder and CEO. You start by doing everything, so a lot of it is a lesson in letting go—trusting, delegating, having the self-awareness to know what you do best and the discipline to step away from what you don't need to be as involved in.
What's a typical day at the office for you?
I go to the store at least once a week, so I'll have a meeting or two there, but most days I'm in the office. If I can help it, I'll stay here all day and have folks come to me, but more often than not, I'm running around. The other week I was at a school in the Bronx seeing their breakfast program in action, then back to the office for the rest of the day, so a lot of it is keeping up with our giving partners on the ground.
How do you juggle it all as a working mom with two little ones?
I think the idea of doing it all and doing it all well is a myth. I'm physically able to be here at work because we have a great nanny who is watching our kids. On social media people don't necessarily post pictures of their nannies or the real behind the scenes of what's happening—myself included—and it gives the impression to people looking on, "Oh, you're doing it all by yourself," which really isn't the case.
There's so much unrealistic pressure in that sense. It's refreshing to hear you say that. And now, 12 years in, FEED is at over 100 million meals given, which must just feel really great.
It does! To date, we've been able to give around 107 million meals. We set the goal of 100 million meals for our 10-year anniversary in 2017, and it was an internal goal because we didn't want to put it out to the world if it wasn't something we could accomplish, but we got there. And I'm really proud of that.