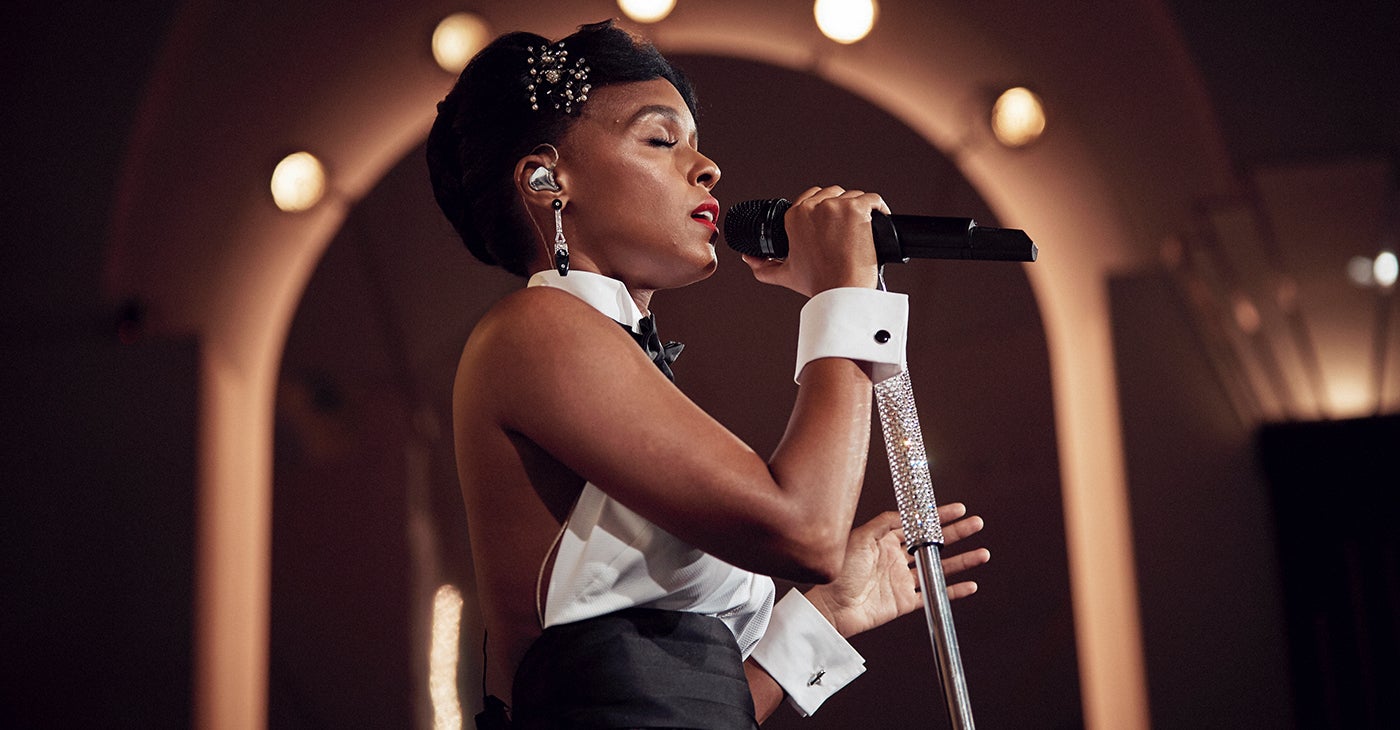 Style
THE RL Q&A: JANELLE MONÁE
The singer and actor on performing at Ralph Lauren's Fall 2019 Collection show, her passion for jazz, and how a tuxedo became her ultimate style power move
Spending time with Janelle Monáe isn't all that different from attending one of her concerts. There's the initial wow! of first greeting the genre-defying entertainer, as celebrated for her solo albums as for her acting roles in Moonlight and Hidden Figures. This settles into a softer, subtler energy when she starts to speak—poised and sincere, with a steady power. And by the end of your time together, that energy has built to a point where, frankly, she's electrified your soul.
It was this electricity that was felt by everyone in the room at Ralph Lauren's Fall 2019 Collection celebration, when Monáe performed (smartly dressed, as ever, in a head-to-toe black-and-white spin on the tuxedo) at Ralph's Club—the Jazz Age supper club setting for the runway event. Her tour de force performance of jazz standards and originals brought the audience to its feet, as she sang her way through the room standing on tables and tossing champagne into the air, fittingly belting out "That's when I come alive, now let's go wild!"
Here, just before she took to the stage under an Art Deco proscenium, Monáe mused on the themes—of both style and song—being celebrated that evening.
What connection do you feel to the early eras of jazz?
I feel a deep connection to that time period. A lot of my jazz heroes were living then and writing music and really uplifting spirits. I always feel like I should honor them because they opened up so many doors and went through so much hell to just have their voices heard.
There's a theme of hope—a call for empowerment—in the lyrics for your setlist, both the standards and the originals. Did that resonate with you when you were deciding what to sing?
It was hard to pick a setlist and to dig into those timeless classics. Every song I picked resonates with me. I wanted to perform songs that are deeply personal and are truth tellers, even if the truth is ugly, happy, electric, sad, or a call to arms. Hope is in the fabric of my work. I love Sarah Vaughan, Ella Fitzgerald, Nat King Cole, so I really listened to a lot of their versions from "Fly Me to the Moon" to "Let's Face the Music and Dance" to "Smile." They left some gems when they recorded those songs.
What's essential to hold on to about a classic, and what do you feel you bring to these songs that's your own?
These songs have been around for as long as they have because the melodies are just remarkable, and they touch your soul. So I don't want to go in and rearrange the melodies entirely, but I do want to make sure that my essence shines through. I'm really not interested in sounding like any of my musical heroes. I'm inspired and influenced by them. But I also really do like who I am as an artist and what I have to bring to the table, and I always want to give myself a shot.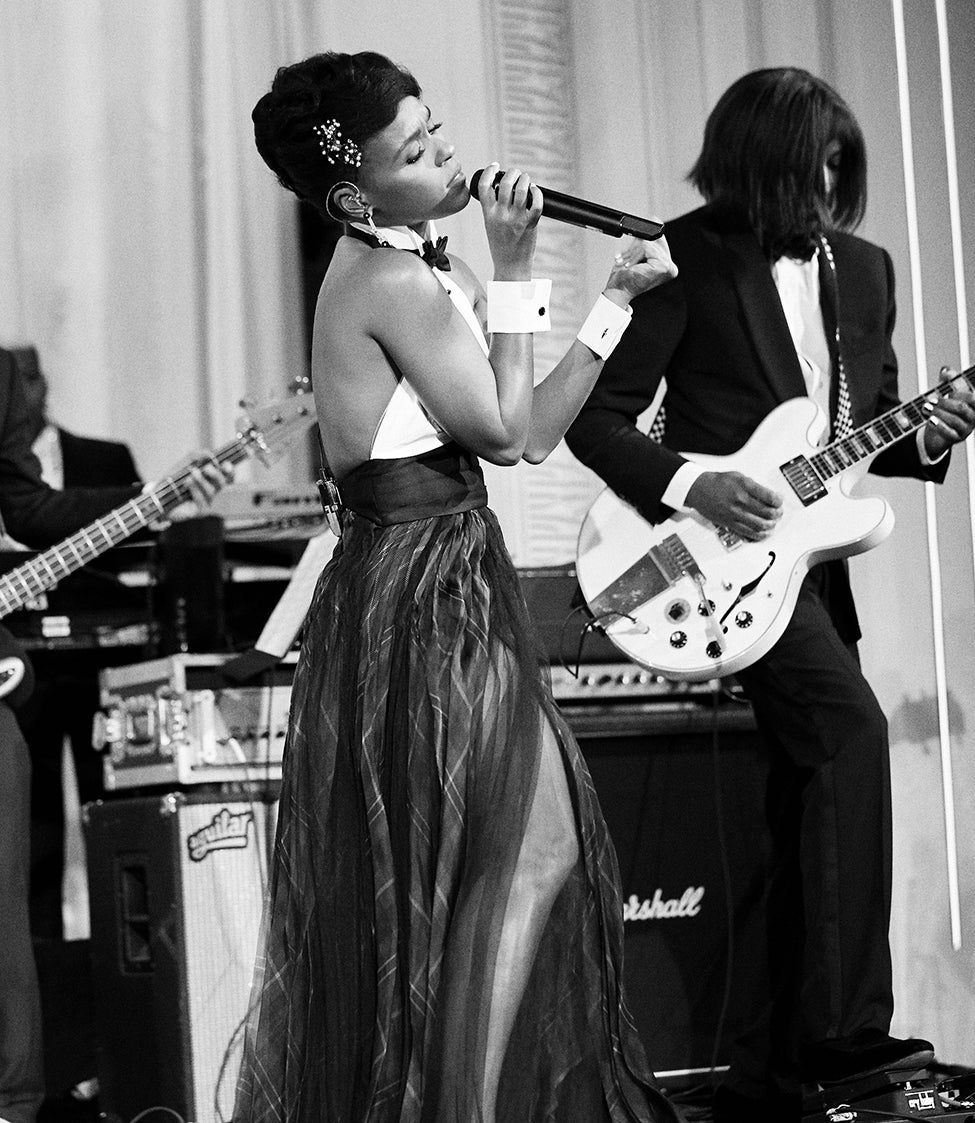 Hope is in the fabric of my work.
The tuxedo is immediately identifiable as the signature of your style—what's your advice for making the look feel personal?
Start with the truth. Start with honesty. Start with how you honestly feel and what your soul is gravitating to when it comes to fashion. For me it was a deep connection to my working-class parents. I saw them put on uniforms, and sometimes, when they were serving food, wear tuxedos. My grandmother served at the county jail for a number of decades, so for me I made the tuxedo not an aristocratic outfit or for just servers—I made it my own. It's about the person and the intentions behind what is being said when you wear that outfit, when you're fighting against the stereotypes of what a woman should look like or how she can dress or what's androgynous. I'm all about blurring those gender roles and norms and rebuking them in a sense, rebelling against anyone trying to pigeonhole me and say that I should dress a certain way to make them feel comfortable.
That's been a theme throughout your career as you've fought to remake how the world will perceive you and to redefine your image. Where do you see our culture now with those issues?
We're in a delicate time, but we're also in a space full of strength. Women are taking charge. We are collaborating and not competing as much, which makes it feel like you can be your authentic self. I would say that we still have much work to do, but as we celebrate our uniqueness and embrace it and uplift each other, we have an opportunity to not make it so hard for the next generation of folks who just want to live their authentic lives through art and self-expression.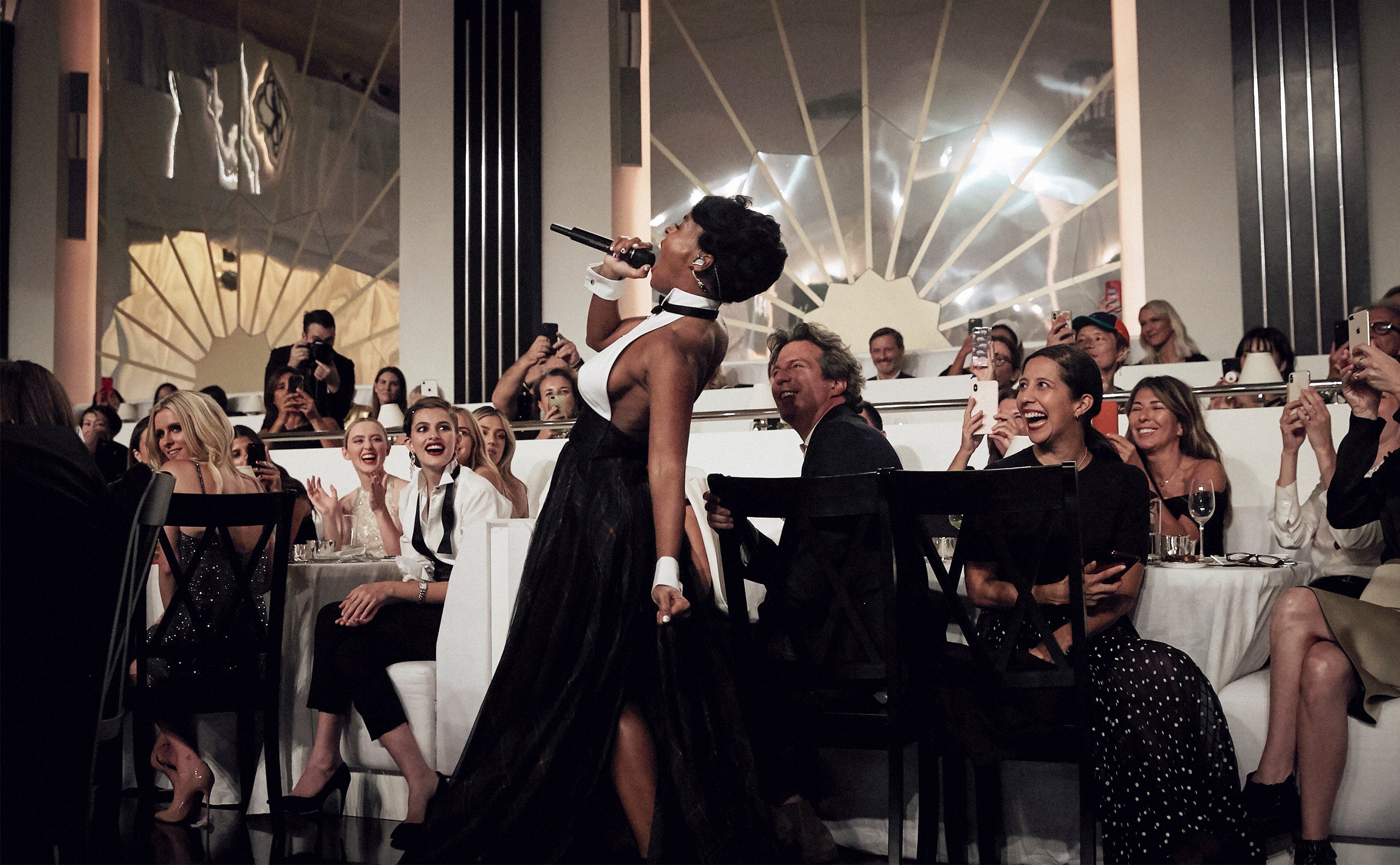 What drew you to working with Ralph Lauren?
I've always looked at Ralph Lauren as one of our greatest American designers. He knows how to dress women very well. I remember getting my first Ralph Lauren tuxedo and tuxedo shirt and wearing it at the beginning of my career—and I'm still rocking that. I never feel out of style, and at the same time I feel ahead of the time.
We both have a love for minimalism and black and white, something that's classic but also feels futuristic—depending on where you time travel to. We both love seeing a woman in a tuxedo. You can take the tuxedo to a rock concert, an elegant gala, a casual walk down the street, and you stand out. In a tuxedo you're timeless, and you're right on time.
Tell us about your look for the night.
I am an energetic performer. I like moving around. I don't like standing still. When you're on stage, people want to see a performance, especially folks who come to my show. I didn't want the beauty to get in the way of the fearlessness—the dare, the dash. So I decided to wear a tuxedo-inspired outfit with a sleeveless, backless tuxedo shirt and a skirt. It blurs the lines of masculinity and femininity, and I felt like I could move around. I want to lie on the floor and act crazy. I want to perform like it's my last time playing.
is the director of fashion editorial for Ralph Lauren.
Photograph by Victoria Will
Photographs by Kevin Tachman