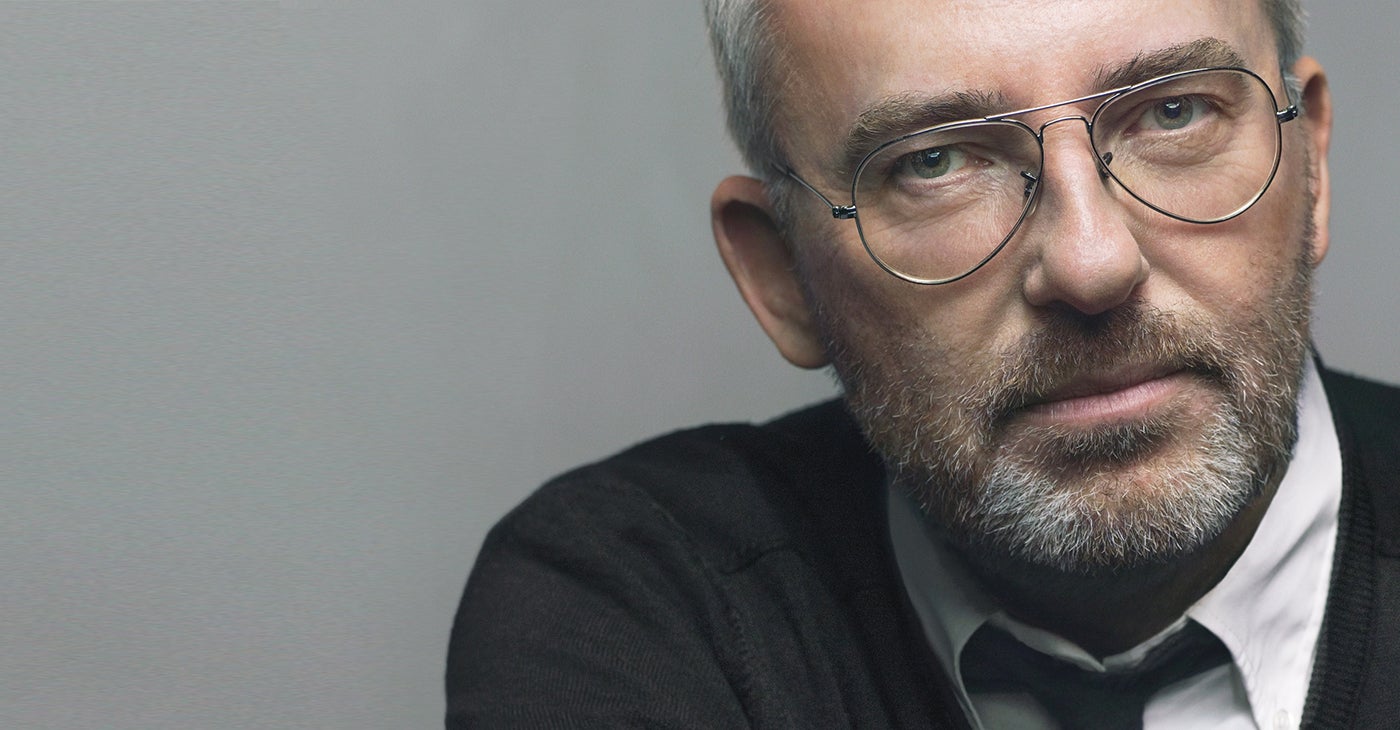 Culture
The RL Q&A: JIM MOORE
The menswear legend on his new book, his favorite shoot, and what it means to look very GQ
In men's fashion over the past four decades, no one has had more sway when it comes to launching careers, cementing reputations, and making or breaking collections than Jim Moore. Or, if you prefer, "Jim F***ing Moore," as emblazoned across the T-shirt that Mark McNairy famously sent down the runway in 2008 as a nod to Jim's outsize impact, and was later sported by Channing Tatum, Peggy Sirota, and more of Jim's creative collaborators over the course of his legendary tenure at GQ.
Now the magazine's creative director at large, Moore is both a force in men's fashion and a walking library of wisdom and advice, from how to dress for the office to how to coax a cover star how to get outside his fashion comfort zone (and to thank him for it years later). And now, he's also the author of a book, Hunks & Heroes: Jim Moore: The GQ Years, out now from Rizzoli. In celebration of its release, I sat down with Mr. Moore for a conversation on looking sharp, staying inspired, and the most fascinating person he's ever photographed.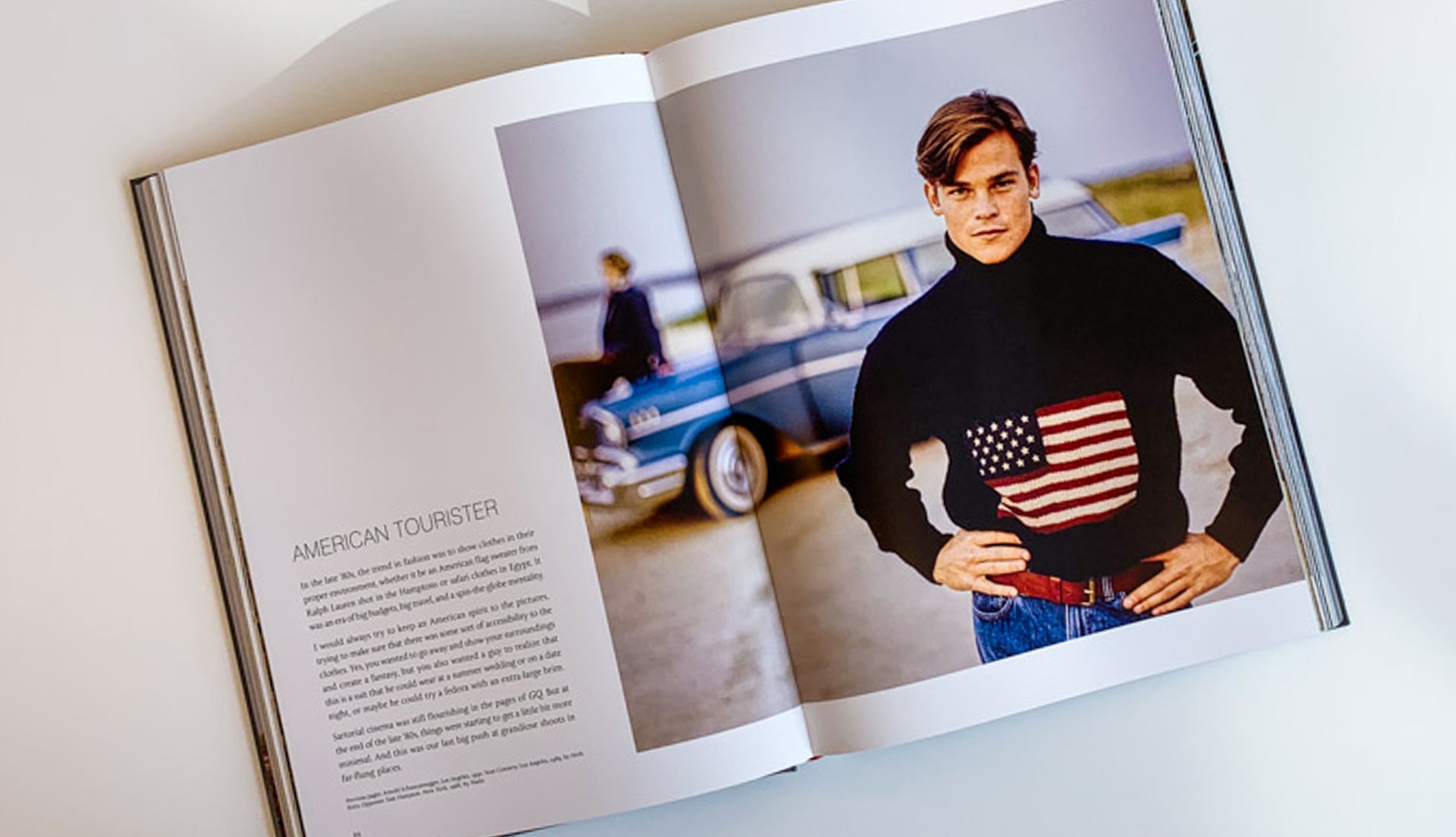 You've helped create something like 30,000 images over your four decades at GQ, but only around 300 made it into the book. How'd you decide what made the cut?
In a way, the more pictures you take out, the stronger the message gets. So, for example, if I'm talking about the big '80s and the power suits, sometimes all you need is one iconic image to make the point. In the case of the Richard Avedon era, which was almost four years of shooting covers once a month, I always envisioned that as being a 10-page chapter. But in the end, I just ran the Michael Jordan picture because I saw it was the most iconic and really sums up the era. So you have to really put yourself in kind of the armchair of the readers and think about what's going to be the most impactful thing. They don't need to see everything you've ever done.
The dawn of the celebrity model really changed fashion. How did that affect your job?
When Art Cooper took over the magazine in '83, he declared, "Let's put celebrities on the cover." It really accelerated sales and interest, and I remember my first cover with a celebrity—it was [Redskins QB] Joe Theismann. He's very handsome, but he obviously did not fit the clothes, so we had to get special clothes for him. And suddenly it was like, "Okay. This is going to be the new formula to putting celebrities on the cover and working with them and making them feel comfortable in their clothes." And that's where we kind of started to establish this look to the magazine that was a little bit of a poster, a little bit of the signature on the white background, the logo got bigger, it got more vibrant color, and pictures got a bit more in your face.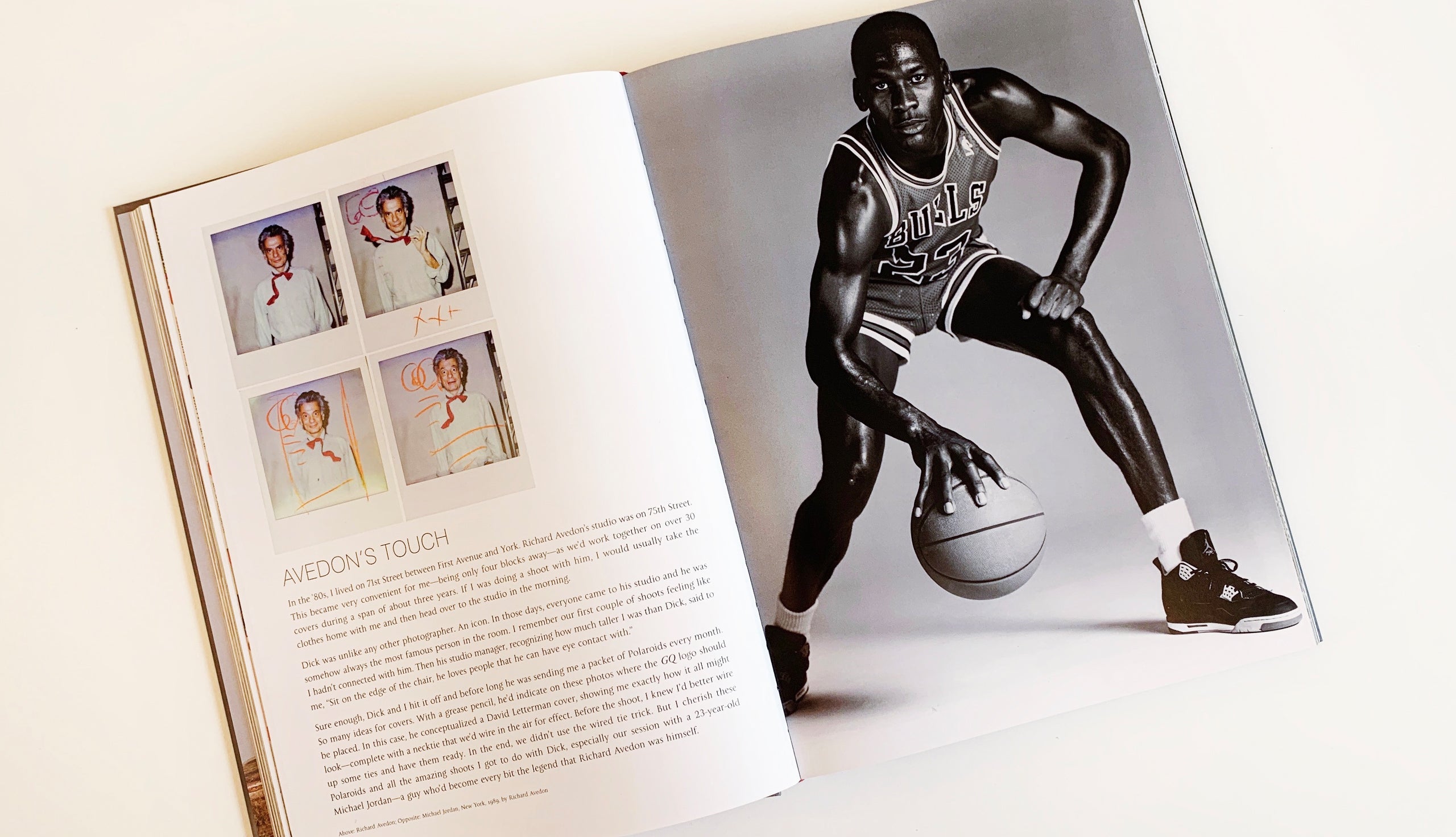 For a long time at GQ, you had a hard-and-fast rule: No fit, no shoot. Meaning, if you didn't come in for a pre-shoot fitting—no matter how big of a name you were—you weren't getting photographed for the magazine. Why is that?
I feel like if a suit doesn't look great in GQ magazine, where does it look great? And plus, when it's football players who are 250 pounds or basketball players who are 7 feet tall, we can't just put a suit on and pin up the back. Also, I will kind of have this idea of how they should look and I can kind of gently talk them into that because I think sometimes, being on the cover of GQ is really stepping out of who you are.
When the celebrity is becoming disarmed in the fitting, that's when you can really have the most fun with them. I remember Jason Bateman said, "Jim, I'll wear a turtleneck for you. But I just can't look at myself with a turtleneck on—I look silly." I was like, "You're going to be surprised." So we put him in a turtleneck, we did the picture, and I remember I ran into him somewhere a few years after the shoot and he's like, "Can I tell you that I love turtlenecks?" We push them in their fashion choices, and I think a lot of them really thank us later.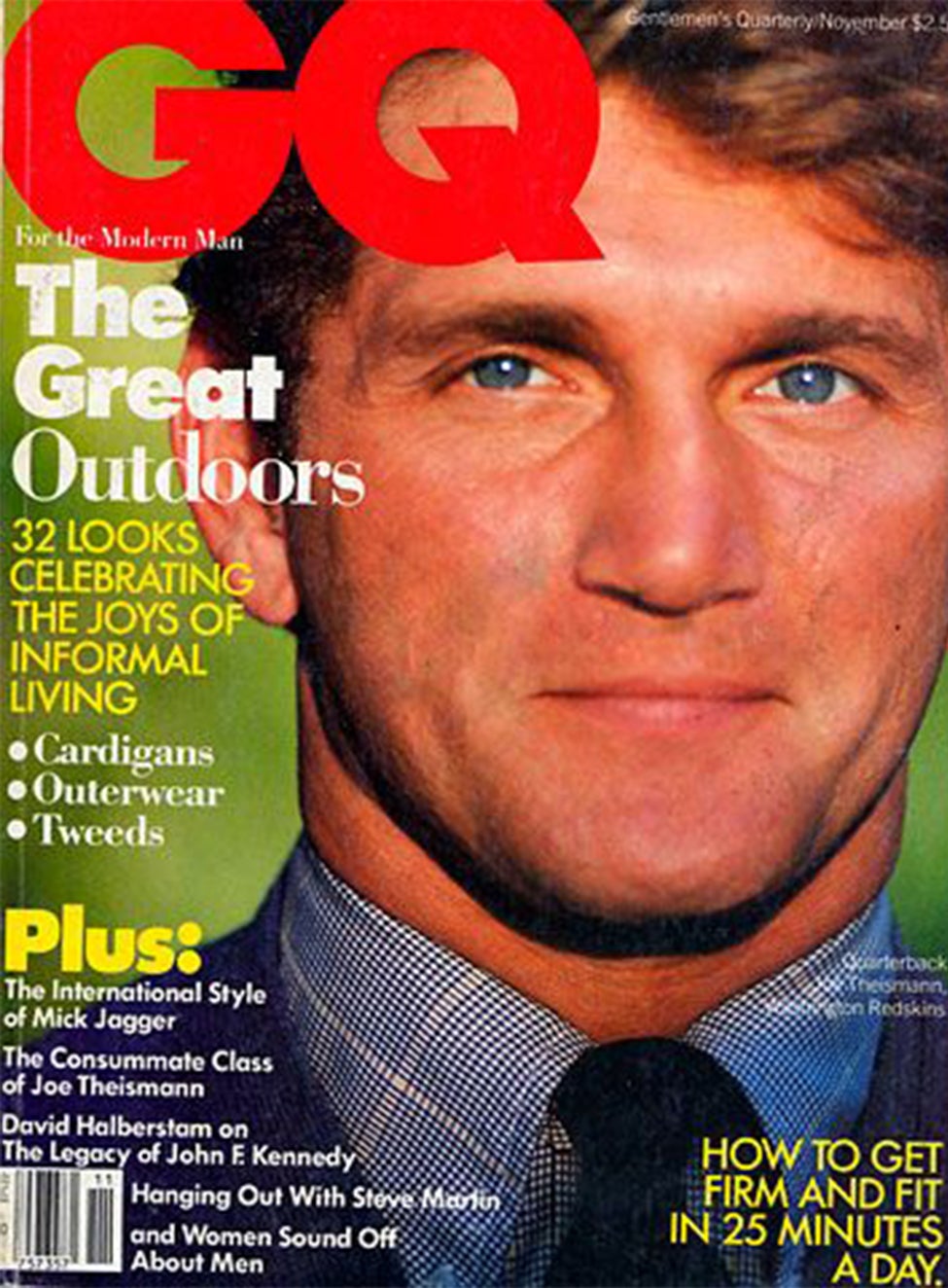 What about your influence on us non-celebs? Do you ever walk down the street and see some guy looking really sharp in a very GQ way and say, "You know what, I had a hand in that."?
When guys come up to me on the street because they recognize me from a video, it's not only an acknowledgement of the source of what made them look great, it's a great way to interact with your consumers. I'll usually hold the guy for five or six minutes and just drill him with questions: What does your closet look like? Are you buying a camel coat for fall? We're both getting a lot out of it.
People talk about looking very GQ. What does that mean to you, the guy who helped create the look?

I think it's a respect for yourself and for dressing the part. And sometimes, the part is just looking good walking down the street with a peacoat, a pair of bleached jeans, and loafers, you know? You can spot them a mile away—it's about the guy that took a little extra time to work on his shirt and tie, or how the tie was tied, or his shoes are just magnificently polished, or there's a colored sock peeking out at the bottom of his pants, or he's got a beautiful pair of sunglasses or a great haircut. So, yeah, I can spot them—it's a polished look, a sharpness, and an attention to detail.
That extra 10 percent—or maybe 20 percent.
Yeah, exactly.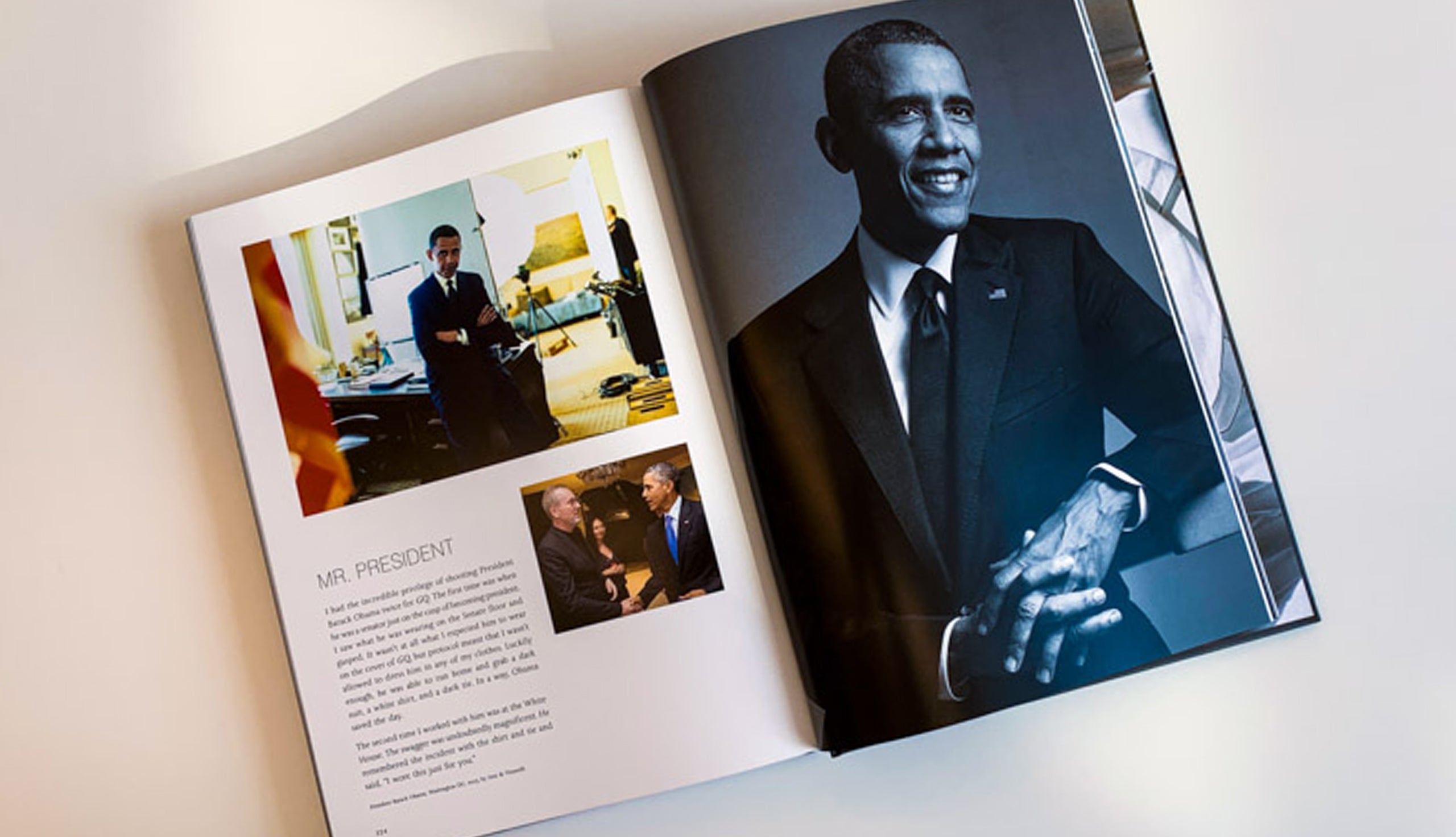 Who is the most fascinating person you've ever shot?
President Obama. We photographed him twice. The first time we were shooting the soon-to-be President of the United States, and then [in 2018] the President of United States. What was really interesting is to see the difference between the senator and the president, because the last picture was done just a couple of months before he left office. In the last shoot, the swagger was more apparent. I didn't have a long conversation with him, but you didn't need to because just the way he entered a room and how he handled a situation, how he treated everyone so beautifully is probably my definition of fascinating.
Speaking of fascinating people, you asked Kanye West to do the intro of the book. Why him?
I have to say that every time we get together, there's that electricity between the two of us where we're completely fascinated with something that just happened in the culture or fashion or what he's working out, what I'm working on. He's an incredibly intelligent being. I understand him really well, and I like how his mind works—it doesn't bother me that people's minds kind of jump around. His mind is so creative and vibrant that I get really jazzed by it and we come up with ideas all the time. We can sit on a couch and six hours have gone by. We did a nine-hour fitting once, and it seemed like nothing. I like fascinating people and I like people who are really a little bit in a different lane. I mean, he's got all those things.
Let me know when the two of you launch a podcast; I'll be the first to sign up. How did you land on Ryan Reynolds for the cover of the book?
When I did that shoot with Ryan, we were shooting him for Man of the Year, and we were kind of playing with the idea of Deadpool and James Bond, and Spider-Man and Superman, putting all those ideas in a Cuisinart and celebrating him as Deadpool but also a gentleman but also a Man of the Year. Ryan really represents everything to me in Hollywood. He's super well-liked. Obviously, he is a leading man, he looks the part, and he's very witty, very funny, very caring, and his star is on the rise. Just based on those things alone, that sounds like a great magazine cover, but for a book cover, the picture doesn't end up looking dated. Plus, I always feared putting a man in a suit on the cover because I didn't want the question to be asked, "Whose suit is he wearing?" Because that's not the point of the book.
Tell me about the title, Hunks & Heroes.
I wrote a subhead for a particular section of the book, which is 2004 and onward, the kind of murderer's row of celebrities—"Hunks and Heroes." The designer, Dimitri Levas, just looked to me and said, "That's the name of your book." He's like, "Let's put that on that Ryan Reynolds image that you love so much, and I think you've got a book cover."
I couldn't wait to call Rizzoli [the publisher] and they said, "Now, that's a book that I haven't seen out there." It's just like doing something that's a little bit different and also, Rizzoli hadn't done a men's book in a few decades, since Jocks and Nerds in the '80s.
I looked at it and I was like, it's kind of the new Jocks and Nerds—Hunks and Heroes.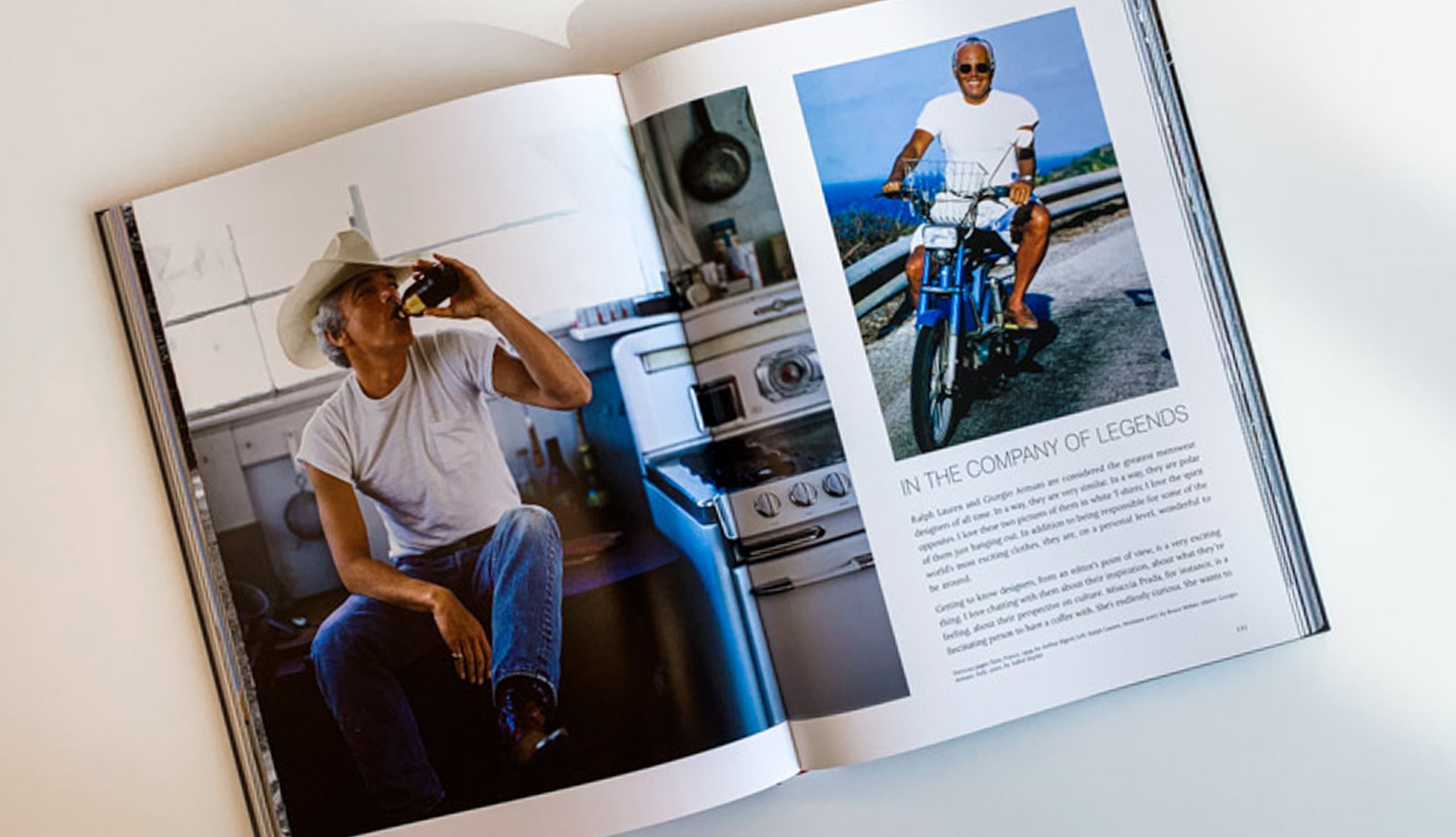 You've shot a lot of RL clothes over the years. What's unique about a piece from Ralph Lauren?
I just have to say that Ralph's clothes are the easiest clothes to style. There's always something from Ralph that fits in every story. Ralph, I think, is about personal expression, he's about personal style. He's always turning the classics on their head—he's the first person I ever saw wear a tuxedo and a pair of ripped jeans and cowboy boots. So, this man is definitely a style disruptor. And that's what makes the clothes fun to style, that there are all these elements that kind of contrast each other and play off each other in the most interesting way.
Former editor in chief Jim Nelson always used to call you the youngest guy at GQ. How do you stay engaged and inspired after so many years in a business where there are often more new collections than new ideas? You seem to never lose your passion for what's new.
I think my secret is that I have a pretty high visual tolerance. I can take a lot in. If you put me in a fashion show, I'll probably know if it's going to be a good show by look number five. I only remember things that I love, and I try to always stay on the positive side of things.
I mean, at the end of the day we're just reporters. The designers have to give us beautiful clothes for us to work with and I fortunately have the job of being able to cherry-pick all my favorite things out there and put them in a magazine.
You can say that fashion is influenced by the past, and technically it is, but it's our job as journalists to really find the newness in things. I'm never afraid of taking a classic and putting it together in a different way. Sometimes, those are the most creative moments for me.