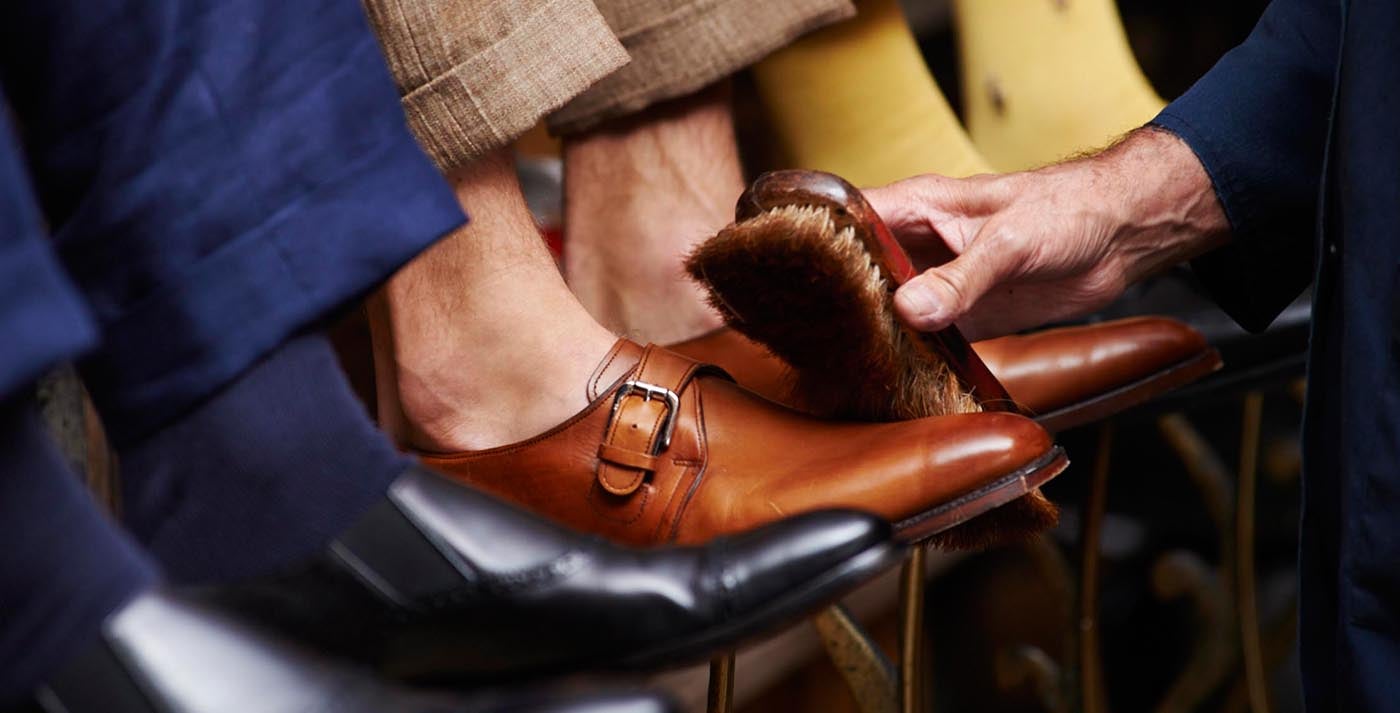 Culture
Shine On
After more than eight decades in business, Jim's Shoe Repair is still where insiders—including more than a few Ralph Lauren employees—go for a polish and a break from the commotion of the city
In New York, a city endlessly fascinated with the new, stepping into Jim's Shoe Repair on East 59th Street can feel a bit like entering an alternate universe—and time. Is it 1983? 1962? Or maybe even 1940, the year the Rocco family moved their then-8-year-old business into its current location?
A small television, perennially tuned to the news, or a ballgame, was added sometime around 2005, but aside from that, Jim's exists as a near-perfect time capsule from a different era of menswear—and New York City—replete with a 1930s-era cash register and wooden waiting booths from a more private time. "[Women] weren't supposed to show their legs in public," says Joe Rocco Jr., the shop's third-generation owner. The women today? Rocco puts his leg high up on the foot pedestal, indicating that the modern female is maybe less modest.
Having worked in the shop since he was a teenager in 1971, Rocco continues the tradition started by his grandfather, Vito, an immigrant from Naples who was "Jimmy" to his friends. "I never knew that until these last five years," Rocco says. "Everybody asks, 'Why is it named Jim's? There's nobody named Jim here.' So I asked my dad and he said, 'They nicknamed your grandfather Jimmy.'"

The shop's employees still perform all of their repairs by hand and fix everything from bluchers to brogues, kitten heels to 6-inch stilettos. They welcome the challenges that their customers bring them, which sometimes extend to literally rebuilding an entire shoe. (The biggest culprits: salt on the sidewalk and man's best friend. Dogs will massacre a shoe, Rocco says.)
But the shop is much more than a place to get new soles put on. To its broad and, yes, well-heeled customer base, Jim's is a reprieve from the New York hustle—a place to stop, chat, catch up on the news, and get the highest-quality shoeshine in the city. For many, it's a place where their parents brought them growing up, and they in turn bring their children. (Given its prominent location, Jim's has had its share of celebrity customers, to which the supremely un-starstruck Rocco is often oblivious. "I don't really stargaze. Half the time I don't know who they are. But a lot of people have come in over the years. What's-his-name used to come in every Saturday for a shine...Raiders of the Lost Ark?")
As with any institution, Jim's could be easy to take for granted. Recent events, however, serve as a cautionary tale. In 2012—in a story as old as real estate—the shop received word that its landlord was giving Jim's lease to the neighboring pharmacy, which wanted to expand. And just like that, an 80-year-old family-owned business was set to vanish from the cityscape forever.
But a petition to save Jim's gained thousands of signatures, including that of attorney William A. Brewer III, whose office was nearby. "I've been a customer at this store for more than 15 years," says Brewer, who took the case pro bono and became lead counsel for the store in its fight. "Jim's is a part of the fabric of the community. I sit with my sons in these booths and we discuss how this is an experience that has been shared and loved by literally generations of New Yorkers."
At least one more generation of New Yorkers will get to share that experience since in 2014 Jim's was granted a last-minute stay by its landlord, who renewed its lease for another nine years.
It's a blessing for Rocco, who works with a crew of dedicated employees (one of the most popular shoeshiners, Antonio DeOlivira, has been there for 28 years) and his son Andrew, the fourth generation of Roccos at Jim's. And of course, a blessing for the neighborhood and its residents, which includes Ralph Lauren's New York offices.
In the meantime, while old-world charm and craftsmanship continue to be Jim's stock in trade, Rocco has recently expanded into the digital realm. His online venture, cobblerconcierge.com, offers mail-in, flat-rate shoe repairs with the same quality as what you'd receive at Jim's. It's convenient, but lacking in that only-in-New-York experience of stepping into Jim's, and stepping back in time.
is a writer and musician based in New York City.
ALL PHOTOGRAPHS COURTESY OF RALPH LAUREN CORPORATION