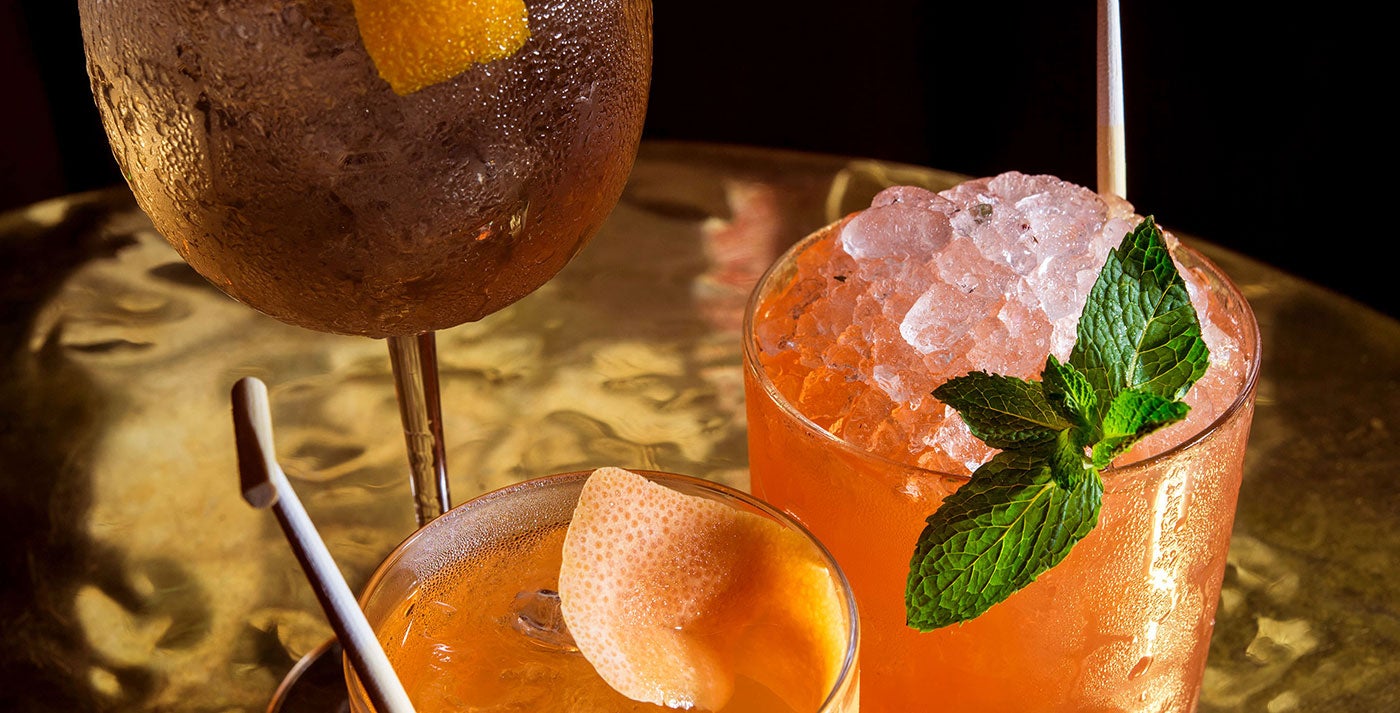 Travel
Summer Spirits
Warm weather brings a fresh take on iconic cocktails from The Polo Bar. Here's how to make seven of our favorites
During the cooler months, The Polo Bar's cocktail menu is a case study in " The Classics, Perfected ," as we put it last fall. Come summer, though, the days lengthen and the mood lifts, inspiring a slightly looser take on iconic cocktail recipes. Call it the mixology equivalent of summer casual: a bit more free-spirited, a lot lighter—but no less meticulous in execution.
Here, seven highlights from The Polo Bar's recently updated cocktail menu. Naturally, they're best sampled amid the wood-paneled and brass-accented ambience of The Polo Bar itself, but—as our scientific tests verified—these recipes are also quite delicious when enjoyed from the comforts of an Adirondack chair on a lazy summer evening.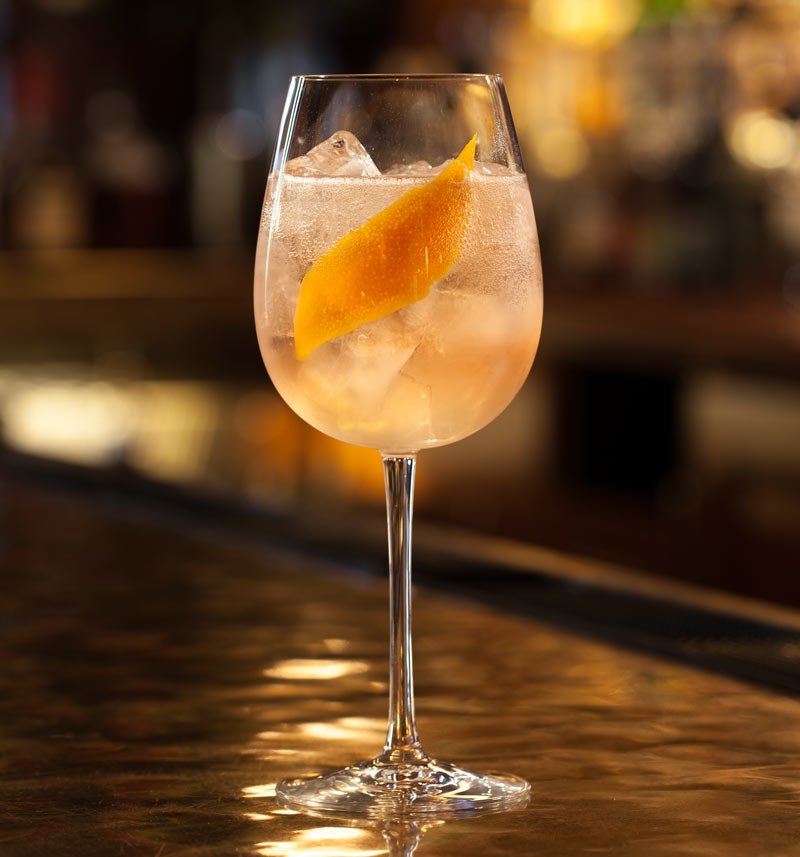 Although The Polo Bar regularly updates its menu with new drinks, some, like the Rosé Royale, have become beloved seasonal staples. "We've done it for two years, and there's a reason it's our best-selling drink in the summer: It's light and easy but not too cloying or sweet," says the bar's assistant general manager, Darnell Dodson.
The combination of grapefruit and orange liqueurs with a rosé from Provence, plus a champagne topper to balance the sweeter notes, makes for a refreshing dram that "evokes summer on the beach," he adds. Its on-trend shade of pink definitely doesn't hurt.
INGREDIENTS:
½ oz. Giffard Crème de Pamplemousse Rose
½ oz. Royal Combier
3 oz. Provence rosé
2 oz. champagne
Ice
Twist of orange peel
Pour the grapefruit liqueur and Royal Combier into a wine glass. Add the rosé and champagne, top it with ice, and give it a quick stir. Squeeze the orange peel over the finished drink, then use it as a garnish.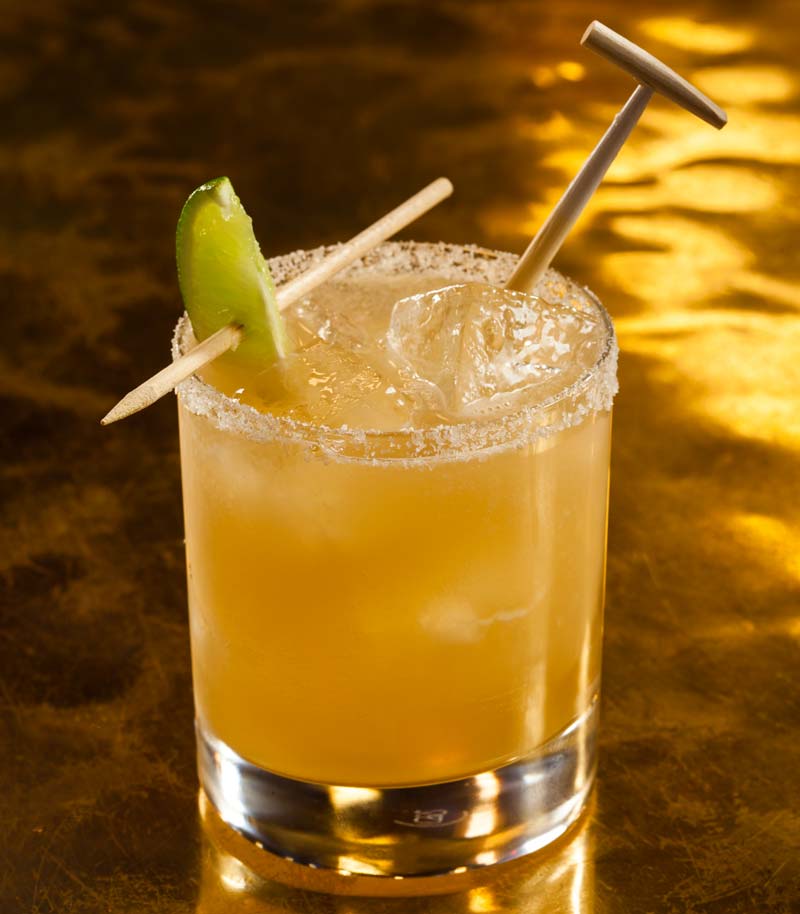 This impeccable margarita honors the picturesque mountain valley town in Colorado that is home to the Double RL Ranch . One might call it a Goldilocks version of the classic—as it's neither too sweet, nor too tart—but it's way better than "just right." The combination of high-quality tequila and pure agave, plus the strategic deployment of lemon juice (in addition to the traditional lime juice) results in a rounder, more nuanced flavor.
INGREDIENTS:
2 oz. Casa Dragones Blanco
½ oz. Triple Sec
1 oz. fresh lime juice
½ oz. fresh lemon juice
½ oz. agave
Ice
Lime wedge
Pour all of the ingredients except for the lime wedge into a shaker with ice and shake vigorously for 15 seconds. Pour the mixture over fresh ice and garnish with the lime wedge.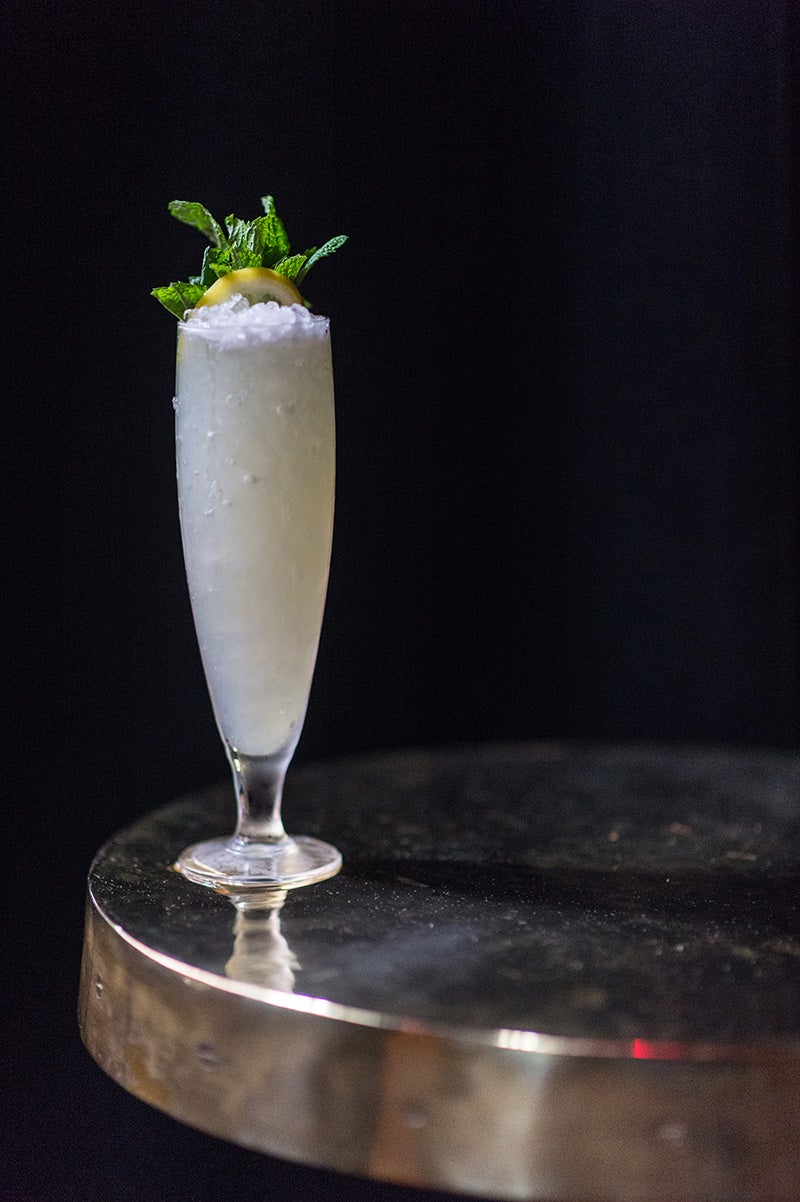 There's nothing quite like an ice-cold glass of lemonade in the summer, but it's hard to imagine a roadside stand serving up anything that could compete with the Mint Gin Sour. Lemon juice and freshly muddled mint combine with a fruit-forward Old Tom–style gin that's aged in bourbon barrels. It gets a hint of smokiness from China-China Amer, a wine-based liqueur enhanced with herbs, roots, bitter Mexican chocolate, and coffee. "It has some richness to it," Dodson says, "along with some savory notes, which is quite nice."
INGREDIENTS:
Fresh mint
2 oz. Ransom Old Tom Gin
¼ oz. China-China Amer
1 oz. lemon juice
½ oz. Demerara syrup
1 oz. water
Ice
Muddle fresh mint in a shaker, reserving a few sprigs for the garnish, then add the remaining ingredients along with some ice cubes. Shake vigorously, and strain the mixture into a tall glass filled with crushed ice. Garnish with the remaining mint sprigs.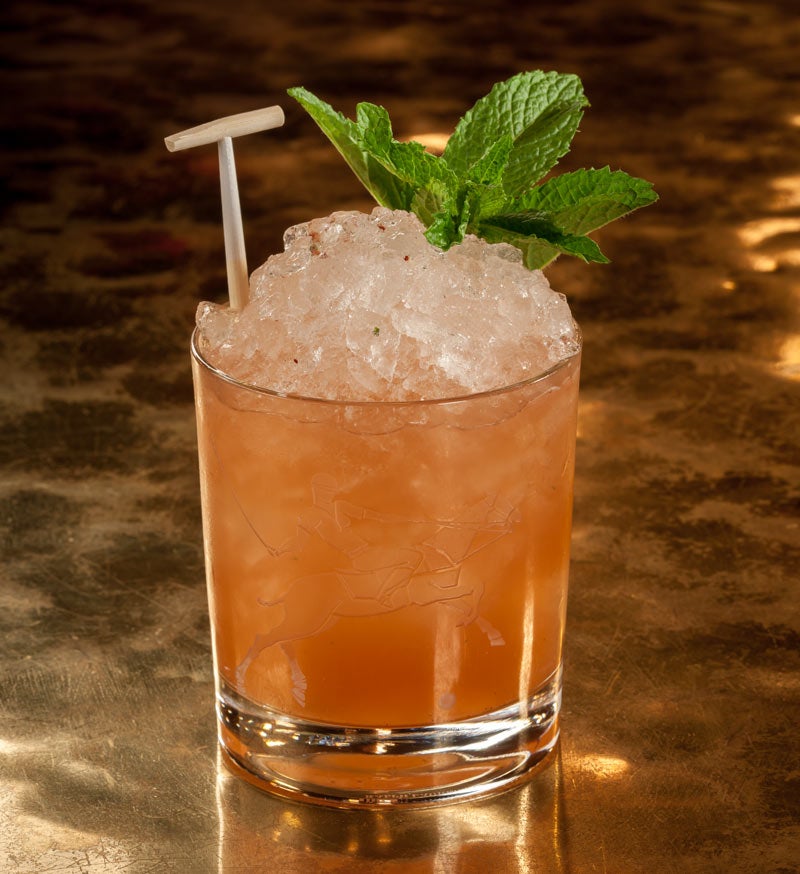 A Southern staple, the mint julep gets a Polo Bar spin courtesy of strawberries sourced from the south of Spain and a complementary strawberry liqueur. If you can, use crushed ice. It'll mix with the whiskey more quickly—a helpful quality in a drink this stiff.
INGREDIENTS:
Strawberries
2 oz. Stranahan's Colorado Whiskey
½ oz. Giffard Crème de Fraise des Bois
¾ oz. lemon juice
¼ oz. water
Sprigs of mint
Ice
Muddle the strawberries in a shaker, then add all of the remaining ingredients, including the ice and a few mint leaves. Shake vigorously. Pour the cocktail over fresh crushed ice and top it with more ice for the classic julep look. Garnish with a sprig of mint.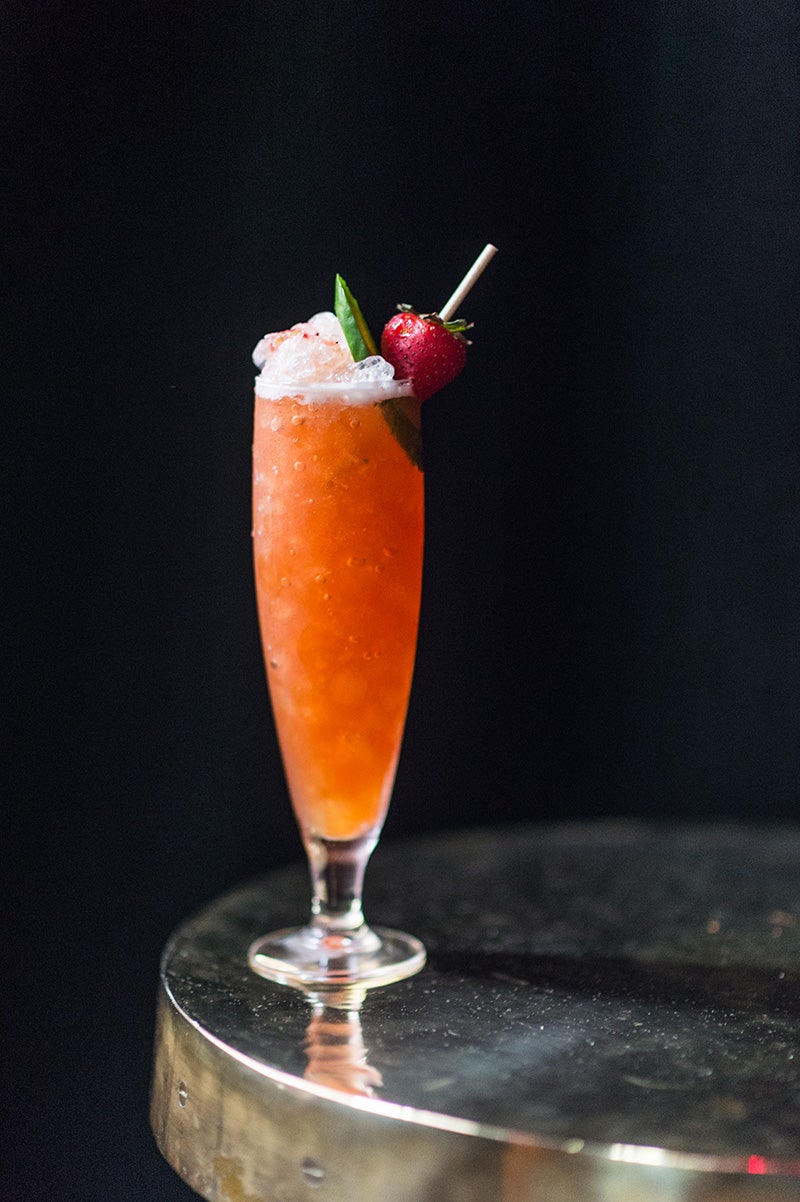 This graceful drink is a nod to the All-England Club, host of the annual Wimbledon Cup, and a play on the tournament's time-honored Pimm's Cup. (Ralph Lauren is the official outfitter for the competition's umpires, line judges, and ball boys and girls.) There's a salad of fruit and vegetal aromatics, with just enough spice — courtesy of a housemade ginger syrup —to keep it lively. And while you won't find gin in the official version, it's certainly not out of place here: Boodles is all English, too.
INGREDIENTS:
Muddled Cucumber
1 pc. Strawberry
2 pc. Kumquat
2 sprigs mint
2 oz. Pimm's
1 oz. Boodles Gin
¾ oz. lemon juice
½ oz. ginger syrup
Muddle the cucumber in a shaker. Add Pimm's, gin, lemon juice and ginger syrup, along with ice. Shake vigorously. Add fresh ice, strawberry and kumquats to a tall glass and pour cocktail. Garnish with mint sprigs.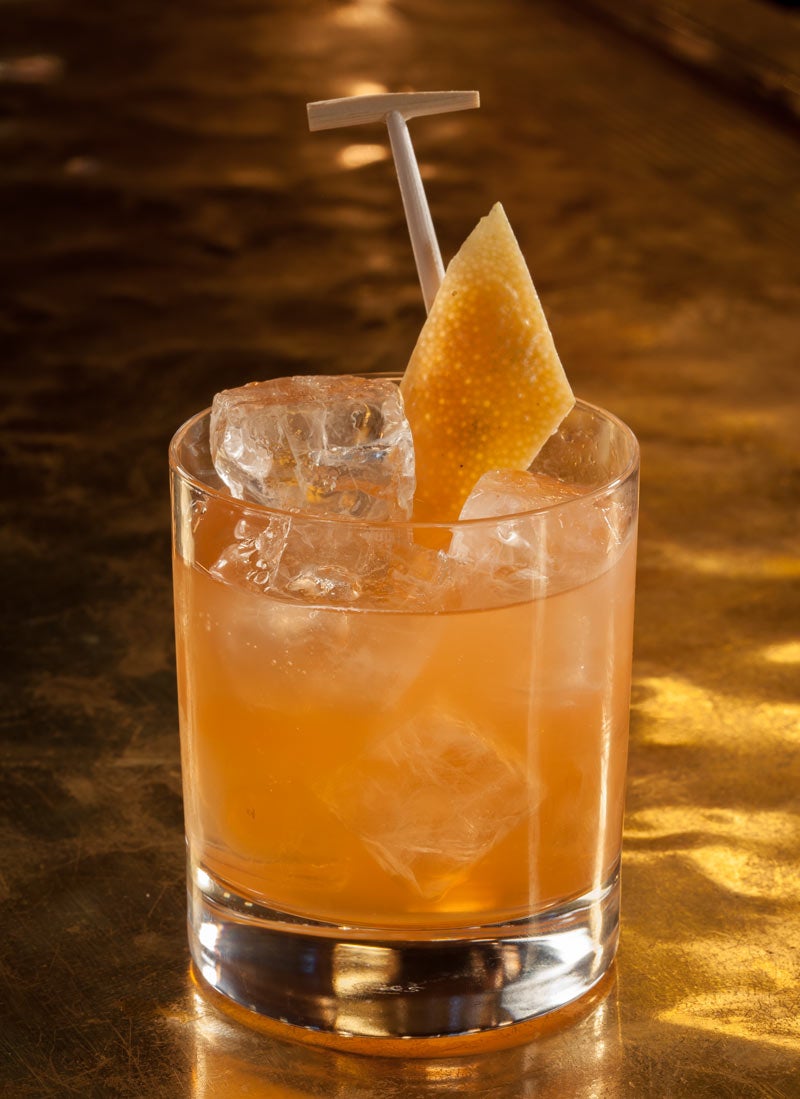 Named for the Jamaican resort where Ralph Lauren keeps a vacation villa, this drink is a light, layered take on a rum punch. That's thanks to a progression of flavors: first citrus, followed by fruity Pêche de Vigne, and finished off with the bitter bite of Aperol.
INGREDIENTS:
1½ oz. Cruzan Aged Light Rum
½ oz. Crème de Pêche de Vigne
½ oz. lime juice
½ oz. Aperol
Ice
Twist of citrus peel
Pour all of the ingredients except for the citrus peel into a shaker, add the ice (the larger the cubes, the better), and shake vigorously for 15 seconds. Pour the mixture over fresh ice. Squeeze the citrus peel over the finished drink, then use it as a garnish.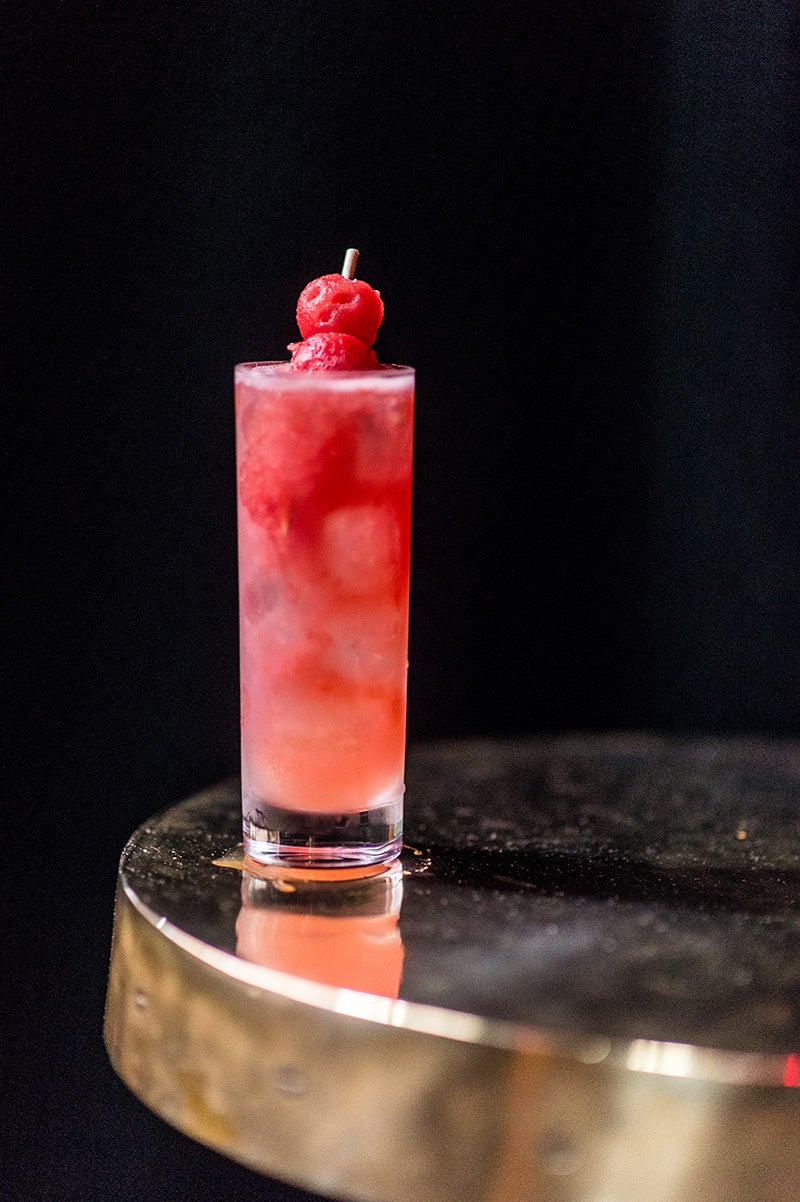 The Polo Bar's summer punch is as light, cooling, and drinkable as the other concoctions on the menu thanks to its base ingredient: fresh, ripe red watermelon. But the addition of a unique spirit gives it unexpected character and depth. The makers of Maestro Dobel tequila combine the three age statements of the liquor (reposado, añejo, and extra añejo, from youngest to oldest), blending the freshness and texture of a light tequila with the silkiness of an aged version. As for the flavor?
"I don't want to say it's like a watermelon Jolly Rancher," he says, grinning, "but maybe it is, in a good way."
INGREDIENTS:
Muddled 4 cubes watermelon
2 oz. Maestro Dobel Tequila
½ oz. Aperol
½ oz. Demerara syrup
½ oz. Lemon
GARNISH:
Watermelon ball
Muddle the watermelon in a shaker. Add the remaining ingredients along with ice. Shake vigorously. Pour the cocktail in a tall glass with fresh ice and garnish with a watermelon ball.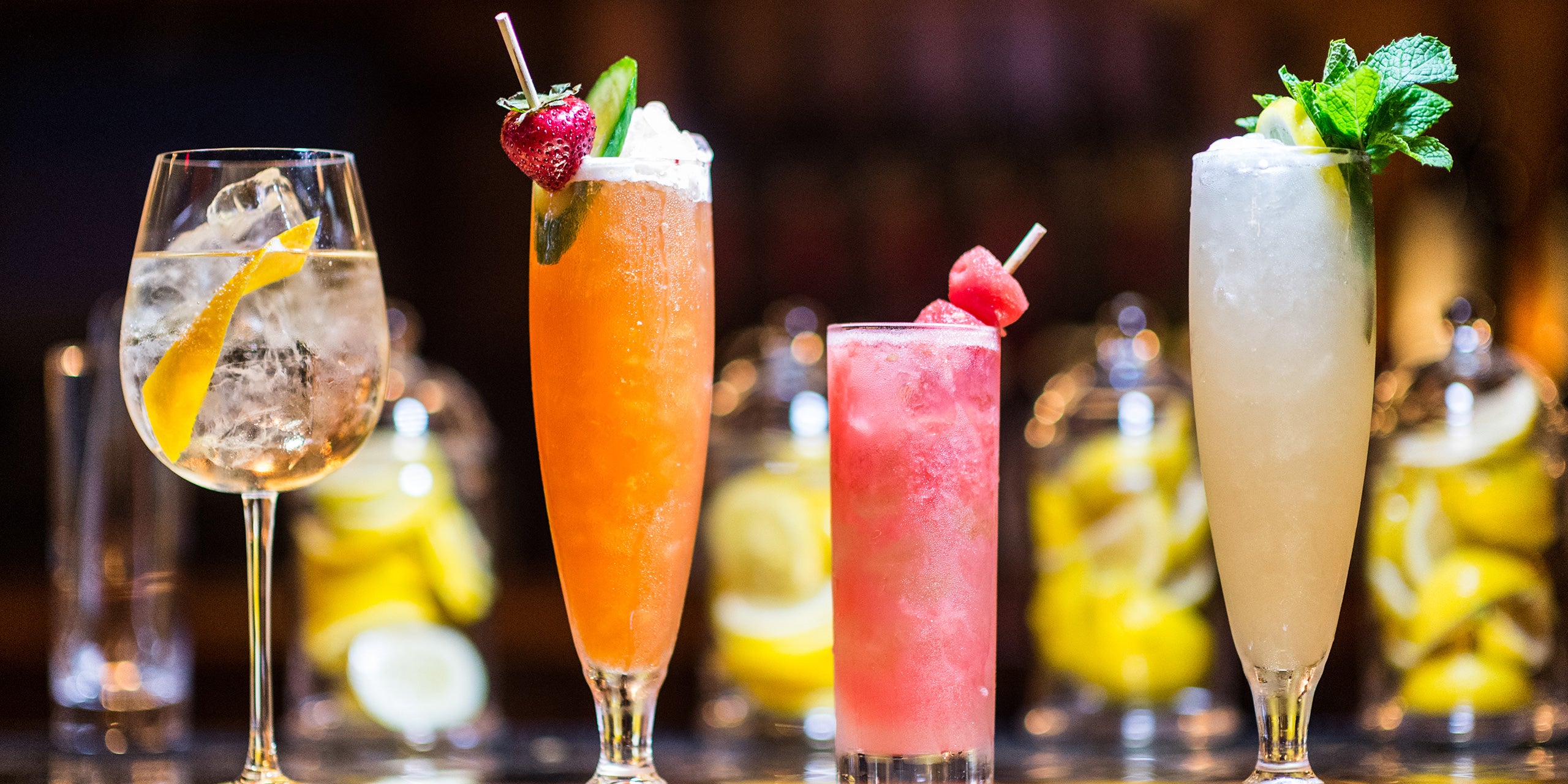 is a writer and musician based in New York City. Additional reporting by JON ROTH.
Marcin J Muchalski Diamond Shot Studio®
Daniel Krieger Photography
PHOTOGRAPH BY DANIEL KRIEGER (@danielkrieger)
COURTESY OF RALPH LAUREN CORPORATION