He is a man of contradictions.
Innocent yet sophisticated. Suave yet cuddly. A beloved children's toy…who enjoys an occasional martini. He's been spotted hobnobbing with international celebrities, written about in leading newspapers, and even played a critical role in shaping the cover of a seminal hip-hop record. He is, of course, the Polo Bear, and this is his story.
The story begins not in 1991, when the Polo Bear made his debut, but in 1902, when President Theodore Roosevelt went on a bear hunt in Mississippi. At the end of the excursion, Roosevelt had failed to fell his quarry, and an enterprising companion endeavored to tie a bear to a tree and let the president shoot it. Roosevelt declined, deeming the situation unsportsmanlike. Soon after, The Washington Post ran a cartoon of the president sparing the bear's life, which inspired toy sellers to name stuffed bears after him. One maker of those stuffed bears? A German gentleman by the name of Richard Steiff; 116 years later, Steiff is the world's most renowned maker of teddy bears.

Jerry Lauren, Ralph Lauren's brother, who serves as creative director of men's design, is a passionate collector of Steiff bears. (He estimates his collection to be at 30 to 40 bears, including six that he keeps on his bed.) In 1990, inspired by his collection, Jerry's colleagues had a Steiff bear dressed in Jerry's likeness—blue oxford shirt, tartan tie, cable-knit sweater—and presented it to him for his birthday. At the same time, a Western-inspired bear was presented to Ralph. (Upon seeing the two bears, as Jerry recalls, Ralph remarked, "You know what? I'm a preppy, too.") A tradition was born, and every year both Ralph and Jerry are given a Steiff bear. The bears—inspired by Ralph's personal style—wear clothes often made in the same factories as actual Ralph Lauren clothing. "They're always his favorite gift," Jerry says.
As with so much in the World of Ralph Lauren, what appealed to Ralph in his own life made its way to the clothes, and in 1991 the Polo Bear appeared in two very different forms. The first was an actual teddy bear ("Preppy Bear"), produced in tandem with Steiff, and massively popular from the start. The teddy bears, in a limited run of 200, sold out of the Madison Avenue flagship in one weekend. The second iteration of the bear was as an icon that eventually appeared on everything from T-shirts and denim jackets to dress shirts and ties.
No matter where the Polo Bear roams, he remains beloved—a whimsical, just slightly mysterious complement to our iconic signature pony. After all, as Jerry Lauren says, "Who doesn't love a teddy bear?"

As with so much in the World of Ralph Lauren, what appealed to Ralph in his own life made its way to the clothes—and onto The Polo Bear.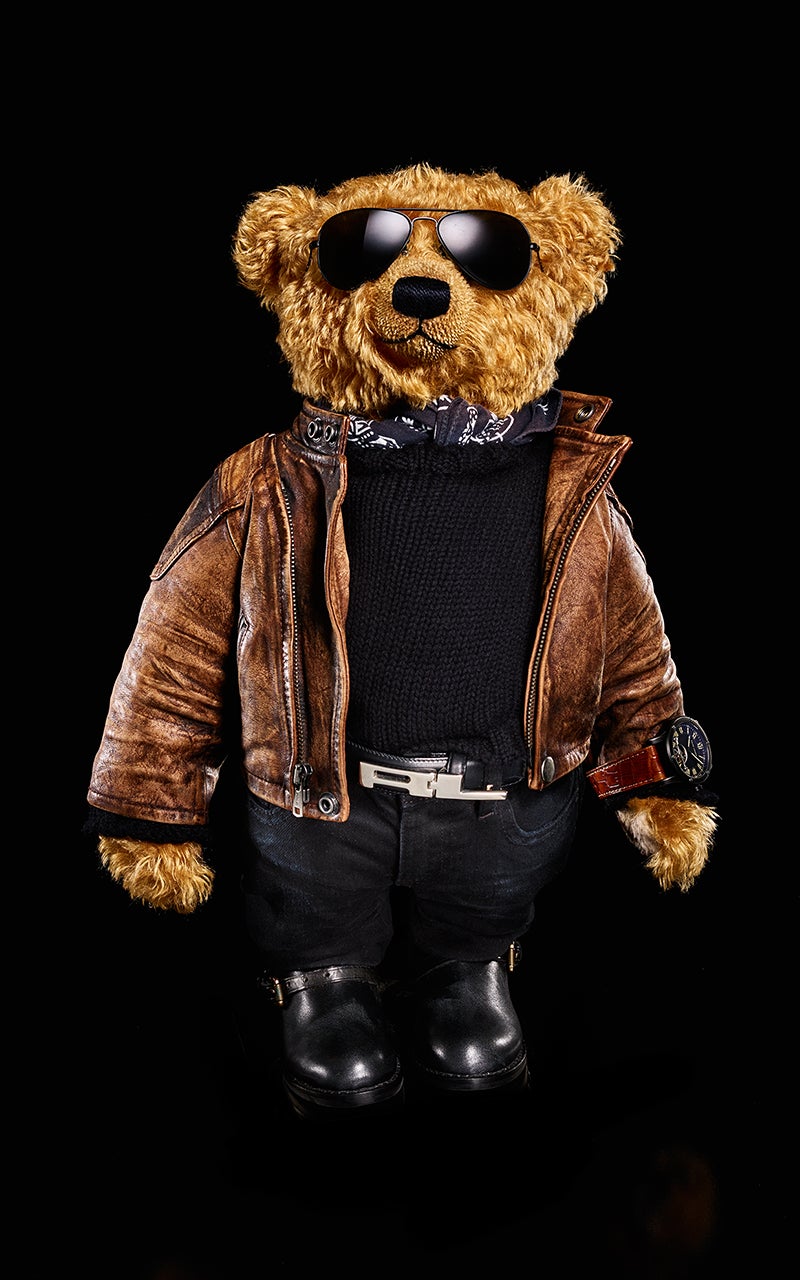 The next year, a Polo Bear wearing an American flag sweater was hand-knit onto a Polo Ralph Lauren sweater, which was available in red or navy. The sweaters went quickly, and inspired a range of more bear products later that year. You could get a turtleneck with Martini Bear, holiday sweaters with intarsia-knit skiing bears, or a crewneck sweater with an intarsia-knit golfing bear wearing a Fair Isle sweater vest, considered by its designers to be the most elaborate bear they ever produced.
Over the next several years, the Polo Bear appeared in a series of national ad campaigns (see above), while Steiff produced 19 mostly limited-edition teddy bears "dressed in clothes that I wear," as Ralph said in 2001. "The same materials, the same craftsmanship, right down to the last detail." (Not for nothing did one ad call him "the world's best-dressed bear.") Also available were a handful of female bears—like Safari Bear, wearing a Collection look from the Spring 1997 Runway Show, in which Naomi Campbell famously walked. Polo Bear clothing became a cult phenomenon, peaking when Kanye West wore a red Polo Bear sweater in the photo shoot for the cover of his 2004 debut, College Dropout.
The collaboration with Steiff ended in 2001, and production of the special-edition sweaters was pulled back around the same time. But during the past few seasons, the Polo Bear has returned, popping up everywhere from the US Open, where you could have the bear, wearing the official ball boy uniform, customized with your name and printed onto a Polo shirt, to a version on John Mayer. Last fall, he even made his Purple Label debut, appearing on the Italian-made Western Bear sweatshirt, followed by an appearance this fall on a gray sweater, himself wearing a cricket sweater and toggle coat.
Back in full effect, he adorns a whole range of new items, from suede boots and knit hats to throw pillows and onesies. Plus, you can have your favorite bear embroidered onto shirts for the whole family at RalphLauren.com or visit the Prince Street Polo store, where bear graphics can be printed onto personalized Polo shirts for men, women, and kids.
The story will continue into 2019, as the Collegiate Bear makes his debut on a Polo sweater. He beat out three other bears—none of whom had ever appeared on a sweater—in the first-ever Polo Bear vote on the new Polo App (which you can download now from the App Store or Google Play).
But the Polo Bear's biggest news this holiday season just might be the Polo Bear watch collection (above). Created in celebration of Ralph Lauren's 50th anniversary, the limited-run, Swiss-made collection consists of four models, each emblazoned with a different Polo Bear, and each embodying a different take on Polo style: Preppy Bear, Martini Bear, Flag Bear, and Spectator Bear. And, as a nod to Ralph Lauren's original design—the necktie—each watch will come with an extra strap made from necktie silk, alongside a strap of French calfskin or exotic alligator.
Needless to say, this is one bear with no time to hibernate.
is the former executive editor of Ralph Lauren Digital.
ALL PHOTOGRAPHS COURTESY OF RALPH LAUREN CORPORATION