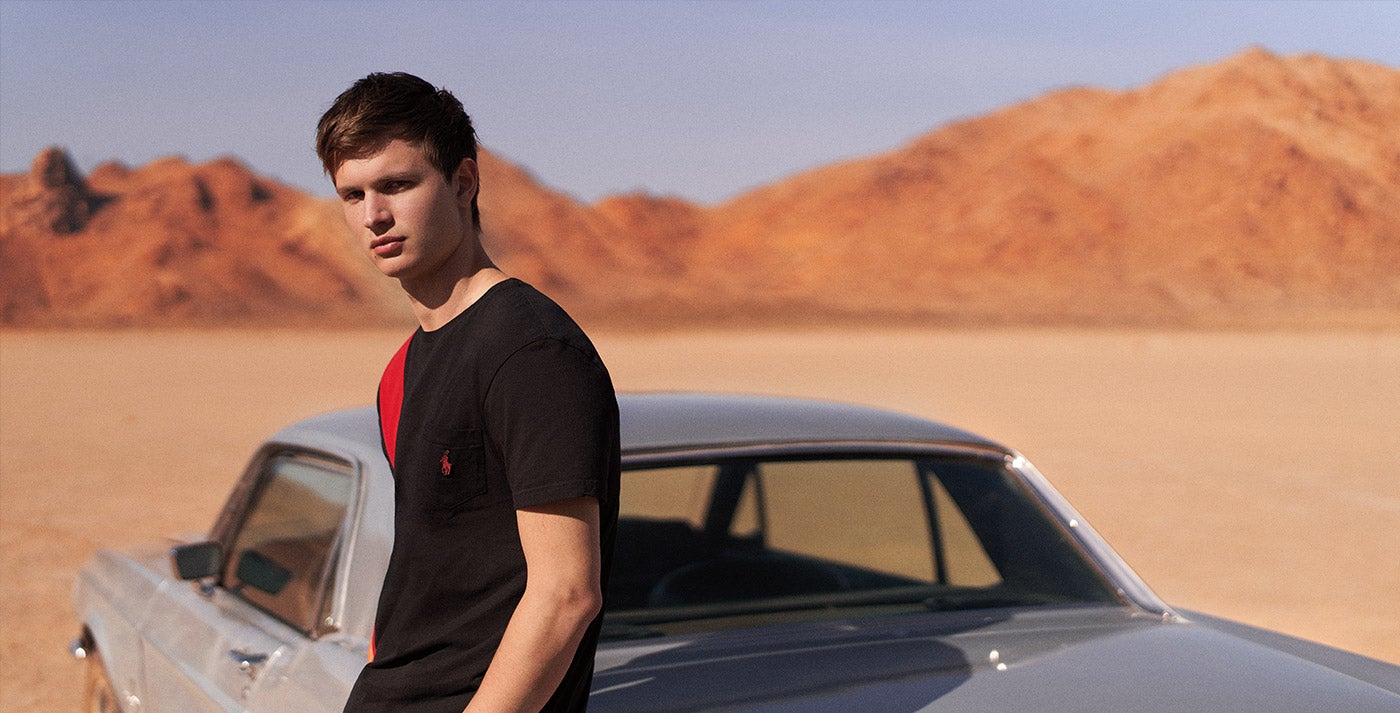 Style
The RL Q&A: Ansel Elgort
The actor and musician on making music, looking sharp, and his latest role, as the face of Polo Red Rush
Ansel Elgort knows how to keep his cool in the driver's seat. At 24, he's already made the transition from teen heartthrob (in The Fault in Our Stars and the Divergent series) to breakout movie star. The Manhattan-raised actor is poised to make another career leap with the lead role in the highly anticipated film adaptation of Donna Tartt's Pulitzer Prize–winning novel, The Goldfinch. And let's not forget the music, which has grown from side project (dropping a few tracks on Soundcloud under the name Ansølo) into a legit second career (opening for The Chainsmokers and landing a major label record deal).
The speed and style with which Elgort—the son of opera director Grethe Barrett Holby and legendary photographer Arthur Elgort—has handled it all makes him well suited for his latest gig: as the face for Polo Red Rush. We recently sat down to talk songwriting, fame, and the key to making great art. Oh, and also the one question he'd like to ask Ralph.
The spotlight found you early and it hasn't really let up. How did you handle it when fame started clicking?
It really came in waves. The first wave came and then there was a lull, which was nice because then you appreciate the wave. And the second wave just came with Baby Driver and now being the face of Polo Red Rush. And then I expect there'll be another lull and then we'll see what happens next year. I'm excited for my lull actually. I'm going to go to the Hamptons and chill.
We'll be sure to follow along on Instagram. Speaking of which, your feed presents you as a real person living real moments. Is that a thought-out choice, or just you?
I try to be myself. I try not to let the fact that I have a million followers change the way I post. Of course it has slightly—I don't post only about basketball. [Most of my fans] don't really care about what I think about the Knicks...
You're a true NYC kid. How much does New York inform who you are?
New York is a great place to be from. When I'm on the A train, I'm not thinking about the fact that I'm an actor and stuff. I'm just, like, still the same guy who was on the subway when I was 16. That's a nice feeling.
Speaking of your upbringing, you've got a couple of remarkable parents. How much did the way you grew up influence the actor and multidisciplined talent that you've become?
They were always very encouraging, and then whenever I found something I liked, it was "Do it and work really hard at it. Sit down at the piano and practice and get better. You want to be an actor? We're going to pull you out of your private school that's going to make you a finance guy, and instead we're going to send you to LaGuardia Public School for acting." When my friends' parents knew that I wasn't going to college, they thought I was crazy and my parents were crazy. My parents were cool with me doing my thing. I'm really lucky for that.
But you had to follow through on it, right?
Yeah. I was obsessed with that stuff. I still am. I sit down and make music every day. I was just in Paris on a vacation and I couldn't just relax because I needed to work on my music. It's so important to me. Or if I'm doing a movie it's, like, all I want to do is make the movie and sleep and learn my lines.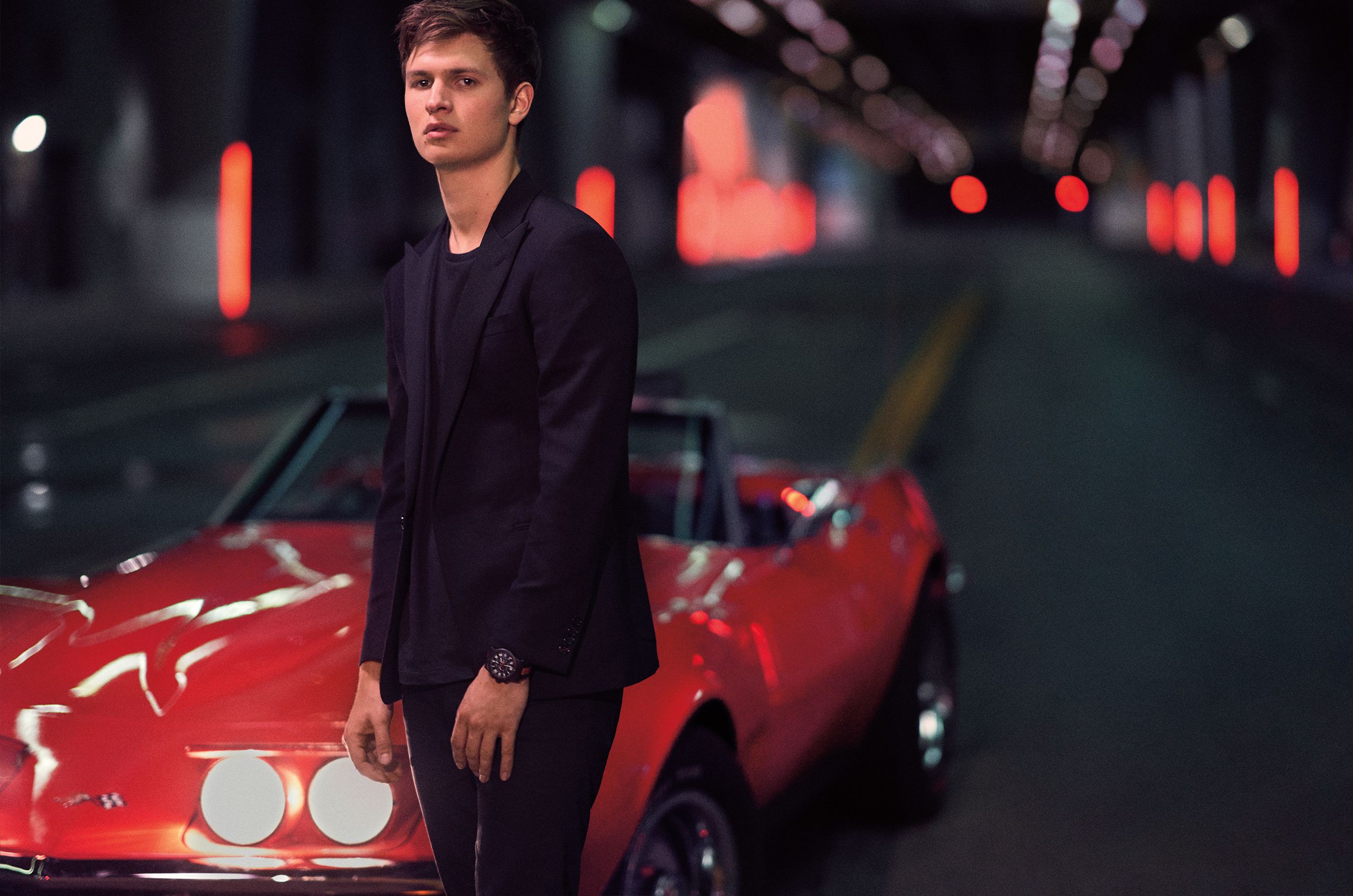 How did you come to music? Was it before you started acting?
I think it was all kind of together because my first love was musical theater. I taught myself piano when I was a kid. I'm excited for everyone to hear my new album. It's different. It's very emotional and honest. I feel like it's the most honest I've ever been in terms of an artist, in any way. It's very personal.
Was it hard to get to that point where you felt ready to be that honest and intimate?
Yeah. It was the same thing with acting. The biggest thing when you act is how you let go of the idea of being good. Now when I'm writing music it's just about what feels good while I do it and if it feels personal then it's working. It's about being pure. That's how you make good art, I'm realizing. It's hard to let go of the idea of "I want to make a hit record." Every time someone tries to make a hit record, it's always crap.
Tell me about the Polo Red Rush campaign. It's not that often that you see the star of a campaign not just acting in the video but doing the soundtrack and driving that car.
The idea of working with Ralph Lauren was really great to me. It's a brand that I've been a big fan of for as long as I can remember. When I went to my first school, which was a school where you had to wear a collared shirt, you always wanted a Polo one. And then from there my aunt, Kristin Clotilde, was one of the first models for Ralph Lauren.
I'm going to express myself even more in fashion. It's fun. I'm wearing this because it makes me feel good, the same reason you wear a fragrance.
And your father has shot for Ralph Lauren, too. It was destiny. Tell me about your own style evolution, and where you're at now.
I've been into color lately. I think it's all about color right now. And I've been into real good vintage denim. I think I'm going to express myself even more in fashion. It's fun.
Exactly—fashion is supposed to be fun.
I'm wearing this because it makes me feel good, the same reason you wear a fragrance. I don't wear fragrance every day, but on the days that I do, I enjoy putting on fragrance and adding that extra flair.
If Ralph were here right now, what would you say to him?
I would ask him where he started and if he ever thought that he would build such an iconic brand. Then I would ask him if he wanted to go out driving and if I could drive some of his cars, now that I'm the face of Polo Red Rush!
Smart man on both fronts.
I mean, he's Ralph Lauren. He's clearly a mastermind.