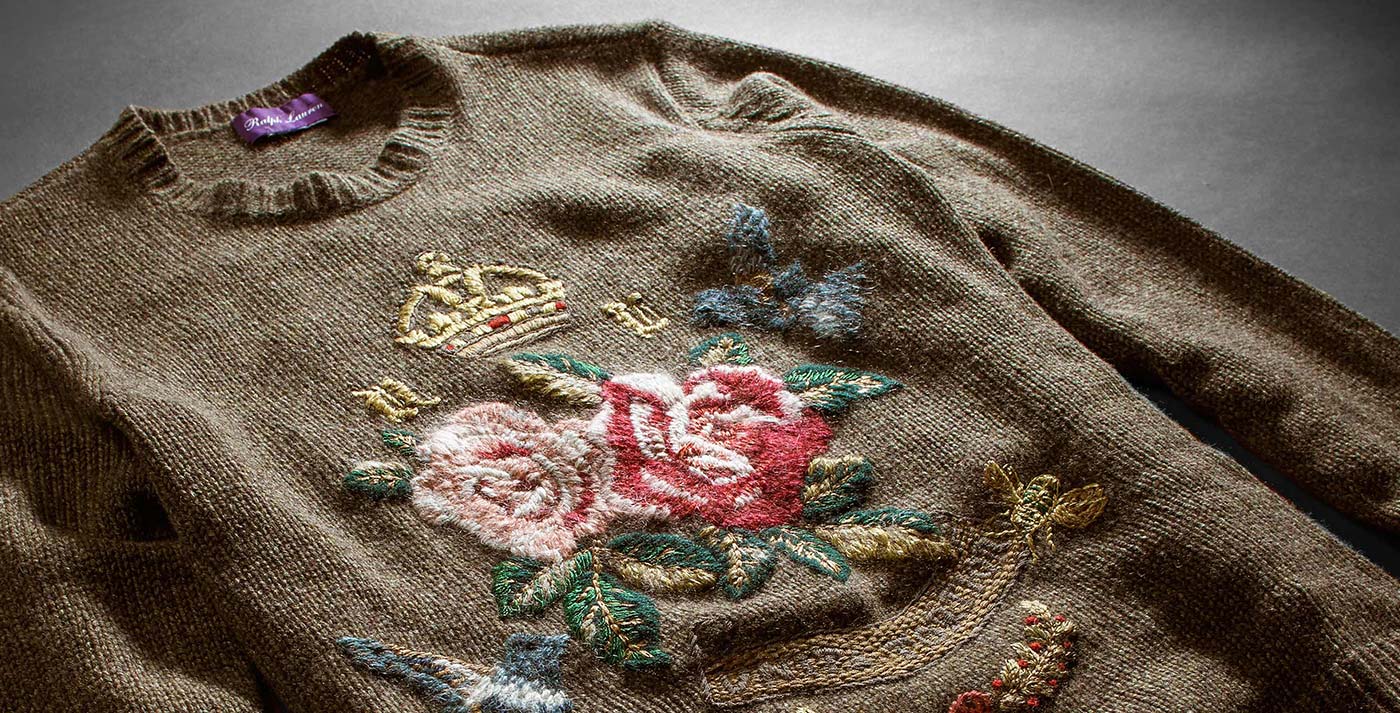 Style
The Story of a Sweater
With his Purple Label knitwear, Ralph Lauren celebrates master artisans—from Scotland to Uruguay
Ralph Lauren's father, a Russian immigrant who raised his family in the Bronx, New York, made his living painting murals, synagogues, and churches. When necessity called, he painted houses to provide for his wife and four children. "My father, people say he was a housepainter, but he wasn't. He painted houses when he couldn't get a job," Mr. Lauren has said. "But he was an artist." His youngest son observed in intimate detail how color, line, and composition became tangible through the hand of an artist, something that would inform Ralph Lauren's own creative process. "The concept of making a product by hand with the expertise that's been handed down through the years is rare," he has said. "My goal is to search out that kind of craftsmanship and bring it to our world."
Ralph Lauren's cable sweater is iconic today in part because every detail reflects the world's finest techniques: how the cashmere is carefully combed from the underbelly of goats in the mountains of Mongolia, or the way a centuries-old Italian mill spins and washes the yarn. The designer's passion for working with the best materials and craftspeople around the globe is captured by the nomadic spirit of his Purple Label Fall 2017 collection—a season rich with artistic, statement-making sweaters that have worldwide roots.
Fall's journey begins with the bucolic palette of Scotland, from the shores of Loch Leven in the Lowlands, where a mill renowned for both its pedigreed history and its innovation supplies much of the season's cashmere. The mouliné yarn of one crewneck sweater is twisted into a custom coloration that creates an irregular ombré effect within tones of loden. After the sweater [above] is knit, artisans spend up to 10 days hand-embroidering the front with 42 colors of silk, cashmere, and wool thread. The crown, flowers, and birds of the motif are inspired by an antique British flag, with the Latin motto RL Unita Fortior, or "United Strength," scrolling across the bottom in reference to the unification of Scotland and England during the start of the 18th century.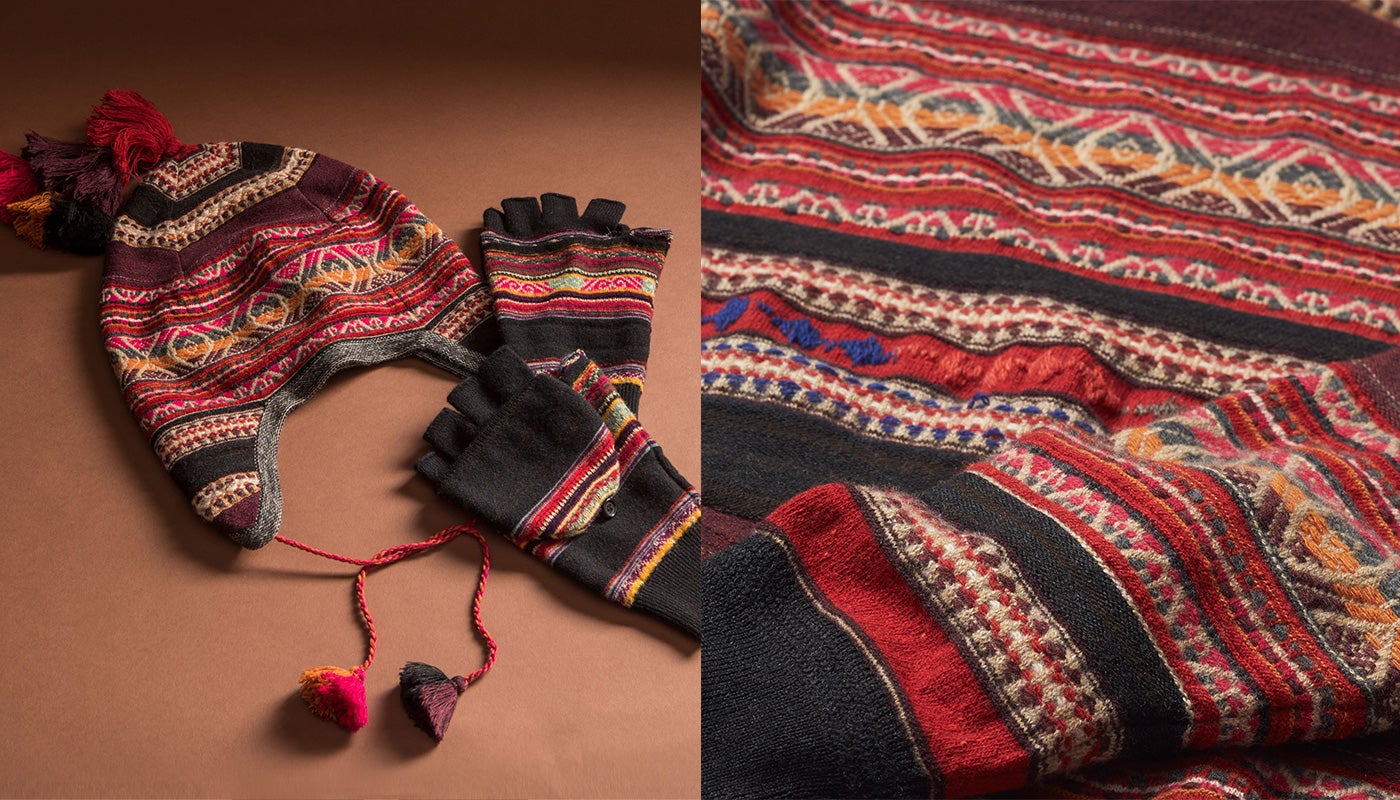 Half a world away, the same Scottish cashmere is blended with slub wool yarn for a graphic and textural cardigan evoking blankets of the American Southwest. Reimagined as a belted smoking jacket in shades of indigo, the iconic pattern aligns across a three-dimensional patchwork of panels, each individually hand-knit and hand-stitched by artisans for nearly 150 hours. A banded crewneck sweater, accompanied by a knit hat and gloves [above], reinterprets the natural fade of three Central and South American blankets into a single, softer expression using 13 yarns of silk, cashmere, linen, and wool. The bands, which at first appear black, are in fact knit from a blend of brown and black for timeworn depth, while the reds are made from silk yarn flecked with imperfections to enhance their rusticity.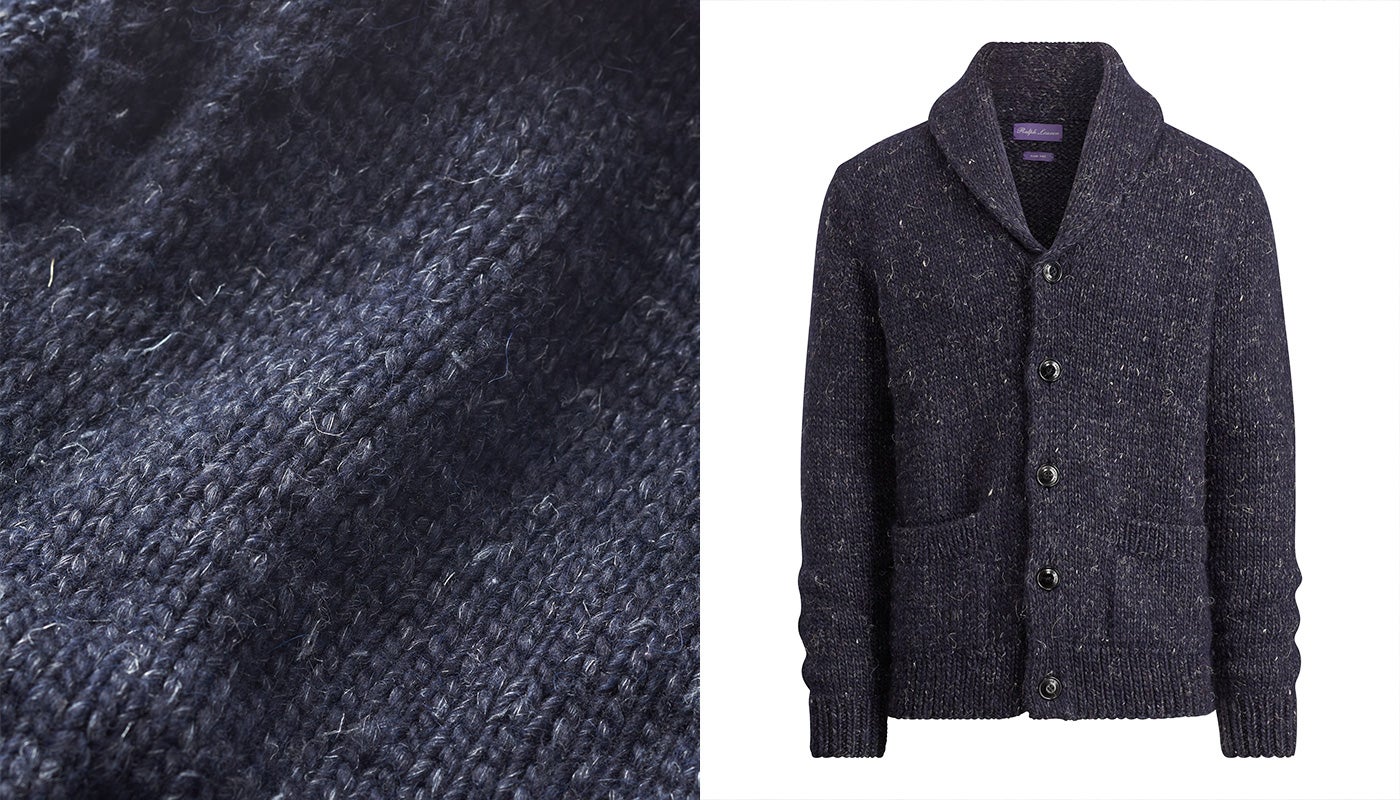 Farther south, a collective of rural artisans in Uruguay—founded in 1968 and known as Manos del Uruguay, or "Hands of Uruguay"—is responsible for the season's one-of-a-kind shawl cardigan [above] in a blend of wool, alpaca, and linen. The yarn is locally spun and dyed by hand, and each sweater is hand-knit for up to 20 hours by cooperatives of women in villages throughout the Uruguayan countryside. The sweaters commemorate this fact with a hangtag signed by the individual artisan, underscoring the worldwide collaboration.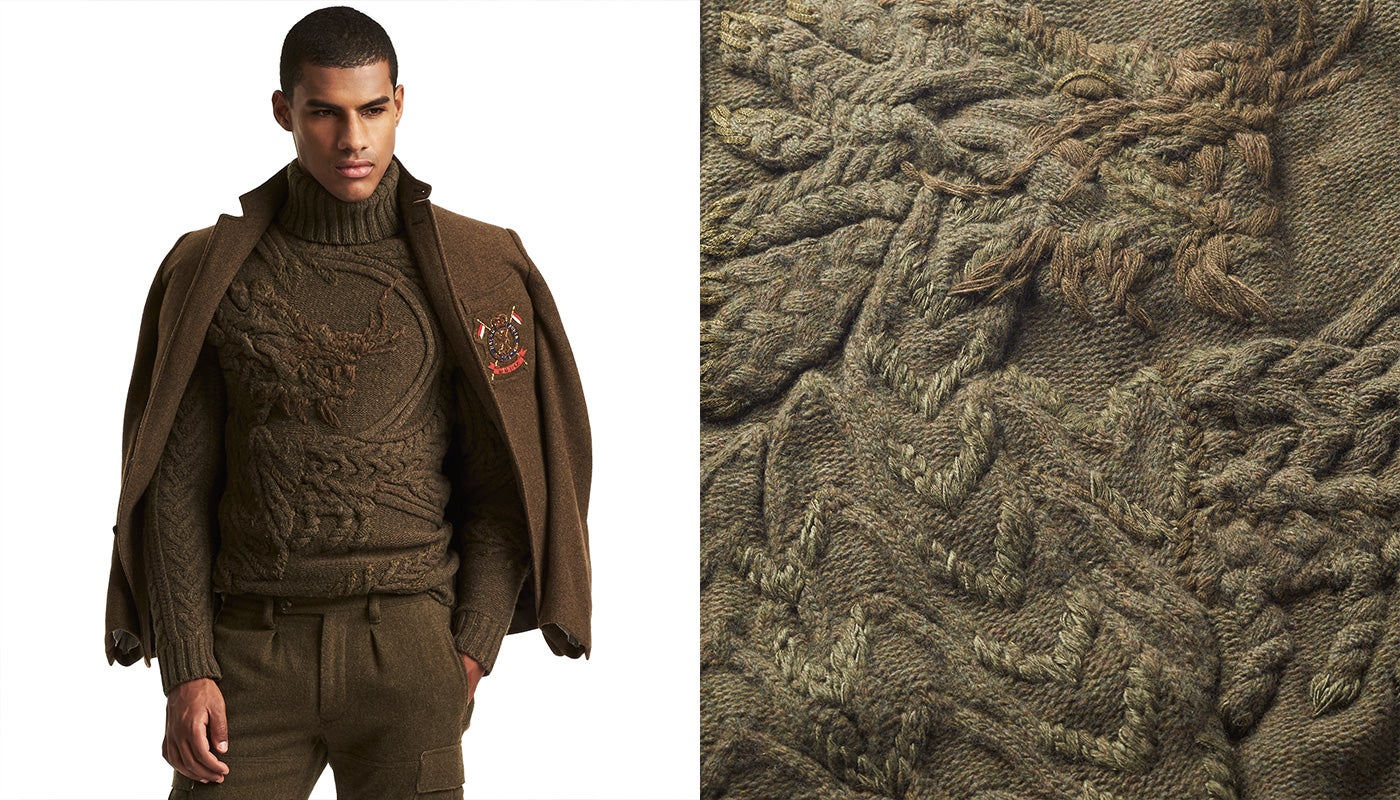 Select sweaters from the Fall 2017 collection are exclusively available at Ralph Lauren global flagship stores. A distinctive jacquard sweater [above] contrasts the casual nature of a crewneck and jogger pant with a painterly Himalayan mountain-scape and tiger motif in eight colors of felted cashmere-and-wool yarn. The tonal dragon relief encircling a wool-and-cashmere turtleneck references ancient Chinese and Scottish depictions, which are modernized through a complex design of engineered cables and hand-embroidered with cashmere, linen, silk, and wool thread. Artisans spend up to 400 hours hand-knitting Italian wool-and-cashmere yarn into graphic Aran cables, which are hand-placed to create the collection's most luxuriant silhouette. It's the sort of long wrap coat ideally suited to lounging indoors on the coldest winter days or on a flight to the far reaches of the world. "My vision of creating things is inspired by real life, by living," Mr. Lauren has said. "That vision has never changed in almost 50 years. It is a heritage inspired by quality, craftsmanship, and a belief that things get better with age."
is the director of luxury editorial at Ralph Lauren.
All photographs courtesy of Ralph Lauren Corporation