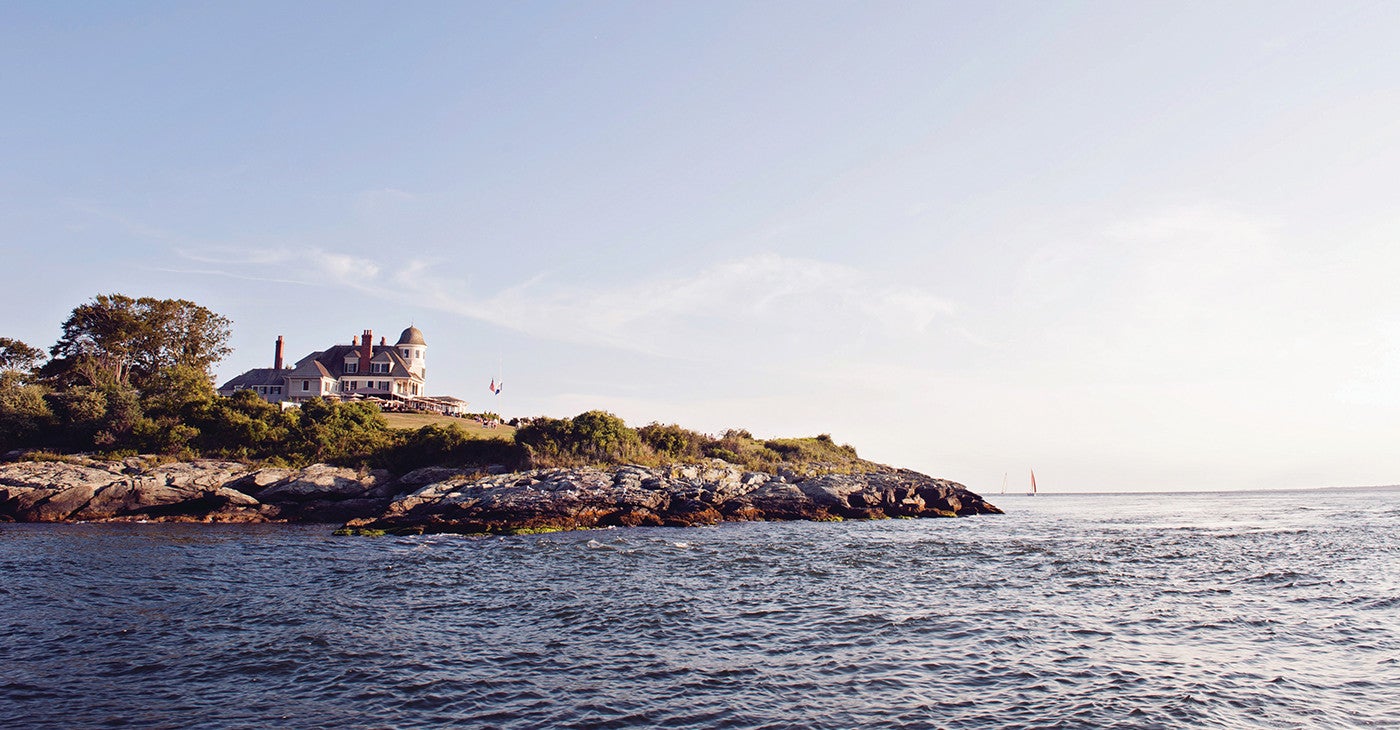 Travel
ON THE WATERFRONT
How to visit Newport's yacht-studded harbor and Gilded Age mansions (plus a couple of new hot spots) the Ralph Lauren way
From its pre-colonial roots to its opulent turn-of-the-century mansions, Newport, Rhode Island, is a city that embraces its history. On any given day, at any given stop, visitors may find themselves in one of the oldest spots in America—be it a tavern, a library, or a house of worship. Yet despite Newport's well-seasoned cred (380 years of it, to be exact), the sailing capital of the world remains remarkably young at heart, and uniquely adept at breathing new life into its generations-old foundations. From its fine dining to yachting, stylish people-watching, and a nightlife scene designed for the 21st century (because nobody parties like it's 1639 anymore), this vibrant seaside community offers something for everyone, even beyond peak tourist season.
Castle Hill Inn
590 Ocean Dr.
401-849-3800
Even in a town more historical than most, this inn sets itself apart. During World War II, the summer home (originally built in 1875 by a marine biologist) housed US naval officers. In 1956, Grace Kelly stayed there while filming High Society with Bing Crosby and Frank Sinatra. Thornton Wilder wrote about the Turret Suite in his 1973 semiautobiographical novel Theophilus North. Today, Castle Hill—part of the prestigious Relais & Châteaux luxury fellowship—offers beachside cottages, world-class seafood courtesy of Executive Chef Lou Rossi, and, should you be so inclined, access to the inn's private yacht for a picnic on a nearby island.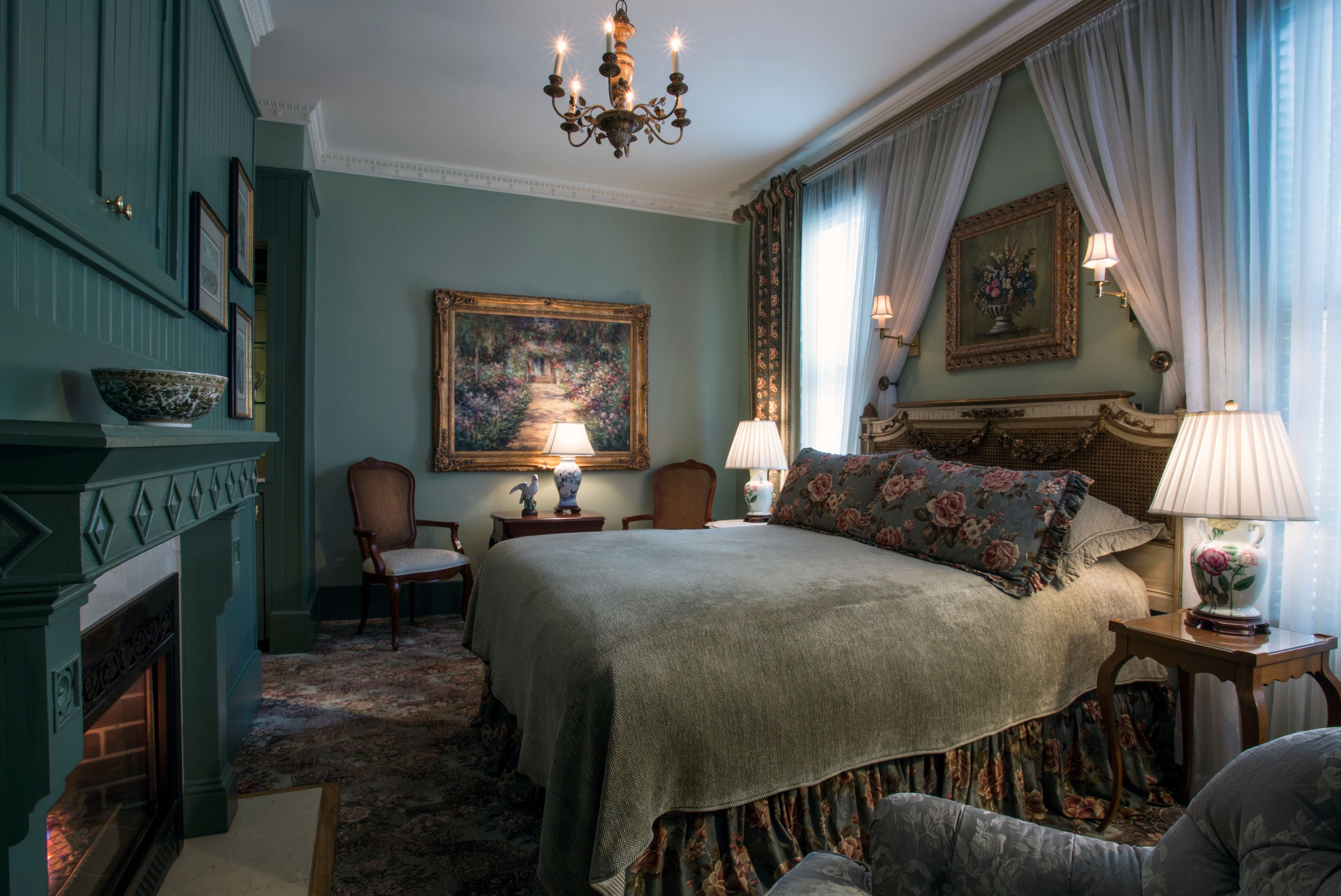 The Vanderbilt
41 Mary St.
401-846-6200
Originally built in 1909 by railroad tycoon and ill-fated Lusitania passenger Alfred Gwynne Vanderbilt, this mansion turned boutique hotel features oversize fireplaces, tufted armchairs, a professionally curated lobby gallery, and countless other Gilded Age charms. Check out the bespoke experiences on offer—from glass-blowing classes to vintage-auto rentals—and then dine poolside in the relaxing garden terrace. At the end of the evening, head up to the roof-deck for an unbeatable view of Newport Harbor.
The Chanler at Cliff Walk
117 Memorial Blvd.
401-847-1300
No trip to Newport would be complete without an amble up to Cliff Walk to take in a combination of geographical and architectural marvels. The quickest way to get there? Rent a room right smack-dab in the heart of it. Originally the summer retreat of US Rep. John Winthrop Chanler and Margaret Astor Ward, this reimagined 19th-century "cottage" (a term that greatly understates things, but a little modesty is fine) offers elegance with a European touch, from its manicured gardens to its private terraces. Ask about the French Provincial or Victorian Manor Rooms, or splurge on a secluded ocean villa, with its own private outdoor hot tub and sauna.
This legendary local restaurant claims it's been host to "royalty and yachting stars, captains of industry and charming scalawags," and if that seems like your kind of crowd, well, you're not alone; it's been the heart and soul of Newport's social scene since owner David Ray relocated it from its original home on Bannister's Wharf in the early '70s. The 1977 America's Cup team drinks for free for life—an offer Ray made to skipper Ted Turner and crew that propelled them to victory—but those without "gold card" status are still treated admirably. Executive Chef Ted Gidley offers seafood-centric upscale dining on the Porch—try the native lobster with wild mushrooms—though there are more casual offerings at the main-floor bistro, from local oysters to burgers, and a sushi bar from May to October. Then join the party at SkyBar and dance off dessert. (Dessert, by the way, should be the Snowball in Hell, a chocolate-coated goblet filled with chocolate roulade and vanilla ice cream topped with toasted coconut.)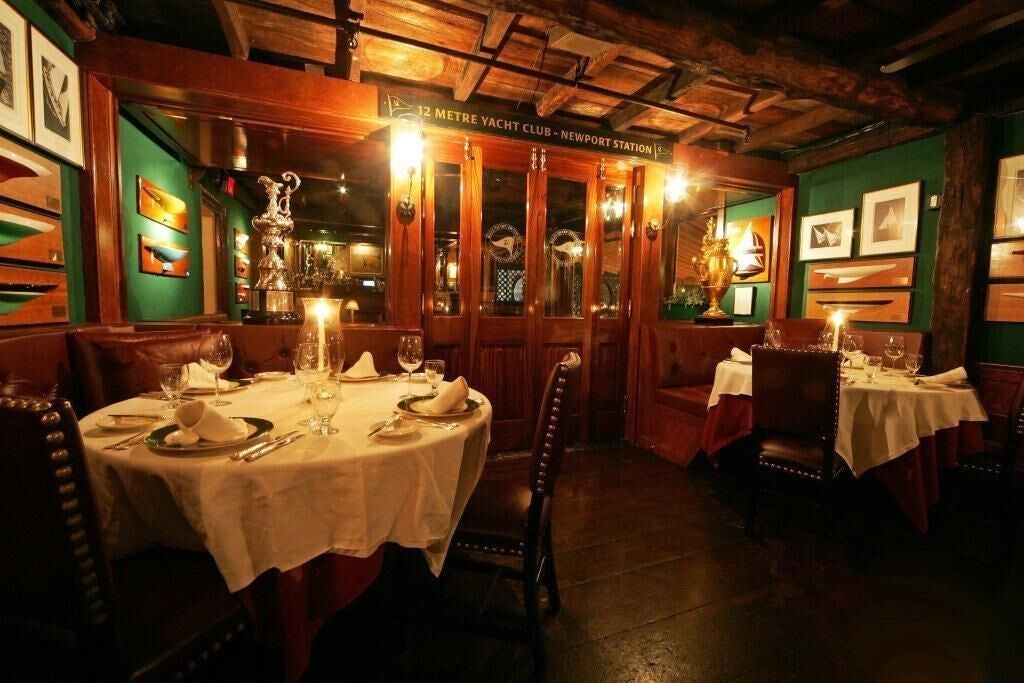 White Horse Tavern
26 Marlborough St.
401-849-3600
This spot, the oldest bar in America, predates US independence by more than a century. Originally constructed in 1652 as a private residence and converted into a tavern in 1673, the White Horse has had its share of faithful regulars and colorful owners; the colonial General Assembly held meetings here, and one of its innkeepers, William Mayes, was also a pirate who plundered ships on the Red Sea. Given that history, you'd expect some strong spirits, but today the tavern is better known for its extensive wine collection, which has earned it Wine Spectator's Award of Excellence six years running.
IYAC Newport
536 Thames St.
401-841-5250
The International Yacht and Athletic Club serves the saltiest dogs in town when it's not hosting an annual around-the-island race. At the bar, stand shoulder to shoulder with dockworkers, fishermen, America's Cup competitors, and others who make sure this club is their first stop when they reach dry land. Remember: This is a lifestyle, not a theme, so everything here is authentic, from the sea stories to the Dark 'n Stormy cocktails, appropriately heavy on Gosling's Black Seal Rum.
International Tennis Hall of Fame
194 Bellevue Ave.
401-849-3990
The ITHF holds its enshrinement weekend annually in late July, honoring the latest inductees and hosting the ATP tour's Hall of Fame Open on their pristine grass courts. But the hall is worth a visit year-round for the 25,000 objects in the museum's permanent collection. Current exhibits include Rod Laver: A Golden Anniversary—a celebration of the Australian legend's (incredibly) second Grand Slam title—and Courting Fashion, a digital curation of iconic tennis style, from Stan Smith's eponymous shoe to Björn Borg's Wimbledon pinstripes to Serena Williams' black lace at the 2010 US Open. Another highlight: a holographic Roger Federer that serves, volleys, and talks to guests.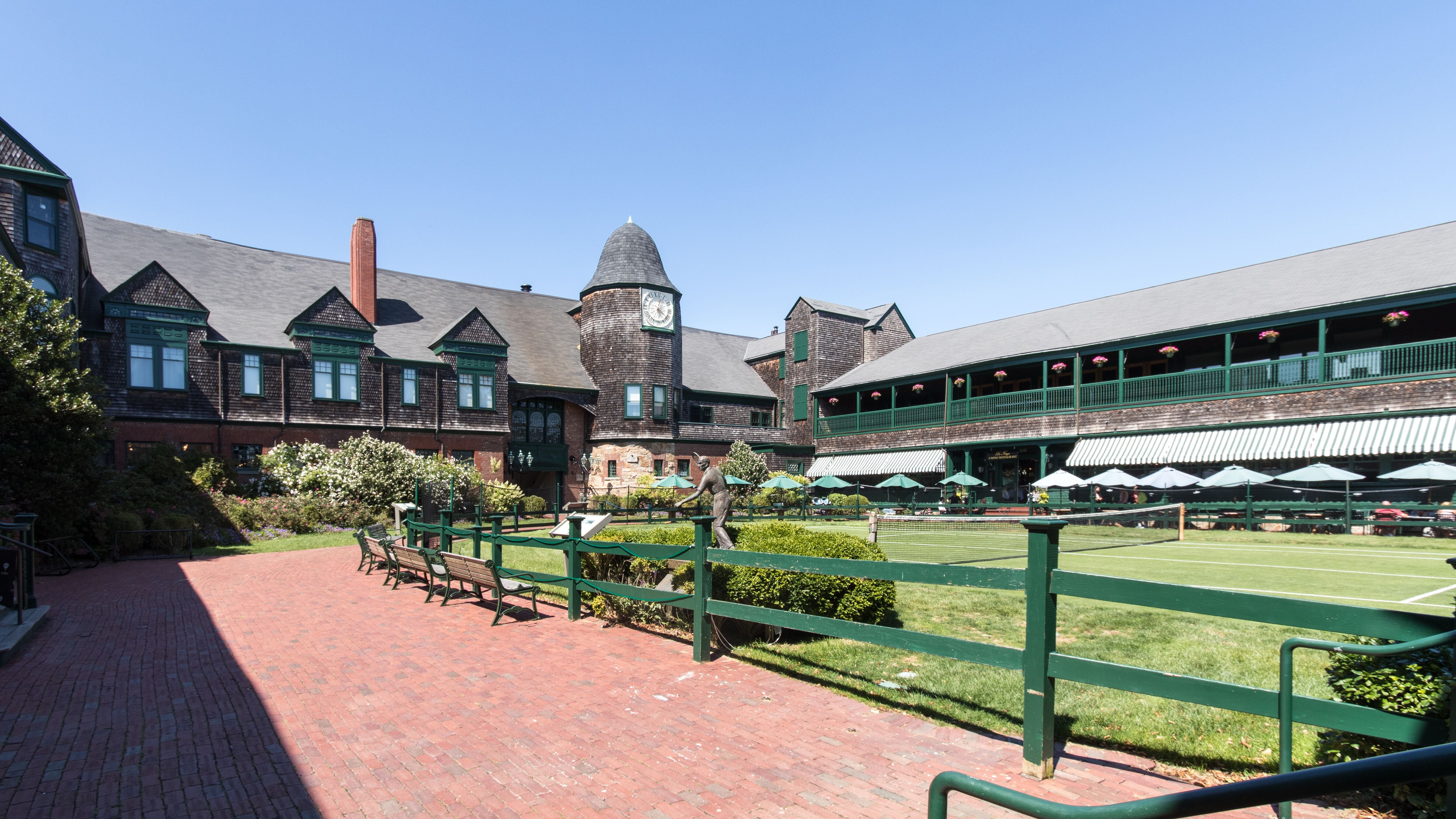 Antique Yacht Collection
31 Bowen's Wharf
401-678-6740
12 Meter Charters
12 Bowen's Wharf
401-851-1216
IYRS School of Technology and Trades
449 Thames St.
401-848-5777
Newport is a sailing town—that much should be pretty obvious by now—but all local on-the-water experiences are not created equal. The key to a memorable nautical outing is to ignore the siren song of touristy boat trips and chart a course for something more authentic.
For a private charter suitable for families and small groups, check out the Antique Yacht Collection, which offers a variety of timing and time-of-day options. You can't go wrong with a sunset cruise on the Temma, a classic 42-foot passenger motorboat. Cruise the bay, take in the unique views of Rose Island and the Newport bridge, and pop the cork on your complimentary bottle of prosecco.
For the more adventurous, 12 Meter Charters offers guided access to legit monohull racing yachts. Grind the winches and trim the sheets or—if you don't know your mainsail from your jib—let the professionals do it for you while you daydream about competing in the America's Cup.
For a newfound appreciation of the skilled craftspeople and technicians who design and build the vessels dotting the harbor, tour the 3-acre campus of the IYRS School of Technology and Trades. Watch students restore a fleet of classics, including the Coronet, a wooden schooner from 1885, or attend the annual summer gala in July.
Bellevue Avenue Mansions
424 Bellevue Ave.
401-847-1000
When locals ask if you've been to "The Avenue," they're referring to Bellevue, a 2.5-mile stretch of Gilded Age opulence and home to historic mansions once owned by the Astors (that's Beechwood, now owned by Larry Ellison) and the Vanderbilts (Marble House). Our pick, however, is Rosecliff, completed in 1902 and modeled after the Grand Trianon, the garden retreat of French kings at Versailles. In 1974, the mansion served as a filming location for The Great Gatsby, directed by Jack Clayton and starring Robert Redford and Mia Farrow, with costume design by none other than Ralph Lauren. As an unexpected nexus of Jazz Age style and Hollywood glamor, Rosecliff is a timeless favorite.
Green Animals Topiary Garden
380 Cory's Lane, Portsmouth
401-847-1000
OK, so a visit to the oldest and northernmost topiary garden in the United States probably isn't on everyone's bucket list, but hear us out. Somewhere between Alice in Wonderland and Edward Scissorhands exists this magical 7-acre garden with 80 painstakingly sculptured pieces, from rabbits to unicorns to towering giraffes. Gardener Joseph Carreiro and his son-in-law, George Mendonça, crafted and cared for the California privet, English boxwood, and yew creations from 1905 to 1985, and today the site is tended by the Preservation Society of Newport County. (Check out Errol Morris' 1997 documentary, Fast, Cheap & Out of Control for a look at Mendonça, an unlikely badass.)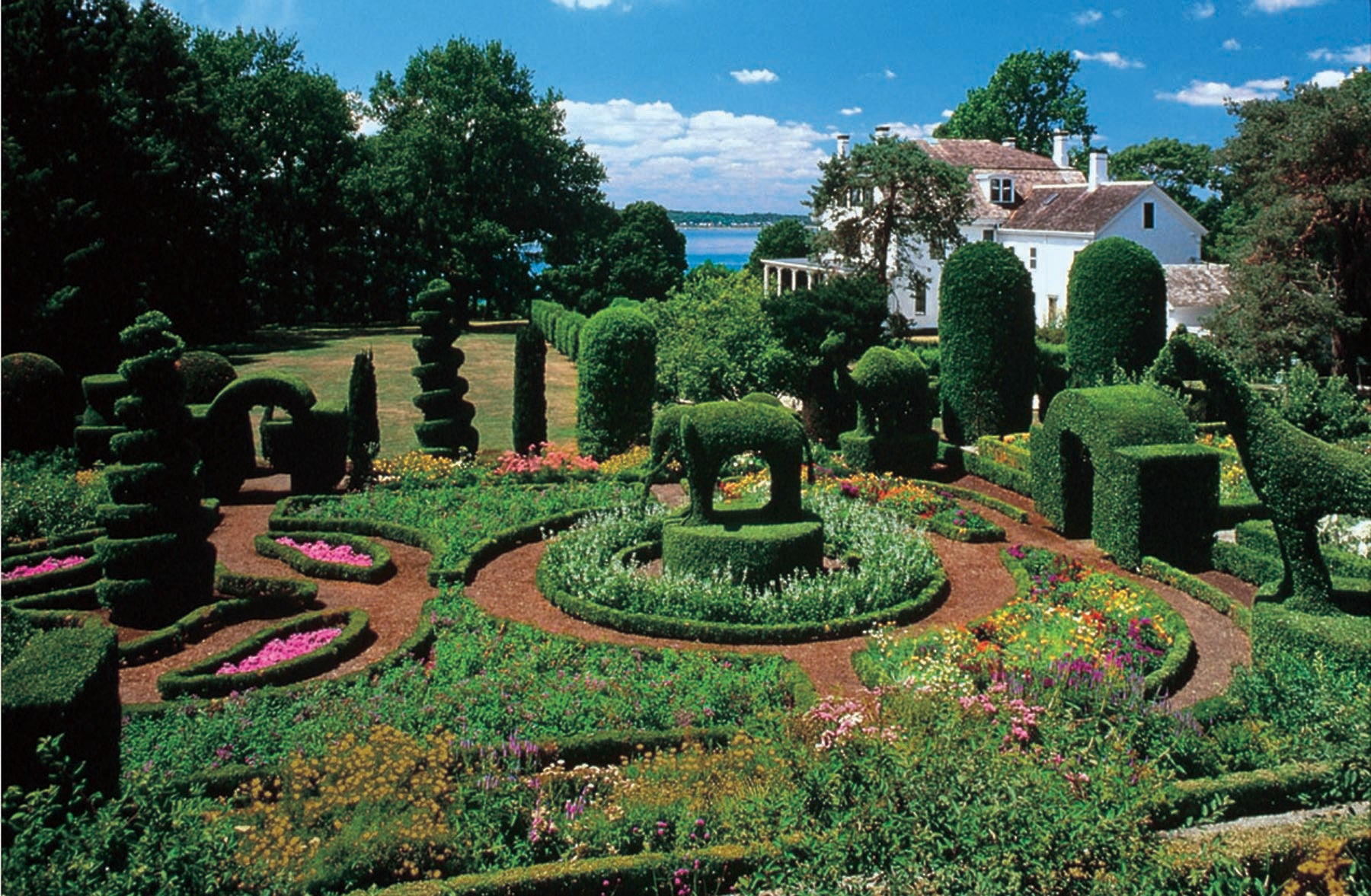 Armory Antique Marketplace
365 Thames St.
401-848-2398
It's easy to feel a connection to the past in a history-rich city like Newport, but when it comes to the perfect souvenir, the risk of buying a fusty antique you soon regret is high. Check out the Armory Antique Marketplace anyway—with its more than 70 vendors spread over 6,000 square feet, you're bound to find something that complements your home's aesthetic. Situated in an actual armory constructed in 1894, the marketplace houses a treasure trove of jewelry, furniture, military collectibles, glassware, silver, and everything in between. Since this is Newport, consider a nautical keepsake. Pro tip: Those old buoys and cast nets will make your apartment look like a cheap seafood restaurant; the Japanese glass fishing floats, on the other hand, will look timeless and chic.
is a New York–based writer and editor. His work has appeared in Details, GQ, Esquire, New York Magazine, and other publications.
Courtesy of Castle Hill Inn
Courtesy of Castle Hill Inn
COURTESY OF CLARKE COOKE HOUSE
COURTESY OF INTERNATIONAL TENNIS HALL OF FAME
COURTESY OF GREEN ANIMALS TOPIARY GARDEN