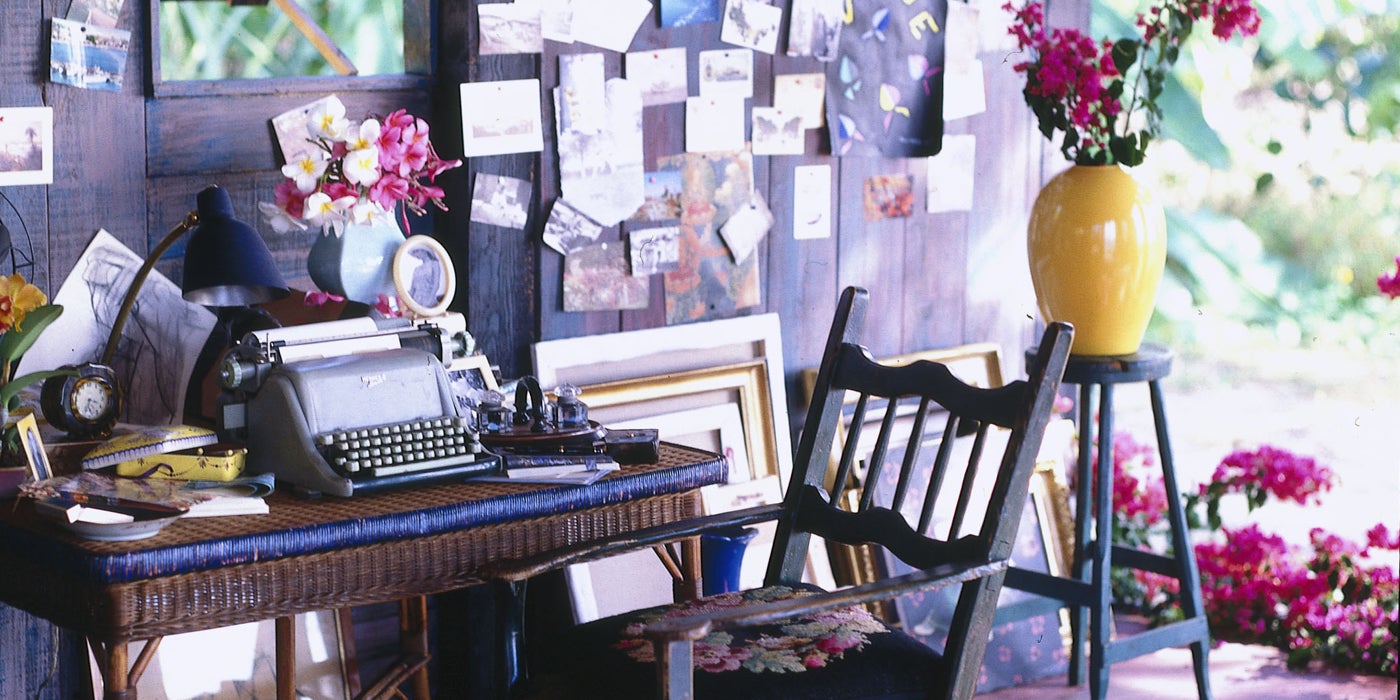 Culture
Art of the
Collage
Turn those creative scraps of inspiration—cutouts, snaps, postcards, kid art, and found ephemera—into a shared family masterpiece
Whether intentional or not, we've all created collages at one time or another. There's probably one on your fridge right now made up of children's artwork, postcards, snapshots, magazine cutouts—not to mention those less artistic yet essential grocery lists or notes about doctor's appointments.
Picasso and Georges Braque coined the term for this very personal medium, which emerged after the First World War, allowing artists to play with whatever materials they could forage—newspapers, magazines, photos, maps, tickets, etc.—then rip them up and reassemble them into untamed, free-form, often whimsical art. And though there are serious collage artists, from the legendary Man Ray to Jean-Charles de Ravenel , collage is an art form we can all enjoy and participate in. All you need to create one of these wonderful hodgepodges is your imagination and a pair of scissors. Here's how to start …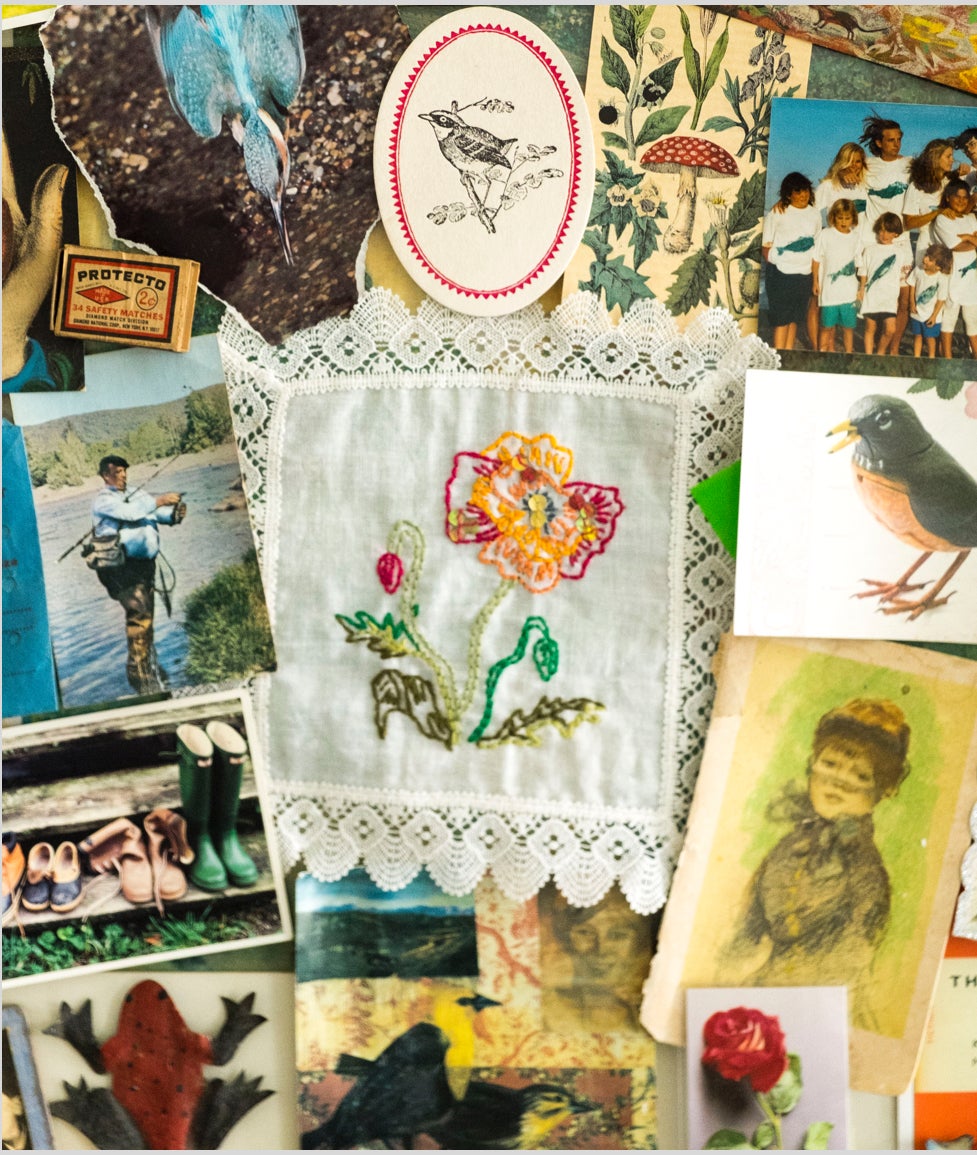 The wonder of collage-making is that you don't need to know how to draw or paint or sculpt; all you need is to use your imagination. Start by pulling out all those boxes of photos you've been meaning to put in an album for years, share them with each other, and choose your favorites. Take a deep dive into your digital archives and print out those memories of that camping trip you shared with your kids years back, those funny Halloween costumes on your last trick or treat, the sketches by Matisse that always inspired you, flowers from your garden, or images of dream places you hope to visit.
Print them out in different sizes, and then start to collect from magazines and newspapers, and of course any original artwork, yours or your children's, that you're willing to sacrifice for art's sake. Scavenge funny odds and ends—costume jewelry, fabric patches, miniature game pieces, dried flowers—whatever ephemera you want to add to the mix will give it dimension. Don't worry if your elements aren't up to the standards of a Joseph Cornell—it's your creativity in how you put it all together that will make it an original masterpiece.
Since collages can traverse many worlds and ideas, pick a theme ahead of time that can inform the materials you put together. It could be a collage of funny moments or faces, memorable holiday trips, pets, gardens, or even a day in the life of your family right now. Or do it the other way around. Start with collecting images and the theme will emerge. Or just be totally open to whatever your family starts to lay down!
Consider these mere suggestions—don't let this list intimidate you! Because collaging is a very art-without-boundaries kind of process, just be innovative and use the tools you have on hand to bring your vision together!
. Scissors
. Glue sticks
. Glue guns for 3D objects
. Colorful masking tape
. Invisible tape
. Pushpins or tacks
. Markers, watercolors, or crayons
. Construction paper
. Newspaper or magazine cutouts
. Snapshots
. Postcards
. Assorted ephemera
. Whatever you've got—throw it into it!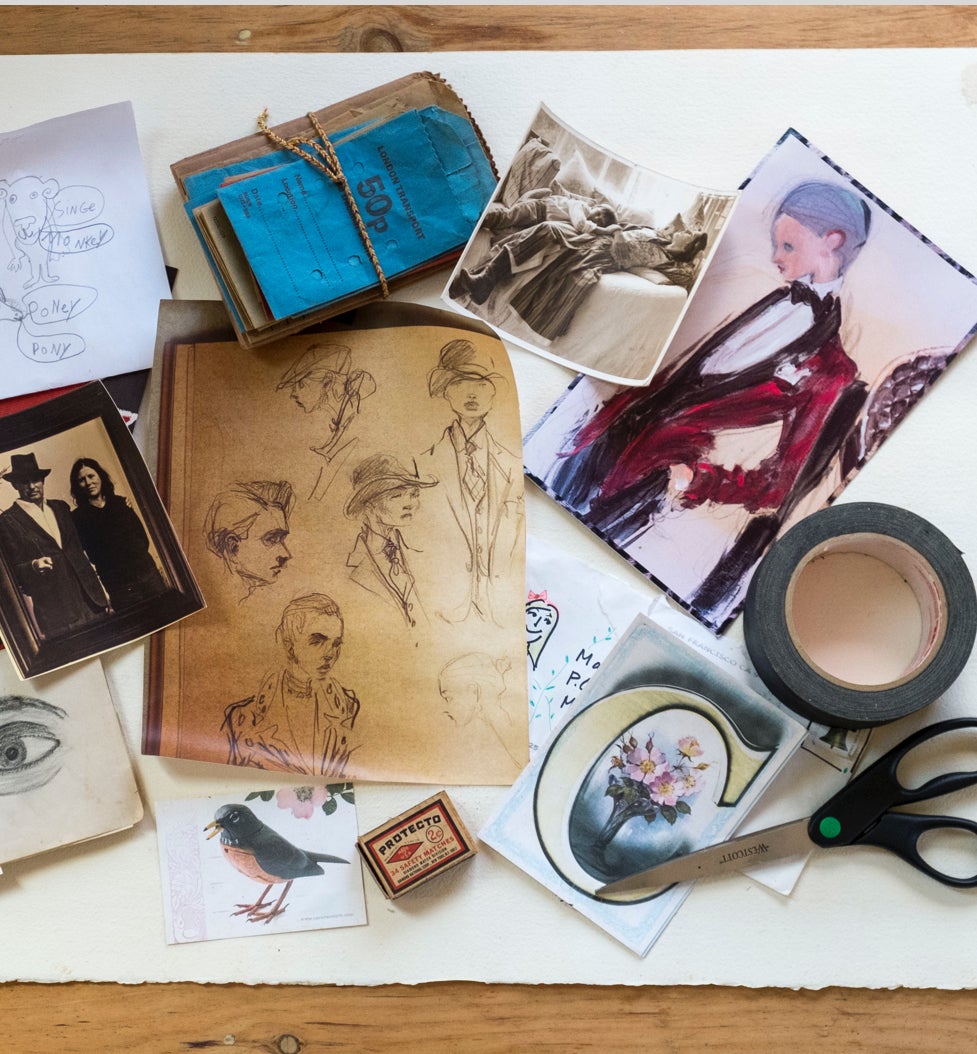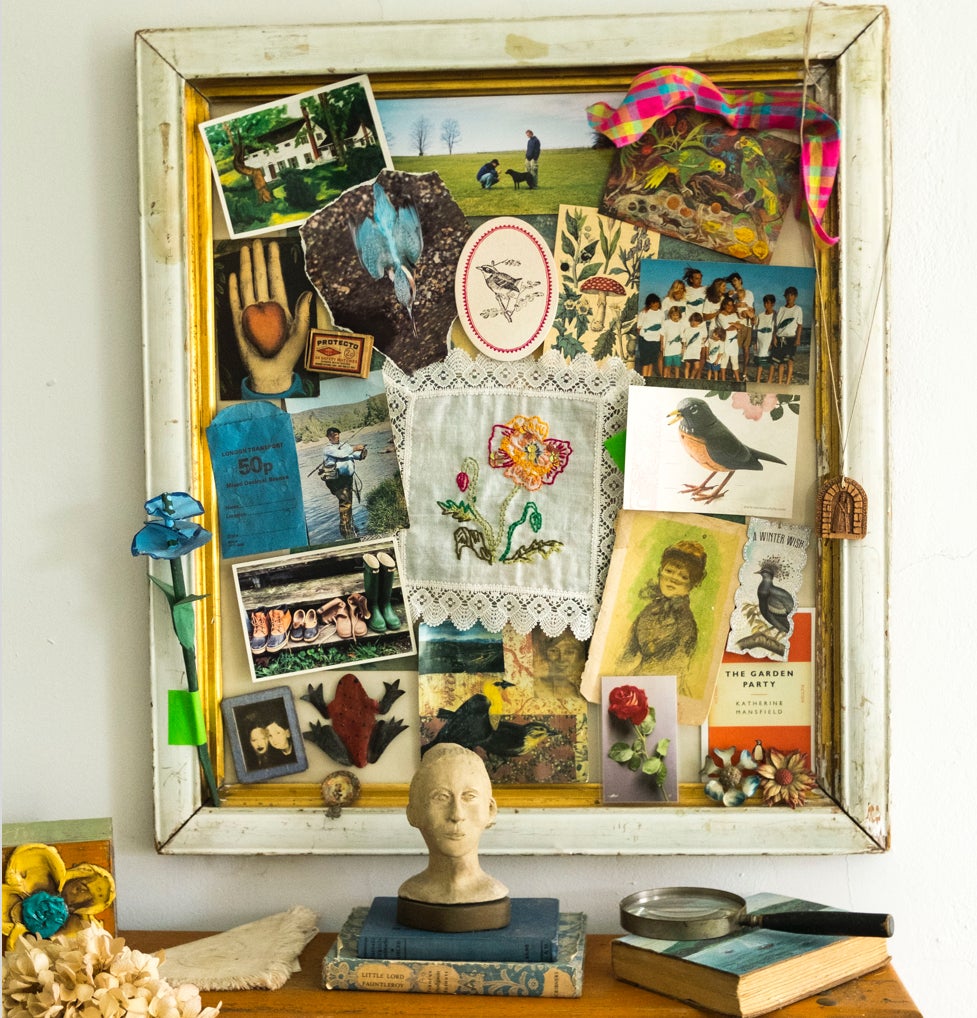 If you're in possession of one of those old-fashioned cork bulletin boards—likely a forgotten relic in your pantry or playroom—clean it off and use it as a handy canvas for collage self-expression. There are also some inexpensive ones to order online, as well as some nicely framed pinboards lined with fabric. Or just take an old picture frame and create your own. And for those of you who are looking for a major exhibit, pick an uninspired empty wall, frame out a sizable space with masking tape, and let the fun begin. On a smaller scale, give each of your artists-in-residence their own composition book or sketchbook and let them create a series of collages to save as a memory of these curious days!

The fun of collage is there are no directions or rules, but one idea you might consider is to lay things down to create a blueprint of what you're aiming for. Then as you paste or tack things down (lopsided, for sure!) just follow the fun and create your story as you go along. And if you want, just keep adding to it. No matter what, your collage in the end will add a one-of-a-kind creative spirit to your home and serve as a lasting artistic expression of this special kind of togetherness.
, or "Carter" as she is known, is the author of eight previous books, a photographer, and a longtime creative director for Ralph Lauren. Her son CARTER BERG is a New York City–based photographer—born and raised. He often happily collaborates with his mother. Follow his work on Instagram @carterlberg.
Photograph by Bruce Weber
Photographs by Carter Berg