It was the morning of April 21, 1986, at the corner of Madison Avenue and East 72nd Street in New York City. For almost two years, the weathered Neo-Renaissance mansion on the site had undergone a revival befitting its fairy-tale facade. The exterior had been reinforced and power-washed, the interior adorned with hand-carved plaster moldings and Persian rugs, and the staff trained and outfitted like the cast of a Hollywood epic. It was a Ralph Lauren dreamscape come to life. It also signaled a bold step up for a man who began his career selling ties out of a drawer in the Empire State Building. Mr. Lauren was making a statement in grand style—but the employees on the floor that day recall he was more interested in hospitality than opulence.
Charles Fagan, now Mr. Lauren's chief of staff, remembers him arriving with wife Ricky and addressing the team. "He said in his original speech, 'New York can be a harsh place, and I want people to come in here and feel your warmth, and feel like you really are inviting them into your home,'" Fagan says. True to form, the mansion drew people in, catching passersby with sumptuous window displays, then ushering them under a long awning to the main hall. Part British clubhouse, part country estate, swathed in mahogany and frosted with intricately detailed ceilings, it promised a self-contained oasis apart from the thrum of Manhattan.


This store is the essence of everything I have said since my first necktie. I want this to be more than a store. I'm not just selling clothes.
I'm selling a world, a notion of style. — Ralph Lauren
It was also a huge risk for Ralph Lauren. At that time, most Ralph Lauren apparel was sold in department stores like Bloomingdale's or Saks Fifth Avenue (along with a few licensed shops), and it was nearly unheard of for a designer like Mr. Lauren to offer all his lines—men's, women's, and home—in a single, integrated space. Some of those department stores were concerned that the mansion would eat into their sales, but Mr. Lauren was confident that this ultimate expression of the Ralph Lauren sensibility would be good for business—at the Rhinelander and across the board. "The store is not there to change my business, but to add and enhance it in the highest form," he said at the time. A New York Times article described the designer as "coolly confident" about the success of his mansion on Madison.
And he was right. The day the doors opened, Mr. Lauren's good friend, the late Marvin Traub, who was then the CEO and president of Bloomingdale's, was there to buy the first tie the store ever sold. When the doors closed that evening, Traub placed a call to check on the day's sales. "I think we might have done $100,000 on the first day—it was an extraordinary number for 1986," Fagan says. "And Ralph said to Marvin, 'Was that a good day?' and Marvin said, 'Ralph, that was a very good day.'" In the end, the rising tide of retail at the mansion helped buoy sales in department stores as well—the following year, Bloomingdale's doubled the space allotted for Ralph Lauren designs, and sales at Saks and Bergdorf Goodman remained robust.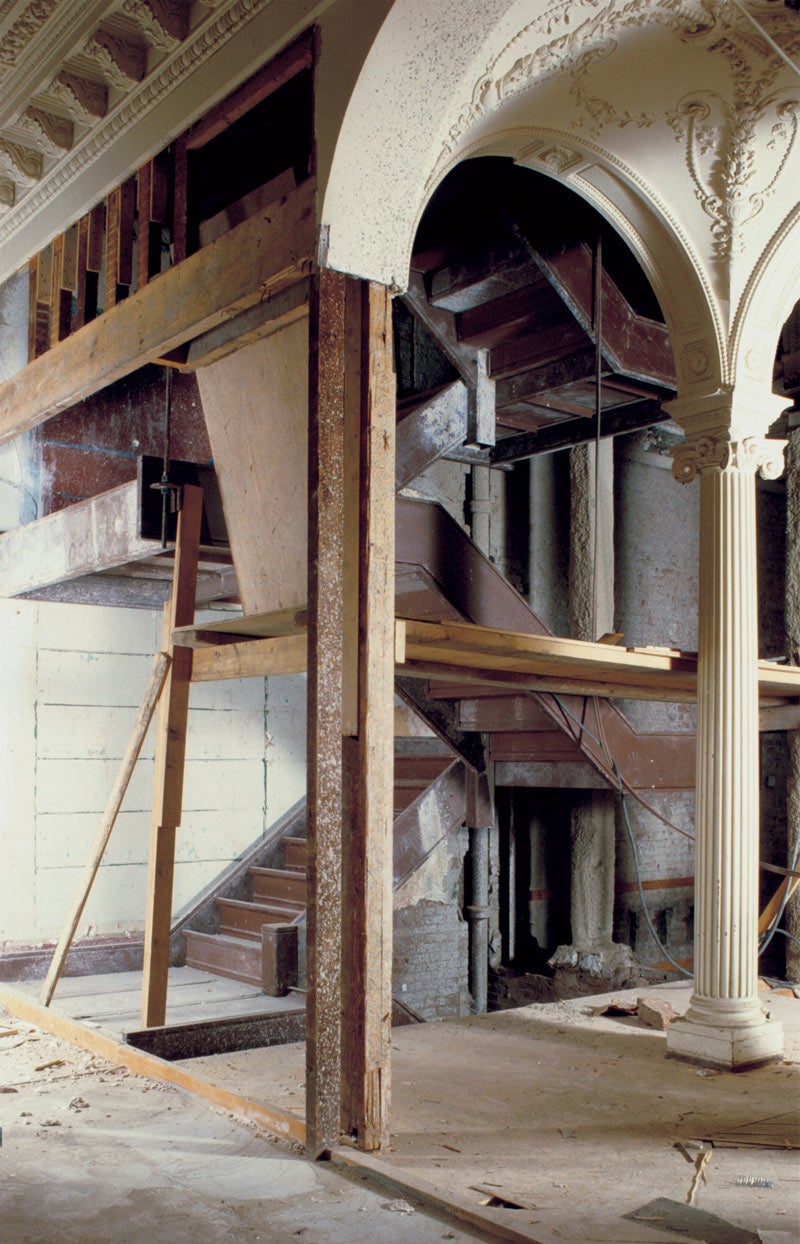 The mansion was an instant hit, but that success didn't happen overnight. Finding the perfect venue for Mr. Lauren's vision took time, and quite a bit of shoe leather. Buffy Birrittella was one of Mr. Lauren's key lieutenants at the time (and remains so today) and instrumental in the search. "We were looking for several years," she says. "When Donald Trump was building Trump Tower, he had us over, trying to sell us on a position on the mezzanine, but that was much more of a mall." They also looked at the Scribner's store on Fifth Avenue ("such a beautiful building, but it wasn't big enough," Birrittella says) and a bank in the mid-60s, which was also too small—"and I don't think Chase wanted to move, either," Birrittella adds with a laugh.
And then they found it. Way up on 72nd Street, 10 blocks from the nearest retail outpost. "I think Ralph knew from the minute he saw it. This was it,"

Birrittella

 

says. Commissioned by reclusive heiress Gertrude Rhinelander Waldo and inspired by the chateaus of the Loire Valley, the building was praised by critics for its imposing roofline and mix of Gothic and early Renaissance styles when it was completed in 1894. But the intervening years had not been kind. Gertrude never actually inhabited the mansion; instead it sat empty, hallways packed with imported European antiques, until it was sold in the 1920s. Over the decades it housed an auction house, florist, pharmacy, and restaurants and served as a home to fashion photographer Edgar de Evia. The building had pedigree and great bones, but all those tenants had taken their toll. The ground-level windows had been replaced with plate-glass storefront. Inside, subdivisions, drop ceilings, ductwork, and fluorescent lights obscured most of the Neoclassic details. In an interview in Architectural Digest from the time, the project's interior designer, Naomi Leff, remembers saying the building was fit for renovation. "But I was speaking more as an archaeologist than a designer," she explained.
Working closely with Birrittella and other members of the RL team, Leff drew from the few remaining details of the original building and incorporated architectural references from other great buildings of the period. ("The stairway in that store? That's the stairway at the Connaught Hotel," Birrittella says.) A team of hundreds of skilled artisans, gathered mostly by word of mouth, was assembled to restore the building to its former grandeur—and beyond. Leff and team ordered 82,000 square feet of Honduran mahogany for the central staircase and paneling, which was hand-rubbed to a deep chocolate brown. Velvet drapery, green felt walls, and coffered ceilings lined the interior. Meanwhile, a second team headed to Europe, scouting for the antique paintings, brass fittings, and period furniture that would make the space feel like a home. "For Ralph, it was all about the environment," says Birrittella. "We were providing the context, the movie that was in his head." All told, the renovation took just under two years, with workers on site nearly round-the-clock for the five months prior to opening day.
"I had no idea when I took the job what I was stepping into—the level of detail and the extravagance of putting this whole concept together under one roof," adds Alfredo Paredes, who joined the company at age 23 as the mansion was being renovated and is now chief creative officer of retail. "I was just blown away." No expense was spared on evocative window displays and cinematically staged interiors. The team kitted out the children's department with the antique toys and trunks of a Boy Scout's hideaway; fed the canaries kept in rattan cages on the fourth floor; and even, as Paredes remembers, planted, watered, and cut real grass (with scissors) for a polo-themed window display. "Everything was done to the nines with a kind of no-holds-barred movie magic," he says.

When it opened in April 1986, the mansion quickly became a must-see attraction for those visiting New York City and a home-away-from-home for certain customers (who would routinely gather at the door a half hour before the store opened that first year). Fagan remembers visits from Jackie Onassis and private fittings for Audrey Hepburn but also acknowledges how the space democratized the Ralph Lauren glamour for everyone, not just the rich and famous. "I remember I was chatting up a customer, asking if she'd visited before," he recalls, "and she said, 'Oh, yes, I've been in several times, but I had a really rough day. I was walking home and I just had to come in and take a moment and feel good.' She wasn't buying anything," Fagan says. "That happened so many times over the years."
"The mahogany, the moldings, the staircase—they weren't there. They were all created. Where the stairway is now there was once a gigantic refrigeration system for the deli that previously occupied the building," David Lauren says. "What Ralph Lauren does is he makes things look as if they've always been there."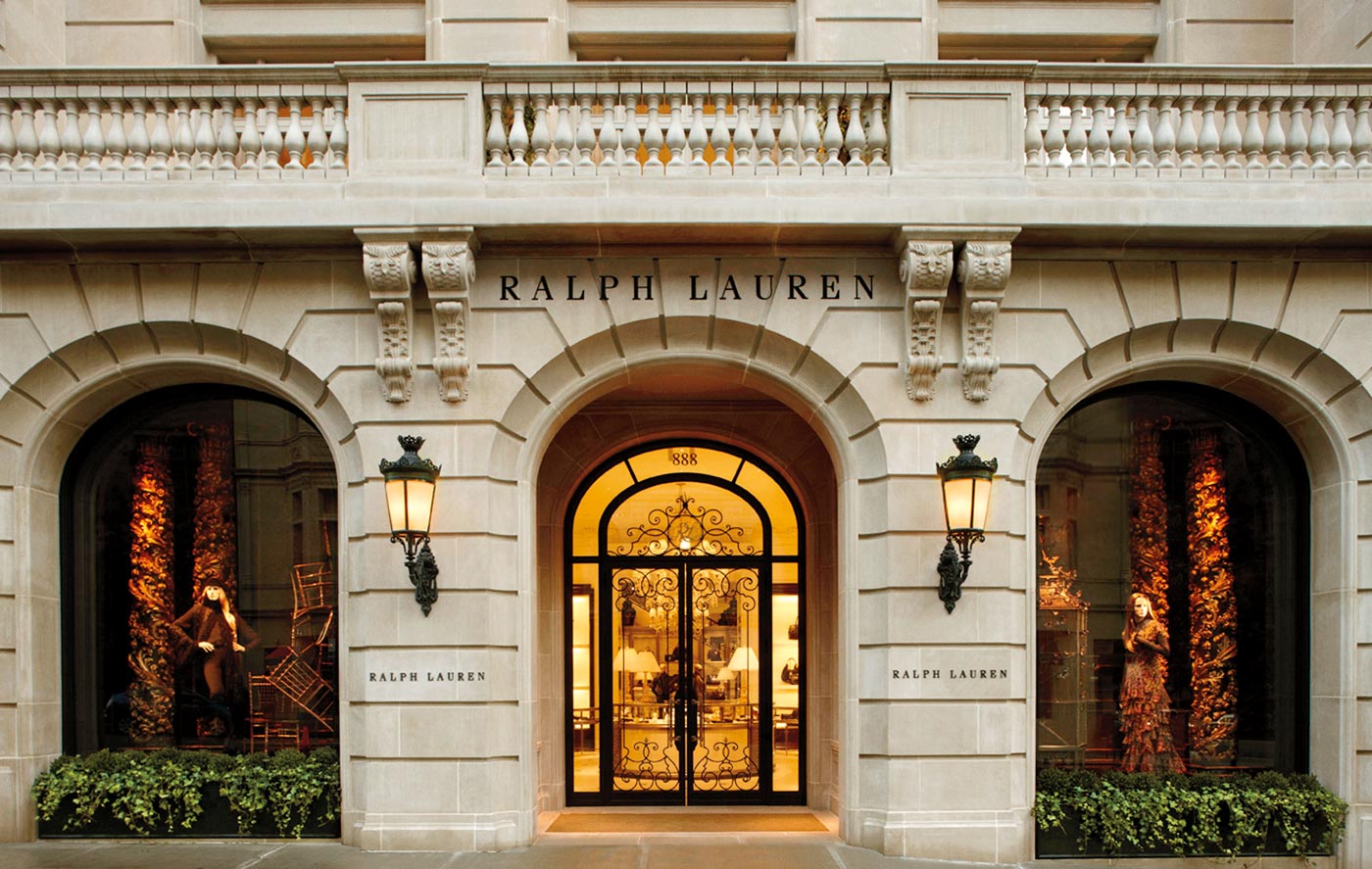 Mr. Lauren would fully realize his talent for made-to-order history 24 years later, with the opening of a sister store across the street at 888 Madison. Built completely from scratch by the architect Thomas Hut and the design team at Weddle Gilmore, who had just completed the designer's Paris shop on Boulevard Saint Germain, the new manse was an understated response to the steep roofs and Gothic tracery of the Rhinelander. More hôtel particulier than château, it's a study in balance and proportion: perfectly symmetrical, with arched entryways, a balustraded second-story terrace, and a façade of rusticated Indiana limestone. It was designed to mimic the turn-of-the-century townhouses that peppered the neighborhood—not least the home of Alva Vanderbilt, which had been built on the same plot back in the 1890s. The finished product was the embodiment of the Ralph Lauren aesthetic. "That's always been my philosophy: timeless, not trends," he said in an interview with Architectural Digest. "It is the fulfillment of what I do: creating timeless beauty that's universal."
On the night of October 14, 2010, Ralph Lauren again entered a showplace of his own making, though by this time his reputation warranted more than an opening-day pep talk. Instead, he hosted an elegant opening party at 888 Madison, with a list of friends including Martha Stewart, Vera Wang, and Jerry Seinfeld. As guests moved across the Turkish marble halls and past the iron fretwork of the grand staircase, they discovered a series of groundbreaking offerings from the brand. The store introduced Ralph Lauren's first jewelry boutique, and its first dedicated lingerie shop (housed in a boudoir that recalled Old Hollywood). On the ground floor, guests could swipe through iPads to select monograms and colorways for custom clothing and bedding—a high-tech shopping experience that would have been unimaginable during the mansion opening a quarter of a century before.
And there would be one last first before the night ended. Mayor Bloomberg presented Mr. Lauren with the key to New York City, making him the first fashion designer to receive the honor. "[Mr. Lauren] worked his way up from salesman to what he is today: an icon," said Bloomberg. "I never thought that I would get this," Ralph told the Wall Street Journal. "It's something that I will cherish."
Three decades since the Rhinelander opening, and six years since the opening party at 888 Madison, both buildings have become integral to the World of Ralph Lauren and as case studies in retail innovation. "If you had looked at Madison Avenue at the time, brands did not have freestanding stores," David Lauren says. "It was really covered by art galleries and different kinds of shops. People don't realize the whole landscape of Madison Avenue and New York retail changed." Mr. Lauren used the space as a laboratory to test new displays and designs and polled the staff for customer feedback, always with an eye toward crafting a totally immersive experience. It's a formula that evolves with each new store opening. As stores continue to open around the world, they all reflect their native cities but retain a piece of that Madison Avenue DNA.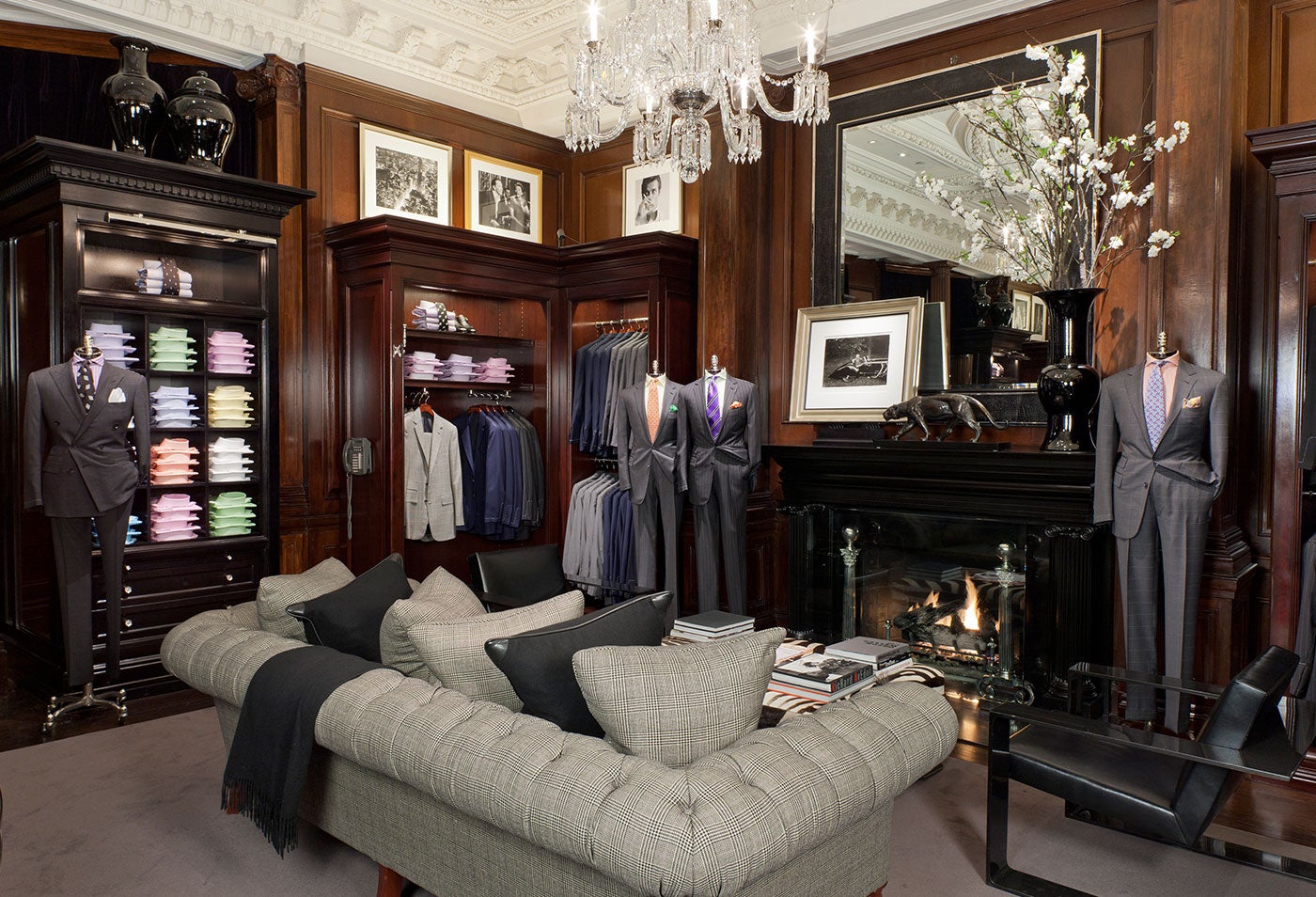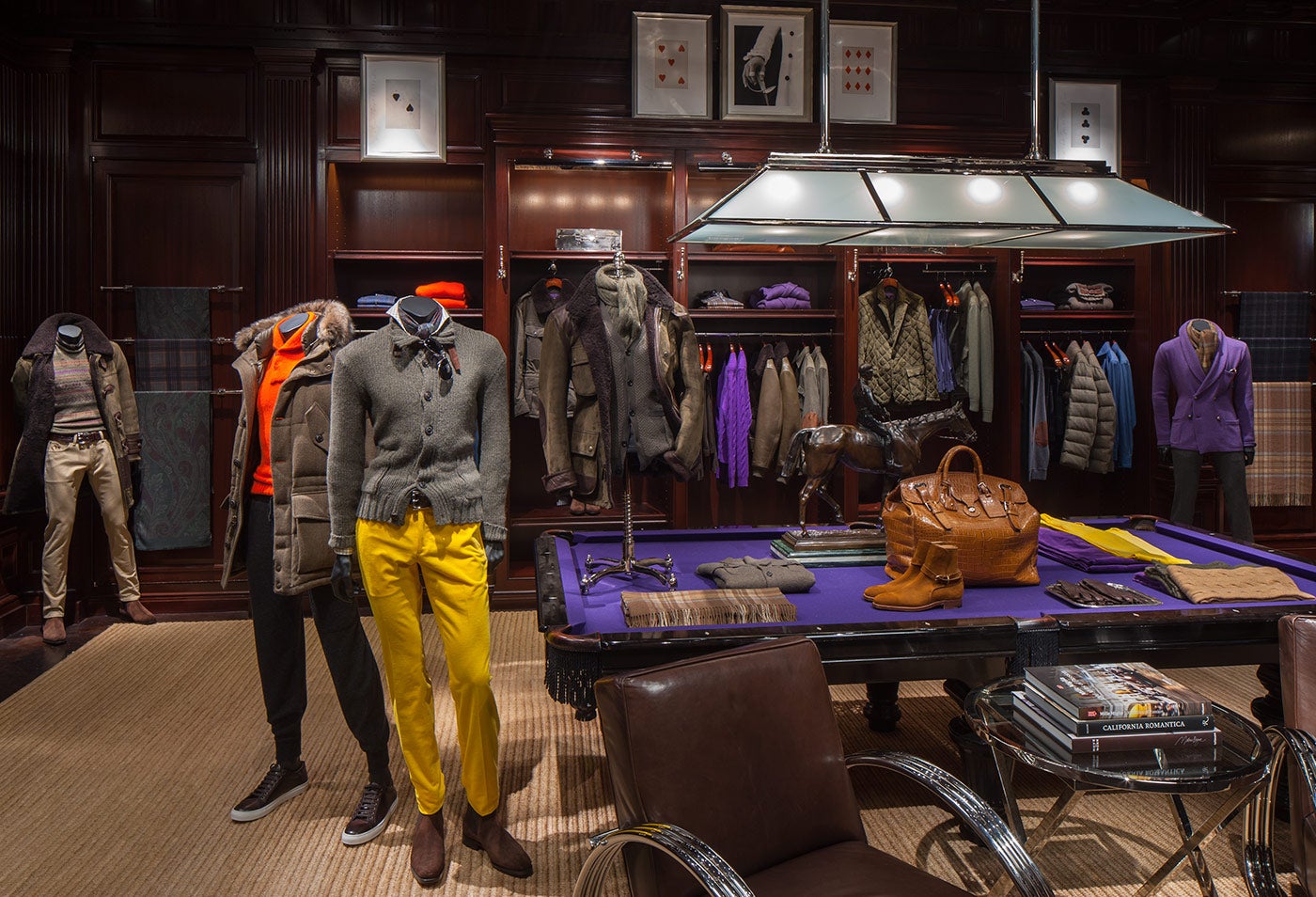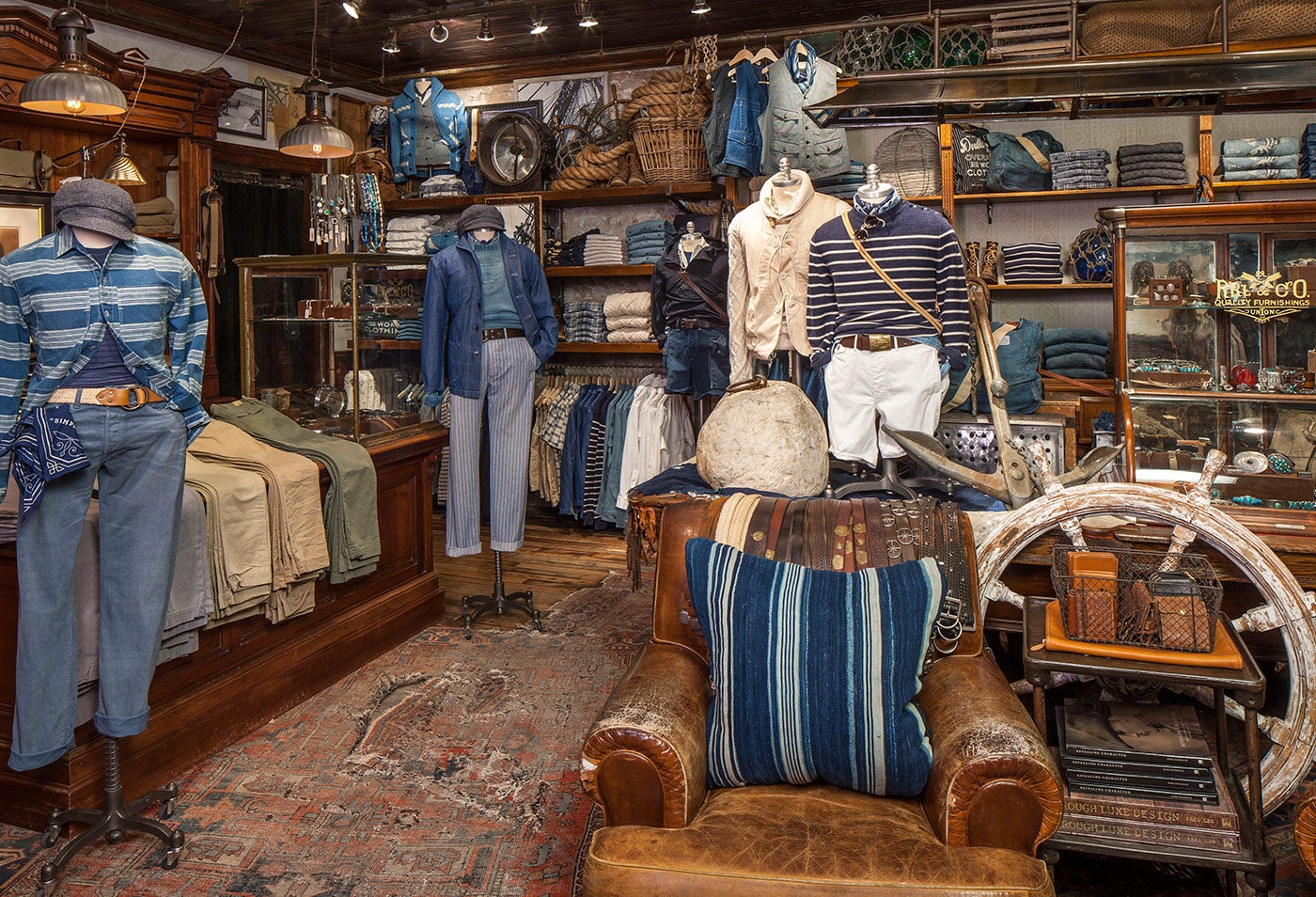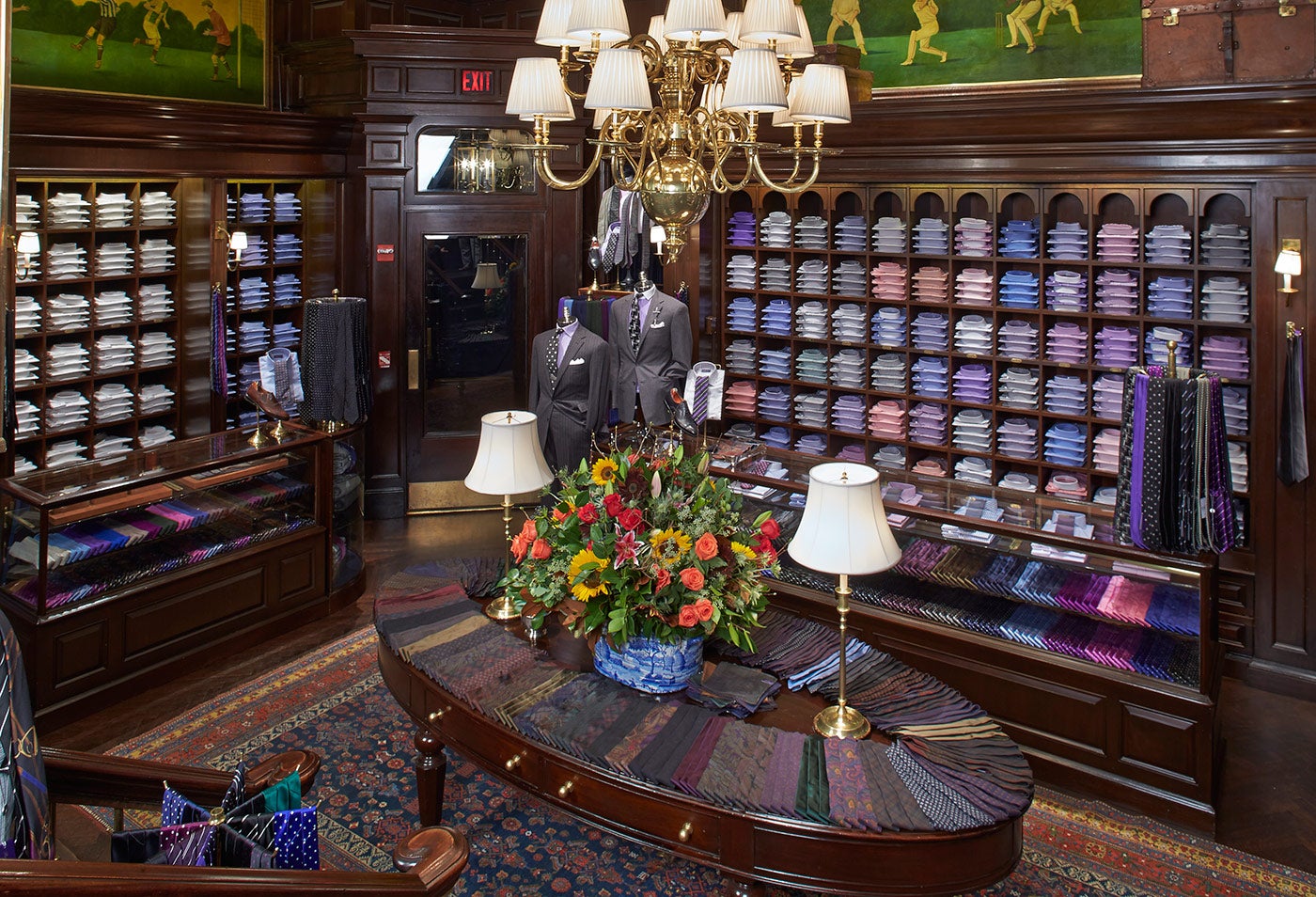 In 1986, Mr. Lauren told the press: "This store is the essence of everything I have said since my first necktie. I want this to be more than a store. I'm not just selling clothes. I'm selling a world, a notion of style. I'm offering a philosophy of life." If you happen to be in town, make the time for a visit. Allow yourself a cold drink (delivered by dumbwaiter, on all four floors), smell the fresh flowers, and peruse the season's newest pieces. For a while, at least, you'll be in a universe tailor-made for your enjoyment. One you can visit again anytime you like.
"Ralph Lauren never really thought of himself as a designer, but as someone who tells stories through his clothes," David Lauren says. "And he never thought of the mansion on 72nd Street as a store. It was an environment, a club, and an atmosphere that created context around his brand, allowing him to tell his story in a clearer and more powerful way."
At the time, Mr. Lauren described the mansion similarly, if more succinctly, saying: "It is, quite simply, my dream come true."
Formerly editor of RL Mag, is a writer living in New York.
© Vertis Communications
All photographs courtesy of Ralph Lauren Corporation