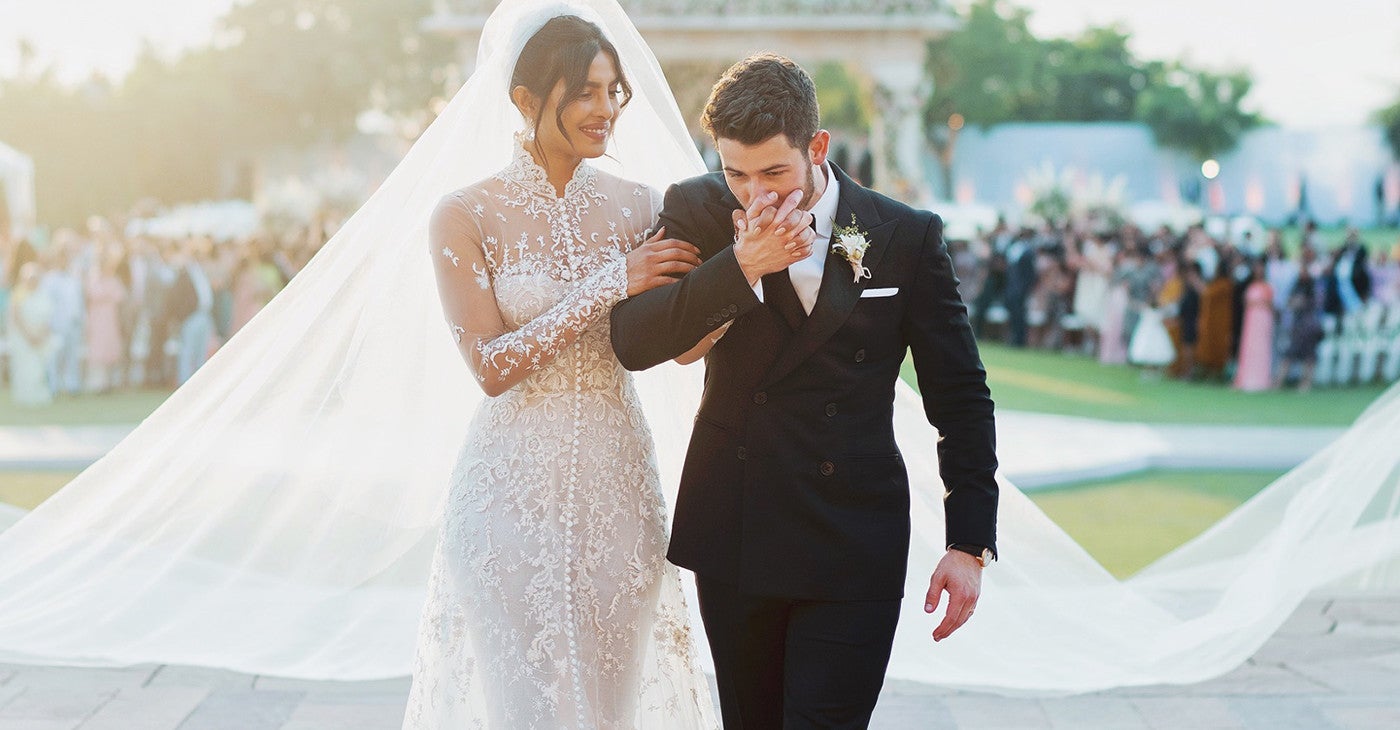 Style
TYING
THE KNOT
An insider's look at Priyanka Chopra and Nick Jonas' wedding—and the exquisite Ralph Lauren dress that stole the show
From the front row at Ralph Lauren's 50th Anniversary Show in September 2018, newly engaged couple Priyanka Chopra and Nick Jonas watched as symbolic "families" of models walked the runway hand-in-hand—husbands and wives, mothers and daughters. Just three months later, Priyanka, escorted down the aisle by her mother, Madhu Chopra, both wearing custom Ralph Lauren, walked a similarly lavish path to marry her groom in Jodhpur, India, bringing the spirit of generational style to life.
That Priyanka and Nick, whose nuptials aimed to fuse family traditions—Eastern and Western, Indian and American, Hindu and Christian—wanted Mr. Lauren to design bespoke looks for the entire wedding party was only fitting. "What I do is a reflection of many cultures with my own particular imprint," Mr. Lauren has said. "The people that relate to it live all over the world."
Mr. Lauren began the months-long design process by showing Priyanka sketches for her custom gown, which combined the glamour of a sequin-embellished strapless dress with the romance of a sheer, hand-embroidered coat. The look was emblematic of some of the formalwear codes he has always highly regarded: a silhouette skimming the body while simultaneously seeming to float away from it; a play between sheer and opaque; and, of course, intricate, handmade details.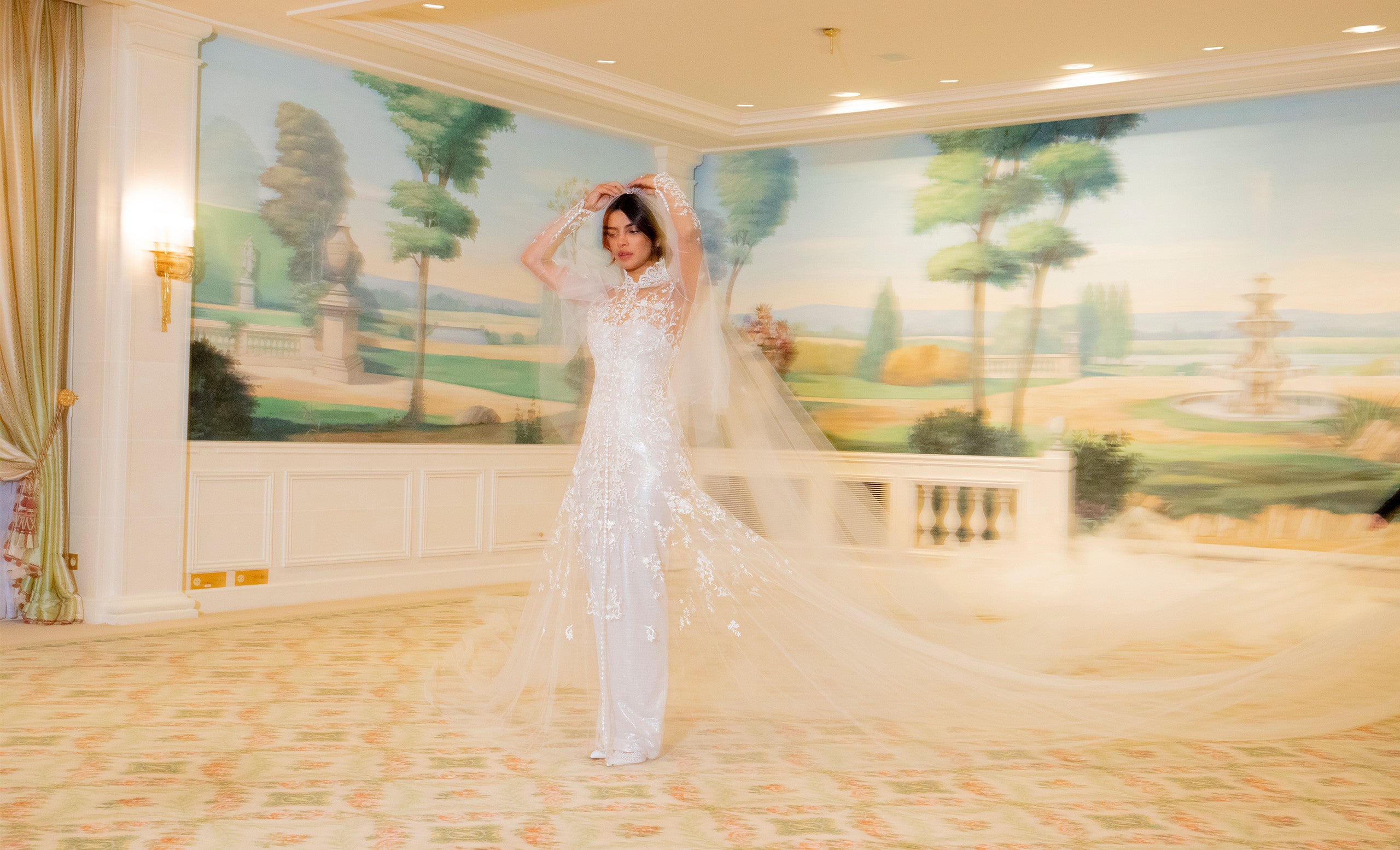 At Priyanka's request, eight special words and phrases were incorporated into the embroidery pattern of the coat, including "Hope" and "Compassion," as well as a Hindu mantra, "Om Namaha Shivay," and "December 1, 2018," the date of the ceremony. The placement of the groom's full name, Nicholas Jerry Jonas, at the front of the coat was mirrored on the back by the names of her parents. (A piece of lace from the dress Nick's mother wore at her own wedding was also sewn into the pattern.) "Family" scrolled along the right sleeve, where Priyanka has a wrist tattoo reading "Daddy's Lil Girl…" And, finally, just over her heart, the word "Love" was stitched in ivory thread.
Fifteen artisans in Mumbai, India, hand-embroidered the coat with a variety of complex techniques, from fine cording to tulle appliqués and pastiche threadwork inspired by Chantilly lace, for a total of 1,826 hours. Worked into the scrolling floral motifs were 32,000 pearlescent sequins, 5,600 seed beads, and 11,632 Swarovski crystals. The coat was closed down the front with 135 satin-covered buttons and finished with scalloping at the high-cut neck and long sleeves. The strapless column dress worn beneath was embellished with more than 2 million pearlescent sequins to bring a sense of shimmering dimension to the overall look.
"This isn't about a dress," explained Mr. Lauren. "It's about a woman and a moment. Priyanka knows exactly who she is, and so I wanted the dress to reflect, not only her love story and the romance of India, but also her unique sensibility: strong, smart, and beautiful." Every detail of Priyanka's wedding look was perfected in collaboration with Mr. Lauren and her stylist, Mimi Cuttrell, during four fittings, first in New York City at Ralph Lauren's global headquarters, then in Paris, Mumbai, and a final session in Jodhpur just before the wedding. The sweeping, 75-foot veil she wore for the ceremony was actually comprised of two different cuts of tulle—a shorter fingertip-length veil worn under the epically longer one, which was carried behind the bride by six attendants.
Silhouetted by the sun at the altar, Nick wore a custom Purple Label double-breasted tuxedo with a piece of the bride's dress concealed at the interior lapel of the jacket, just over his heart. The fragment had been hand-embroidered with the Urdu words "My Jaan" (meaning "My Life"). His 12 groomsmen, including Priyanka's brother, Siddharth, and Nick's three brothers, Kevin, Joe, and Frankie, wore Purple Label peak-lapel tuxedos with custom vests and custom patent leather shoes. Nick's father, who officiated the Christian ceremony (a traditional Hindu ceremony followed the next day), also wore Purple Label.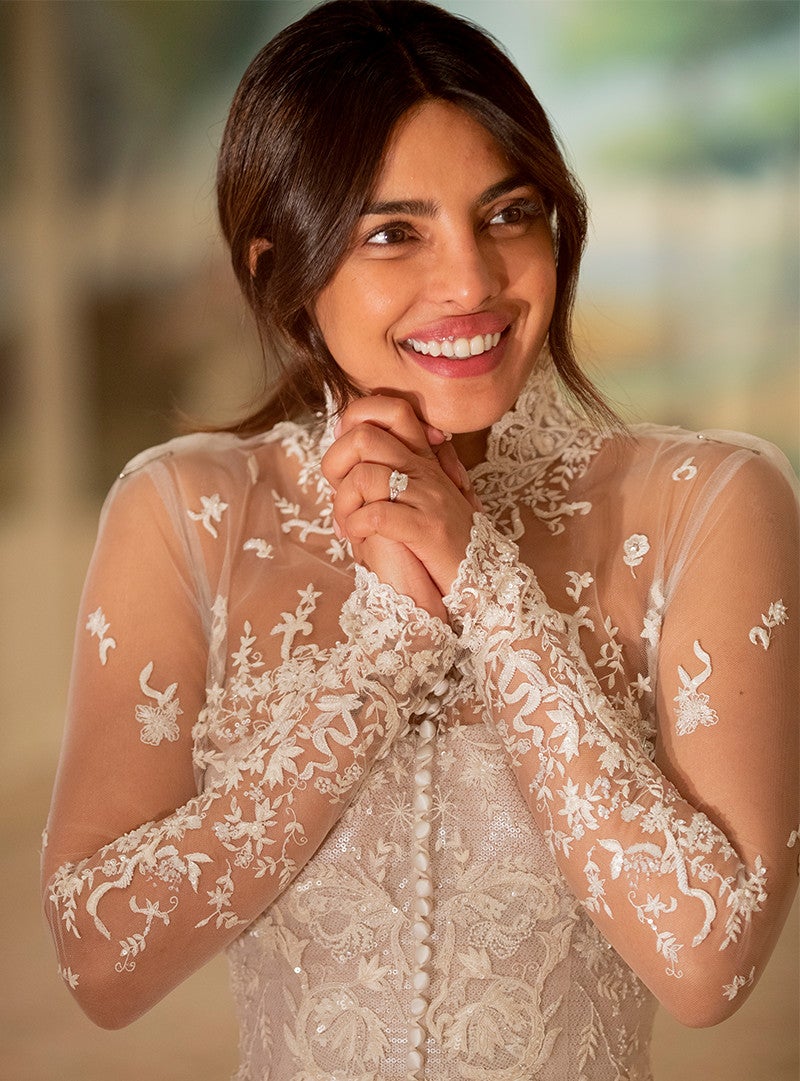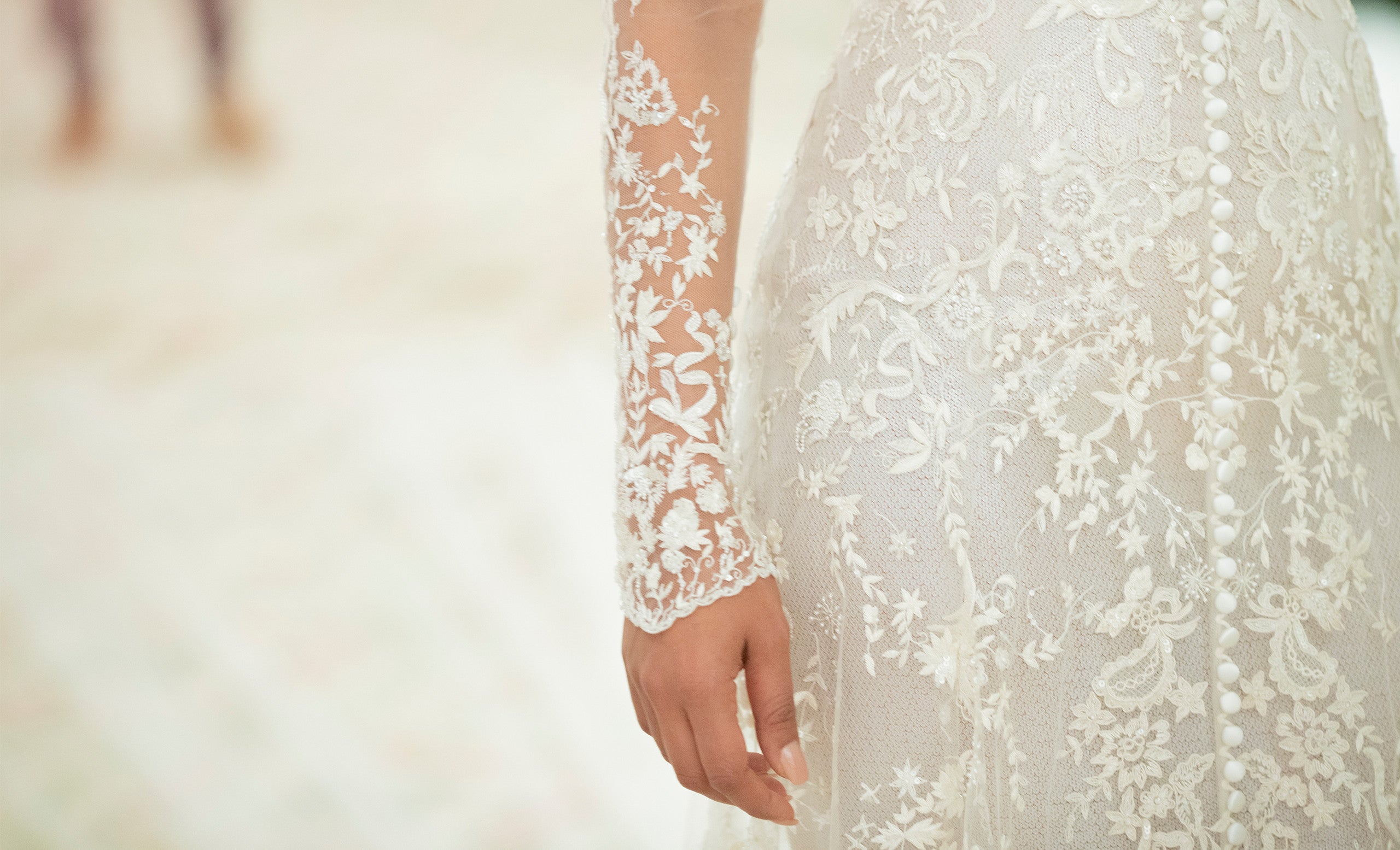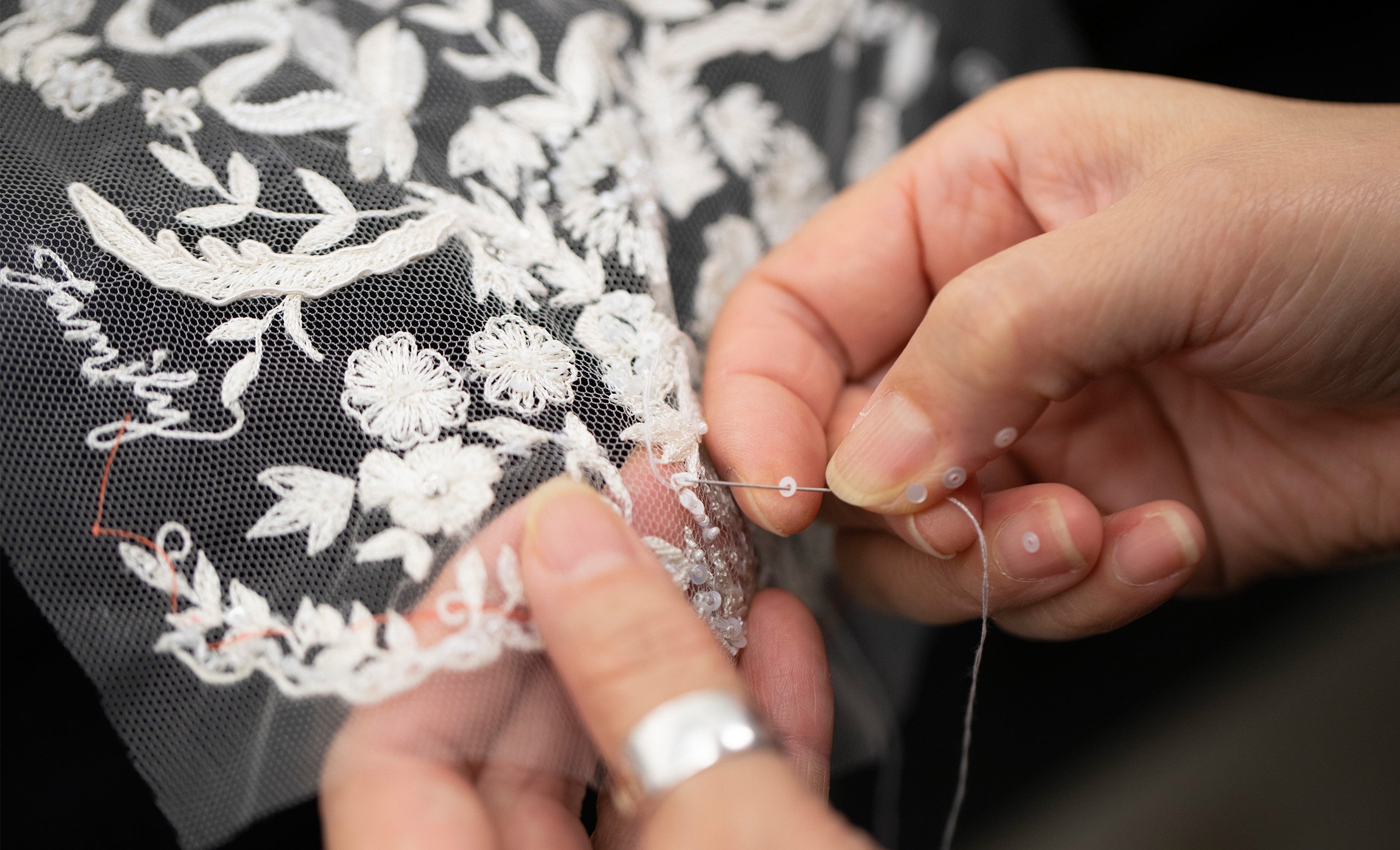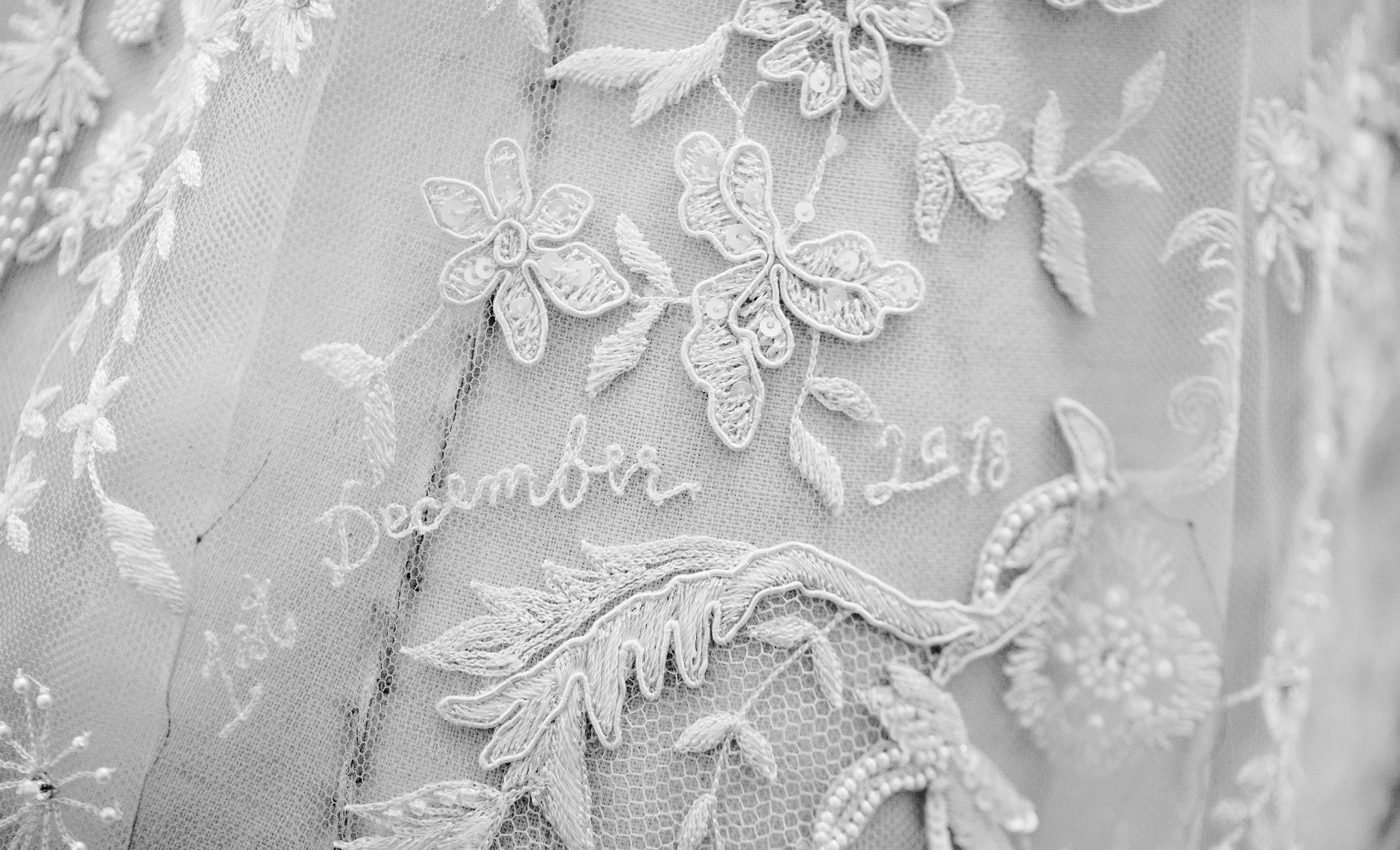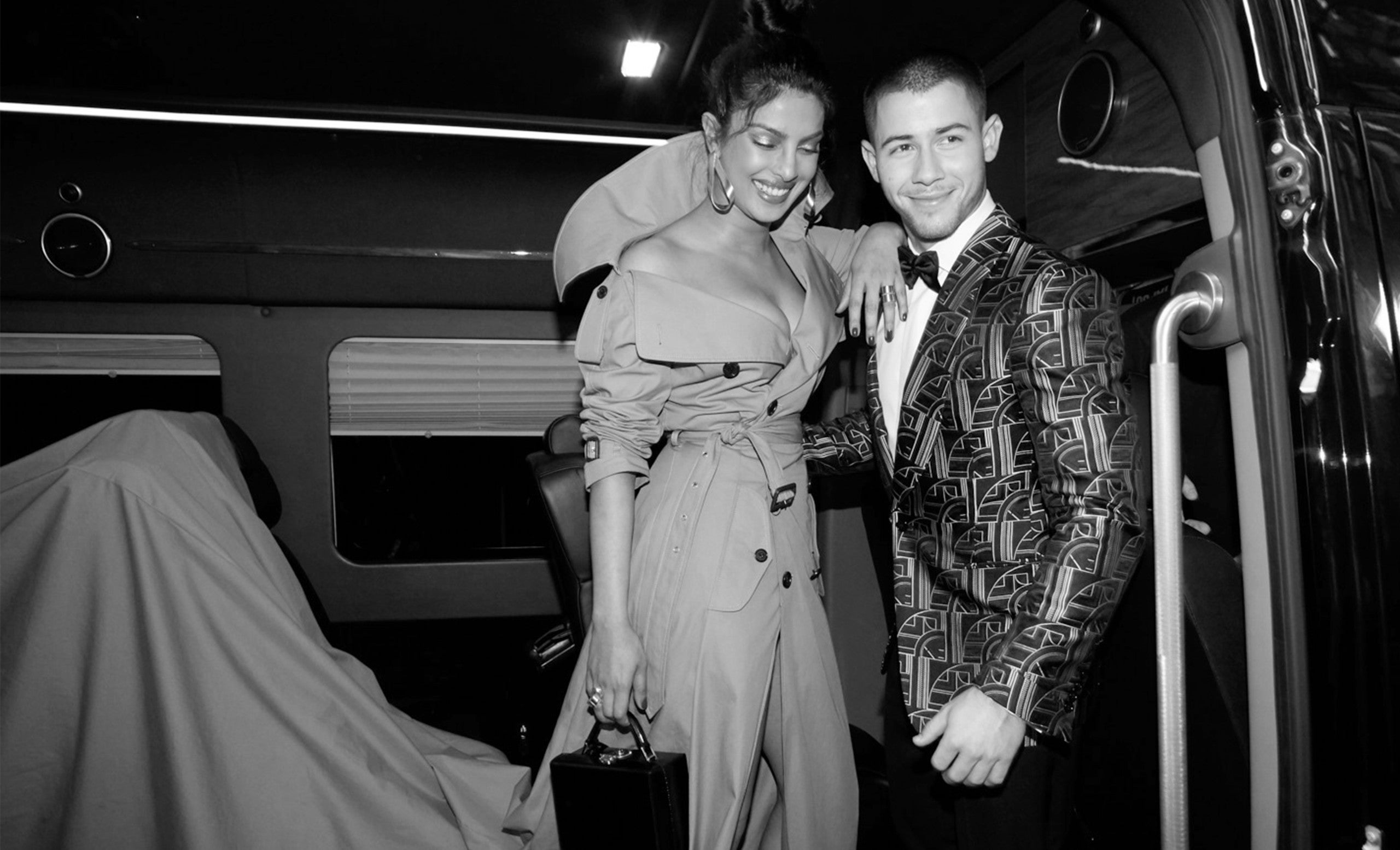 During the reception, Priyanka (who wore another Ralph Lauren stunner for her first appearance with Nick at the 2017 Met Gala) changed into an archival gown from Ralph Lauren's Great Gatsby–inspired Spring 2012 runway collection—a sleek column of ivory silk cady with a beaded halter neckline fringed with polished glass beads, Swarovski crystals, and sequins. The beading for the shoulders was made by hand on suspended mesh that was cut away to create glamourous swags. The Art Deco style of the gown befit the grandeur of the venue, the Taj Umaid Bhawan Palace, one of India's last royal residences, built over two decades starting in the late 1920s in a unique architectural style known as "Indo-Deco," combining references from European and Mughal traditions.
Each aspect—the couple, the venue, the globe-spanning artisanship—demonstrated that despite differing origins, there's always common ground. It's a sentiment as acutely encapsulated by Nick and Priyanka's nuptials as by the RL50 anniversary they joined a trove of fellow stars to celebrate last fall, and, certainly, by Ralph Lauren's enduring vision of style around the world. "I think it's everybody's dream to have a good life," he says, "to have a healthy life, to have a family, and to live a life where you know you are moving forward, and you are adding something to your culture."
is the fashion editorial director for Ralph Lauren.
© Ralph Lauren Corporation