Celebrity cowboys ranged the streets of Manhattan one spring evening in 1979. Dressed in cattleman jackets and chain-stitched boots, Andy Warhol, Norman Mailer, Margaux Hemmingway, and Geraldine Fitzgerald joined the cavalcade heading inside Bloomingdale's that night. For some, it wasn't their first time at the rodeo. "I'm from South Dakota," Tom Brokaw told one reporter. "I've worn boots on the air a lot."
The ground floor of Bloomingdale's—transformed with bales of hay and the sounds of square dancing tunes—had just devoted a shop to Polo Western and Ralph Lauren Western, the designer's new lines of denim, apparel, and accessories for men and women, respectively. In the all-American spirit of the collection, the Kennedy family hosted a fundraiser for some 500 well-heeled guests, with chili and ribs from the Lone Star Cafe, a Texas-style Fifth Avenue honky-tonk. Eunice Kennedy Shriver and Pat Kennedy Lawford left the party wearing Ralph Lauren cowboy hats. A new look had come charging into American fashion, and it was wrangling converts.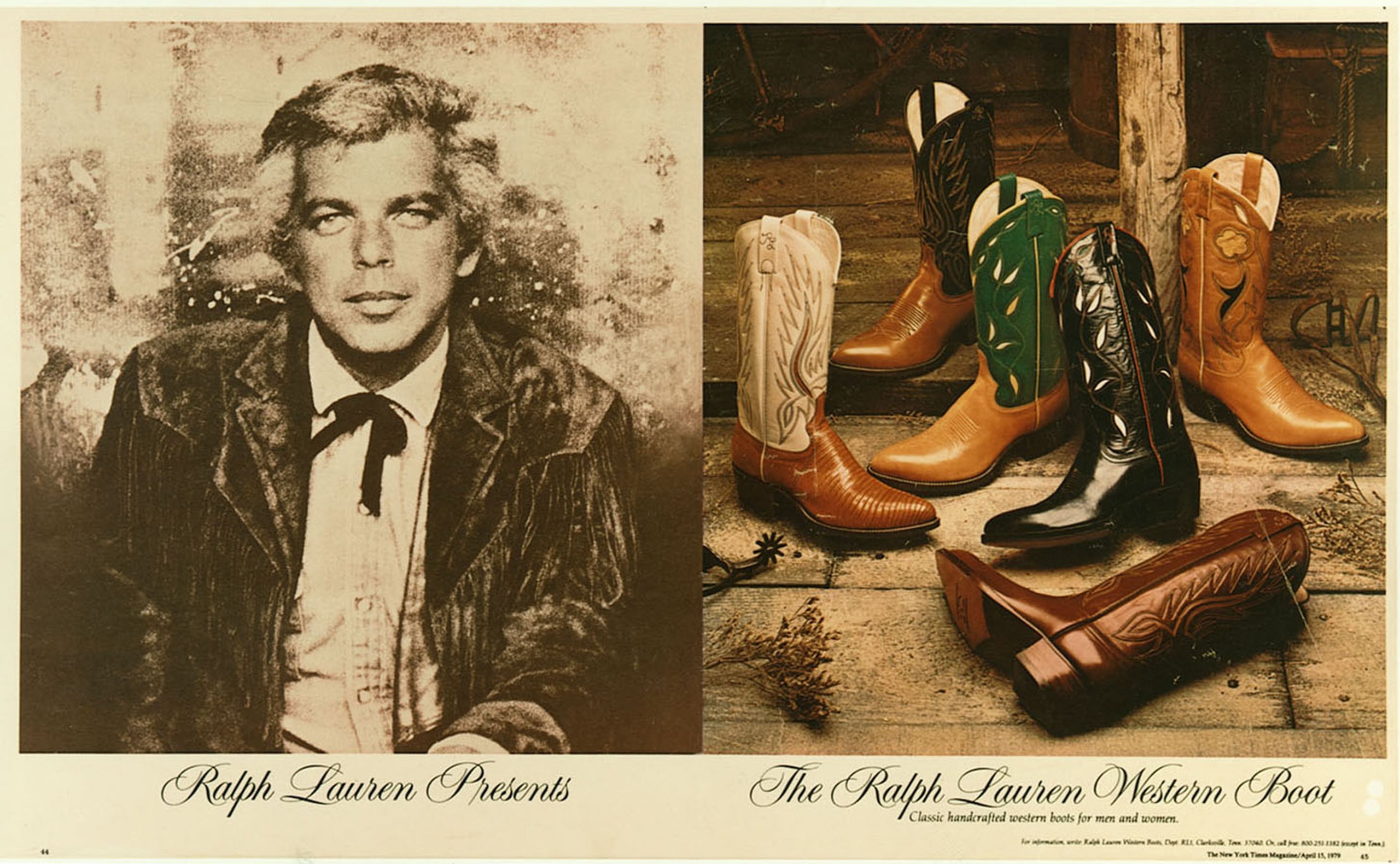 Polo Western was foremost a denim brand, founded in the traditions of American workwear—real, comfortable, timeless denim designed within an entire world of Western iconography: leather vests, roper boots, and pearl-snap shirts with contrast piping; Western blazers, bandannas, bib-front overalls, and eagle-buckle belts. Ralph Lauren harnessed the ideal image of an American cowboy and reinterpreted it in the most authentic way possible. He even appeared in the advertising campaigns himself, wearing vintage pieces from his wardrobe that had inspired the collection rather than the line itself. "I think the spirit of Western style has a rugged elegance and authenticity that people want to relate to," Mr. Lauren once said. "There's both a sensibility and honesty to the clothing that gives it an enduring appeal."
The timing was also right. "People have a new, vital reverence for nature, land, sunshine, and clean air," he said. "Western clothes somehow reflect, and project, that love of the great outdoors, that pride in one's self and one's body."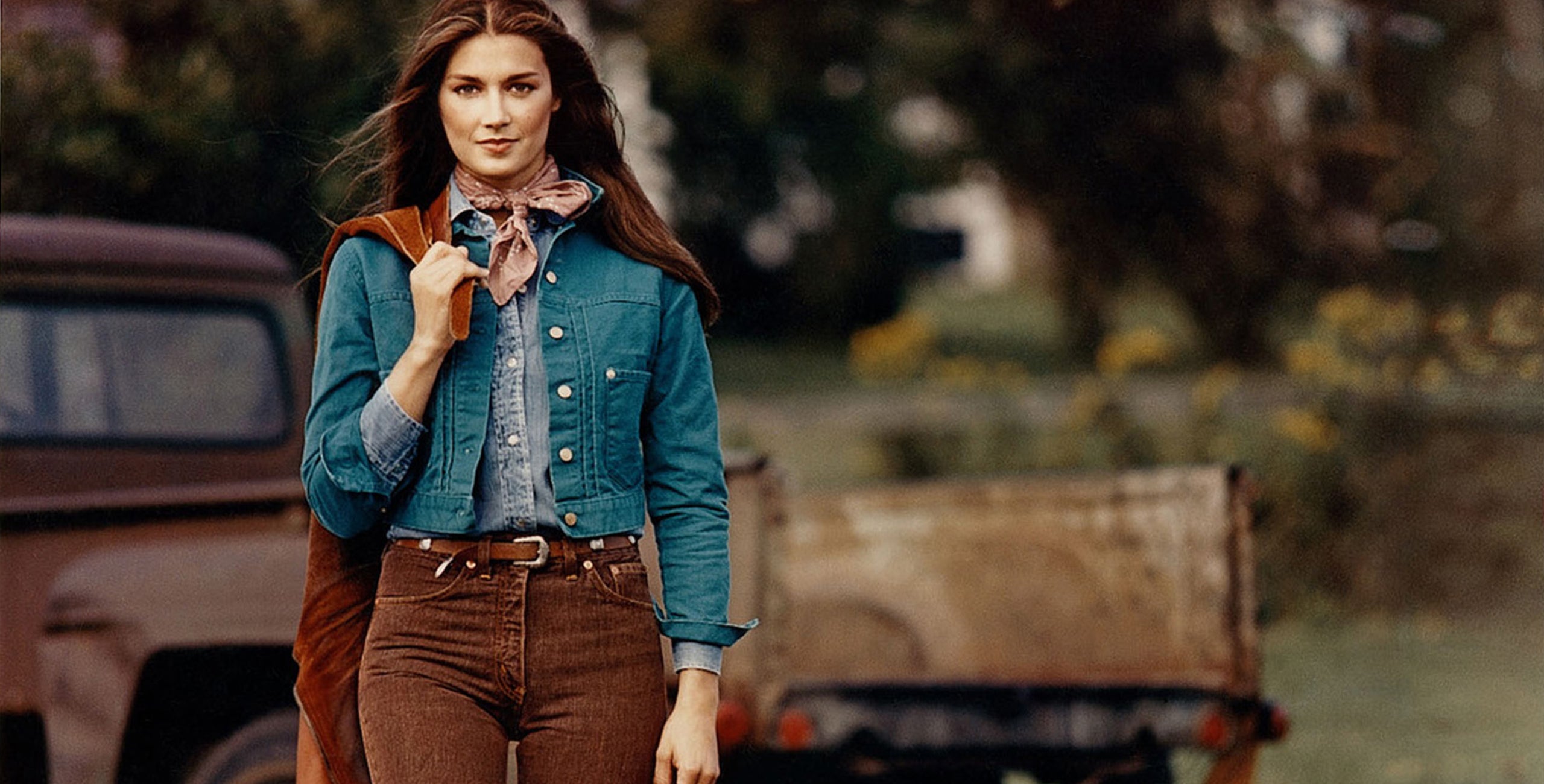 The appeal started early for Mr. Lauren. The splendor of the American West was something he had dreamed of since boyhood, watching John Wayne and Gary Cooper in the flickering light of the movie theater, where he spent many Saturday afternoons growing up in the Bronx, New York.
When Mr. Lauren eventually followed his dreams westward, to Denver and Dallas in the mid-1970s, he stopped at Sheplers in Englewood, Colorado, a purveyor of saddles, hats, leather goods, and Western shirts that had outfitted cowboys since the turn of the 20th century. Here, surely, one could leave looking like Gary Cooper in High Noon. Only, "the shirts weren't cotton; they were polyester, and the collars were too big," remembers Buffy Birrittella, who accompanied Mr. Lauren on those trips as the director for advertising and women's design. "He couldn't find the kinds of things that he imagined because they didn't really exist anymore. The details weren't as authentic as what he remembered in his fantasy."
"We went to Santa Fe, to Taos, to Durango," Mr. Lauren said of those first explorations. "After I came back, I started coming to work in cowboy clothes every day; it gave me a sense of freedom." He later put it: "Why do I like tweed jackets with elbow patches? It's because they were patched when someone said, 'I can't go buy a new suit. I'll patch it.' I love the same thing about Western clothes as about English style: There's an old tradition; they come from the ground; they're earth. It wasn't contrived; it wasn't fashion."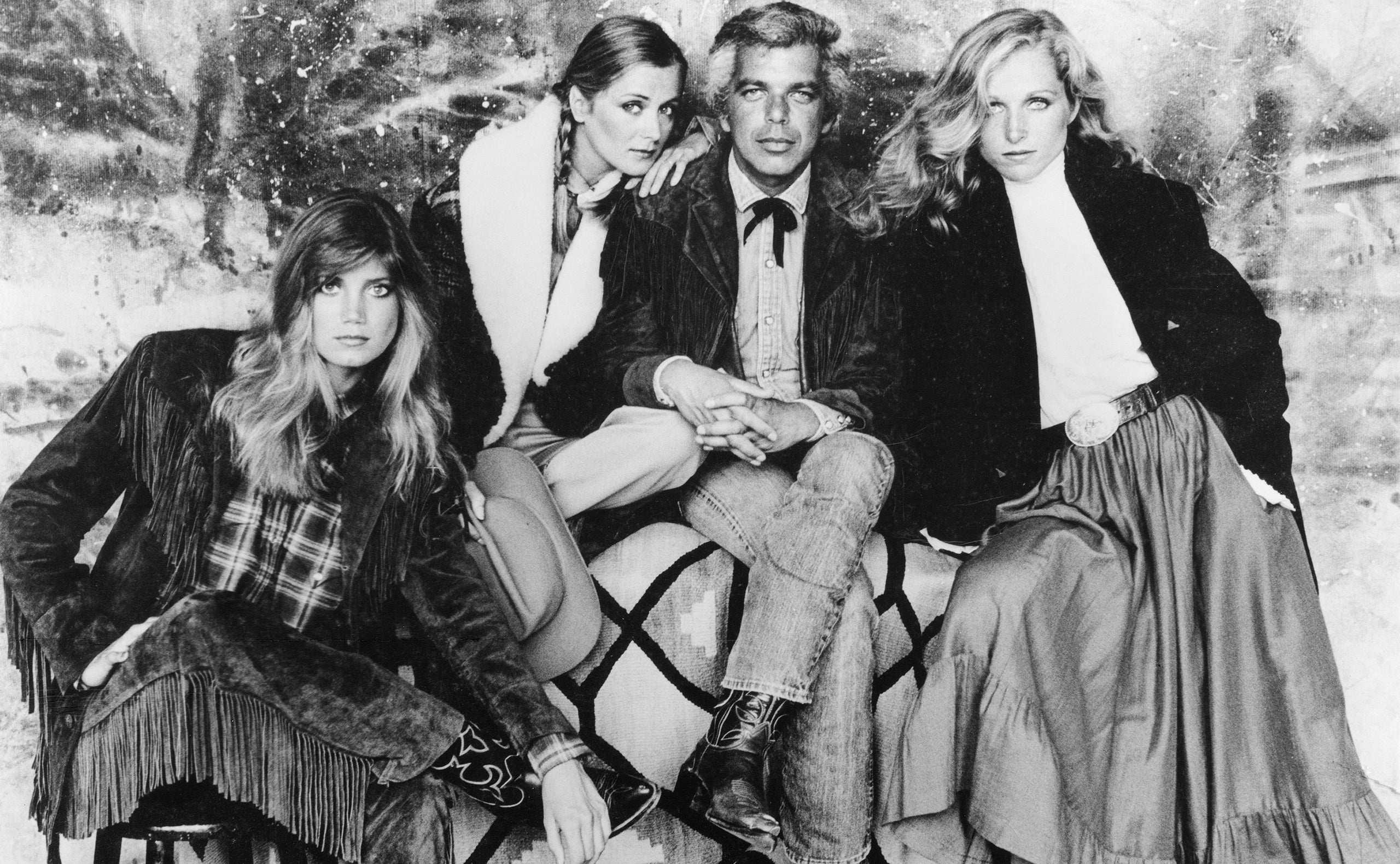 It was the audacity of an anti-fashion statement on the runway that caught magazine editors' attention for the Fall 1978 season, when Mr. Lauren sent his models out wearing prairie skirts, tailored leather, and cowboy hats. "They all had a feeling, a patina, a style that felt, when you put it on, like you were living that life," remembers Mary Randolph Carter, who joined the company in the 1980s as a creative director. "It was great fodder for editorial, and it wasn't just American editors. I think that probably the European press were even more fascinated with those early Western collections."
That momentum continued in the summer of 1978 when Mr. Lauren announced the debut of Polo Western and Ralph Lauren Western with a party at the 21 Club. Within three weeks of hitting stores, the line had nearly sold out, grossing $25 million in its first year alone. It was soon announced that Polo Western would expand to 75 department and specialty stores across the country.
Doug Bihlmaier remembers how his clientele received the news in the Lone Star State, where he sold Polo Ralph Lauren at one of Dallas' premiere men's stores. "Tommy Lee Jones loved Polo Western," Bihlmaier says. "He had a ranch at the time in Texas." Most people who came out West on vacation, he remembers, "would want a brand-new hat or a brand-new pair of boots. But that was one of the things we always would tell our customers: If you like it now, just wait—it's gonna get better."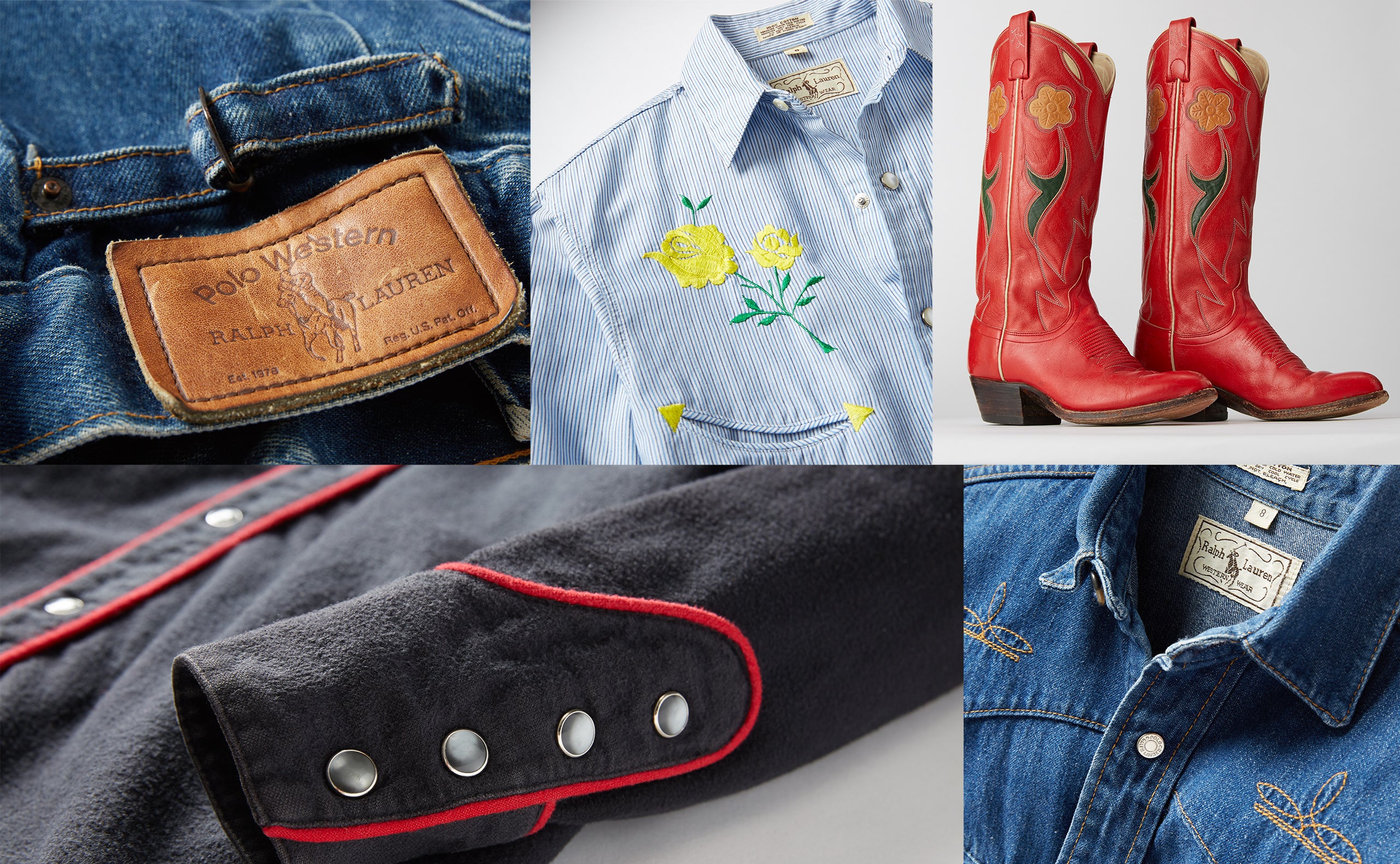 Today, Bihlmaier leads Ralph Lauren's vintage buying team and says Polo Western pieces are among the most coveted by collectors. They have a way of catching the well-trained eye, he says. "If you look at a pile of clothes, let's say it's plaid shirts, you can almost from across the room say, 'Wow, there's one.' Ralph's sense of color still today stands out from everyone else's." It's a shorthand Birrittella knows well. "I still go to antique shows and they're selling the Polo Western boots as, 'Oh, these are Ralph Lauren's from the '60s,' and I'm like, 'No they're not,'" she says, laughing. "'They're Ralph Lauren's from 1979, in fact.'" The two-tone boots inlaid with hand-tooled leather flowers are among the most avidly sought-after Polo Western pieces in the vintage market, as are the rodeo shirts and felted hats.
In iconic images of Mr. Lauren throughout his career—including the Bruce Weber portrait on the cover of Ralph Lauren: 50 Years, a newly released book celebrating the designer's career—he wears his favorite cowboy hat, a relic from the age of Hollywood's Western epics given to him by director Joel Schumacher.
"Mr. Lauren believes in the longevity of products, not just because they were made to be worn, but also the longevity of an idea," explains Birrittella. These are clothes meant to be worn by cowboys and city folk alike, for now and 40 years from now, because, ultimately, authenticity is timeless. Mr. Lauren's ideal of the American West has evolved in terms of the labels we recognize it by, whether Polo Western or Double RL, "but they were very much a part of the same authentic spirit that he started in 1978," she says.
"His whole aesthetic as a designer speaks to the integrity of clothes that are made to be worn, to be used, that aren't just fashion. You're wearing something that means something to you."
is the director of luxury editorial at Ralph Lauren.